Every day is a great day to pamper your cat—at least as far as your cat is concerned. But on National Cat Day, the rest of the country gets on board with your favorite feline's worldview, sharing their appreciation for all things kitty. There are so many ways to join in the fun, from posting pics on Instagram to surprising them with a DIY treat, to sharing the love with your local shelters and rescues. In fact, the ways to celebrate National Cat Day are as varied and diverse as cats themselves.
What Is National Cat Day?
On the surface, it seems obvious: National Cat Day is a holiday for celebrating your cat, of course! But when you really think about how your bond with your cat has impacted your life, you might realize this holiday is deeper than it seems. After all, our cats brighten our lives daily, whether they're cracking us up with their quirky antics or purring on our lap at the end of a long day. Cats make us happier humans—so they definitely deserve a little spoiling in return! (Just ask your cat and they'll tell you so.)
That's why, ever since the first National Cat Day in 2005, cat parents nationwide have reciprocated by showering their kitties with love. But National Cat Day isn't just for your cat—it's for all cats, including those waiting to be adopted at shelters and rescues. Consider the ripple effect of telling the world about how much happiness your cat brings to your life. You just might inspire someone to open their home to a cat in need, too. We can't think of a better way to celebrate National Cat Day than that!
When Is National Cat Day?
So when is National Cat Day, exactly? National Cat Day is celebrated annually on October 29. In 2022, it falls on a Saturday—why not take advantage and plan a weekend full of fun for your favorite cat?
How to Celebrate National Cat Day
So, what's the best way to spoil your kitty on National Cat Day 2022? As long as you're sharing your love for your furry friend, you're doing it right. Check out the ideas below to get your inspiration flowing, and tag us @Chewy on Instagram, Facebook and Twitter.
If You're On a Budget: Post a National Cat Day Selfie
If you're like many cat parents, your kitty is already the star of your Instagram feed. National Cat Day is the perfect excuse to share your latest glamour shot of your fierce feline—and what's more, it's 100 percent free. In fact, posting a pic of your cat on social media is one of the most popular ways to celebrate National Cat Day. And while it definitely feels great to rack up all those likes, there's another reason to post: Each photo helps spread the holiday's message of love for cats, from your own feline bestie to those waiting for forever homes at shelters and rescues.
Check out these epic #catsofinstagram shared by pet parents in the Chewy community, then post your own National Cat Day image to your feeds.
Don't forget to pick the perfect National Cat Day quote to pair with your post! Whether you have a sweet-tempered kitty or a sassy cat, one of these quotes is sure to do the trick:
"What greater gift than the love of a cat." –Charles Dickens, author
"As every cat owner knows, nobody owns a cat." –Ellen Perry Berkeley, author
"I love cats because I enjoy my home; and little by little, they become its visible soul." ― Jean Cocteau, poet
"I believe cats to be spirits come to earth. A cat, I am sure, could walk on a cloud without coming through." – Jules Verne, author
A cat will be your friend, but never your slave." –Theophile Gautier, poet
In ancient times, cats were worshipped as gods; they have not forgotten this." –Terry Pratchett, author
There are few things in life more heartwarming than to be welcomed by a cat." –Tay Hohoff, author
If You're Feeling Spendy: Splurge on a New Toy
You know you're always looking for excuses to treat your cat to new, adorable goodies. So there's no better time than National Cat Day to give your cat a cute new plushie, tunnel or scratcher. These are a few of our favorite picks: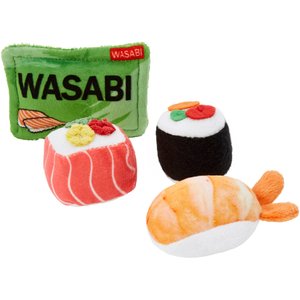 Frisco Sushi Plush Cat Toy with Catnip
$5.42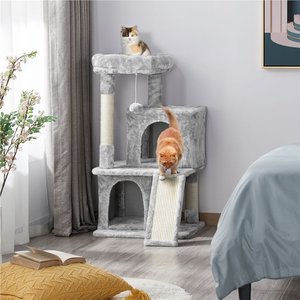 Yaheetech 3-Tier 36-in Plush Cat Tree & Condo
$47.99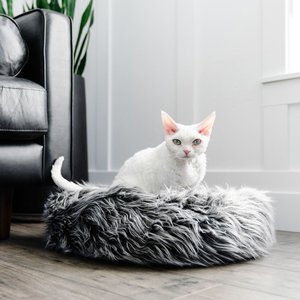 Mau Lifestyle Fluffi Donut Dog & Cat Bed
$65.00
Temporarily out of stock
If You Have Just 5 Minutes: Play a Game
The life of a cat parent can get super hectic—but your cat will appreciate just a few extra minutes of love and attention on their special day. So take a break for some fun with a toy you both can play with. Go ahead, wave that teaser wand until they chase it! Toss a ball and watch them race after it! Don't forget to reward good playtime manners with their favorite treat. Slowing down for some one-on-one time with your kitty is a healthy bonding experience for you both.
If You Have an Hour or So: Whip Up a DIY Treat
If the way to your cat's heart is through their stomach, baking DIY cat treats is the ultimate National Cat Day present. Try these recipes on your snacky kitty:
If You Have the Whole Afternoon: Take a Hike
If you're the proud parent of an "adventure cat," now's the perfect time to test out that new trail you've been eyeing. Not sure if your cat's up for the great outdoors? Follow these tips from actual adventure cat parents to help ease your cat into it. No, you probably won't get out on the trail with one day of prep, but if you start the training process now, you can look forward to a future full of nature explorations with your kitty by your side. It's the National Cat Day gift that keeps on giving.
---
If You Want to Pay It Forward: Support an Animal Shelter or Rescue
Every cat deserves to have a happy National Cat Day—including those still waiting to be adopted. Animal shelters and rescues work to keep homeless pets happy and healthy until they find their forever families, and you can help, too. Chewy's Wish List feature makes it easy to donate the supplies your local cat shelter and rescue organizations need. Just search your zip code to find a shelter or rescue in your area, and add products from their Wish List to your shopping cart. When you check out, Chewy will deliver those products directly to your shelter or rescue's doorstep.
Thinking of Adopting a Cat?
There's no better day than National Cat Day to make that dream a reality!
If you're sure you're ready to adopt, head to Chewy's Adoptable Pets service, which allows you to search thousands of available cats in your area. You can even filter by age, sex, breed, color and more.
Find Adoptable Pets Near You