Y

ou wouldn't dream of leaving your fur baby out of your Hanukkah celebrations, and that means surprising them with a special gift. But what to get? We've rounded up Chewy customer favorites and hot new products from our Holiday Shop to bring you the best Hanukkah dog gifts of 2022. From sweaters for the style hound to squeaky dog toys for playful pups, this list of Hanukkah pet gifts will make shopping a cinch (so you can focus on the things that really matter like frying up those latkes).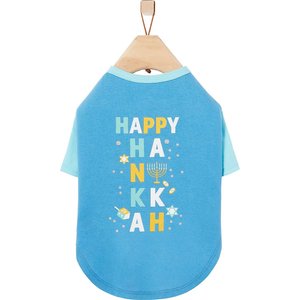 ---
Holiday photos aren't complete if your dog isn't in the picture, so get your pup a Hanukkah doggie T-shirt to fit in with the rest of your decked-out squad. This comfy cotton-poly blend shirt (sizes XS-3XL) is machine washable and slips easily over your dog's head.
Great shirt

My dog gets very excited with clothes, she loves putting on little dresses and tee shirts so she thoroughly enjoyed wearing this for the holidays. And it fit perfectly.

Hanukkah Hit

Wow is this adorable! It does run a tad big, usually with dog clothes it's the opposite, but I'm thinking it may shrink a little once washed. Great little shirt for the holidays!

Size recommendation!

Super cute shirt, but based on the size description, I got my 72lbs pitbull an XXX-L. She is swimming in it, so if you got a stockier dog, I would size down! Otherwise, the shirt is super cute and I'm gonna try to wash it in hot water to shrink it lol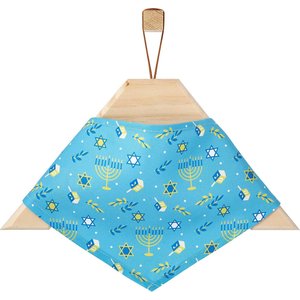 ---
A Hanukkah dog bandana is a great gift for dogs who don't like getting fully dressed up. With its bright aqua background dotted with dreidels, menorahs and the Star of David, this easy-to-wear accessory (sizes XS/S and M/L) is sure to make your pup stand out every night of Hanukkah.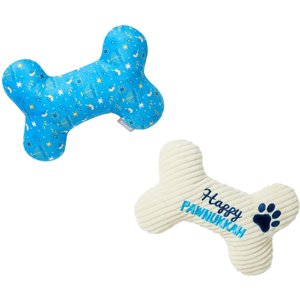 ---
Plush Hanukkah Bone Dog Toys
Throw your dog a bone this Hanukkah with a toy set that celebrates the occasion. This set includes one plush bone in a Hanukkah-themed print and another with "Happy Pawnukkah" embroidered on it. Both have crinkle paper and a squeaker inside for two Hanukkah gifts your dog is sure to dig.
Dog loves them

My spunky Australian Shepherd gets bored outside and this past summer actually caught a turtle and was playing with the shell. These toys have been a great alternative from what she finds outside and it helps her burn off that rambunctious energy of hers. At night, it's something fun to chew on because the speaker and crinkly paper make fun noise. My pup has really enjoyed these bones. I received these as a free sample for an honest review.

Great for play

These squeaky toys are great for play. They are not made for aggressive chewers. I let my dogs have them a couple hours a day to play. They are easy to make squeak. My dogs like to chew on them and make them squeak.

Amazing

I bought these a month ago for my puppies and i'm so glad that I did. Both my chihuahua and my pitbull love these so much and they have fun with them. My chihuahua takes his little bone wherever he goes and squeaks it he loves to play with it for hours by himself.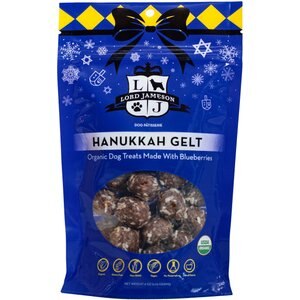 ---
Normally, chocolate gelt is a no-no for pups (chocolate is toxic to dogs). But this Hanukkah "gelt" is pup safe because it doesn't actually contain any chocolate, but rather oats, brown rice syrup, dates, peanut butter and other dog-friendly ingredients.
Must buy!!!

Was so delighted that there was a special Hanukkah Gelt treat for dogs! Winnie gobbled them up, begged for more and had a super fun time rolling them around as she gobbled them up! Love that they have all natural ingredients as well!!!

such a happy Jew!

This just made my day!!!! So happy that my Jewish pup can get special treats for Chanukah!!! Thanks for having these!

My picky Cavachon loves this Hanukkah gelt treat

My Cavachon is quite picky about food and treats. He loves this one. I also like the packaging, and I think having something special for the dogs during our big family Hanukkah gathering will be a hit.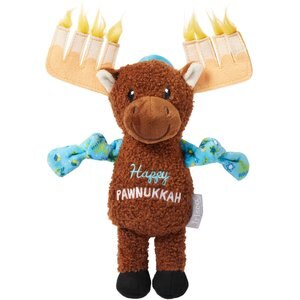 ---
Sporting menorah antlers, a yarmulke and an adorable smile, this Hanukkah dog toy will brighten your pet's holiday season. Available in two sizes (medium and large), Mr. Moose contains a squeaker and crinkle paper to encourage playtime, while his soft fur and stuffing make for excellent snuggle sessions.
A True Hanukkah Miracle

Typically we only expect squeakers to last one day with our dog, but the squeaker in this toy lasted (more than!) 8 nights!

Adorable

I gave this Hanukkah moose plush to my golden retriever and she loved it! She tends to carry her favorite toys around and this toy is her new obsession. The squeaker in it isn't too annoying which is nice when she's playing with it while I'm trying to sleep. The toy itself is super cute too.

Legend's gift

We got this for our grandpup, since his other moose is pretty worn. He plays with it constantly. It's hard to get it away from him to throw it around. We've seen it in other stores for 3 X's the amount of Chew's great price. It's highly recommended by us and Legend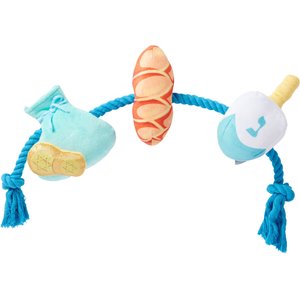 ---
This interactive toy is the best Hanukkah gift for dogs who like to play tug-of-war or fetch. Designed for medium and large breed dogs, the 27-inch long rope is embellished with gelt, a dreidel and challah—each with a squeaker inside for even more festive fun.
Adorable Hanukkah toy for our dogs!

This is one of the cutest Hanukkah Dog Toys ever! The dogs may destroy it in 10 minutes, but right now it is totally adorable, and it will be a fun gift to give them this Hanukkah!

Excellent product

Ace, I got this toy for my dog for a few days. I'm delighted. It's very beautiful and very resistant. It has very reinforced materials and I liked that. The colors are beautiful. My dog loved it. I recommend them to my family and friends

Very nice

Frisco Hanukkah Celebration Plush with Rope Squeaky Dog Toy was extremely well made. My dogs played for hours . It never broke, split, or tore. It was bright and colorful and kept their attention for long period.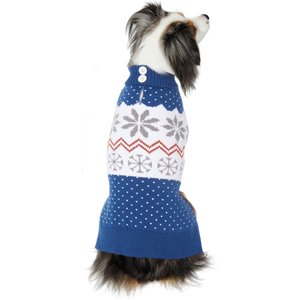 ---
Keep your furry friend warm and stylish in this cozy knit sweater. The cute snowflake design and chenille-blend make it the perfect addition to your pet's winter wardrobe. Sizes XS-3XL.
Really Adorable

Very warm and cozy! Keeps our sweet God Puppy very happy. He curls up and falls asleep shortly after we put it on him. Thank you!!!

great product

The sweater is well-made. I measured Finn, ordered according to the size chart, and the sweater fit him perfectly. He got lots of compliments! I'd buy from this same manufacturer again.

The Perfect Dog Sweater

This is the prettiest and most well made dog sweater. It is designed well and just slips over my Dogs head and then her two front legs slip easily into the openings. Very warm, since she has a smooth thin coat. She doesn't mind wearing it at all. The two big white buttons on the neck make the sweater even more cute. Originally I ordered the size according to the chart and having a conversation with a CHEWY representative; however it didn't fit so I reordered a bigger size and LOVE IT !!!!!! Thanks Chewy for always being so helping in the ordering of your products. Chewy has the BEST customer service !!!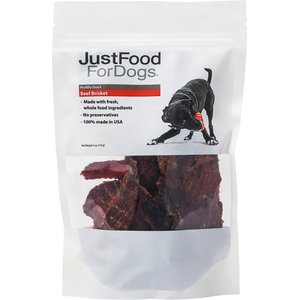 ---
Serve up a family dinner favorite with these beef brisket dog treats. Made in the USA with a single protein source, this savory snack is dehydrated and baked for a crispy, crunchy texture dogs love.
Delicious

They must be tasty my dog loves them and she always comes back for another one. I like to stick them in a treat toy for her to find.

Quality treat/meal topper

My dog loves these!! I cut them into small pieces and mix them with her kibble or give them as treats

Best treat!!!

There is nothing like giving your pet(s)/best friend(s) the best that there is. Nothing but meat! Just brisket! No by products, no garbage. Just meat. My pups also like the chicken too. Just dehydrated meat. Keep refrigerated after opening. Makes my dogs soooo happy! Just Food For Dogs makes other great products!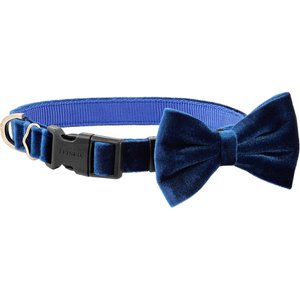 ---
Get fancy during the Festival of Lights with this velvet dog collar in a deep blue hue. The bow tie adds a formal touch for holiday parties, but can be removed for everyday wear. Sizes XS-XL.
So handsome!

Got this bowtie collar in red for our family's blue heeler for Christmas. Not only were the humans happy, he loved it as well. I can tell he feels fancy in it.

bowtie collar for the best boy

I LOVE this collar! It is a soft velvet, adjustable, and everything I wanted. I will only be using it for lounging at home and taking cute pictures because I'm not sure of the collars sturdiness, but that's what I wanted! I was not looking for a sturdy collar for outdoors and training, just a cute little bowtie to wear around the holidays! And this is perfect for that. I absolutely recommend!

cute bow collar

Don'f hesitate to buy these quality collars my pets look great I got 3 for my two dogs and a cat. They are true to size according to their size chart. Great product for picture days especially so cute on them.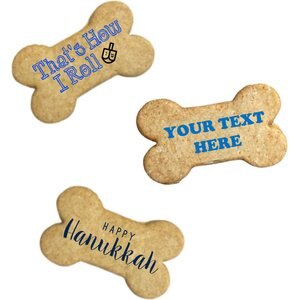 ---
Personalized Dog Biscuits
While you're noshing on latkes and other greasy goodies, treat your pooch to Hanukkah-themed dog biscuits. This 3-pack made in small batches by Spots NYC features a peanut butter flavor and can be customized with your dog's name.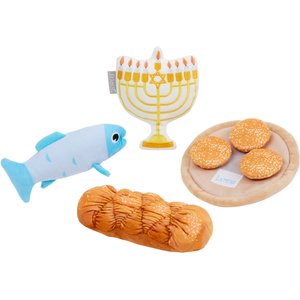 ---
Give your pup some Hanukkah treats they can really bite into—like this four-piece set of sturdy plush toys that match the food and décor on your own Hanukkah table. Designed for small breeds dogs, each plush has a squeaker sewn in to turn up any play session.
Love these!

These are well-made and my dog loves them! And I love that Chewy and Frisco include more than Christmas in the holiday toy selection.
These great Hanukkah dog gifts will make your holiday shopping so much easier. Whether it's your pet's first Hanukkah or you simply want to spoil your fur baby, there's something on this list to satisfy every pup (and Jewish pet parent)—and to help you make lasting memories this Hanukkah.
Bonus Gift Idea:

 
Shopping for other dog lovers? A 
Chewy gift card
 will ensure they get their dog just the right gift.
Get tips for a safe holiday with your pets: