W
arm neutral tones
.
R
ich natural
materials
.
C
ozy
and
luxe
textures
.
S
ophisticated
,
contemporary pieces
.
Organic modern design
does
not
sound
(or look!)
pet-friendly whatsoever. But it can be
.
No, really
!
A
nd
Emily Wang—dog mom to
9-year-old
Kokoro
,
8-year-old
Chibi
and
20-month-old
Kibo
—and her home is proof of i
t.
Wang—whose Instagram features her meticulously designed and organized home—shows pet parents that, yes, it's totally possible to achieve the popular organic modern look in a pet household. One of her big secrets? Choose pet furniture or blankets that are machine washable. (Those light-hued fabrics can get dirty quickly!)  
Here are the organic modern pet products Wang has decorated her home with to achieve that pristine yet warm and inviting look. She even offered up some cleaning advice to help you keep it that way (read: keep your furniture white). 
Emily Wang's Organic Modern Picks
Wang, like many other pet parents, used to think that having a dog crate in the house meant sacrificing the look and aesthetic of her space. But with this Frisco furniture-style dog crate, it's absolutely not the case. Available in a sleek gray color, the crate features a double door and metal fixtures, making it a gorgeous accent piece in your living room. 
"I love this crate because it matches the colors of my home, blends in as furniture without calling attention to it and doubles as a side table in my living room," Wang says.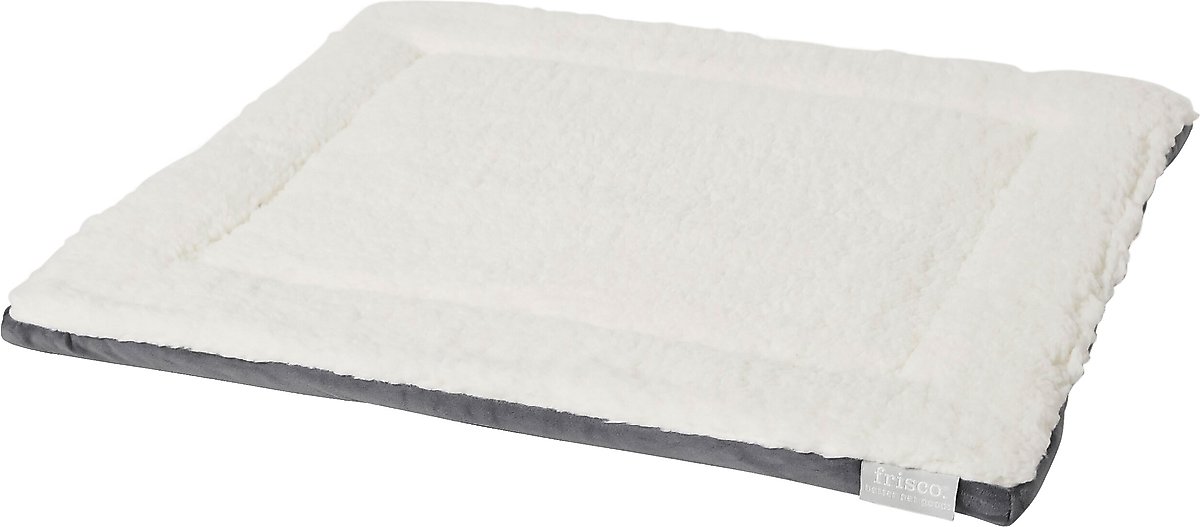 Inside the crate, your pup will need a bed to lie on. Wang's favorite is Frisco's self-warming pet bed in neutral hues white and gray. It's machine-washable, too, for easy cleaning.  
"The pups can have some cushion and warmth in the colder months when they are using the crate," she says. 
Wang's tip for keeping light furniture clean and free of pet stains? (We see you, dirty paws.) Add a stylish (and cozy!) layer of protection. This pet blanket does the trick while still hitting the organic modern mark with its gray faux fur on one side and plush velvet on the other.  
"They love lounging on the couch with us on movie nights. Because my couch is white and harder to keep clean, I teach my dogs they can lay on the couch as long as they're on their designated spot: a pet blanket," Wang says. 
"With one big boy who happens to be an energetic, high-drive puppy [Kibo], being able to separate our space often comes in handy, both for training and for giving our older girls, Kokoro and Chibi, a break from their baby bro," Wang says. 
The solution? This 30-inch, solid-wood arched pet gate, which comes in three organic modern-friendly colors: white, gray and espresso. 
"This helps us section up our home in an aesthetically pleasing way." 
Emily Wang's Top 3 Cleaning Tips
Because Wang is #dogmomgoals, we had to ask her: How in the world do you keep your house so clean?
1. Let Robots Do the Dirty Work
Wang has a robot vacuum running constantly, and she mops her floors daily. She also swears by machine washable rugs.
2. Wash Fabrics Frequently
"I throw [the rugs] into the laundry and bleach on a regular basis to keep things bright and clean," she says.
3. Don't Forget to Clean Dogs' Feet!
"We also wipe our dogs' paws whenever we come in from outside, because the air and sidewalks in L.A. can get them dirty really fast." Keep scrolling to find out which shammy she uses to keep her dogs' paws clean.
It's almost as if these Calacatta-esque marble print ceramic bowls were made specifically for organic modern homes, like Wang's.  
"We have a marble island in our home, so the marble design on these fits perfectly in our kitchen," she says. 
With its nonskid feet, these dishwasher-safe bowls are also great for food-loving pups who tend to push their food bowls around. 
"Chibi has insanely high food drive and will push her bowl around if given the chance, so I like using non-skid bowls that stay in place, even if a voraciously hungry Corgi is eating enthusiastically out of it," Wang says.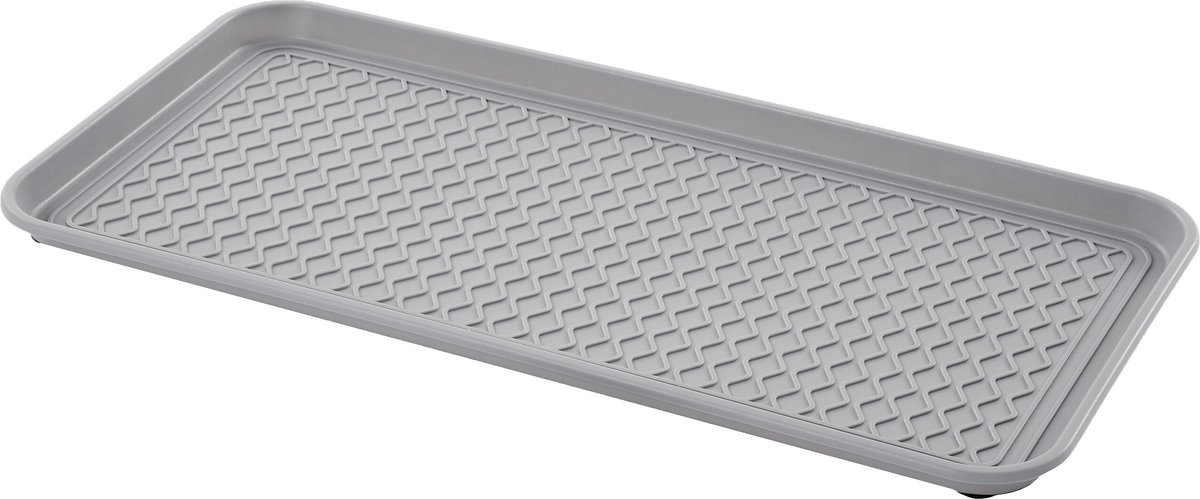 Hey, some dogs (like Kibo!) are messy when they're slurping up their water. That's where placemats, like this one from Mr. Peanut's, come in clutch. This placemat features a leak-proof polymer, raised perimeter and anti-slip bottom. 
"[Kibo is also] a bit of a messy eater," Wang says. "Having a placemat underneath his bowl to catch crumbs and water that sloshes out of his bowl makes it easier for me to keep our kitchen clean and tidy." 
Of course, you'll need a place to store all your dogs' toys; and for an organic modern home, you'll want to pick up this white Harry Barker bin, hand-crafted with coiled cotton rope. 
"I like this bin because it is designed to be lower and wider at the opening compared to most storage bins, which makes it easier for the dogs to stick their heads in and pull out their toy of choice," Wang says.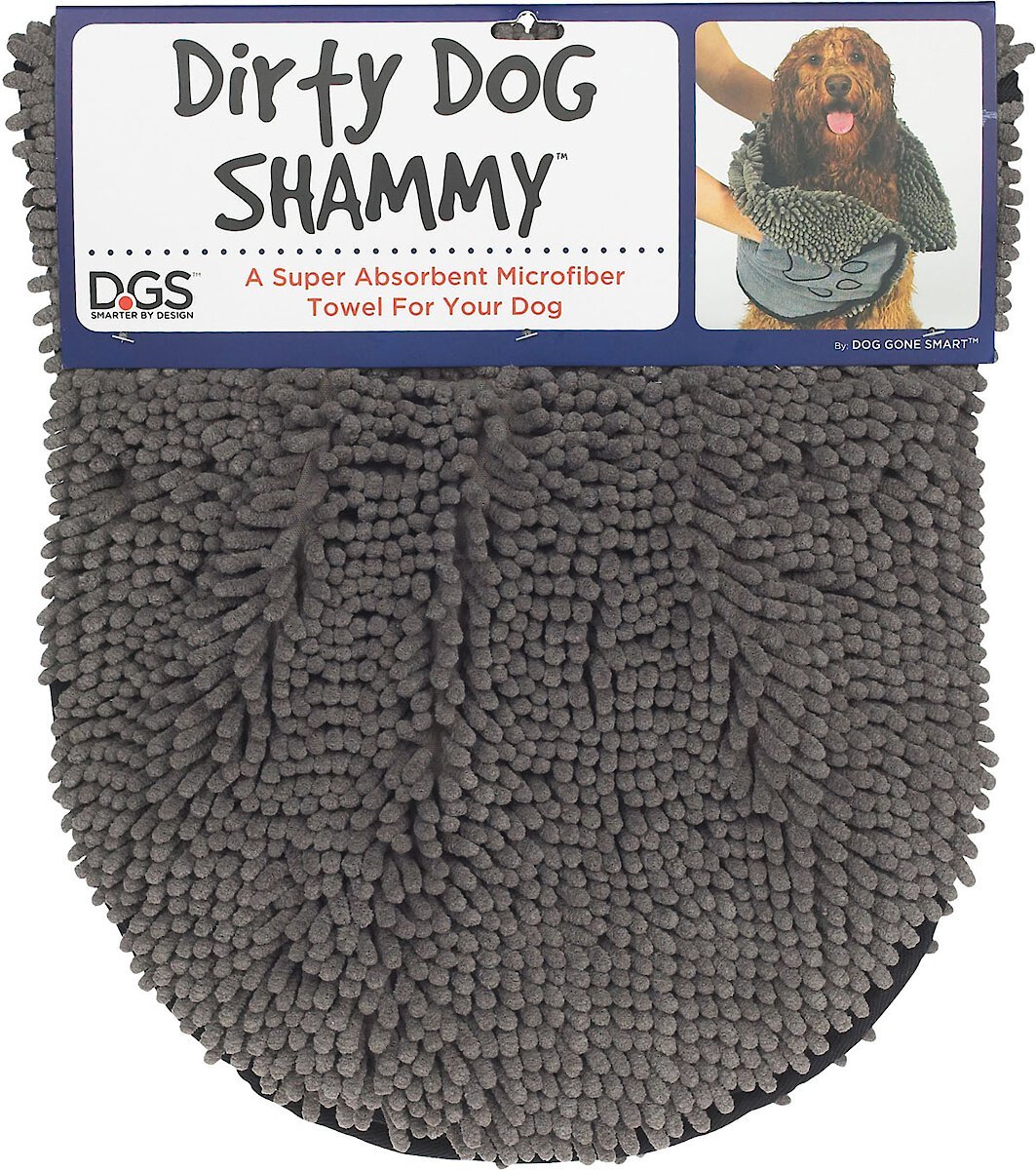 Remember when Wang said she wipes her pups' paws whenever they come back inside from playing and walking outdoors? This is the gray shammy towel she uses.  
Dog Gone Smart's shammy towel is made with a super-absorbent microfiber that can soak up to 20-times more water and mud than other towels. It dries quickly, too. 
"Even in just 30 minutes, the dogs' paws collect a lot of dirt and can leave black paw prints all 
over our house if not wiped," Wang says. "Using a towel like this is more eco-friendly than disposable paw wipes, and you can cover more surface area with a shammy towel, too." 
How beautiful is Wang's organic modern home?
We're already
dropping some of her
fave
pet products into our
Chewy
shopping cart
and jotting down some of her cleaning tips on
Post-Its
to stick to our fridge (you know, as a friendly reminder to
actually
clean
).
Show us
your
organic modern homes
and share some of
your
cleaning tips
on social by tagging us @Chewy!