Mid-century modern design is sexy. From the angular, clean lines and curved and geometric shapes to its bold accent colors and heavy use of natural materials, like wood, metal and glass, the design aesthetic is sophisticated and minimalist—and one dog mom is proving that it's a great home style for pet parents, too.
Yena Kim is dog mom to Luc, a Jindo mix rescue, and his brother Bodhi, the Shiba Inu behind the beloved blog Menswear Dog—and whose cool, timeless sartorial style totally echoes the Mid-century modern interior design trend's key elements and overall vibe.
"[The] 1950s design [is] all about functionality, clean lines and simplicity with pops of eclectic accent colors," Kim explains of mid-century modern design, which was popular from the 1940s to '60s.
To capture that perfect midcentury aesthetic, she painted her walls white for a clean look and equipped her home with "streamlined walnut furniture with tapered legs and a selection of limited colors and textures for smaller items." She says the furniture "gives a feeling of lightness and openness."
"The beautiful use of teak and walnut for furniture pairs so well with organic elements, like green indoor trees and plants, and makes the perfect environment for the dogs to relax and enjoy life," Kim says.
As for how she incorporates her two dogs' beds, furniture, toys and more? She looks for similar qualities when shopping for them:
Curved and angular dog beds
Thoughtful pops of color via their toys and chews
Wood-accented storage containers for their treats
But let's get to what you came here for: Ahead, we'll show you how to get Kim's mid-century modern look—including Bodhi and Luc's favorite mid-century modern-appropriate outfits!
Get the Look:
Yena Kim's Pet-Friendly Mid-Century Modern Home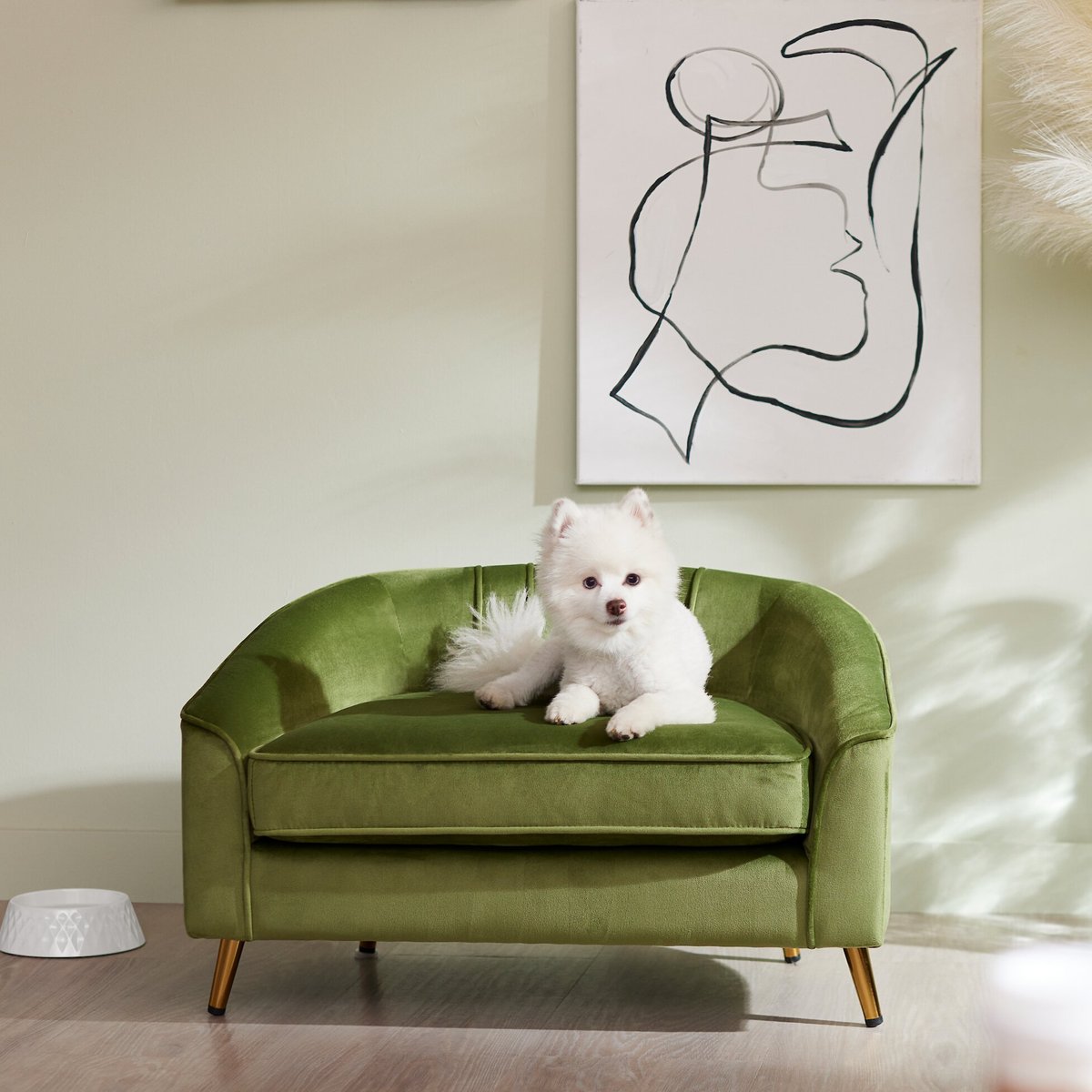 Is Frisco's Elevated Curved Sofa Bed not the chicest dog bed you've ever seen? With its rounded shape, velvety fabric and gold metal legs, it's a total fit for any mid-century modern-designed home. 
"This [sofa bed] with a removable cover made our jaws drop and is such a good example of functional, clean and simple design," Kim says, adding that she loves how the olive green color option matches the plants in her house.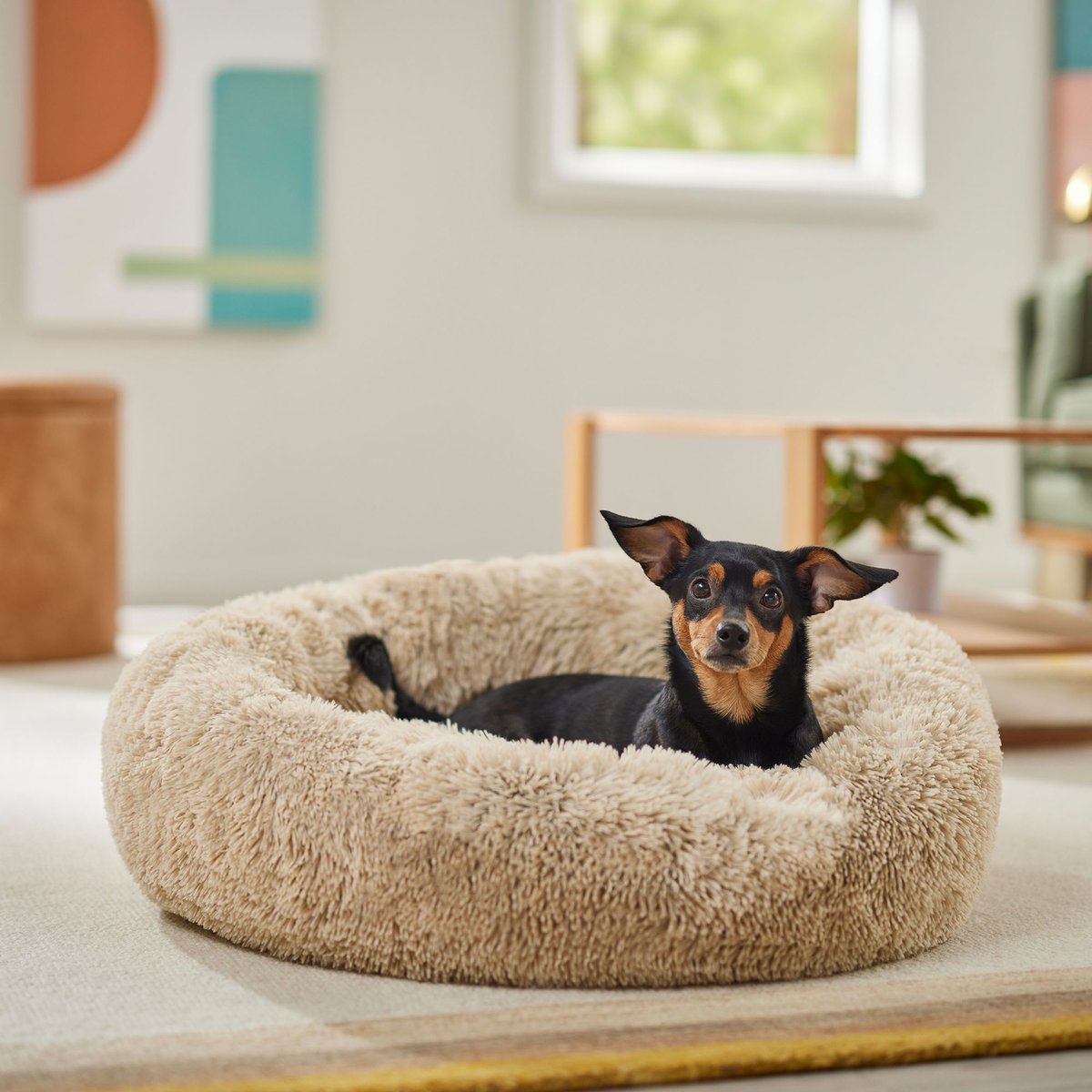 What caught Kim's eye about this machine-washable Frisco Eyelash Bolster Bed? "It [reminds] us of those beautiful shag textiles from the 1950s," she says. 
Plus, with its super-soft faux fur fabric, the bed is comfy to boot. 
"When Bodhi feels like taking one of those afternoon naps that transports him to another dimension, he can hop into [this] bolster bed for next-level comfort," Kim says.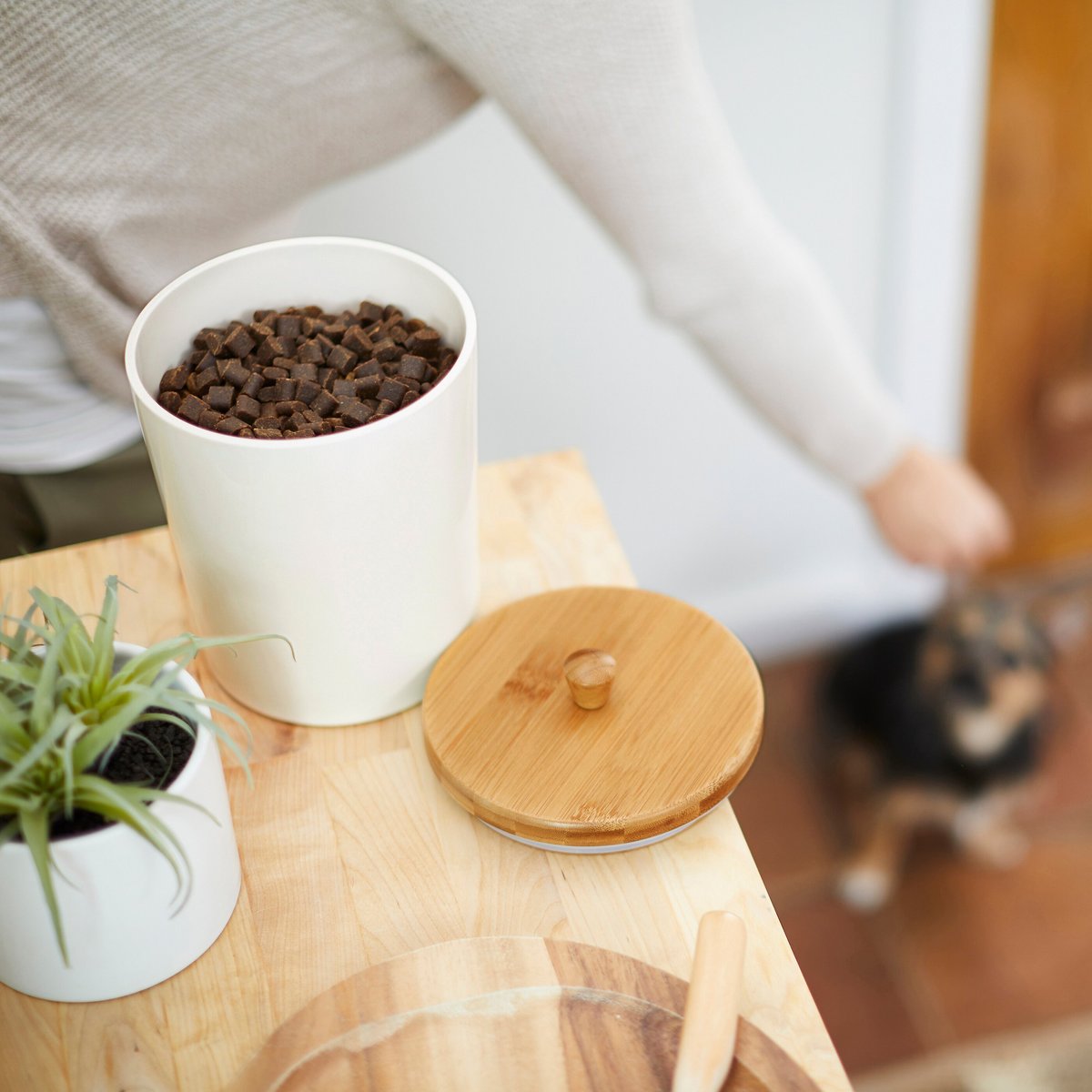 This Frisco Melamine treat jar fits well in any mid-century modern home due to its bamboo lid, its neutral-white color and its sleek shape. The jar is so on-trend—and seals so well—no one would ever suspect it's full of dog treats.    
"Just when Bodhi has reached his peak-level bliss and can't imagine life being any more perfect, I can hand him a treat from this [treat jar] and a big kiss on his forehead," Kim says.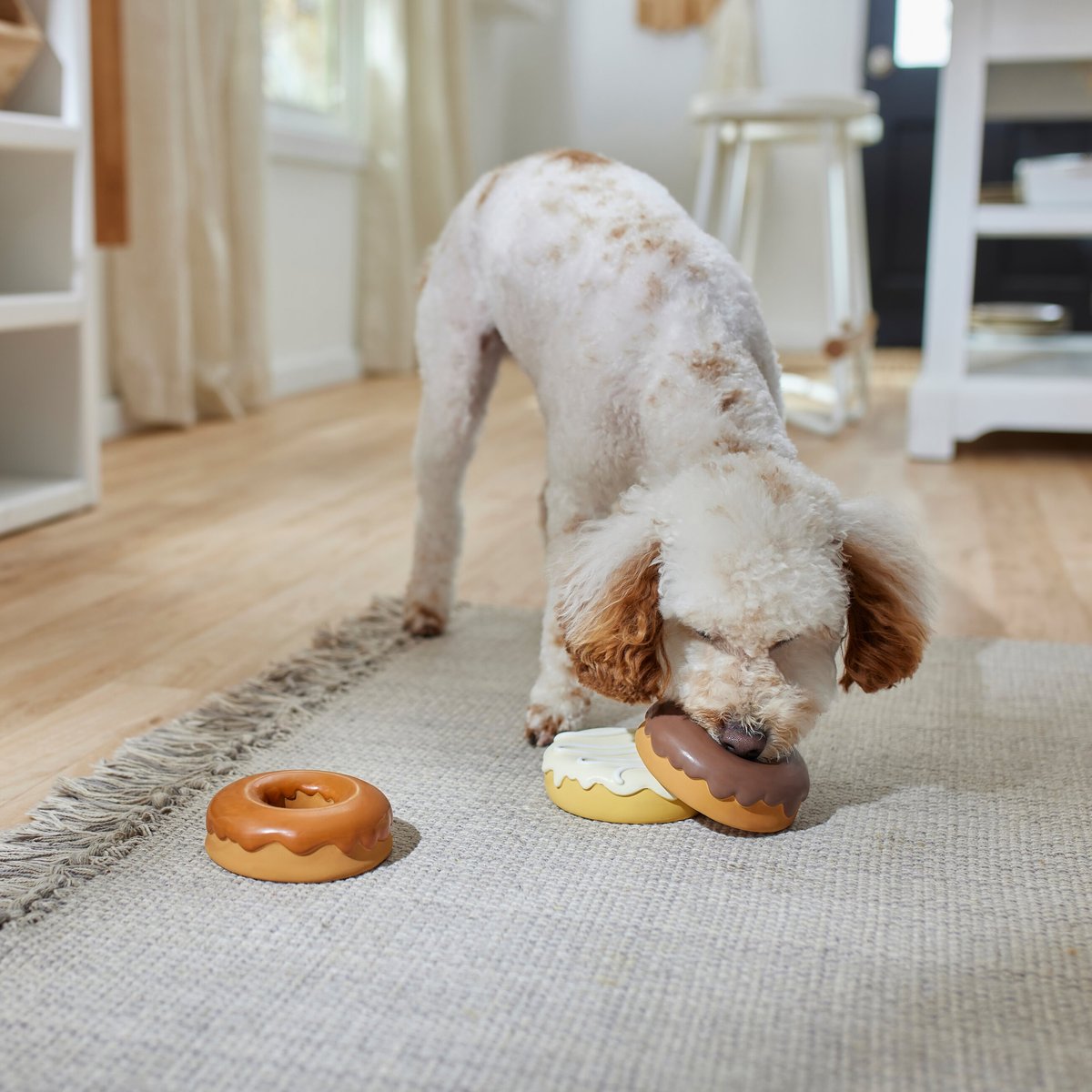 You may be surprised to see dog toys on this list, but they can add to your design aesthetic (or even detract from it!). After all, our pet's toys are usually lying around the house. So yes, Kim says you really should consider how the toys will fit into your style. 
The neutral colors of these faux doughnuts complement the rest of the décor, including the treat jar, so well. (Whether the toys will stay put on the side table is another story, though…)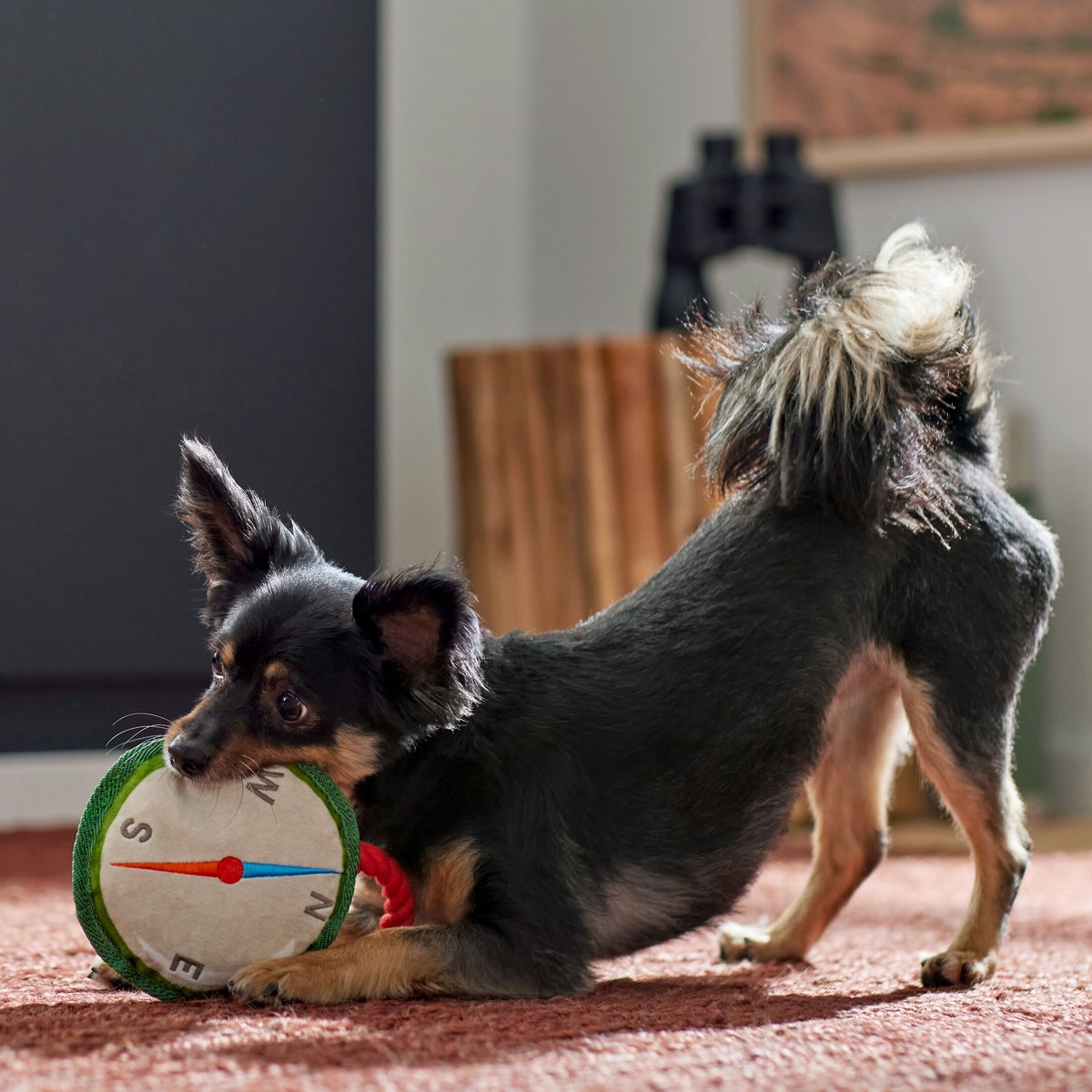 Another dog toy as décor? Yes! And Frisco's Camping Compass Rope Dog Toy adds a fabulous pop of complementary color to Kim's mid-century modern space. But what she also loves about this product is that it's, well, fun!  
"It's double-fun because you can throw it around for a game of fetch or challenge your pup to a round of tug-of-war," she explains. (Hey, a dog's got to chew on something, and it sure as hell shouldn't be that new curved, velvety pet sofa you just bought.) 
Pets Who Dress the Part:
Yena Kim's Favorite Mid-Century Modern-esque Dog Sweaters
While
you're
giving your home a
mid-century modern
makeover
,
why not
look
the part, too?
Kim
and her pups sure do, and these are their favorite
mid-century modern
-appropriate dog sweaters
.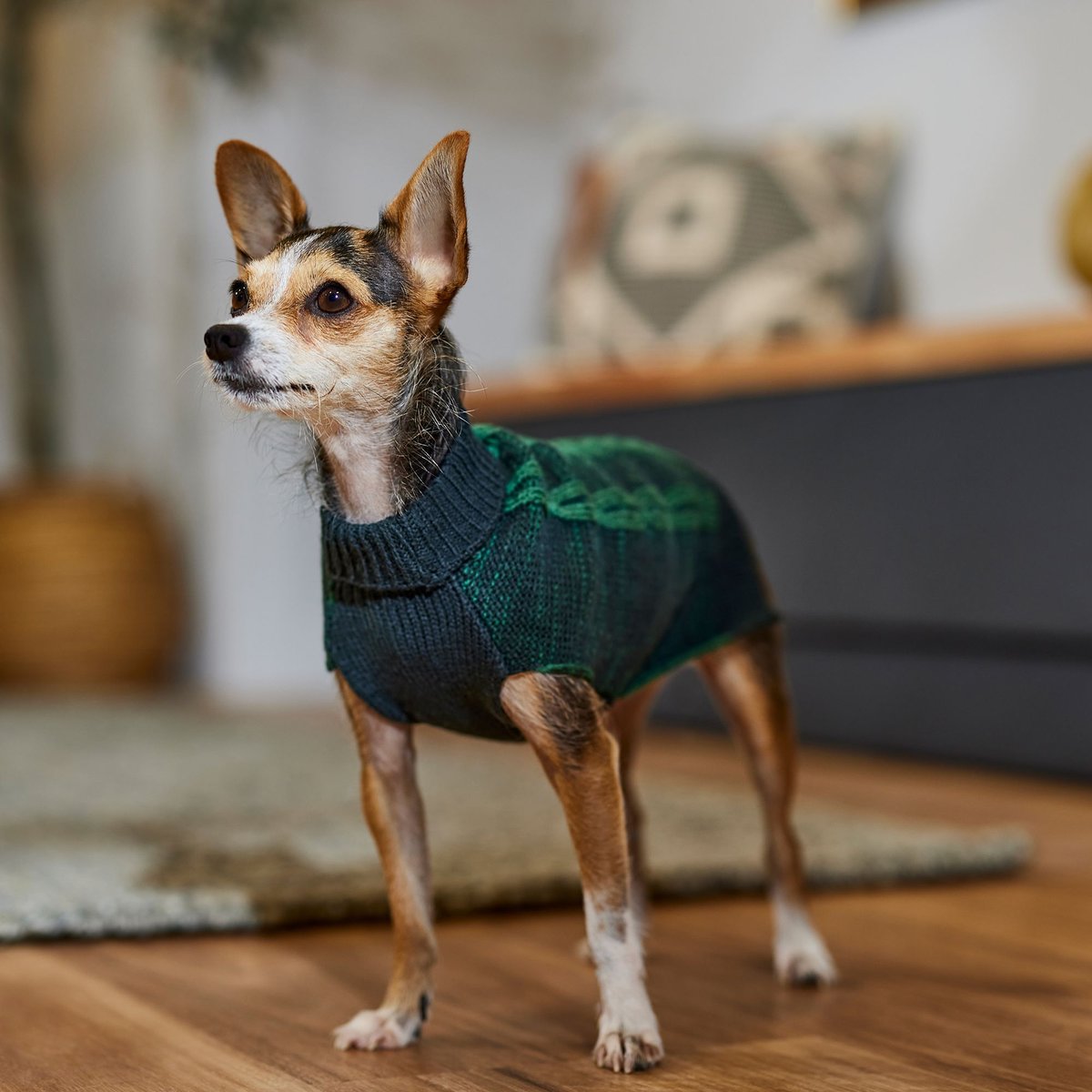 "
This dark teal sweater
caught our eye immediately and pairs so well with the indoor plants in our living room," Kim says
of
Frisco's cable knit sweater
, which, features a classic striped design and
ribbed texture
for
warmt
h.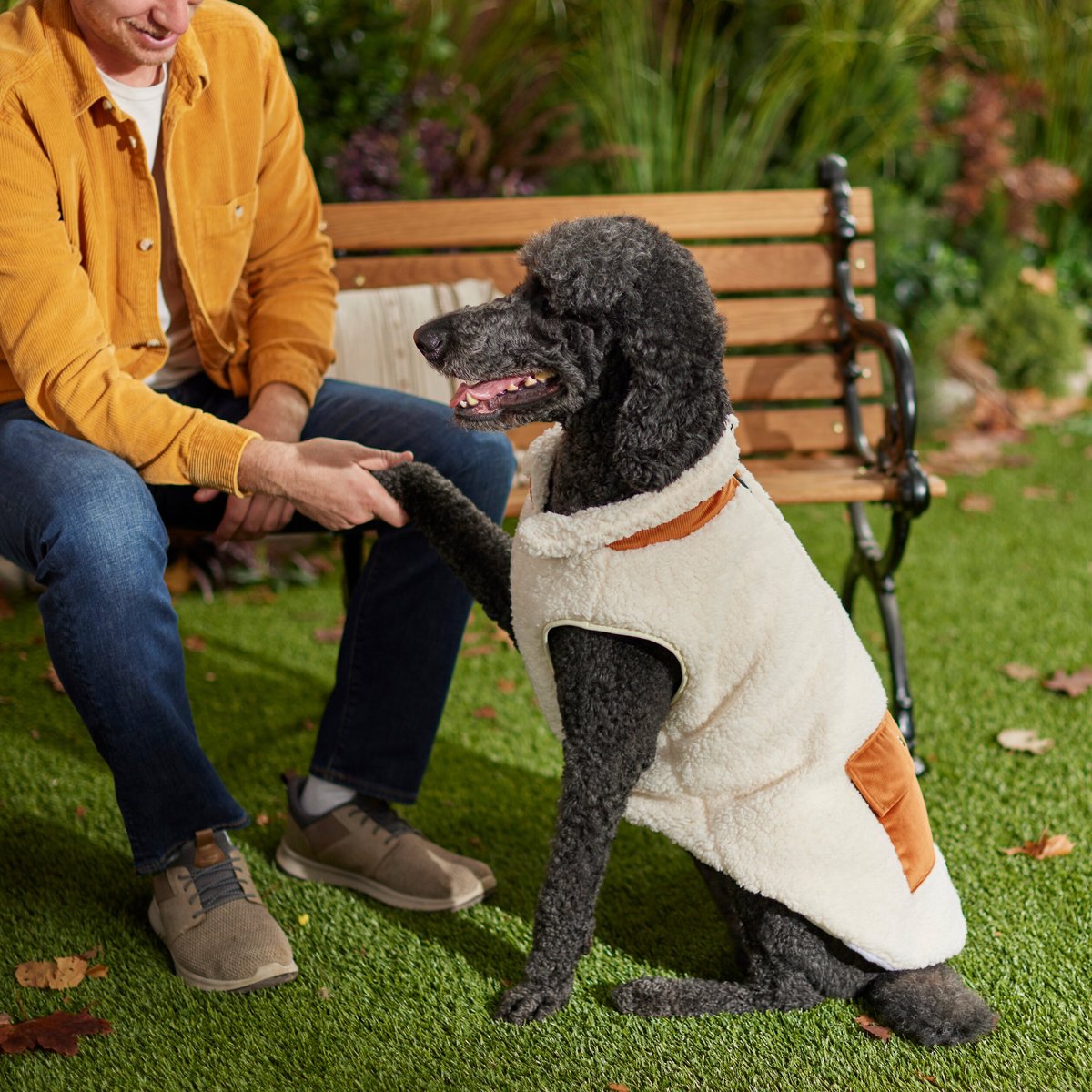 Not only will your pup keep warm in this Frisco sherpa fleece vest, but they'll also look sharp, thanks to the white fleece paired with the orange corduroy pocket, which will fit in perfectly in your mid-century modern home.  
"This [fleece vest] looks great on Bodhi because it's cream and tan (just like him), and the neutral tones harmonize well with midcentury walnut elements," Kim says of Frisco's Insulated Half Zip Sherpa Fleece Vet, which boasts a stylish orange corduroy pocket.  
Kim adds that the sweater and vest she chose for her pups helped "keep a limited color story that is tonal to the rest of the space." Smart! 
There you have it, "mid-century modern perfection" (as Kim so accurately puts it) for you
and
your pets. And don't forget to share your pet-friendly mid-century modern spaces with us on social by tagging @Chewy!
Dress 'Em Up in this Season's Hottest Trends: