When the temperatures drop and the chill creeps in, our four-legged friends appreciate the toasty goodness of a cozy sweater just as much as we humans do. To help you choose the right fleece, hoodie or knit for your precious sidekick, we've curated the best dog sweaters for canines sizes large and small.
The dog sweaters on this list are a mix of Chewy best sellers that pet parents like you love and new items that tap into some of the season's hottest trends. Not only will these top picks keep your dog warm in chilly weather, but they've got style to spare! Don't be surprised when neighbors stop you on the street to admire your bundled-up BFF.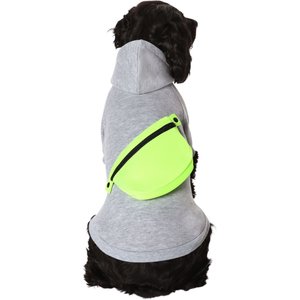 ---
This new and oh-so-cute dog hoodie will be your go-to for all your cold weather outings. Available in XS-3XL, it can fit a variety of dog breeds and sizes. And can we talk about the removable fanny pack, which is so on trend for this '90s moment we're having? Not to mention it's actually functional—use it to pack extra poop bags or treats. Who can argue with added room for treats?
Cutest cat ever!!

Got this adorable little shirt with Fanny pack for my brothers cat! It's just the cutest little thing ever. Zipper works and the pouch even comes off so it's optional! Just need a cute little pink one for the girl cat so they both are sporting' new cuteness!!!

Hilarious

I don't know why but this little setup is so freaking funny to me. Let your dog or small cat hold the keys next time you go on a walk with the tiny little fanny pack that actually functions. Super cute and actually functional!

So adorable!

I gifted this cute little outfit to my sister for her chihuahua. She loved it. Our favorite part of this outfit was definitely the fanny pack! Maybe not so much for the dog(: but it actually comes in handy for his treats when he has to run errands with her.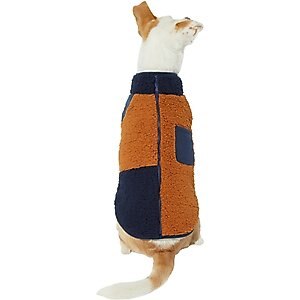 ---
Another new offering this year, Frisco's stylish brown-and-blue dog vest features one of our favorite fashion trends: colorblocking. But it's not all style over substance: The stretchy sherpa fleece material is breathable while keeping your pet warm in cool climates. Plus, the hook-and-loop fasteners keep this fleece vest snugly in place for a perfect fit and make it easy to dress your sweet pooch for the chilly weather.
Nice Sweater!

I have been searching for a sweater that my dog could step into because he wasn't a fan of me pulling anything over his head. This was a great find! As stated in other reviews, the sizing runs big. He could probably use one size smaller but this one works.

cozy but size down!

It's a great cozy fleece and fits my chiweenie (it's not super long, but not too short either). SIZE DOWN! He is 12 lbs and I ordered an X-SMALL.

Stylish Fleece - Runs large

I had to buy 3 different sizes in order to find the right one for my 30 lb Labradoodle. XL was the perfect length and M was the perfect chest width. Ended up going with L to meet in the middle. That being said, super cute and very comfy! I love that it zips up the back. My pup loves sleeping in it.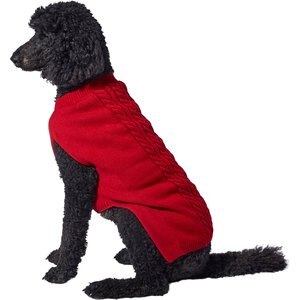 ---
Best Sweater for Large Dogs
When it comes to large dog sweaters, you truly can't beat a classic cable knit sweater like this top seller. It's available in five different colors and is machine washable. But what really makes this high-quality knitwear a perfect match for large dogs is the fact that it comes in a range of different sizes—all the way up to 3XL—which means even the biggest of besties can rock it. (Don't forget to check the size chart to find your pet's perfect fit.)
Frisco Cable knit sweater

Nice quality, fits well. Hank hasn't worn much yet, not quite cold enough in OH yet . Measurements were spot on for fit.

Adorable warm sweater

My cat Gracie is 17 years old and getting thinner. She hates the cold weather we are now experiencing and sits by the furnace floor vents to keep warm. She is getting used to her new pink sweater and seems to be more comfortable when she wears it. Perfect size, too!

Nice sweater

I love this sweater for my 70 lb Standard Poodle. It fits his deep chest and long body well. It's easy to put on and take off and doesn't restrict his movements in any way. It washes and tumble drys well. Jasper wears the XXXL size. I plan to order another color.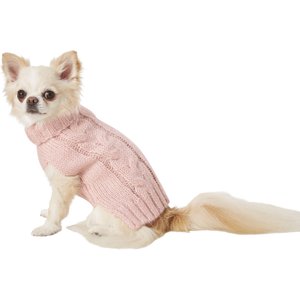 ---
Best Sweater for Small Dogs
Calling all petite pups rocking that x-small life. Your lil' bestie deserves to look as debonair as the rest of 'em, and this comfy cable-knit pullover will certainly deliver. This small dog sweater is serving us that après-ski life. And with sizes as small a XS and S, it can fit dogs under 10 pounds.
Fits my mini-Dachshund!!!

This is a great sweater! Most Dachshund lovers have found themselves frustrated by "garments" that fit the length of their dog but, are too big for the dog's body. I bought a small for my senior mini. It fits perfectly.

Beautifully Made Sweater

This sweater is quite handsome, durable and warm. It is more tightly woven than other styles, so I recommend ordering one size up.

Got for my dachshund

I got this for my puppy which is a miniature dachshund and I got a extra small. This fits her well without being too snug. I will buy another one when she grows out of this one!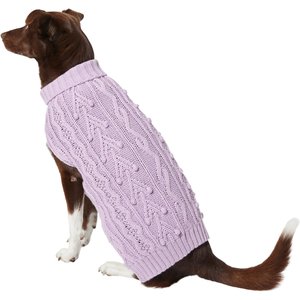 ---
Your furry trendsetter can rock Pantone's color of the year, Very Peri, a soft periwinkle that hits right between purple and powder blue, in style thanks to this smart and cozy bobble-knit sweater. The acrylic pullover design and leash hole make it a must-have for all your cold-weather adventures. Plus, the chunky texture and casual fit gives it that relaxed, worn-in look—perfect for lazy winter weekends.
fits Perfectly

This adorable little sweater, in Gracie's favorite color (and in mine lol) is warm and cozy on the blustery days. She has several sweaters and a rain coat and this is one of her faves currently.

dog sweater

I love this sweater for our terrier (20lbs), It is a perfect fit and nice and warm for the upcoming winter. Wish there were more colors

Great sweater!

My dog loves this sweater. Very thick material and nicely made. Fits her perfectly (XXXL) and she is a very large German Shepherd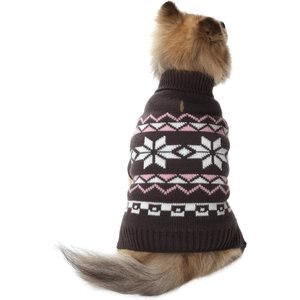 ---
How about a festive doggy Christmas sweater that not only celebrates the holidays but the whole winter season? This dog sweater combines a stylized chevron print, which is a Chewy customer favorite, with a snowflake design that'll remind you of cozy nights spent around the fireplace. The pullover turtleneck style makes it easy to slip on and off, and it's machine washable.
These sweaters are awesome!

I love sweaters with a little sleeve for our Min Pin. Living in Wisconsin with our cold, snowy weather, these are perfect to keep our little guy warm when he needs to go out. They wash easily and are made to last. Thanks, Chewy!!!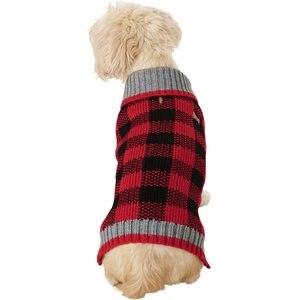 ---
The buffalo plaid pattern featured on this Chewy customer fave is a winter wardrobe staple. Maybe it's because this particular buffalo plaid dog sweater manages to be both rugged and chic at the same time. Or it could be because the supremely soft fabric means it's comfortable to wear. Either way, it's a smart purchase for your pup's closet for many seasons to come.
Soft and Warm

I am very pleased with the quality and material of this sweater. It is made of soft acrylic which is very easy to wash and dry. Not only that, it is very easy to put on and take off. And, oh my gosh, is it stylish! People stop me on the street to compliment my dog as he prances along in his fancy red plaid sweater with the cute turtleneck.

Buffalo plaid love!

Perfect for a miniature dachshund. Size chart is accurate. Warm. Easy on and off. Miss Mavis highly recommends this sweater to keep the chill off!

Adorable!!!!

This sweater is good quality for the price. Our dog wears it without any complaints. It definitely keeps her warm. She is a medium size dog but we got her a large and it fits perfectly! Glad we got this one!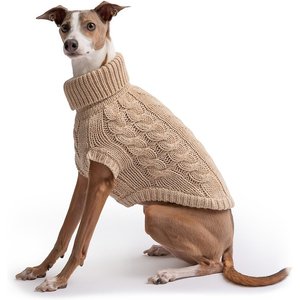 ---
Best Turtleneck Dog Sweater
Your fur baby will certainly channel their inner preppy pooch wearing this chunky turtleneck sweater. The stretchy pullover design gets you out the door in jiffy, and the snug fit ensures a toasty pup that's perfectly comfy, too. This best-seller will earn your pet top-of-the-class status, for sure.
Beautiful, Perfect Sweater

I've never bought clothes for my dogs, except a jacket. We recently re-opened our doggie door, and it's getting cold out, but Sapphire likes to spend time outside. She likes her jacket, but it isn't practical to wear all the time. So I crossed my fingers and bought her a sweater. It's absolutely beautiful and classic. It's very well made and fits perfectly! I bought the XXXL, and she is around 130 pounds with a deep chest. I've never seen a dog sweater fit so well!

finally a thick sweater!

i got this for my girl who has a bald belly and no undercoat so a warm sweater is essential in winter. this is a nice thick material, not cheap and thin like so many other sweaters i've tried for her. the turtleneck is a another great feature as it not only keeps her warm but keeps the sweater from falling down past her shoulders. my only complaint is that because it is knit it's able to snag on her collar or other things and tear but that's to be expected with the material. i highly recommend if you're looking for a good warm sweater though!

Cute and Cozy

I love this sweater but it's a bit small for my dog. I measured carefully but it's a bit snug and he is not impressed.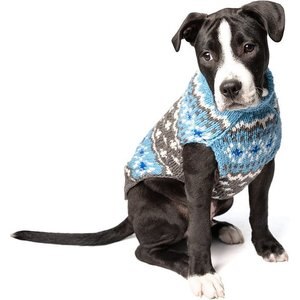 ---
Best Wool Sweater for Dogs
Lean into those trendy #cottagecore vibes with this fair isle dog sweater. Not only does the fair isle pattern have its roots in rural life, but the wool for this sweater is collected from sheep that roam freely in the Ecuadorian mountains. The sweater itself is handmade by artisanal knitters. Definitely a winner for those pet parents who dream of a simpler life with their canine companion by their side.
Handsome Well Made Sweaters

I ordered several new sweaters and vests for our English Setter who has early kidney disease and gets cold very easily. I ordered the largest they come in and ordered several. They fit well and he can potty with them on as they are cut shorter on the stomach side.

Perfect for cold weather!

I have 2 senior dogs. One an APBT 70lbs and one an American bully 80lbs. I bought the XXL for both. They are little long, but I just fold it under and when they are laying down the extra length covers their widdle backsides. Nice and warm for Midwest winters. It fits their wide chests and the arm holes are nice and wide to allow for leg movement. They are turtle necks and I can fold them forward for some ear coverage. They are wool -- cold water and hang to dry -- or dry clean. We would post photos, but my dogs don't do free promo. Lol.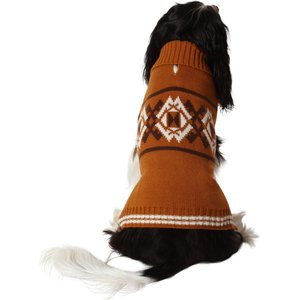 ---
Best Machine-Washable Dog Sweater
Hold onto your horses, because cowboy chic is a classic look that's back and better than ever. This Western-themed, sleeveless dog sweater offers a touch of rustic flare in a stretchy, pullover design. Saddle your lil' doggy up in this sweater and they'll be ready to dash off into the sunset. And when they're done muckin' around, just toss the sweater into the washing machine for easy cleanup.
No pet parent wants to see their dog shivering in the cold. Let our roundup of the best dog sweaters guide you to just the right style to keep your fave fur-friend cozy and cute all winter long.
Lisa Arbetter contributed to this article.