On those bone-chillingly damp days, when the undercoat Mother Nature provided your pup isn't quite enough, it's up to you to deliver that additional layer of protection with a high-quality dog coat or jacket. But not just any old thing will do. We know you want the best of the best for your precious pooch—something that's both functional and fashionable.
To help keep your pet warm and stylish this winter, we rounded up the best dog coats that accommodate a range of sizes and weather conditions. These dog coats and dog jackets are a mix of Chewy customer favorites and new items that tap into the hottest trends of fall/winter 2022.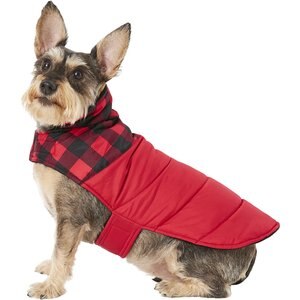 ---
This top-selling sporty dog puffer coat may be lightweight, but thanks to a supersoft fleece lining, it'll keep your dog warm in chilly temps. The water-resistant outer shell of this winter dog coat keeps your furry friend dry, and the Velcro fastener makes for easy on and off. Bonus points for the buffalo print accent, which is a truly classic look for fall and winter, and the fact that this one's machine washable.
Nice Autumn Jacket

I really like this jacket. It is easy to put on and it keeps my little doxie warm on the cooler mornings.

Great purchase

This coat is adorable and OMG the price was amazing ! It fits our dog perfectly. I sized up as he is in between on some measurements. He will be very toasty when winter comes !

Cute and light weight

I bought a medium for my 16lb mini Schnauzer and it fits well. He hasn't used it yet but it should be perfect for walks when the temperature is in the 20''s. It has a nice flap to expose the collar ring to attach a leash.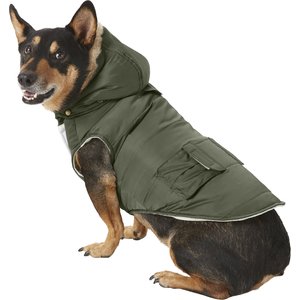 ---
This popular coat earns "best parka for dogs" honors thanks to its hip styling and plush lining, which provides extra warmth on blustery days. The faux-fur trimmed hood doesn't just lend to a glam doggie moment, but it also detaches to provide two styles in one. And while we love the classic olive green, this dog parka coat comes in two additional colors (red and barbiecore pink), as well.
excellent product

High quality, durable, and absolutely adorable! I bought 2 of these a few months back for my indoor/outdoor cats. The hoodies have not lost their charm throughout the wear an tear of my very active cats. They leave for the day (sometimes a couple days), wear them for about a week before I throw them in the washer, and the fabric has not tore or lost it's charm. Very durable if you asked me. 2 2y old cats, bought them both in XS and the fit perfectly fine. I bought them back when they were not on sale and o have to say it was worth the money. Not to mention my cats look so dam cut in them.

My dog looks so cute

Very nice quality doggie coat. Pretty color, soft fleece inside and very sturdy velcro closure in front. True to size. Love it.

Jolene loves it

I give it a thumbs up and so does Jolene, although she's got a small head and doesn't like the hood because it covers her face. It's always a tough time finding something to fit her head!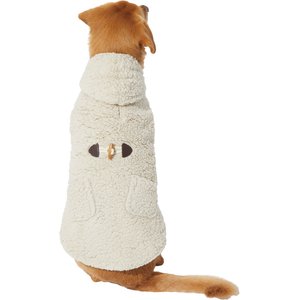 ---
Teddy bear coats are back again (did they ever leave?) and now your pet can get in on this comfy, cozy trend with Frisco's oatmeal-colored sherpa dog coat. The wool-like fabric is durable while keeping your pup warm, the hook-and-loop fasteners allow for easy on and off, the hood and leash hole make outdoor adventures a breeze. It all adds up to Instagram gold.
Comfy fit

#ReceivedFreeProduct Dog clothing can be a tough find for a comfortable fit. This product fit our Yorkie perfectly and she does not act restricted when walking around with it on. Highly recommend you try this product on your furry friends.

Great little coat

This coat is perfect for my girl who has been having skin issues so is a tad bit cold when we take her out to use the restroom. Fits perfect and super snuggly.

Fantastic coat

I bought this for my four-month-old puppy, who weighs 26 lbs. And weighed 21lbs when I purchased the item. It fits him perfectly at both weights and has some room to grow into. It is easy to get on and off and keeps him warm here in Maine.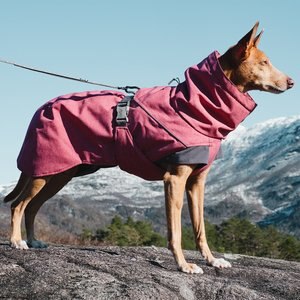 ---
No matter rain or snow, when your dog's got to, they've got to go! This dog coat offers a relaxed perfect fit that keeps your pup warm and protected from the elements while still giving them room to maneuver. It's also water-repellent and features adjustable straps at the neck and down the back length to help keep the wet out and the warmth in.
amazing coat for short haired dogs

Truly an exceptional coat. Our little boxer babe is smaller than we anticipated so the coat is a bit too large, but it works perfectly as a coat as well as a blanket for her when we do our outdoor activities. She screams when she's outside until we put it on her- then she happy as a clam at high tide. Throw it in the dryer to help remove extra hair!

Expedition jacket vía Hurtta

I'm Sooki- I absolutely love my new jacket. My mum said if she had known of Hurtta, she would have gotten it for me years ago. I get cold quickly so this jacket works great. When I 1st tried it on, I began to prance (I like to prance when happy)- it's warm, soft comfy material, it covers my underbelly completely, I run without restrictions, I look great in this beet color, the elastic pulls help so the wind gust don't crawl into my neck area (I live in the Windy City) and it's water resistant. Thanks Chewy for carrying Hurtta, for crazy fast delivery and thanks Hurtta for caring about us bigger/taller gals!!

Great quality

After trying many coats, this is one of the best. Easy to put on, totally adjustable, quality materials. The only caveat are the little strings in the back that have to be placed carefully to avoid being soiled when pooping. I would totally recommend it.
---
Best Fleece Jacket for Dogs
Saddle up! This stylish fleece dog vest really leans into the Western trend that's so popular right now. The print is perfectly laid-back and cool, while hook-and-loop fasteners and stretchy material make it easy to put on and take off. Your lil' doggie will also love the inner fleece, which also helps keep them cozy in cold climates.
Romeo's New Coat

Excellent purchase, if you ask our little Romeo. He just got adopted, is a tiny, skinny-legged little guy, and he was in need of some cozy warmth. Saw this on Chewy's website, ordered one up, and it's not only cozy and well-fitting - but love the hole for his harness leash, and it's also perfectly his style (he's a southwest reservation dog rescue). Couldn't recommend more!

Frisco Southwest Polar Fleece Vest

Whiskey loves her vest. Very warm and comfy. Easy to put on and take off. One piece with velcro closure.

This is the perfect fleece vest

My Weimaraner is hard to fit because of her shape. She weighs 73 lbs and I ordered the XXX. She wears it day and night in the house and it covers her to her tail. I wish there was another like this in a solid color but I am happy I found this. The fleece is a nice weight and very soft.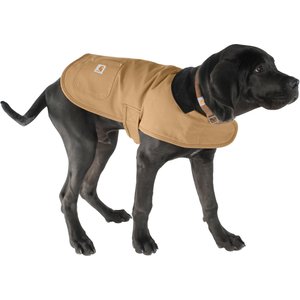 ---
Best Dog Coat for Large Dogs
Hard to find a coat for your big buddy? This top-selling Carhartt coat is the best dog coat for large dogs for a couple reasons: the XL size will fit dogs with chest girths of 36 to 42 inches (something many pet parents rave about) and it's made to withstand big dog adventures—the 12-ounce cotton duck canvas material helps repel light rain while protecting your pup from wind and cold weather.
Perfect coat for my Dane

This is a really high-quality coat. Fits my 130 pound Great Dane perfectly. I wish they made the same thing in fleece.

High quality material

The jacket is well made out of high quality cloth. Just look at my dog. Look at how good he looks.

Ed loves his coat

This coat is well made, fits my dog just right, and could not be cuter. Every time I take it off the hanger on a cold day, Ed gets excited. He really enjoys wearing it! Ed is half great pyr and half golden retriever, but he is not double-coated, so he seems to really appreciate the extra warmth for walks/playing on cold days. He is a very big boy, but he's lean. He is a tall, long, lanky 100 pounds and the extra large fits him very nicely.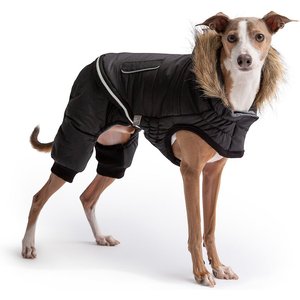 ---
Best Dog Coat for Small Dogs
Got a pooch so tiny, they could be engulfed by just a few inches of snow? Whether we're talking Toy Poodle, Chihuahua or other diminutive dog breeds, this adorable, hooded two-piece snowsuit is a winner for small dogs. Both wind- and waterproof, this ensemble comes in sizes as small as XS and XXS, and is easily adjustable, ensuring a snug fit so no snowflakes can get inside.
Another great coat from GF Pet

This is the 2nd coat I've purchased from Chewy/GF Pet...the quality is excellent, the fit is perfect (thanks to grippy velcro closures) and the thoughtful details make them a cut above...I went with the closest measurement for his back/chest (size M for a 15 lb. Border Terrier mix.) This coat is very easy to put on/take off and the hood tacks back securely with velcro and stays completely out of his eyes/face (my dog doesn't enjoy wearing a hood.) It's lined with a soft, cozy fleece material for extra warmth (well-timed for January as temps in NYC really dipped!) He hasn't worn the easily detachable pants yet (@hugotmyheart prefers no...

Snug and warm

Love the Velcro, it's easy to put on and stays in place. The hood is big and covers her ears (much to her chagrin) or Velcro's back and stays in place. Definitely keeps her warm. Haven't tried the pants yet, but love that they're an option.

Classy and warm

This coat is so easy to put on my pup and it is beautiful! My pup got so much attention and compliments with this coat on, which she loved because it means she got pets. There is a strong velcro strap that goes across the front of the chest as well as below the chest. Leg covers are optional but I like to use it because it keeps my pup warm during our winter outings and hikes. The hood is so cute and it actually somewhat stays on her head - enough to keep the back of her neck warm and cozy. I sized up so that there is still plenty of room to wear a layer underneath if needed.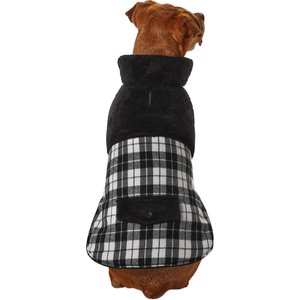 ---
Best Faux Fur Coat for Dogs
We love a plaid moment come chilly season, and this one also features a touch of faux fur that'll have your pup looking as stylish as ever. Consider this dog coat the perfect combination of function and fashion. The soft and cozy material envelopes your pooch in warmth while the en vogue silhouette and accents make this piece a real head-turner.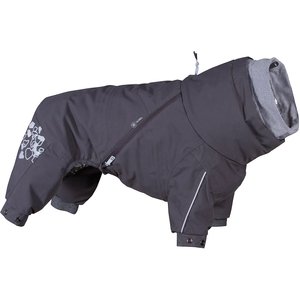 ---
It's all about the foil lining—that's what makes this the best dog snow coat. By reflecting your fur baby's body heat back to them, it provides extra warmth. The wind- and waterproof snowsuit is also completely adjustable around the chest and down the back and provides additional coverage for legs and bottom, to boot.
excellent snow suit

These snowsuits are excellent for cold days. All 4 of my dogs wear them and stay warm. They have no issues moving around or going to the bathroom in them. Would recommend conditioning them to getting their feet put in though if your dog is sensitive about their paws.

Best Extreme Weather Full Body Coat

My 7.5# pup hikes / backpacks all year long. She has worn this coat to hike in freezing weather ALL day and has stayed warm … even when stopping for a break. I do layer her with Hurtta's body warmer & a fleece (like a human). I was hesitant to spend so much … but well worth the cost. As she is so tiny, it took a couple times out to get her used to the bulk, but she knows she is in for an adventure now and gets excited when putting this coat on.

Fantastic!

I purchased this for my boxer for the upcoming winter. Haven't had a chance to take it out yet but it fits perfectly and looks great! I have no doubts that he will stay nice and warm during our walks in the snow. 10/10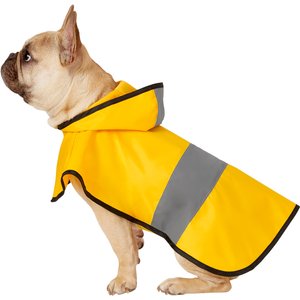 ---
The large reflective stripe and joyful yellow color of this top-selling slicker style rain jacket keeps your first mate visible even on the foggiest of mornings. But what really makes this cutie the best dog raincoat is the PVC coating, which helps your dog stay dry, even in a downpour.
price is right

covers the chest in a good way my guy sports a full coat and needs to stay dry as possible

Keeps our girls dry

We got a size x-large for our 31lb terrier mix. Before she got this raincoat, we would have to carry her out to potty on rainy days, now she happily rushes out in her raincoat. When we rescued her little sister Lola a year later and she locked her paws and did not want to go in the rain, I went right to my previous orders and got a size SMALL for our 8.6 lb chiweenie. Chewy got it right to us and it's just what she needed to stay dry. Not to mention it's absolutely adorable. Our girls are both barrel chested with tiny waists but the velcro straps are long to accommodate that. The coat is long enough to cover their whole torsos and do not get...

Fits really well

Got the XL for my 45-50lb mutt and it fits him perfectly. The hood is a bit big but if I fold it back a little it looks like it'll work great.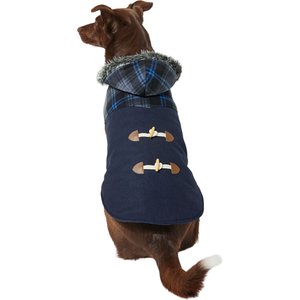 ---
If oohs and ahhs are what you're after, the hooded cuteness of this peacoat can't be beat. Yes, it's lined and hooded to keep your sidekick cozy, but that toggle accent and plaid pattern are what make it a classic.
My boy loves his new peacoat!

Love the pea coat design and the furry hood! The Velcro strap is long so it wraps nicely about my dog's belly.

Adorable coat!!

Den looks absolutely adorable in his coat!! I love the faux fur that lines his hood!! We get a lot of complements!! Keeps him warm and it is easy on and off with the velcro straps around his tummy!!

Cute and Warm

My big female fits just perfectly inside this warm jacket. It looks neat and attaches easily with the long Velcro loops. She can't get out of it easily when wearing it outside!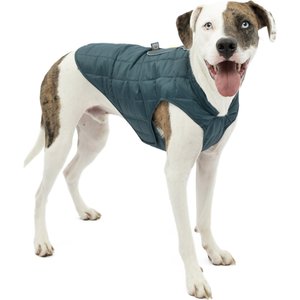 ---
How does two dog jackets in one sound to you? This top-selling reversible jacket features a high-quality, water-resistant material and layer of cozy Polytech fill for added warmth. When playtime gets too muddy, flip it over for a fresh look.
Great coat

This is a great jacket for our lab, he wears the large size,it's a perfect length and his harness fits underneath. This helps protect his chest and belly and aside from a few snags in the material because of him running through branches and woods it's strong and durable.

Love this jacket - Awesome design

Absolutely love this jacket - the design is fantastic - the velcro makes it easy to get it quickly on and off your dog. I got the purple and love the color - also the reflectors are a nice feature.

Great winter coat

The red color is pretty, the fit is good and the quality is also very good. My retriever has a heavy fur coat but Colorado winters can be cold when the wind kicks in so extra protection is helpful. Order early as last year by the time I placed an order there were no coats left in her size.
Depending on your dog's fur, age, size and breed, their own fur coat may not be enough to keep them warm and dry during the winter months. Supplement what Mother Nature provided with these warm dog coats and give your canine wingman (or wingwoman) some extra time outside.
Lisa Arbetter contributed to this article. 
Like this story? Check out more of our favorite reads: