The best joint supplement for dogs can help keep your dog active and mobile well into their senior years. Older dogs or pups who are at risk for degenerative joint diseases like osteoarthritis can especially benefit from a dog supplement for joints. But with long, hard-to-pronounce ingredients like methylsulfonylmethane and chondroitin, choosing a joint health supplement can be a little intimidating. Don't be discouraged! We're here to help.
We've rounded up the best dog hip and joint supplements, as rated and reviewed by dog parents like you. These top-selling picks have been tried and tested by Chewy pup parents so you can rest assured your dog is getting high-quality ingredients to support a long, active and healthy life. Just be sure to choose one in a form that is easy to feed to your particular pup. And as with any dietary supplement, consult with your veterinarian before adding any joint supplements for dogs to your pup's diet.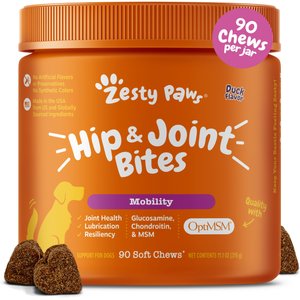 ---
Great for all breeds small, medium or large, these chewable hip and joint supplements for dogs feature a glucosamine hydrochloride and chondroitin sulfate combo that supports joint health. Each chew also has OptiMSM, a premium form of MSM that provides normal muscle support, and vitamin C and vitamin E for antioxidant support.
Easy supplement

I give this to my Aussie (2 a day) and he loves it. It's an easy to give supplement and reasonably priced. Will continue to buy from this brand.

Awesome Product

These little bites have seemed to make a huge difference in the how my 10 year old chihuahua moves. He seems a bit more active and his arthritis is not as bad as before.

Gracie 7 year old Pit

She was struggling with getting up and down stairs and getting on the bed. Amazing difference after only two days of use.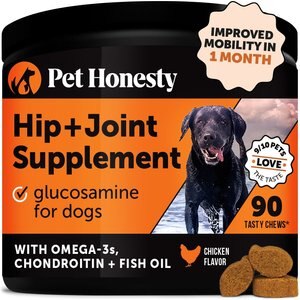 ---
Best Dog Joint Supplement Chew
This supplement contains collagen, turmeric, yucca schidigera, glucosamine, MSM and chondroitin sulfate, all packaged in a soft chew with natural chicken flavor to entice picky eaters. Together, these ingredients have antioxidant and anti-inflammatory properties to ease stiffness and promote healthy joints.
My pups love these!

I rescued a senior German Shepard and he wasn't taking anything for his hips so I thought I should start now. I also have a 5 month old Aussie/border collie mix. They love them. They take them like treats and I think it boosted their appetite as well. I also purchased the flea and tick supplement as well and they love those too!!

Pet Honesty Hip+Joint Health

After switching from a difference brand, we have noticed our 13-year-old Cocker has been able to move around the house easer

Blown Away

I can't yet speak to the product, but I wanted to express my complete satisfaction with Chewy. They helped me find what I was looking for, helped me compare it to other options, and it arrived THE NEXT DAY. Friendly, polite, knowledgeable and efficient. Best customer experience in decades. Thanks Chewy!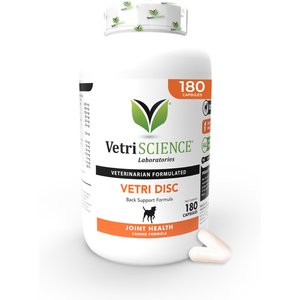 ---
Best Tablet Joint Supplement for Dogs
You might be surprised to find this tiny tablet is packed with active ingredients like bovine tracheal cartilage, which is a rich source of chondroitin sulfates, amino acids and vitamins, among others. These veterinarian formulated supplements specifically support back health and the spine's connective tissues in dogs of all sizes.
It Worked For My Dogs Knuckling

My 13 year old Ridgeback Mix was diagnosed with Spondylosis, hip dysplasia, and osteoarthritis. He had been "tripping" (knuckling) with his front paws when trying to walk despite being on an NSAID. I was nervous about trying this because he has a history of uti's, crystals and stones (label says to use caution in dogs with this condition) but I'm glad I tried it. After a few weeks he has completely stopped the knuckling and seems more comfortable overall. He's 60lbs and has been doing well with a lower dose than suggested (to be careful with his previous urinary issues), just 1 in the morning and 1 in the evening because I also give 1...

Miracle!!!!

This supplement has been life changing for my 14 year old Cavalier King Charles Spaniel! She went from not being able to step into her bed to now jumping in it! She can go on short walks again as this supplement helped with her arthritis and joint pain in literally ONE day! I want to be the spokesperson for this supplement!

Excellent Product!

This was recommended by our vet to assist with our German Shepherd's back over arching. Within a week we saw a significant difference and it made a big difference in his movement. The ingredients are overall value added. Would definitely recommend.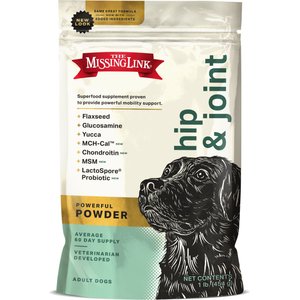 ---
Best Powder Dog Joint Supplement
Specially formulated to promote cartilage development, joint mobility and flexibility, this GMO-free powder is made to help keep aging dogs limber. The blend of omega-3 fatty acids, omega-6 fatty acids, glucosamine, chondroitin, MSM and hyaluronic acid will help put some pep in your pup's step and may also help promote bone health, joint cushioning and muscle support.
You have to use this within 90 days of opening

I did not know that you have to use this within 90 days of opening! It takes me 8 months to use the 5 lb bag. Seems to work though. I'm switching to the 1lb bags,

This stuff is amazing!

My vet recommended this product for our Labradoodle, Sadie, who plays way too ruff with her sister Nala and ends up hurting and just not feeling good. I mix a tablespoon of this powder in her food daily, she eats it up and after just a few days I noticed a difference in her attitude, how much better she's walking, playing, and just getting around!! She's back to her feisty self and kicking her sister's tail. BTW Nala is a Belgian Malinois!!! They play pretty ruff and get really noisy but it's all in wonderful doggy fun. I highly recommend this product for any pup that just needs a little boost in their bones!!

Great product for elderly dogs

I have 2 senior cotons, 16 and 17. They sleep most of the day but in the morning they are racing around the house with great enthusiasm! They have been getting this supplement a few years now and I credit it with their sustained mobility. They love it too!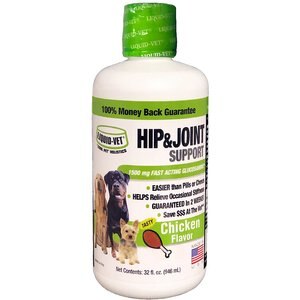 ---
Best Liquid Dog Joint Supplement
If you have a picky pup who turns their nose up at chews or pills, this liquid joint supplement is a good alternative. It contains all the heavy–hitters like glucosamine, MSM, hyaluronic acid and chondroitin to help relieve stiffness and joint pain in dogs of all ages and sizes. Just pour it over their meal, and let it work its magic.
Outstanding

This is a great product, and it works! Smells great and does its job. I will continue to order this religiously. Would highly reccommend!

This stuff works

This is the unflavored version: My pet's doctor said she needed support for her arthritis. I tried Liquid-vet. In a few weeks Cece stopped grunting when she jumped from the bed. Am watching for further developments.

Great product

The product is really helpful to our 14 year old dog!! Liquid is best!! Chewy is the best and always get it to us on time and even early!!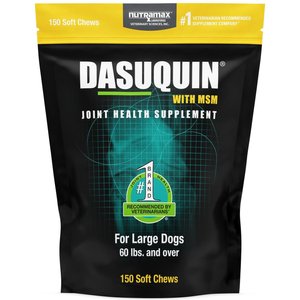 ---
Best Dog Joint Supplement for Large Breeds
FREE 1-3 day shipping on this item
Large breed dogs have big dog joints that need a little extra TLC. This joint supplement formulated for large breeds has the just-right amount of glucosamine, chondroitin sulfate and avocado/soybean unsaponifiables (natural vegetable extracts made from avocado and soybean oils) to support your big dog's joint health.
Dasuquin chews

Have had my dog on Dasuquin for years. She was born with bad hips and these have kept her mobile. Will never give them up.

I was skeptical but now am a believer!

I thought that I would have to put my 12-year-old German Shepherd down last August. A vet recommended this product and it has been a life-saver. Six months later my boy is vivacious and wants to play!

Working after two weeks

We noticed our ten year Doberman started to slow down a bit last year after his teeth cleaning and tooth extraction. All his bloodwork is normal. He meals are homemade. Except for his Bone Broth and his Badlands Superfood Topper. We noticed weakness was coming from his front leg wrist joint yet he had no pain. And again tests were normal. So we researched and decided on Dasuquin Large Breed. Its been just over two weeks and he is getting up again easily. Greeting us at the door and wanting to go out more. He eats two with no issue and we havent experienced and issues with the smell of the product. going to continue on two for the six...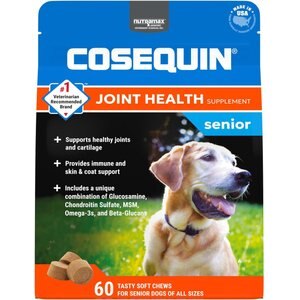 ---
Best Dog Joint Supplement for Senior Dogs
Don't let aging joints slow your senior dog down. These supplements have the glucosamine, chondroitin and MSM needed to support your elderly dog's joint health, specifically targeting their cartilage and connective tissue, so they can keep playing like a pup.
Cost effective option

I used to get a different brand but looked into different options when my senior dog could not chew well. I tried these and they are still to difficult to chew but I can easily cut them into smaller pieces. My dog likes them, and they are more cost effective.

Works for my senior dog

I have used Cosequin DS before so I decided to try this Senior version. After a few weeks this really started helping my 12 year old Alaskan Malamute. She is getting more active and not having troubles getting up from the floor. I would definitely recommend.

Awesome product

My dog loves these and he is very picky. He seems to be mobilizing so much better since starting this.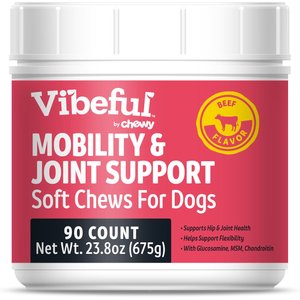 ---
Best New Dog Joint Supplement
Great for all breeds as well as senior pups, these glucosamine supplements for dogs pack a solid dose of glucosamine and chondroitin in an easy-to-feed soft chew to keep your dog's hips, joints and cartilage healthy. Your doggie just might find that these beef-flavored joint care chews are tasty, too.
Vibeful Chews

My pets like the flavor. The chews are easily crumbled or pinched into bite-size pieces for older dogs with few or no teeth.

My boxer loves these

My boxer loves these. I truly believe she thinks they are a treat! I love the ingredients and firmly believe they'll help her out in the long run. We give her 3 tablets because of her weight/size. They smell great and are easy for our dog to chew.

Works wonders

My dog has been using the Vibeful mobility and joint health in the beef flavor. First off he loves the taste and can't wait to get them each day. And I love the ingredients and what it is doing for my boy. He is walking and moving around better then ever.