Flea treatment for dogs is one of those pet parent must-haves. Yeah, it's not as fun to buy as, say, a squeaky toy or big, comfy dog bed, but fleas and other pests can cause serious problems for your pooch. And they'll need it all year round too, even if their idea of the Great Outdoors is a stroll around the block. You (yes, you!) can bring fleas and ticks inside without knowing it, risking an infestation. But with so many options—from dog flea collars to dog flea pills—how do you know which is the best flea treatment for your dog?
The best flea treatments for dogs keep these pests far away from your furry BF and fit with you and your pet's lifestyle. Are you and your doggo avid hikers? Then you might go for a dog flea collar that you can forget about for six months. Does your dog refuse to take a pill no matter how much peanut butter you try to hide it in? A tasty dog chew for fleas might be a better option.
Below, we've rounded up the best flea treatments for dogs based on Chewy customer ratings, reviews and sales. You'll be sure to stop the itch with these pet-parent tested and approved products.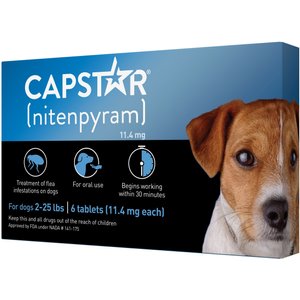 ---
If you didn't get the memo on flea prevention for dogs and your pup already has an infestation, this is the best flea medicine for the job. This flea pill for dogs who are 4 weeks and older and weigh at least 2 pounds starts working in 30 minutes. In four hours, you'll say bye-bye to 90% of adult fleas. It doesn't prevent pests, though, so you'll need another type of flea treatment for dogs to keep bugs from returning.
AMAZING!!!!

Works so fast, so impressed - have 4 dogs & 4 cats bought both kinds for my pets - fleas just fall off

Almost immediate relief

Capstar does exactly what it's supposed to. It's not long-term treatment, it's a quick jolt that kills fleas in a few hours. This isn't a substitute for your normal flea regimen but it's very good to keep on hand for unexpected flare-ups.

Helped will bad case of fleas this year

My girls rarely get fleas and this year for some reason- not sure how they came into contact but it took a long time to rid them of fleas I had to resort to getting an internal solution. no bad side effects and was pretty much gone. thank you Capstar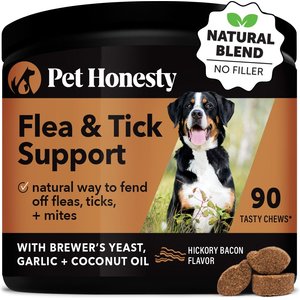 ---
Best Flea and Tick Chewable
If getting your dog to swallow a pill sounds like an impossible task (been there!), then consider these dog chews for fleas. Dogs of all ages love these yummy hickory bacon flea and tick chewables. Made with natural ingredients, just one to three of these tablets a day (depending on your doggo's size) will keep fleas, ticks and mosquitos away. Plus, they're packed with antioxidants that support your fur baby's immune system and joints.
Pups love these

Both pups love the taste, also notice flying bugs stay away,,,,, this makes me very happy.... Just a heads up babies need to eat first . Lots of gas if ya don't

Owner of 3

I Have 3 dogs and this stuff really works, 1yorkie mix indoor and 2 pit bull dogs outside, it works on all 3 I would recommend for the money it's well worth it.

Impressed!

I've been given these to my pups for a few months now and I haven't had a single tick (or flea) on them so far this summer! They spend a lot of time outside as well. They LOVE them too! Highly recommend.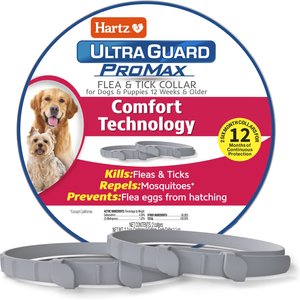 ---
Best Flea Collar for Dogs
This popular topical flea treatment for dogs packs a one, two punch: It both kills adult fleas (and ticks) and attacks flea eggs and larvae to disrupt the flea lifecycle. The non-greasy liquid is a cinch to put on your dog, say pet parents, and it provides waterproof protection for a full month (just wait 24 hours before getting your dog wet). It's safe for use on dogs 8 weeks and older and comes in four different formulas for small-XL breeds.
Good as the Spendy ones

I have used a substantially more expensive version for several years. Decided to try these out and very much to my surprise (I swore off this particular brand years ago) they have worked fantastic! Our problem is mostly ticks here and I have not had to remove even one since putting these on all seven dogs.

flea collar

My dog has used this for the past year and he has had no problems, no flea or ticks. So, i got another years worth .

Works great!!

The collar is nice. Simple to use, just pull/stretch the collar to release flea repellant so you don't get it on your hands. It protects my dog for six months and he barely noticed that it was there. The collar is very comfortable to wear. Overall, I am satisfied with this product.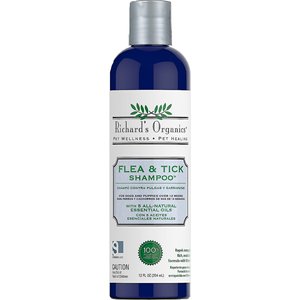 ---
Best Flea Shampoo for Dogs
This organic flea shampoo is a natural alternative to traditional flea medicine for dogs over 12 weeks old. Formulated with 5 natural essential oils (cedarwood, peppermint, clove, cinnamon and rosemary), it kills and repels fleas and ticks, as well as repels mosquitos. Chewy reviewers swear it's the only shampoo they'll use on their dogs, thanks to the essential oils that leave their pet's fur and skin so soft and sweet smelling.
I definitely recommend

This shampoo smells good. It kills fleas. It has stopped my dogs from itching. It makes their hair very shiny and soft. The shampoo isn't runny like others on the market.

Not for frou frou purposes

Definitely a unique smell (jaeger anyone?) AND definitely not wimpy (you can smell it 30 feet away) AND definitely WORKS. I use this because we live in the woods and I don't want to deal with tick diseases in my dogs, I don't want to be swarmed when we are washing them outside in the doggy tub and mosquitoes think I'm delicious, and my girls' coats feel gross and dry with the tropical nonsense... so we use this. Keeps pests off the dogs, the mosquitoes avoid me like plague (remember I said you can smell it 30 feet away? Yeah. That bubble works on me too!), and it doesn't make them softer or coarser (husky and shepherd hair is pretty course...

Great product!

I love this product. I have shared it with my neighbor who has a German Shephard. It smells clean and it is safe for all dogs.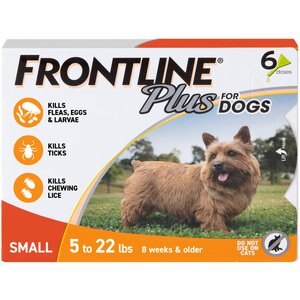 ---
Best Flea Treatment for Puppies
When giving any flea medicine to a puppy, you'll need to make sure it's formulated for their younger age and smaller size. This topical flea treatment is designed for dogs at least 8 weeks old and 5 pounds. The non-greasy, easy-to-put on formula works in a matter of hours to kill fleas in all stages, from eggs to adults, and then keeps them away from your pup for 30 days. Protects against ticks, too.
Wonderful company

I have always and will always purchase from Chewy! Prices are the same as competitors and the absolutely best customer service! My Bella has never had any complaints with fleas or ticks and I agree!

I have used this flea & tick med since my twelve yr old chihuahua was a puppy.

This med really works. Kills fleas asap. Have never found one live tick of any species alive on my dog. I wouldn't use any other med.

No more ticks!

My Porter has had issues with ticks this year, after finding a 3rd one within weeks, I needed to get him started on treatment. I chose a topical treatment as he is a Cavalier King Charles spaniel and is prone to issues such as seizures and neurological issues that other products may cause. 1 day after putting this on, I saw a tick crawling around on him, but it didn't attach so I know this must've been why. Very happy that I haven't seen any more ticks since applying and that was 2 weeks ago!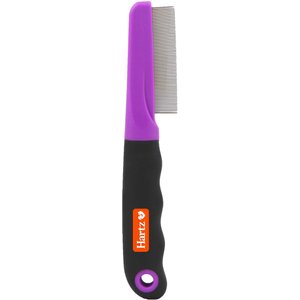 ---
Combing out fleas and eggs is a great way to get rid of pests after a shampoo or flea pill. Enter this best-selling dog flea comb. Its ergonomic handle provides a comfy grip while the fine teeth remove fleas, flea eggs and debris, and pet parents say it's awesome at detangling matted fur too. If your dog has a feline sibling, this flea comb also works on cats.
Five stars

Forget the fleas, this comb is great at removing eye boogers. It has been so much easier removing them by gently combing her under-eye area than trying to use a napkin or dog wipe to remove them. It's also great for combing through her paws to get any specks of dirt out, especially after going outside.

Flea Bags Mom

This comb works great for removing fleas, but the fleas are fast and can jump off, so I use it with a container of water with Dawn dish soap in it. The soap helps them stick to the comb, then they are drowned in the water with the soap preventing them from getting out.

Fine tooth comb works

This comb works but when you have a cat that doesn't like baths, combing them to remove the fleas takes a lot of work. But with help it can help getting some of the fleas. But the shampoo & flea spray to kill the larva on furniture don't work.
Getting close to our furry friends is something all pet parents enjoy. Unfortunately, fleas do too! Your dog is bound to come across these bugs at some point or another in their life. The good news is that with careful attention to prevention and researching the best flea treatments for dogs, it's easy to protect your best bud.
Like this story? Check out more of our favorite reads: