It is not an overstatement to say that for many of us there is nothing (really, nothing) we wouldn't do for our much-loved dogs—and that includes providing them with a regular diet of high-quality dog food. In fact, a healthy diet is key to a healthy, happy life for your four-footed best friend.
So, what makes a dog food "high quality"? First and foremost, it has got to meet the nutritional standards set forth by the Association of American Feed Control Officials (AAFCO). This is essential for any dog food, says Dr. Katy J. Nelson, DVM, Chewy's resident veterinarian. An easy way to be sure of that is to look on the package for the AAFCO nutritional adequacy statement.
High quality food also has high-quality ingredients with nutritional benefits. Dr. Katy says to look for things like the following to ensure that the pet's nutrient requirements are met:
Protein, which provides energy and is essential for growth, the transport of nutrients and oxygen delivery
Amino acids, which build and repair tissues, help maintain healthy skin and coat and support the immune system
Fatty acids, which also maintain healthy skin and coat, and are essential for joint health and a healthy immune system
Vitamins and minerals
In addition to providing the best nutrition, high-quality dog foods may offer a specific health benefit. Depending on the specific brand and ingredients, some may ease health problems (like weight control formulas for paunchy pets), while others—including high-protein fare for those active dogs—satisfy a particular nutritional need.
They can come in kibble form, canned, freeze-dried, or frozen—there are a number of high-quality dog foods from which to choose. So, how do you know which one is just right for your one-and-only pup?
To help you figure out the best option for your particular pet, we're breaking down the various categories and detailing what you need to know. As with any change in a pet's diet, be sure to talk to your veterinarian before switching to a high-quality dog food.
What to Consider Before You Buy
Here are the most important questions to think about when honing in on the ideal high-quality dog food for your pet.
How much time do you have? Feeding frozen raw food, for instance, takes a bit of planning as it has to be thawed. If you're strapped for time, a kibble might be a good option because it's easy to store and does not involve any cooking or thawing.
What's your dog's activity level? An energetic dog-park denizen might need a higher-protein diet than more laidback canines.
Does your pet have any food sensitivities? Digestive issues in your dog may call for a food made to address those issues.
How old is your dog? Foods are labeled by the manufacturer to address the nutritional needs of your dog's stage of life. It's a good idea to buy a food that is specific to your dog's stage of life to make sure their current nutritional needs are being met. "Remember, whichever food you choose for your new pet initially is not likely to be appropriate for a lifetime, or even necessarily the rest of his life in the case of an older adopted pet," says Dr. Lindsey E. Bullen, DVM, and Board Certified Veterinary Nutritionist at the Veterinary Specialty Hospital of the Carolinas in Cary, North Carolina.
What's your dog's weight? If your vet determines that your dog is overweight or obese, a weight-control formula may be recommended to help your pup shed unhealthy extra pounds.
Is your dog spayed or neutered? Most spayed or neutered dogs have lower energy requirements, needing about 20-25 percent less calories than a comparable dog of the same breed, age and activity level, says Dr. Nelson. That doesn't necessarily mean your pet will need to be on a weight loss food, but if they are spayed/neutered AND overweight, a weight loss food may be appropriate.
What are your dog's preferences? It may take some trial and error but once you find a form of food and flavors you know your dog likes—fairly easy to do given the range of options available—adopting a high-quality diet can go more smoothly.
What does your vet say? "Getting a vet's medical and expert opinion on the diet you are considering could save a lot of money and trouble," says Dr. Bullen. If your pet's health is compromised in any way, she recommends working with a veterinarian who has a background in nutrition. "A board-certified veterinary nutritionist can be a valued partner in identifying the best possible diet for your individual pet, particularly in complex or unusual health situations."
Types of High-Quality Dog Food
With your buddy's individual needs, your lifestyle and your vet's recommendations in mind, you're ready to take a close look at these 12 types of high-quality dog food.
Dry High-Quality Dog Food
A dry dog food (aka kibble) is a popular choice, given it is convenient to store and can be relatively cost effective. "Eating dry food may help keep teeth clean due to abrasion, especially in breeds prone to dental issues," Dr. Bullen adds. One option is Acana Free-Run Poultry Recipe Grain-Free Dry Dog Food, which is made with up to 60% animal ingredients, including free-run chicken, turkey and cage-free eggs, and 40% vegetables, fruits and nutrients.
Perfect for dogs who: are healthy, of any age (provided the life stage formula is appropriate), and like to crunch their way through meals.
Wet High-Quality Dog Food
Packaged in cans, trays or tubs, wet high-quality food is a favorite of many dogs, thanks to its savory smell and meaty texture. It can also be a boon for dogs who could benefit from its high water content, including extra active dogs and those with reduced kidney functioning. Stella & Chewy's Wild Red Grain-Free Chicken & Turkey Stew Wet Dog Food, for example, features shredded chicken and turkey in a whisker-licking good broth.
Perfect for dogs who: are picky eaters and who could benefit from increasing their water intake.
Freeze Dried & Dehydrated Food
Both freeze dried and dehydrated dog food have had moisture removed, although the method is slightly different; are minimally processed; and are high in protein. The main difference is that dehydrated food needs to be mixed with warm water, whereas freeze dried can be fed as is or rehydrated. A freeze dried dog food option worth checking out is Stella & Chewy's Freeze Dried Raw Chewy's Chicken Dinner Patties. The chicken is cage-free, and raised without hormones or antibiotics.
Perfect for dogs who: don't love traditional kibble, but still enjoy a chewy texture in their food and who needs extra protein.
Human-Grade Dog Food
Yes, technically, you could eat this type of high-quality dog food. But the definition of "human grade" is more fine-tuned. Dog foods labeled as such must meet special criteria laid out by AAFCO. Not only must every ingredient be fit for human consumption, but manufacturers have to follow the manufacturing processes for human edible foods. PetPlate Entrees' human-grade ingredients, like ground beef and ground chicken, are gently cooked in small batches in USDA-approved kitchens.
Perfect for dogs who: are in good health and of any age (provided the life stage formula is appropriate).
Raw Dog Food
A high-quality raw dog food contains a raw meat or protein base, often including a carbohydrate. Some common forms include frozen, like Instinct's Raw Cage-Free Chicken Bites, freeze-dried, and kibble infused with bits of raw protein. While fans report raw food improves their dog's digestion and reduces shedding, among other benefits, there is a caveat. "Any food requiring refrigeration or freezing is going to be naturally more prone to food-borne pathogens because it has little or no preservatives," says Dr. Bullen. "Manufacturers take steps, though, including high-pressure pasteurization, to reduce the risk." Learn more about raw dog food.
Perfect for dogs who: have parents who think the potential benefits are worth the extra effort involved in feeding a raw diet.
Organic Dog Food
Certified organic dog food must be made with 95 percent organic ingredients. Look for a "USDA Organic" seal on the package, like the one on Castor & Pollux's ORGANIX Organic Chicken & Sweet Potato Recipe, which is made with free-range chicken, blueberries, flaxseed and coconut oil. The bottom line with organic food is that it's the quality of the final product that matters. "Organic food can be poor quality, just like non-organic food can be great quality. You are paying for the extra work of producing and raising the ingredients in a certain way," says Dr. Bullen.
Perfect for dogs who: have parents who think the potential benefits of an organic diet are worth the extra cost.
Grain-Free Dog Food
Grain-free dog food is just that—formulated without ingredients like rice, corn or wheat. It's been getting a lot of buzz in recent years and seems like everyone is asking, "What's the best grain-free dog food?" Dogs who have allergies are prime candidates for a grain-free diet. Since carbohydrates are part of a healthy diet, make sure that the grain has been replaced with a healthy substitute, like pumpkin, broccoli or carrots. It has been in Wellness CORE RawRev Grain-Free Original Recipe. This savory chicken and turkey recipe is not only grain-free, but also free of gluten and soy.

Perfect for dogs who: show signs–such as itching, fur loss and skin irritation—of being allergic to food containing grains.
Limited Ingredient Diet
The idea behind short ingredient lists is to reduce the possibility of a dog's exposure to food allergens. Sometimes a limited ingredient dog food simply has fewer ingredients than the brand's regular kibble. Other times, it's made with unusual ingredients, like kangaroo, that a dog is unlikely to have already developed an allergy to. Turkey, for example, is the star ingredient in Zignature Turkey Limited Ingredient Formula. "Keep in mind that long, chemical-sounding names on ingredient lists are usually vitamins and minerals," notes Dr. Joe Bartges, DVM and Board Certified Veterinary Nutritionist at the College of Veterinary Medicine at The University of Georgia in Athens.
Perfect for dogs who: have had difficulties with eating traditional foods in the past, either because of food sensitivities or being hard to please, or both.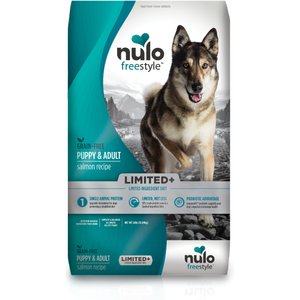 Nulo Freestyle Limited+ Salmon Recipe Grain-Free Puppy & Adult Dry Dog Food
$89.99
FREE 1-3 day shipping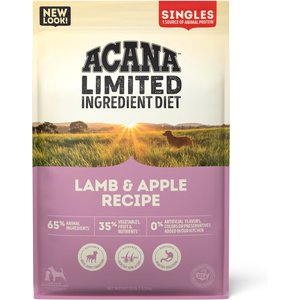 ACANA Singles Limited Ingredient Diet Lamb & Apple Recipe Grain-Free Dry Dog Food
$58.99
FREE 1-3 day shipping
High Protein Diet
High protein dog foods are higher in protein than an average pet food, says Dr. Bartges. "For example, adult dog foods typically contain 22-28 percent protein on a dry matter basis [a means of measurement that allows for comparison between dry and wet food]. A high protein dog food may be 32 percent." Whether that makes it the right choice depends on the particular dog's needs and the quality of the protein (how digestible it is and how well it is absorbed by the body), he addds. With 38 percent crude protein, Merrick Backcountry Great Plains Red Recipe could be a good one to try. The formula revolves around beef, lamb and rabbit, and is an inventive mix of raw-coated kibble and freeze-dried raw bits. Learn more about high protein food.
Perfect for dogs who: are active or otherwise need to up their protein intake.
Weight Control Dog Food
Not all weight control dog foods are formulated the same way, or have the same effect on all dogs. Some are high protein, low carb. Others are high fiber to create a feeling of fullness. Another may have special ingredients to boost metabolism. With less fat and fewer calories than its original recipe, Acana's Light & Fit dog food is formulated to help support helps support healthy body weight and peak conditioning. Note that there are both non-prescription and prescription weight control foods, so talk to your veterinarian about the best option for your pet.
Perfect for dogs who: have a few extra pounds to lose.
Sensitive Digestion
This is an easily digestible food for a pet who experiences vomiting and/or diarrhea. Ingredients vary from food to food; what agrees with one dog with digestive issues may not work as well with another. Poultry and rice are common in many of these foods, notes Dr. Bartges. Formulated with cage-free turkey as the first ingredient, Go! Solutions SENSITIVITIES is made to be gentle on your fur kid's stomach while providing complete nutrition. It even includes fiber from dried chicory root to aid digestion further.
Perfect for dogs who: tend toward tummy aches, and whose parents have cleared a sensitive digestion feeding plan with the vet.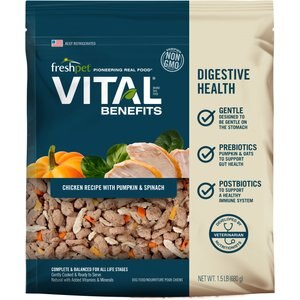 Freshpet Vital Benefits Digestive Health Fresh Dog Food, 1.5-lb bag, case of 4
$59.96
FREE 1-3 day shipping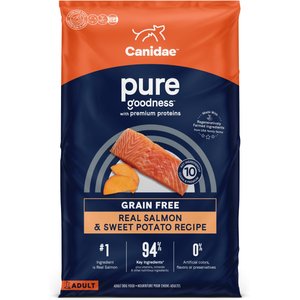 CANIDAE Pure Goodness Real Salmon & Sweet Potato Recipe Adult Dry Dog Food, 22-lb bag
$71.97
FREE 1-3 day shipping
Natural Dog Food
While the U.S. Food and Drug Administration does not have a formal definition for "natural" in regard to pet food labeling, AAFCO defines it as "derived solely from plant, animal or mined sources." Generally speaking, you should expect that a natural dog food won't have any artificial flavorings, colorings, or preservatives. You'll want to look at the overall formula, though, to make sure it's a good choice for your dog. The Honest Kitchen's Chicken Recipe is a dehydrated option made with whole food ingredients, including free-range chicken, organic oats, carrots and bananas.
Perfect for dogs who: are healthy and of any age (provided the life stage formula is appropriate).
---
One thing is clear: There is no one perfect food for all dogs. But no matter which high quality food you and your vet decide is perfect for your dog, you can be assured you're doing all you can to keep your precious pet in great health.
More about dog food and feeding your dog: