All pet parents want the best life possible for their fur babies. And a big part of your dog's health is what you feed them every day. Feeding a dog food with grains is one way to give your pet the benefits of a well-rounded (and tasty) meal. In addition to being a good source of carbohydrates, fiber, vitamins and antioxidants, high-quality grains can also support healthy skin, coats and immune systems. But what's the best dog food with grains for your pup?
Though you might be familiar with grains like wheat, oats, rice or corn, dog food with grains can also include grains like chia, millet, barley, sorghum and others. Below, we've rounded up the best dog food with grains based on Chewy customer ratings, reviews, sales and expert input. Just be sure to always consult with your veterinarian before making any changes to your dog's diet.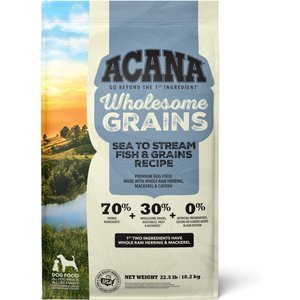 ---
Best Overall Dog Food with Grains
This kibble is made with a blend of wholesome, high-quality grains including oats, sorghum and millet. These grains are high in fiber to aid in your pup's healthy digestion. Plus, in combination with ACANA's fish protein source, your dog will enjoy a balanced meal that is both nutritious and delicious.
Miracle Food?! I THINK SO!

WOW! THIS FOOD IS INCREDIBLE! NOT ONLY DOES MY DOG LOVE IT THIS FOOD HAS REMOVED ALL OF HIS DENTAL PLAQUE AND HE NO LONGER HAS LARGE STICKY POOPS! IF YOU CAN AFFORD THIS FOOD PLEASE GIVE IT A TRY! MY DOG NO LONGER SHEDS EVERYWHERE AND HE FINALLY HAS ENERGY! I MYSELF WAS CONCERNED TO CONTINUE TO FEED HIM KIBBLE BUT THIS COMPANY IS INCREDIBLE, PLEASE DO THE RESEARCH IF YOU ARE HESITANT. THEY HAVE BY FAR EXCEEDED MY EXPECTATIONS REGARDING THEIR INGREDIENTS. ALSO, MY DOG WAS ON THE CHICKEN ACANA RECIPE AND HAD NO ISSUES TRANSITIONING FROM ONE RECIPE TO THE OTHER LIKE HE USUALLY DOES, WHICH INCLUDES STOMACH UPSET. TO MY SURPRISE HE HAD NO STOMACH...

Excellent Food

I have long been a fan of Acana and fed several of my past dogs Acana Grain-Free. Given the research around heart issues with grain-free formulas, I was so pleased to see Acana's new grain-inclusive offering. My new pup has a few food allergies, so I opted for the Sea to Stream recipe. She's done so well on this food with a shiny coat and happy gut. I mix this equally with Nature's Logic Pork Feast, as I also love that food and the plasma protein coating. Happy, healthy dog!

Great food

My 4 seniors had been on a different food that Was a Turkey & Salmon Recipe Senior Grain-Free Freeze-Dried Raw Dog Food for about a year. I noticed a change in the proportion of ingredients and also a loss in body weight in 3 of my dogs. It was time for a change that better met their nutritional needs. Arcana Sea to Stream has met their needs without skipping a beat. All four dance for the food, have increased their weight to a healthy balance of muscle and hydration. The one who turned 16 6 months ago continues to amze the vet who says he will have a surprisingly long life. The one who turned 15 9 months ago has put on much needed...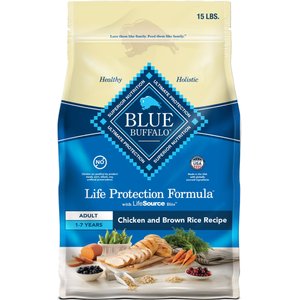 ---
Best Adult Dry Dog Food with Grains
For the best grain dog food for full-grown pups, Blue Buffalo dry kibble packs a punch with both real meat and whole grains. In addition to chicken, the food has brown rice, barley and oatmeal. These complex carbs will help keep your active adult dog's energy levels up for all your adventures.
Love It!!!

All 5 of the fur babies love this. It's hard to find something my Japanese Chins will eat but they love this!

Blue Dog Food

This is definitely a healthier dog food that the run of the mill food. Helped our dog grow back hair that she had lost.

Great food choice

My dog loves this food. It has good quality ingredients and is rated highly on the Dog Food Advisor site.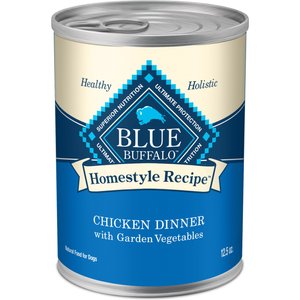 ---
Best Wet Dog Food with Grains
If you want canned dog food with grains, Blue Buffalo's wet dog food pairs real chicken with brown rice, barley and oatmeal for a combo of complex carbs and high-quality protein that will have your dog drooling. You can serve it up as a special treat or mix it in with their dry food for an added nutritional boost.
Great stuff

My dog loved it. She's very picky, but once she starts eating this, she doesn't stop until the bowl is empty.

THE BEST TASTING, GREAT FOR FUSSY DIGS

It took months and months for me to find a food that all of them love. When you open this food it smells great to me so I knew they would live it. Consistent quality

Blue wet food

Well my dog gives it a paws up! She loves it. I like it because after sitting in the refrigerator it is still in a soft form and is easy to mix with her dry food.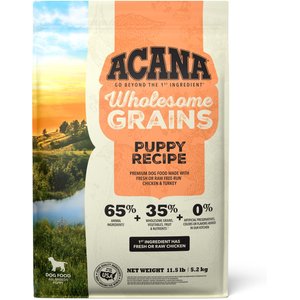 ---
Best Puppy Food with Grains
ACANA's puppy recipe is specially formulated with growing pups in mind. The grains—oats, sorghum and millet—are high in fiber and free from gluten for healthy digestion. Plus, the rest of the premium ingredients are all geared toward supporting your puppy's development so they can grow into their big dog paws.
Helped put weight on our picky eater

When we brought our new Vizsla puppy home at 8wks, he was skinnier than the rest of his litter mates, but the breeder told us he just had a high metabolism. We were continuing the raw diet his breeder used, but noticed he never ate much and was looking underweight. A few people suggested Acana, and he loved it! He devoured the first two bowls like he was starving, and after two weeks, he's still loving it. He's been on the Acana wholesome grains puppy food and a raw diet, and is eating so well now. He's gained weight, his coat has become smoother and glossier, and he looks much healthier now.

Love Acana Wholesome Grains

My GSD puppy came with Giardia and was on antibiotics for several weeks. She did not like the food that she came with (Earthborn grain-free) and her digestive tract was all messed up. After months of prescription Royal Canin gastro, I moved her slowly to this food from Acana. She's very particular, but she eats this, her BMs are good, her coat is great, her itching is little to none and we're finally off prescription. I crumble dehydrated duck patties on top and soak with bone broth or hot water.

Worth the $

Rescued a 4 week old puppy. She was in really ruff condition. Vet told me to feed her a grain puppy food, recommended purina. The poor puppy suffered extreme diarrhea. Switched her onto healthy grains by acana, she is healthy, full of energy, living her best life! We figure, you'll pay for it on one end or another we would rather it be on great health as opposed to vet bills.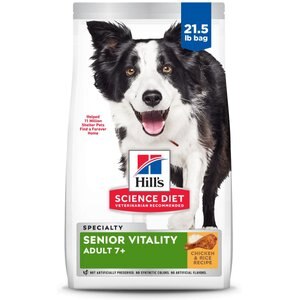 ---
Best Senior Dog Food with Grains
When your dog hits their golden years, you'll want to treat them to something special. The best grain dog food for senior pups comes with cracked pearled barley, oats and corn to help your Golden Oldie keep up their energy so they can always feel young at heart.
great for our senior pup

Our vet recommended we change to a senior diet for our gal, we should have done it sooner. It's become very difficult finding senior food at our local stores, so I was thrilled to find the great selection at Chewy.com Quick shipment, reasonable pricing, and I love that as an autoship cutomer I have access to a vet. Thank you!!!

Pups love it

Both my lab and senior catahula love it! They've only been on it a month, so we shall see as far as joint mobility and senior alertness.

Great product, great service!

I've always had the highest regard for Hill's Science Diet. I found their Senior Vitality dry food at Chewy at a competitive price and convenient delivery! I'll definitely have Chewy as my "Go-to" for this from now on! Thank you!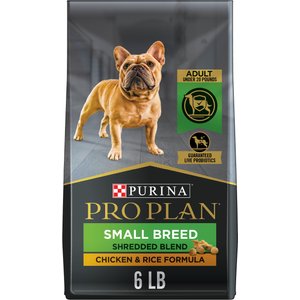 ---
Best Dog Food With Grain for Small Dogs
This chicken and rice blend is made with small dogs in mind. The mix has crunchy kibble and shredded bite-sized bits for easy chomping by dogs with small teeth. Additionally, the food is made with grains like whole grain corn and wheat bran for added fiber to support good digestive health.
Cooper's blog

I am a 9lb pomchi who believes people food is best for me. My mom disagrees so we've tried 7-8 different kinds of dog food, blech! This one is pretty good and I have been eating it, which makes my mom really happy. The kibble is still a little too big tho, is there a small breed in this same formula? Thank you! #CHEWYROCKS

Purina Pro Plan

My boyz love the small breed Purina ProPlan. They get their bellies full and are ready for a nap - or bed.

Great Food

I've been using this food for the entire time (7 years) we've had our dog. She loves it (except the turkey flavor) and always licks her bowl when she's done.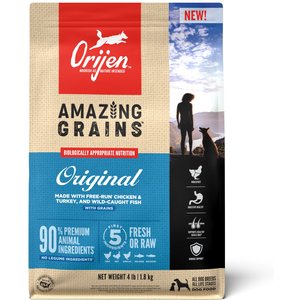 ---
Best Dog Food with Grains for Active Dogs
Looking for a protein-rich, premium-ingredient dog food with grains that can keep up with your active dog's lifestyle? ORIJEN Amazing Grains includes a hand-selected grain blend of quinoa, millet, oats, oat groats and chia. All that good fiber supports a healthy gut—and loads of energy. Get ready for ALL the walks.
Orijen Amazing Grains

I bought this to add to Six Fish or Regional Red to give my German Shepherds so grain since there is now a debate about grain free foods. They do like this.

My dog loves it

Finally a healthy dog food with ingredients I actually understand and no animal meal! Love Orijen but needed one with grains, so happy they came out with this!! Now I can feel good about feeding my dog this and she's devours it

Dog loves it

I fed my dog the original grain-free Orijen for years, he did well on it but I switched when the DCM stuff came to light. I wasn't happy with any of the other foods but didn't want to feed him one with legumes again. I am so happy they came out with this one. He loves it, eats it all in one sitting right away. His poops are good. I am hoping his regular checkup bloodwork comes back just as good after being on this food- I will update.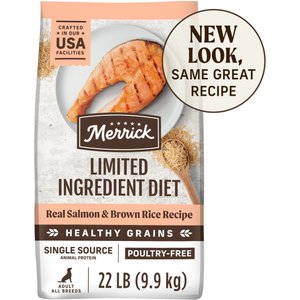 ---
Best Limited Ingredients Diet Dog Food with Grains
For dogs with sensitive stomachs or food allergies, this limited-ingredient food sticks to the key components of a well-balanced doggie diet—including a blend of wholesome grains. The brown rice, oatmeal and barley mixture adds fiber, vitamins and minerals alongside the main ingredient, salmon, to ensure your dog is getting all the nutrients they need without upsetting their tummy.
Awesome pit food

I needed a salmons based food either grain free or rice based and I couldn't find anything reasonably priced that had quality ingredients. No local pet store carry's the Merrick simple brand. My pit loves the simple ingredients and the main salmon ingredients

Allergies Resolved

This is the only food that seems to have resolved my dogs food allergies. I even tried the prescription hydrolyzed diets, but those didn't help. This food is worth it. My dogs coat is beautiful and he's not miserably itchy. Highly recommend if your dog has bad food allergies.

Silver Lab with allergies

The vet recommended I switch to a food immediatelty with salmon as a main ingredient, and NOT grain free. My lab has food allergies with severe itching and red eyes. This was the only food that I could find at the store that day that met both criteria, so I bought it. His allergies have had reduced significantly since switching and he seems to love the taste. Once, I established that it would work for him, I ordered it on auto ship from Chewy for him and my black lab.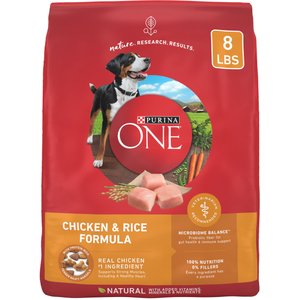 ---
Best Value Dog Food with Grains
Shopping on a budget? Not to worry as this Purina ONE dog food with grains features chicken and whole grain corn and wheat. The complete protein profile from this combination is formulated to support strong muscles, a healthy heart and a shiny coat.
Amazing response!

I have given our pup a number of different kibble. Since I tried the canned food I thought I would try the kibble along with it. I am amazed at the dogs response to it. Every time we put it in the bowl they both follow me while I do it and immediately dig in. They have never done that with any other that I have given them. This one is a winner!

Dogs love this food

Switched our Havapoo and Great Dane-Lab mix over to Purina One Chicken and Rice Mix. Both dogs love this food over their previous food.

My pets love it

This is the only dog food line my pets will eat, I've tried to switch sometimes to other brands but it will take them a while to finish the bags, this one only last me 2 weeks max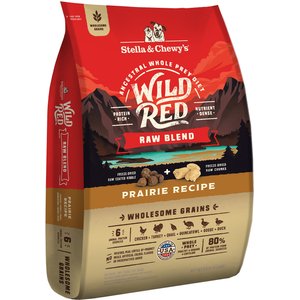 ---
Best New to Market Dog Food with Grains
This new offering from Stella & Chewy's adds barley, oatmeal and chia to a long list of tasty and nutritious ingredients. In addition to the wholesome grains, your dog may also benefit from the protein-packed meat sources as well as the organic fruits and veggies.
Dogs love it!

I've been looking for a change for my dogs and they turned their nose up at all but this... and the ingredients list is what got me!

This is my sofa's favorite food and flavor!

Due to the high cost, I can't afford to feed my three large breed dogs entirely Stella's, but I've been adding it to their regular kibble to spice it up after having won a Stella's gift basket from our local Pet Supplies Plus grand opening raffle and trying it out on the dogs. One of my seniors was just diagnosed with a severe health issue and has lost a lot of weight and his appetite. He's become so picky, but will eat just about any kibble if I add some Stella's kibble to it. The dogs like all of the flavors, but they go nuts for the freeze dried raw chunks that come in the Prarie recipe! It's really helped with his recovery...

Great quality ingredients, almost like raw

I don't normally feed kibble, I prefer frozen raw. However, one pup, Willow, will not eat raw. She is an EXTREMELY picky eater. Typically eats the Stella and Chewys freeze dried and The Real Meat Company air dried. She was not eating well, so I added some of this in the rotation and she enjoys it every couple of days. I hate when she doesn't eat anything as I know that is just gonna upset her tummy. The ingredients read like raw (with some grain), so if I forget to defrost some for the other two, I feel ok giving them this.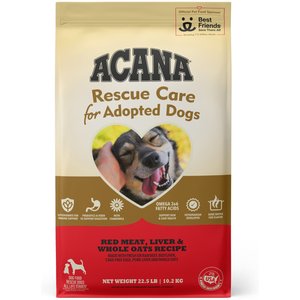 ---
Best Dog Food with Grains for Rescue Dogs
This dog food with grains is made to help your rescue pup adapt to their new home. It was developed to address common issues found in shelter dogs, including loose stool (contains prebiotics and fiber to support digestion), health vulnerability (contains antioxidants for immune support), and skin/coat problems (contains omega 3 and 6 fatty acids to support skin and coat health). Plus, for every bag purchased, ACANA gives a meal back to a shelter.
My sensitive rescue loves it!

My rescued Saluki cross was underweight and getting treated for giardia when I took her home one month ago, and was a finicky eater with a poor appetite and limited food tolerance. I have been experimenting with her diet, offering her a combination of commercial raw, kibble, and wet foods. This kibble is by far the most agreeable to her so far! She eats it right up and absorbs and digests it much better than other kibble formulas. I'll definitely continue feeding her this, supplemented by her frozen raw foods (if you're curious, both Instinct and Primal brands have been great!). Not sure if the chamomile makes a big difference for her...

She actually likes it!

My rescue is 8 and she is very particular. I've tried other high end dry foods. She rejects them, eating around the dry food. I mix half a can of wet Nutrish (R Ray) food with the cup of dry food for her and she typically eats the wet, leaving as much of the dry as she can. But now she is eating all of it - the wet and dry, since I've switched to Acana. She only eats once a day; hence the cup of dry + 1/2 can of wet, and she is a 48 lb. border collie/blue heeler.

THANK YOU FOR THIS DELICATE BALANCE

My pibbles is allergic to chicken and she's also a picky eater so finding food for her has always been difficult. She rescued us 7 yrs ago and is a joy to have. At one point I was making food for her until my health issues. Fast forward she was on another well-known brand and she had suddenly refused to eat it. It becomes a task when manufacturers decide to change the formula. So I started researching and found this and it's been absolutely heaven sent. I also love the fact that they donate to shelters. It's a win win!!!!
Now you can treat your dog to the best dog food with grains for a meal they'll love. And you'll love knowing that they are getting all the wholesome nutrients they need for a healthy and active life.