All pet parents want the best life possible for their fur babies. And a big part of your dog's health is what you feed them every day. Feeding a dog food with grains is one way to give your pet the benefits of a well-rounded (and tasty) meal. In addition to being a good source of carbohydrates, fiber, vitamins and antioxidants, high-quality grains can also support healthy skin, coats and immune systems. But what's the best dog food with grains for your pup?
Though you might be familiar with grains like wheat, oats, rice or corn, dog food with grains can also include grains like chia, millet, barley, sorghum and others. Below, we've rounded up the best dog food with grains based on Chewy customer ratings, reviews, sales and expert input. Just be sure to always consult with your veterinarian before making any changes to your dog's diet.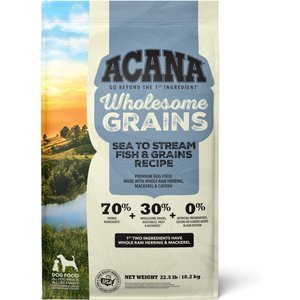 ---
Best Overall Dog Food with Grains
FREE 1-3 day shipping on this item
This kibble is made with a blend of wholesome, high-quality grains including oats, sorghum and millet. These grains are high in fiber to aid in your pup's healthy digestion. Plus, in combination with ACANA's fish protein source, your dog will enjoy a balanced meal that is both nutritious and delicious.
Great job as always

Have ordered from Chewy for many years,they have always had the items I need at a fair price.Shipping is fast and Customer service excellent.Highly recommended!

Yummy for my tummy!

Iris loves this dry food! The kibble is just the right size for a medium sized dog, and while we are only on our first week on it, we have no upset stomachs or loose poops! It is on the more expensive side

Great Food

I've had my APBT mix on this food for a year and some change after a recommendation at Pet Supplies Plus and the food he's done the best on, coat looks great, poops are solid and smaller than on other foods. Might move him from Acana to Farmina since it's been acquisitioned by Mars when changes start happening but until then it's been a real quality food for him!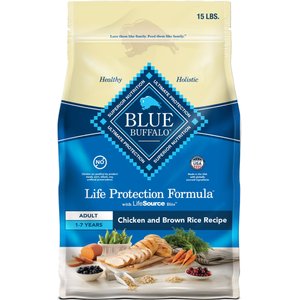 ---
Best Adult Dry Dog Food with Grains
For the best grain dog food for full-grown pups, Blue Buffalo dry kibble packs a punch with both real meat and whole grains. In addition to chicken, the food has brown rice, barley and oatmeal. These complex carbs will help keep your active adult dog's energy levels up for all your adventures.
Blue Buffalo dog food rocks

I've always had problems getting my lab mix to eat dog food - ANY dog food. I finally got her someBlue Buffalo dog food and we are now customers for life. She seems to like the food, and her energy has picked up as has her general mood. She's more playful, maybe cause she is losing some unneeded weight, maybe from the dog food. Try it and see if you dog doesn't like this better than what you are feeding it now.

Good stuff dogs love BB.

This food is Awesome! Our puppies are now over a year old and we started feeding them Blue Buffalo a few weeks ago. Positive change, their coats are so shiny and they appear to be much happier with BB. Older dog has more energy (positive for him not so much for pups. The picky eater is no longer leaving food in her bowl!!

Fantastic

Have fed this food for several years. My newest rescue is blooming on this diet. She came to me underweight and poor cost but is improving daily after only 2 weeks. Recommend this for all sizes and adult ages.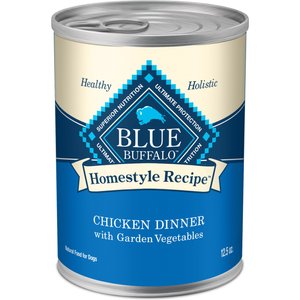 ---
Best Wet Dog Food with Grains
If you want canned dog food with grains, Blue Buffalo's wet dog food pairs real chicken with brown rice, barley and oatmeal for a combo of complex carbs and high-quality protein that will have your dog drooling. You can serve it up as a special treat or mix it in with their dry food for an added nutritional boost.
My dog loves this

My dog loves this food. I want to give her less chicken but she always licks her plate when I mix this with her kibble.

dogs love this chicken dinner

My 5 dogs like this chicken dinner and eat it up fast....which is a good sign...smells nice too....

Wet dog food

I have just started using this blue buffalo canned dog food. My dogs seemed to notice their other favorite brand changed consistency and recipe, they refused it. This one is a winner so far!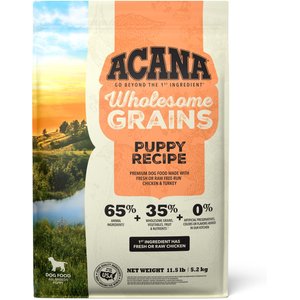 ---
Best Puppy Food with Grains
ACANA's puppy recipe is specially formulated with growing pups in mind. The grains—oats, sorghum and millet—are high in fiber and free from gluten for healthy digestion. Plus, the rest of the premium ingredients are all geared toward supporting your puppy's development so they can grow into their big dog paws.
picky puppy loves it!

Can't believe I finally get to say this but my extremely picky eater loves this. It's been a long time since I find a kibble that he shows interest in and will eat even if he's not starving. Definitely recommend giving this a shot if you're also struggling to find a kibble that a picky dog will like!

puppy likes it

I do wish Acana would make this in a bigger bag, having to have an auto ship every 2 weeks is kind of annoying. I raised my Boston Terrier on Acana for the majority of his life. So I decided to start our Dutch Shepherd puppy on this as well. She eats 3 cups a day and so far likes the food, I also supplement with a squirt of salmon oil. The pieces are small so it's a good size for puppies mouth to chew up. She seems to like it so far, I also think Acana should offer another recipe besides chicken just for dogs who may have allergies.

Great product

I love the ingredients in this food! Nothing compared to whole meats and wholesome grains. My puppy is strong and healthy from eating this.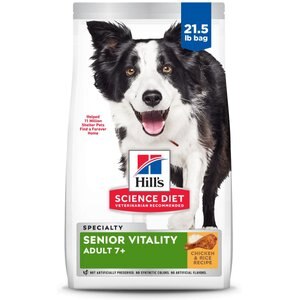 ---
Best Senior Dog Food with Grains
FREE 1-3 day shipping on this item
When your dog hits their golden years, you'll want to treat them to something special. The best grain dog food for senior pups comes with cracked pearled barley, oats and corn to help your Golden Oldie keep up their energy so they can always feel young at heart.
Running like she's 10

My almost 15 yr old really enjoys this food along with other Hill's foods. She is running around like she is 10!

11 yr old Aussie

Great food, dog loves it. She has become a bit more active. This helps her keep up with 5 month old dobie .

Hills science diet perfect weight

This was a problem free transaction! Best price and free shipping! Ive been using Hill Science Diet for years. My dogs are healthy and happy.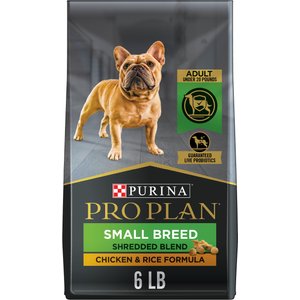 ---
Best Dog Food With Grain for Small Dogs
This chicken and rice blend is made with small dogs in mind. The mix has crunchy kibble and shredded bite-sized bits for easy chomping by dogs with small teeth. Additionally, the food is made with grains like whole grain corn and wheat bran for added fiber to support good digestive health.
Great Food!

My three pups LOVE this food. My poodle chrissy is the picky one out of all 3. Had her on wet food for years but her breath would always stink 🙁 Tried so many kibble food which she hated that sometimes she would rather just starve. Purina Pro Plan Shredded Blend is the only kind she will eat her bowl clean. My poodle and chihuahua go into each others bowls to steal the chicken pieces lol so i have to separate them or tell them no. Benito my cavapoo just loves this kibble altogether , he will literally cry for a second bowl haha but his weight is a good weight 🙂 Im happy with this food!

Good transition food for Young adults.

When my Boston Terrier puppies turned one, I transitioned them from Purina Proplan puppy chow to this adult blend. They had no tummy upset and are doing just great.

Love the food

This is a great adult food for my dogs. They love the shredded chicken bites and I don't have to have the worry about dilated cardiomyopathy that's associated with grain free diets. They can be picky but they really like this one.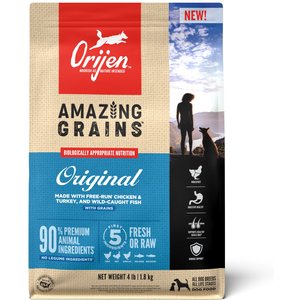 ---
Best Dog Food with Grains for Active Dogs
Looking for a protein-rich, premium-ingredient dog food with grains that can keep up with your active dog's lifestyle? ORIJEN Amazing Grains includes a hand-selected grain blend of quinoa, millet, oats, oat groats and chia. All that good fiber supports a healthy gut—and loads of energy. Get ready for ALL the walks.
picky eater and picky dog mom approved

Yes, it is a bit more pricey than some other brands but it's well worth it! The ingredients are high quality and I feel confident in feeding my dog this food. He's a picky eater and it is a challenge to find quality food he will eat that doesn't break the bank. He loves his food so much that he has stopped accepting all but his most favorite treats and prefers his food to people food (accept the foods he's not supposed to eat of course)! I had one incident where he would not eat from a particular bag (it must've been stale) but Chewy sent me out a new bag right away with no hassle. As soon as the new bag arrived he was back to...

Finally Orijen grain inclusive

Since I've been feeding Orijen regular grain free kibble, it was easy to transition to the grain inclusive kibble...and they like it. I still add Stella & Chewy's meal toppers, green beans and brown rice to their food. No more picky eaters here.

My 10 month old Labrador Retriever loves this

I started by feeding my Labrador Retriever the Amazing Grains Large Puppy, but now that he's almost a year, and 90 pounds, I got him started on Amazing Grains Original. I alternate between those two and Tase of the Wild Ancient Grains. He loves it! I feed him three times a day, and he gobbled this food up as soon as I put his bowl down. His coat is amazing, shedding is minimal, his eyes and ears are always clear, and he's got so much energy. Even after I pick him up from a day at his daycare, he still is energetic. I have gotten multiple compliments from people at his daycare about how handsome is. This food really is amazing.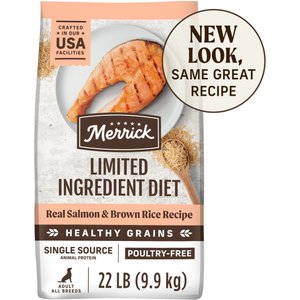 ---
Best Limited Ingredients Diet Dog Food with Grains
FREE 1-3 day shipping on this item
For dogs with sensitive stomachs or food allergies, this limited-ingredient food sticks to the key components of a well-balanced doggie diet—including a blend of wholesome grains. The brown rice, oatmeal and barley mixture adds fiber, vitamins and minerals alongside the main ingredient, salmon, to ensure your dog is getting all the nutrients they need without upsetting their tummy.
Great quality

My Shar-Pei has skin issues. This is the only food I have found that keeps it under control. I have tried several different brands, but this is the only one I use anymore. No more chewing and bubbles.

Awesome pit food

I needed a salmons based food either grain free or rice based and I couldn't find anything reasonably priced that had quality ingredients. No local pet store carry's the Merrick simple brand. My pit loves the simple ingredients and the main salmon ingredients

Allergies Resolved

This is the only food that seems to have resolved my dogs food allergies. I even tried the prescription hydrolyzed diets, but those didn't help. This food is worth it. My dogs coat is beautiful and he's not miserably itchy. Highly recommend if your dog has bad food allergies.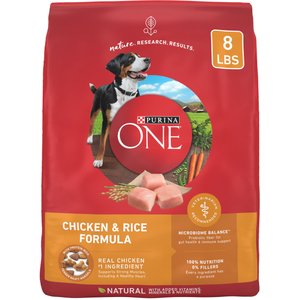 ---
Best Value Dog Food with Grains
Shopping on a budget? Not to worry as this Purina ONE dog food with grains features chicken and whole grain corn and wheat. The complete protein profile from this combination is formulated to support strong muscles, a healthy heart and a shiny coat.
My dog LOVES this stuff!

I have a picky Boxer with stomach sensitivity and anxiety. We have tried several foods for her. We had been using Merrick and she just gradually got to the point where she was not eating for 1 or more days at a time. I tried a small bag of this just to see if she would like it and she eats this stuff up! She even sits at her bowl area waiting to be fed at night. Went ahead and ordered a big bag hoping this will do the trick.

dog food purina one

best price and we love the fast free shipping and its the only food we trust for our three fur babies!!

Best company to do business with!!!!

This makes it so easy to buy all your pet needs and save money using auto ship! This company genuinely puts your pet first.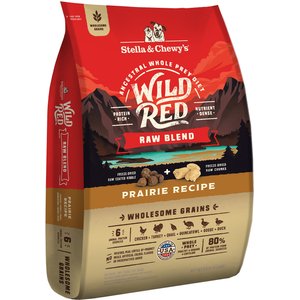 ---
Best New to Market Dog Food with Grains
FREE 1-3 day shipping on this item
This new offering from Stella & Chewy's adds barley, oatmeal and chia to a long list of tasty and nutritious ingredients. In addition to the wholesome grains, your dog may also benefit from the protein-packed meat sources as well as the organic fruits and veggies.
Dogs love it!

I've been looking for a change for my dogs and they turned their nose up at all but this... and the ingredients list is what got me!

This is my sofa's favorite food and flavor!

Due to the high cost, I can't afford to feed my three large breed dogs entirely Stella's, but I've been adding it to their regular kibble to spice it up after having won a Stella's gift basket from our local Pet Supplies Plus grand opening raffle and trying it out on the dogs. One of my seniors was just diagnosed with a severe health issue and has lost a lot of weight and his appetite. He's become so picky, but will eat just about any kibble if I add some Stella's kibble to it. The dogs like all of the flavors, but they go nuts for the freeze dried raw chunks that come in the Prarie recipe! It's really helped with his recovery...

Great quality ingredients, almost like raw

I don't normally feed kibble, I prefer frozen raw. However, one pup, Willow, will not eat raw. She is an EXTREMELY picky eater. Typically eats the Stella and Chewys freeze dried and The Real Meat Company air dried. She was not eating well, so I added some of this in the rotation and she enjoys it every couple of days. I hate when she doesn't eat anything as I know that is just gonna upset her tummy. The ingredients read like raw (with some grain), so if I forget to defrost some for the other two, I feel ok giving them this.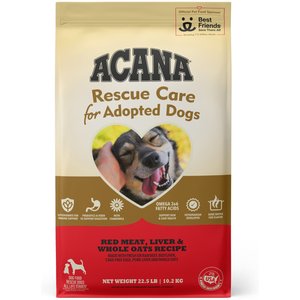 ---
Best Dog Food with Grains for Rescue Dogs
FREE 1-3 day shipping on this item
This dog food with grains is made to help your rescue pup adapt to their new home. It was developed to address common issues found in shelter dogs, including loose stool (contains prebiotics and fiber to support digestion), health vulnerability (contains antioxidants for immune support), and skin/coat problems (contains omega 3 and 6 fatty acids to support skin and coat health). Plus, for every bag purchased, ACANA gives a meal back to a shelter.
Arcana rescue care dry food

This food is great.Lola is very picky,and would eat other foods.Her stools are normal,No GI problems after being on this food.

Excellent food for sensitive pups

Excellent for my Bully. She doesn't seem to have any skin issues with this food. I mix it with Annemaet Extra.

Good stuff

I have tried several different foods with my puparoo. The last brand made his gut so upset. He never got used to it. I do a full stop fast, and restart when switching foods because his gut handles it better, but it didn't work at all for the prior food. THIS FOOD took no time at all for his gut to be happy. He loves the taste. I often have things I mix in, for his particular needs, and sometimes he won't eat food without them. THIS FOOD, he eats plain with no problems. His poos are normal. He's not constantly gassy. He seems to have more energy, which to me means he's absorbing the nutrients better.I highly recommend this food for dogs...
Now you can treat your dog to the best dog food with grains for a meal they'll love. And you'll love knowing that they are getting all the wholesome nutrients they need for a healthy and active life.