we're all looking to lead healthier lives, and that usually includes eating a more natural diet with fewer processed foods. As pet parents, we want the same for our dogs, and feeding a natural diet can offer up similar benefits. But how do you pick the best natural dog food for your pup?
First, you need to know what constitutes natural pet food. Natural pet food should contain ingredients derived from plant, animal or naturally occurring mineral sources, in their natural state or without having been produced chemically, according to the Association of American Feed Control Officers, which sets forth pet food's nutritional standards. Though the "natural" label isn't currently regulated by the FDA, choosing a natural dog food should help eliminate ingredients like artificial colors and flavors and man-made preservatives from your pup's diet, making sure they get more whole ingredients and fewer chemicals.
We spoke to the experts to narrow down the vet recommended dog food options and help you find the best natural dog food for your dog. Just remember to consult with your veterinarian before making any changes to your pup's diet.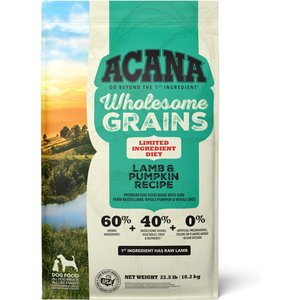 ---
Best Natural Dry Dog Food
This lamb and pumpkin combo is a winner, according to Dr. Katy Nelson, Chewy's senior veterinarian. Pumpkin is great for pet digestion, and high-quality lamb makes up about 60 percent of the ingredients. Plus, this dry food contains whole grains like oats and sorghum to give your dog plenty of prolonged energy.
A new favorite!

My 2 adult dogs love this, we tried it by chance when their favorite food (Acana Lamb and Apples) was unavailable for a little while so I bought the Acana Lamb and Pumpkin and they love it too so now I switch from one to the other after they finish a bag of food.

Excellent food!

I'm a vet tech with a dog who is extremely finicky with IBD and she is doing great on this. Perfect stools and she cleans her bowl. I can't recommend it enough!

My dog loves Acana

I am writing this review because I was trying to pick another flavor, and I check ratings and comments. I saw someone mentioned they had a Golden Doodle and they didn't like it. Thought I should mention I also have one, and Acana is the only brand he has eaten the food when it's served and doesn't leave any behind. Including this flavor. I think that all dogs are different, doesn't matter the breed. But in case you had any doubts and consider this, I wanted to write a positive review.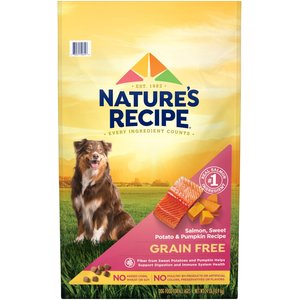 ---
Best Natural Grain-Free Dog Food
For a grain-free dry food option, Dr. Jennifer Coates, DVM, recommends this Nature's Recipe diet. She likes that the first ingredient is salmon, a high-quality protein source that helps support muscle development. This natural food for dogs also contains sweet potatoes and pumpkin, good sources of carbohydrates for added energy and good digestion.
Great dog food

We switched to this a few months ago and have been really happy with the food. My dog is sensitive to a lot of foods and will get skin allergies but this food doesn't cause any allergies and the dogs eat it well everyday. It's a good grain free option and is decently priced.

Great for all dogs!

After adopting my Rottie 3 years ago, we couldn't figure out why his digestive issues were so bad. It took us 8 months, and 5 different types of dog food before we noticed a drastic change in our dog's issue after starting him on Nature's Recipe Grain Free Salmon dog food. It took about 2 1/2 weeks after starting him on this food to notice a change, but once his diarrhea, gas, and itching went away, we knew that this stuff was the secret! To this day, we aren't sure if he has a grain allergy, or maybe it's the salmon that helps, but we are so happy to have found an affordable option that he loves! I only wish it came in larger bags! My dog...

acceptable food

3 dogs in the house seemed to rather enjoy the food as did I enjoy finding an affordable, suitable food for the3!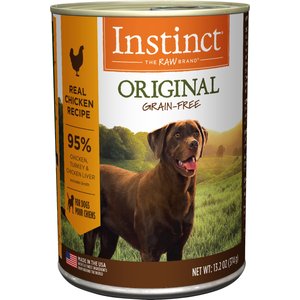 ---
Best Natural Wet Dog Food
This canned dog food is made with real meat, fruits and vegetables. With cage-free chicken as the first ingredient, you can count on it being a good source of protein. It also has ​​natural sources of omega fatty acids for healthy skin and a shiny coat. Dr. Nelson says a grain-free wet dog food like this one can be used alongside a healthy kibble as part of a complete and balanced diet.
Instinct Can Food

I had to change food for my dog because her immune system is changing.This was recommended by a Naturalist that we see & our dog loves it & can't waittil I get it in the bowl. Within about 10 days she showed improvement. No additives, grains, wheat or corn. Our furry one is very happy!

Great food

Our dogs love this food. I pair it with Instinct kibble and the bowls are licked clean. Also they don't poop as much as they used to on other food.

Best wet dog food

I love how it has all the juice in with the food. My dog who wouldn't eat just any wet food loved this food. I absolutely love it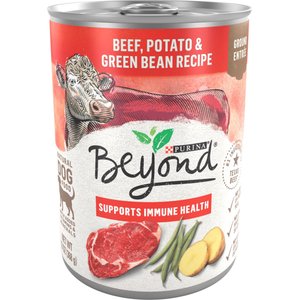 ---
Best Affordable Natural Wet Dog Food
If you're looking for low-cost, high-quality dog food, Dr. Coates recommends this beef, potato and green bean canned blend from Purina. It's loaded with good stuff like vitamins, minerals and Texas-raised beef.
They loved it

My boys loved this! They were sniffing the air the whole time I was dishing it up and had their heads in the bowls before I put them on the ground. Ate it all within minutes.

Top shelf food

I received this product for free for the purpose of my review. All opinions are my own. My dog's absolutely loved this food. Not only did they enjoy it I ended up buying more for them to enjoy! Way to go Purina!

Great! Dog's love it!

My dogs gobbled this right up! Not much more to say about it!I received this product for free for the purpose of my review. All opinions are my own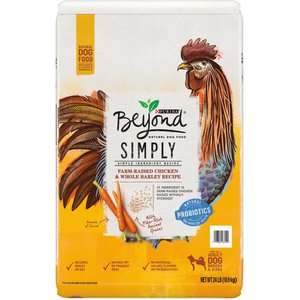 ---
Best Affordable Natural Dry Dog Food
Dr. Coates recommends this high quality dog food as an excellent affordable choice, especially if you have a large dog who regularly goes through kibble. Made with steroid-free, white meat chicken, this limited ingredient food is rich in nutrients and full of natural probiotics for healthy digestion.
Our dog loves this food!

Our dog had a secret allergy to a food we got from the grocery store to get by until we could swing by the pet store over the weekend. We ended up ordered this immediately because it was free of so many things that could cause allergies. She loves it and the vet was glad to see this was a choice we made too!

Finally!!!!!!!!!!

I always say my animals picked me and not the other way around. It just so happens the ones with food issues pick me. My poodle has severe food allergies. My lab/husky mix has gas issues. Then I adopted a goldendoodle and it rocked my world. His digestion issues were out of this world terrible. It took months to find a food all three could eat and this was it!!!! It's been months now and they are thriving! It does smell quite awful but if it works who cares?! Give this food a chance it's been a life saver for sure!

Good for them, Good for me

Finally found a dry food that appeals to all my dogs. It is very small morsels for small dachshund mouths. Also, I love it that it is "corn, soy and wheat free". There are grains, but the good kind. Nothing artificial. It is good for them so that makes me happy so good for me!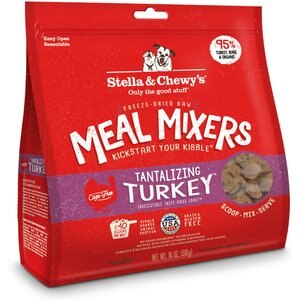 ---
Best Natural Dog Food Topper
If you want an affordable way to incorporate natural dog food into your pet's diet, Dr. Nelson says natural dog food toppers are a great option. She recommends these freeze-dried morsels which are made from cage-free turkey and organic fruits and vegetables. Bonus: You can feed these nuggets as a complete meal, too.
Great product!!

A sales person at a pet store recommended these meal mixers for my Jack Russel who is a fussy eater. My dog has never walked away from the meal mixers and loves them. Packaging says you actually use them for meals but I only use them as an extra treat.

A must for our dog

Our terrier is finicky. If we crush these and sprinkle onto his food it gets him more interested in eating.

Great little snackies

I like the tiny bags to try out new food and my dog really likes them, they work well as toppers or as a little snack.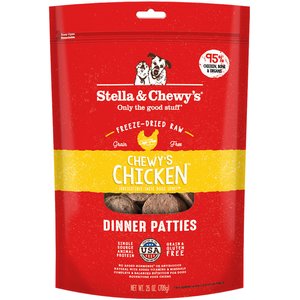 ---
Best Natural Freeze Dried Dog Food
Natural freeze-dried dog foods like these chicken dinner patties are an easy way to feed your dog a raw diet. Serve as-is or rehydrate with water. They can also be used as a topper. Dr. Nelsons uses Stella and Chewy's freeze-dried biscuits as a topper for her dogs' diet of kibble and fresh foods.
They go crazy for it

Both my pup and teen Spanish water dog go wild for this. As treats or broken up as a food topper, they love it. Both are very picky eaters, bored after a couple tastes, not for this, 3 week going strong

Best Dog Treats

Our two whippets absolutely love these things. We have tried chicken, lamb and beef and all have been a hit. We crumple them up as toppers for their food and break off little bits as treats when they catch and bring their nerf frisbee back to us.

this one is for God

I just wanted to order something for my God… I couldn't sleep and Chewy the online store front has been in my heart because I love Chewy… I wanted to order something for God… for the next one I'm waiting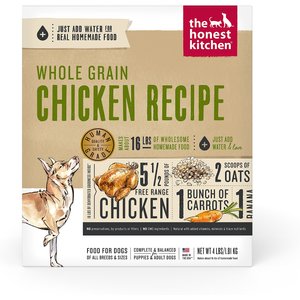 ---
Best Natural Dehydrated Dog Food
This whole grain dehydrated healthy dog food has an ingredient list of words you can actually pronounce, starting with chicken. "The Honest Kitchen does a great job of creating human-grade meals for pets with healthy proteins, grains, fruits and vegetables—pets feel like they're eating Thanksgiving dinner every day … but it's good for them!" says Dr. Nelson. If you have a picky eater, add this to their meal for an extra flavor boost.
My pups are in love!

So far my 2 pups that are both 11 years old love the chicken recipe. I have been mixing it with their dry food and everyone seems to be super happy with the change!

Awesome item

The moment we put this new bowl down she ate the entire thing. So happy to see my dog enjoy her food!

Very happy with this dog food!

I have been making home made dog food for a couple of years. I have five dogs so i make my dog food once a week. Some days I just don't want to do all the work! I found this on Chewy, read over the ingredients, liked what I saw and decided to give it a try and take a week off from making homemade. My dogs loved it! It was easy to mix up a batch daily. I will still make my own dog food but this is a wonderful replacement for those busy times of life. Thank you.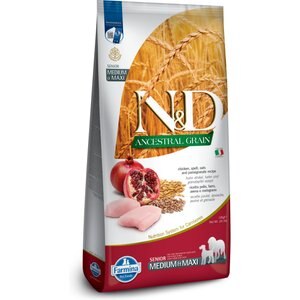 ---
Best Natural Senior Dog Food
Dogs heading into their golden years may have some specific dietary needs for their all natural dog food. Dr. Nelson recommends this food for seniors because it's made with high-quality animal protein. The formula also uses GMO-free spelt and oats to fuel your elder pup for plenty of steady energy.
Farmina products are great!

Finally I found a dog food with healthy grains and none of the "junk" additives found in other brands. I highly recommend Farmina.

Dogs love this!

This food has been great for my senior lab mix. She loves it, has regular stools and no vomiting! Well worth the price

Coat and meal time changing!!

Sasha has slowed down and become a bit picky in her older years and was a bit of a struggle to get to eat 2 meals a day, even with wet food on top to entice. Switch her over to this food and she's much more interested in eating and her coat is noticably softer with more sheen. She was getting decent food before, but this is what she wants!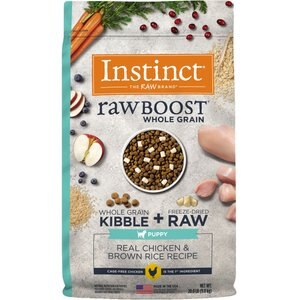 ---
Dr. Nelson recommends this whole grain kibble and raw freeze-dried blend for growing pups. Good for both their body and brain, the formula is made with all-natural, minimally processed chicken as well as natural DHA (docosahexaenoic acid, an omega-3 fatty acid) from chicken eggs to help support brain and eye development.
Great food

We love this food for our pup until we can transition him to a homemade raw diet when he's old enough. He has been very healthy and full of energy with this food.

chewy.com rocks

I have always had dogs in my life and have never considered ordering pet supplies online. I recently adopted a puppy and found I did not have the time to go to the pet supply store in my area. I went online to chewy.com and also arranged to have the puppy food put on auto re-order.the puppy loves it.

LOVE this for our dog!

Our dog loves this food, I was a little concerned he would only eat the raw bits but he isn't very picky about food so it wasn't a problem for us!
When choosing the best natural dog food for your pet, there are more than a few good choices on the market, and your veterinarian can help you find the ideal diet for your pup. "Your veterinarian is going to know what sort of specific conditions, dietary needs and lifestyle your pet may have. Work very closely with them on choosing the right food," says Dr. Nelson. With your vet's guidance, you can transition your dog to one of the best natural dog foods for many years of health and happiness by your side.