Loving your dog is easy. But when it comes to choosing their dog food? Not so much.
With so many different types of food on the market (picture the dog food aisle in your local supermarket and then some), it can be overwhelming to navigate your options. The best food for your dog will help them stay active, produce less stool and gas, and grow a shiny coat. However, there is no one-size-fits-all meal that's the best for every pooch, and vets recommend you evaluate all of your choices to find the best, or most appropriate, food for your dog's unique needs.
If you are in the market for a new dog food, here's the 4-1-1 on popular dog food types and some tips on how to choose the best dog food for your pooch.
How to Choose the Best Dog Food for Your Pup
Figuring out the best food for your dog may take some trial and error. The first step: Talk to your veterinarian, who knows your pet's health best. They'll also be up to speed on any dog food recalls and issues with dog food manufacturers.
Typically, once the veterinarian makes a dog food recommendation, they'll instruct the pet parent to feed that food for 4-6 weeks. At the end of that period, the veterinarian will evaluate the pet to determine if the chosen diet was the best for them.
A Guide to the Different Types of Dog Food
There are several types of dog food on the market, each with its own purpose and benefits. To help you understand the difference between each type, here's a breakdown of 10 common types of dog food.
Remember to always consult with your veterinarian before changing your dog's diet. They are your best resource for understanding your dog's health needs.
Dry Dog Food
Sometimes called kibble, dry dog food is the most common type of meal offered to dogs of all ages and sizes. Dry foods tend to be less expensive than other types of food, as well as easy to store and feed. Pour those kibbles into your dog's bowl and you're done!
More good news: As long as the food is complete and balanced, all of the nutrients that your dog needs can be found in kibble.
One common type of dry dog food is grain-free dog food, which is a corn- and wheat-free dog food that will typically utilize alternative carbohydrate sources, such as sweet potato, peas and legumes. This diet is best for dogs who have a sensitivity to corn or wheat ingredients.
When choosing the best kibble for your dog, consider dog food that is tailored for your dog's age, breed, weight and activity level.
Cost:
$
Best dog food for:
healthy dogs in all ages and sizes.
Chewy's most popular dry dog food:
Wet Dog Food
Wet dog food has a relatively high-water content and is typically served in cans, tubs or trays. Your vet may recommend it if your dog has trouble maintaining adequate hydration, like many dogs who suffer from kidney disease.
Wet dog foods are also more aromatic and have a meaty texture that can be enticing for picky eaters. Pet parents can also add in kibble to their dog's wet food, or add wet food on their dog's kibble, to keep their pup interested in their meals.
Another reason pet parents may opt for wet dog foods is because they typically contain fewer preservatives in comparison to dry dog food. This may leave wet dog food with a short shelf-life—but with some airtight dog food lids, dog parents can keep wet food fresher for longer.
Cost:
$$
Best dog food for:
dogs who are susceptible to dehydration or are picky eaters.
Chewy's most popular wet dog food:
Fresh and Prepared Dog Food
There's no legal definition of "fresh" food, but most fresh diets have these things in common:
Fewer preservatives
Must be refrigerated or frozen
Minimal processing
Familiar ingredients like turkey or beef, plus fruits and veggies
Fans of fresh food say that its fewer preservatives and high-quality ingredients have improved their dogs' health; others like that it's often more visually appealing than, say, a can of wet food. Some picky eaters might prefer the texture or flavor of fresh foods over others. However, studies have not proven that fresh diets are better for dogs' health in general.
We've got everything you need to know about fresh dog food right here. Need extra help picking your pup's meal? Try this fresh food finder.
Cost:
$$
Best dog food for:
healthy dogs of all ages and sizes.
Chewy's most popular fresh dog food: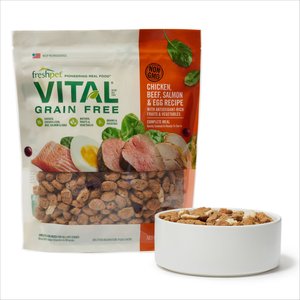 Freshpet Vital Chicken, Beef, Salmon & Egg Recipe Grain-Free Fresh Dog Food
$59.96
FREE 1-3 day shipping
Veterinary Diets
Veterinary diets, also known as therapeutic diets, are dog foods that are available with a prescription from a veterinarian. They can come in wet or dry dog food forms and are designed to address specific health concerns such as:
digestive ailments
urinary issues
diabetes
kidney disease
obesity
They may be either short term diets (such as for urinary problems or weight loss) or long term (such as for food allergies).
Because these types of diets have altered nutrient levels to target specific health conditions, they may not be safe to feed otherwise healthy dogs. That's why you'll need a prescription from your vet to purchase them.
Cost:
$$$
Best dog food for:
dogs with a specific health concern.
Chewy's most popular veterinary diet dog food:
Over-the-Counter Science Diets
Over-the-counter science diets, also known as OTC therapeutic or solution-based diets, are intended to support specific health issues in dogs, including digestion, weight control, skin and coat health, and mobility, but do not require a prescription from your veterinarian. These dog foods are most effective in mild to moderate cases.
Like prescription diets, it is common for OTC science diets to be formulated using artificial ingredients. One exception, however, is Blue Buffalo's True Solutions dog food, which uses real meat as the foundation for every recipe and is made without fillers, by-product meals or anything artificial.
Consult with your veterinarian if your pet has more severe symptoms or if the over-the-counter food is ineffective.
Cost:
$$
Best dog food for:
dogs with mild to moderate health issues—including problems with digestion, weight control, skin and coat health or mobility.
Chewy's most popular science diet dog food:
Raw Dog Food
Raw dog food typically consists of raw meat or protein base and will often include a carbohydrate. Some pet parents opt for a commercially prepared raw diet for dogs, while others prepare homemade raw food. If you go the homemade route, it's important to consult with a veterinary nutritionist to ensure that your diet provides all the nutrients your dog needs to thrive; failing to do so could lead to illness or even death.
While there are no studies that suggest feeding a raw diet for dogs is better than feeding cooked diets, some pet parents claim they have seen positive results from the diet, such as better digestion, less shedding and a shinier coat.
It is important to note that many studies show that raw dog foods often contain potentially dangerous pathogens like salmonella, E. coli, listeria, sarcocystis and toxoplasma. So, it is essential to take special precautions when handling raw food in order to avoid cross contamination.
Three options for commercially prepared raw diets include raw-infused kibble, which is kibble mixed with bits of freeze-dried raw protein, raw freeze-dried dog food, which has been processed using freeze-drying to remove moisture, and raw frozen food, which you can store in your freezer and thaw before serving to your pet.
Cost:
$$$
Best dog food for:
dogs with pet parents who don't mind the extra cost and time of serving a raw diet.
Chewy's most popular raw dog food:
Human-Grade Dog Food
If a dog food is correctly labeled as human-grade, the recipe is made with human edible ingredients and is, theoretically, edible by humans. The main point of this claim is to show consumers that the dog food is of such high-quality that people can eat it.
To be considered a human-grade dog food, it must meet the following four criteria set forth by the Association of American Feed Control Officials (AAFCO) and the United States Department of Agriculture (USDA):
Each ingredient in the dog food must be fit for human consumption.
Every ingredient is stored, handled, processed and transported in a manner consistent and compliant with current good manufacturing processes for human edible foods.
The manufacturing facility has been licensed by the appropriate authority.
It is labeled for its intended use.
If a dog food is labeled as human-grade, it does not necessarily mean the dog food is healthier or safer for a pet compared to a feed-grade dog food. And while a pet parent might consider this type of dog food to be healthy for their pet, remember: Not all food that is edible for humans is safe for pets and could even be dangerous or toxic.
To be safe, when looking for human-grade dog foods, check to see that it is a high-quality, AAFCO-certified dog food that has been produced by a reliable and reputable manufacturer.
Cost:
$$
Best dog food for:
healthy dogs of all ages and sizes.
Chewy's most popular human-grade dog food:
Dehydrated/Air-Dried Dog Food
Dehydrated dog food uses a gentle cooking and drying process to remove moisture from the food. This preserves important nutrients and enzymes without adding artificial preservatives. It's sometimes categorized along with raw food, since high heat is not used in the manufacturing process like it is with dry dog food, for instance.
Besides being nutritionally dense, dehydrated dog food is easy to store because it doesn't require refrigeration. Typically, to prepare a dehydrated dog food meal, you just need to add warm water and wait a few minutes.
There are also air-dried dog foods, which have a similar manufacturing process to dehydrated dog foods except moisture is removed via evaporation versus heat.
Like with choosing any dog food for your pup, make sure it will meet your dog's nutritional requirements by looking for the AAFCO approval on the label, which tells you it contains the nutrients that healthy dogs need.
Cost:
$$
Best dog food for:
puppies, pregnant dogs and active adults of all breeds and sizes—as dehydrated food typically has higher protein levels than normal.
Chewy's most popular dehydrated/air-dried dog food:
Natural Dog Food
A natural dog food is generally understood to be a dog food that has been formulated without artificial flavoring, coloring or preservatives. However, there's no federal regulation regarding the use of the word "natural" on dog food labels. That means it's up to you to evaluate the formula before feeding it to your pup. Like with any dog food, you want to make sure it has the nutrients your particular dog needs to thrive. Look for the AAFCO approval on the label, and consult your vet if you have any questions or concerns. 
Cost:
$
Best dog food for:
healthy dogs of all ages and sizes.
Chewy's most popular natural dog food:
Dog Food Toppings
Dog food toppings are an excellent way to entice picky eaters and add a boost of nutrition to your dog's normal diet.
Toppings are considered as treats instead of a dog food, however, because they are not formulated as part of a nutritionally balanced food for dogs. Like all treats, you want to make sure dog food toppings don't provide more than 10 percent of your pup's daily calories. More than that can disrupt the balance of nutrients in the diet and increase the risk of weight gain.
Cost:
$$
Best dog food for:
picky eaters
Chewy's most popular dog food toppings:
Clearly, there are many options for what you can feed your dog. While overwhelming, as a pet parent you should take the time to understand your dog's nutritional needs so you can choose a diet that will help them thrive.
Always include your veterinarian in any decision about your pet's health. They are the best equipped to aide you in the search for an appropriate food for your pet.
Expert input provided by Dr. Jennifer Coates, DVM, of Fort Collins, Colorado; Dr. Sandra Mitchell, DVM, owner of All Creatures Veterinary Services in Bangor, Maine; Dr. JoAnna Pendergrass, DVM, founder of JPen Communications; and Dr. Alyssa Vincent, DVM, an associate veterinarian at Uxbridge Animal Hospital in Uxbridge, Massachusetts.