Do you have a VIP dog mama in your life? All year round, dog moms work hard making sure their four-legged fur kids are happy, healthy and loved (…some may even say spoiled). We think—and we bet you'd agree with us—they deserve some special recognition on Mother's Day with a dog mom gift that's just as unique as they are.
That's why we've curated a list of great gift ideas for all different types of dog moms. Whether she's a gardener or a baker, a homebody or a globetrotter, these dog mom gifts are (almost) as sweet as puppy snuggles.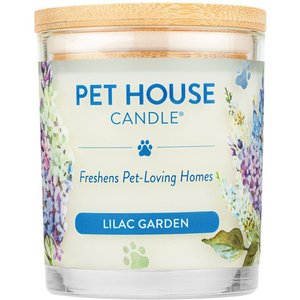 ---
Best Dog Mom Gift for Candle Lovers
Being a dog mom isn't all pupcakes and rainbows—sometimes, the job comes with unpleasant aromas. Made from natural soy wax, this pet-safe candle is specially formulated with a no-nonsense odor neutralizer. Goodbye, funky wet dog smell. Hello, iris, sage and lavender. We dare say, it's even better than a bouquet.
Smells like Heaven

Best smelling lilac candle I've ever had, and it doesn't seem to bother my cats. I thought they were a little pricey, but now I believe they are well worth it. Not overpowering at all, and it is a quite large candle, very happy with it!

I LOVE THESE CANDLES!!!!

I LOVE THESE CANDLES!!!! These candles smell wonderful! I've purchased very expensive candles in the past....no more....a great assortment of scents..and they are amazing. I won't buy any other brand from now on!

great scents

your candles are just wonderful. people that come into my house always what smells so good when I tell them my candle they want to know where I got the. and of course I tell them Chewy.com.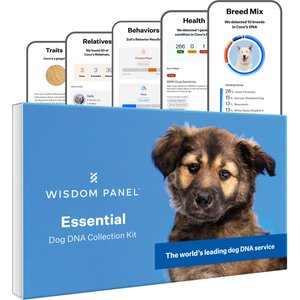 ---
Best Gift for Aspiring Genealogist Dog Moms
For dog moms who want to know everything about their fur babes, a DNA test is the gift that keeps giving. Using a simple cheek swab, the Wisdom Panel kit references an expansive dog DNA database to trace ancestry as far back as great-grandparents. Additionally, it can provide valuable insight into potential medical issues.
DNA testing

Wisdom Panel has kept me updated on progress of DNA testing, but no results yet, so all I can say is good communication and easy website usage.

Easy-to-use, accurate, interesting

Overall really easy process, results came back fairly quickly, and the results were very accurate to what we knew about her lineage. Genetic markers and predictions seem accurate as well, if expected

Rosee's DNA results

Found Wisdom Panel to be very thorough, good value and a good bonus to also get all the health dispositions involved with her breed.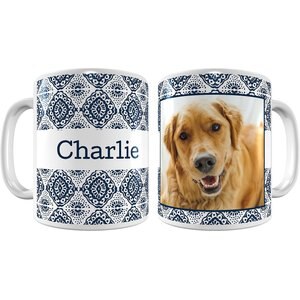 ---
Best Gift for Early Bird Dog Moms
Does mama love her coffee? Wish her a great morning with this personalized 11-ounce mug featuring her favorite furry face. For a one-of-a-kind gift, simply upload her pup's photo, add personalized text, and voila—she's sipping in style. Plus, she'll appreciate that it's dishwasher and microwave safe.
Coffee mug

The picture on the mug came out so nice.i love it!!!!!. Fed ex delivered it to my neighbor and I went and picked it up .thank goodness they are honest people.

Looks more expensive than it is

This turned out beautiful. The photo I used was actually a picture of a painting, as opposed to a regular dog photo. It's my dad's favorite painting (of his favorite photo of his mastiff) and it looks stellar on this mug. The cellphone pictures don't do it justice cause the lighting in my house reflects on the mug (reflection on dog's ear) - but it looks very rich and detailed up close and the mug is a good size. Overall, it looks and feels expensive when holding it, so I think this will be a great gift for dad.

Loving Callie

Love this mug. Drinking from it will be just like kissing Callie on the head. Still grieving my baby's passing.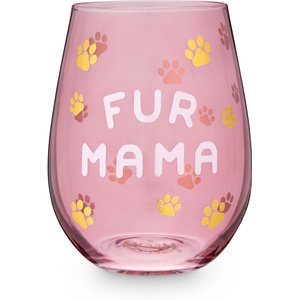 ---
Best Gift for Wine Lover Dog Moms
For wine lovers, this pretty-in-pink glass is simply toast-worthy. Generously sized at 20 ounces, it's a fun and festive way to celebrate another year of exceptional pet parenting. Plus, the short-and-sweet design is super pet-savvy—no stem means it's harder for curious paws and excited tails to tip over.
Love this wine glass!

I love this wine glass! It is exactly what I was looking for. I love how quickly it shipped, too!

Cutest wine glass

This came and when I opened it I fell in love with it right away. It's a nice size and so cute, just love it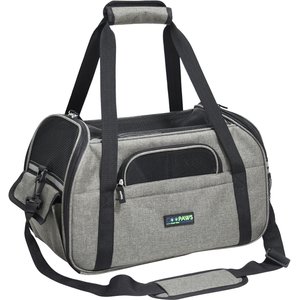 ---
Best Gift for Dog Moms On-The-Go
For dog moms who like to travel with their pint-sized pups, this 17-inch long pet carrier earns two paws up. Made from soft-yet-durable polyester materials, it holds up to 15 pounds of pup and features a padded, adjustable shoulder strap. A special safety loop secures to seat belts, while plenty of pockets accommodate treats and gear.
Carrying Pepper

I have to carry my kitten Pepper back and fourth from 2 houses. I love this carrier, it is the best. My kitten loves it, and is super comfortable for her. So comfortable she sleeps the whole way!

Made a Little small

I ordered the 17in but im gonna order the 19in cause this is a great carrier just to small for my 16.1 lb cat

Just Right

Just the right size for Alaska Horizon's smaller planes. It looks like it's built well enough to survive the flight but my 8-9 lb Silkie has not an inch to spare. You could fit a 10 lb pet in this if absolutely necessary but no more. It leaves no space to turn around but for a mere 1.5 hour flight it will work.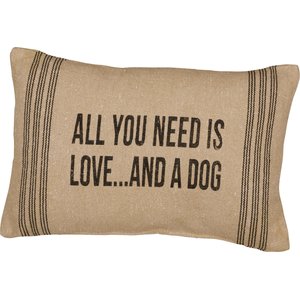 ---
Best Gift for Homebody Dog Moms
You know what they say: Home is where your dog is. Boasting a cute rustic vibe, this burlap-style pillow features touching words of wisdom any dog mama can appreciate. It will look perfect on her sofa… right next to her precious pup, who is obviously allowed on all the furniture.
Valentine's gift

My grand dog Harper loves this pillow I bought for her Mama that says all you need is love and a dog.

Great pillow

Perfect size for my neck when lying on the floor playing with my mini-goldendoodle. He likes lying on it as well. Love the fabric

It's actually for my dog

My dog loves taking my pillows off the couch so I decided to give him his own pillow. After a while he will put a hole in it so I buy him another one.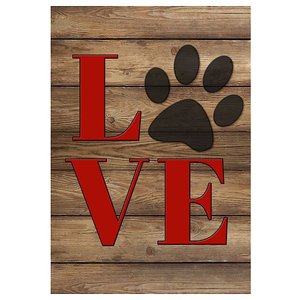 ---
Best Gift for Gardener Dog Moms
If she has a green thumb, consider adding a little pawsonality to her garden with this paw-print flag. Made from durable, weather-resistant fabric, it serves as a sweet greeting to guests, neighbors and passersby. For bonus points, include a (pet-safe!) flower she can plant beside it. (Who's a good gift giver? You are!)
Love Paw Flag

Love my flag because I love my rescue dog. Material is of good quality and the I love the colors.

LOVE paw flag is perfect!

I love this flag! It's beautiful and makes a great addition to my front porch. Have even gotten compliments from the FedEx guy who brings our Chewy.com chewies for my pups, our neighbors, and friends who come over.

BEAUTIFUL FLAG

I JUST PUT THE FLAG OUTSIDE, IT LOOKS NICE OUT THERE. COLORS ARE GREAT. I COULD NOT WAIT TILL, SPRING, I HAD TO PUT IT OUT NOW. REALLY LIKE THE COLORS. LOOKS LIKE PRETTY GOOD QUALITY. WE SHALL SEE HOW IT HOLDS UP THROUGH THE REST OF THE WINTER. DOLORES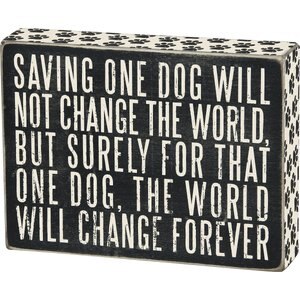 ---
Best Dog Mom Gift for Adoption Advocates
If she adopted her fur baby, a rescue-themed gift is a great way to celebrate her animal-loving spirit. Made from real wood for an authentic vintage feel, this motivational sign is equal parts uplifting and attractive. For a personalized touch, consider gifting it along with a donation to her favorite animal shelter.
Very Fitting

I bought it for my vet as a present. won't see her till next week.She will love it

Love this sign

I love the saying on this sign because we have saved several dogs. Now we have seven dogs. I hope more people would adopt pets from shelters.I put the sign in my front entrance so all of our friends see it.

Perfect decor

It was bigger than I thought it would be when I got it which is exactly what I wanted! Perfect touch to add to my dog decor and the quote itself is true! 🙂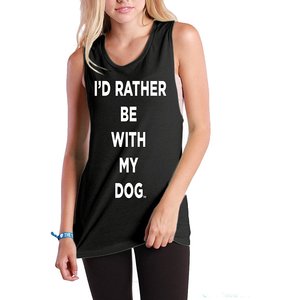 ---
Best Gift for Funny Fashionista Dog Moms
Does she tell it like it is? This to-the-point tank top shamelessly proclaims what we're all thinking, all the time: "I'd Rather Be With My Dog." Available in sizes small through 2XL, it's perfect for everywhere from parties to parks.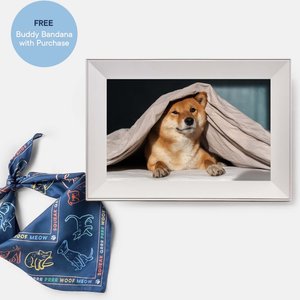 ---
Best Gift for Shutterbug Dog Moms
If her camera roll if packed with photos of her fur babe, this smart photo frame is a picture-perfect gift. With storage space for more than 100,000 photos, it features a wide-screen display, a handy auto-dimming setting, a hand-illustrated gift box (no wrapping required!), and a photo-sharing app.
Take my family to work - Best Gift Ever!

My wife gave this to me for my birthday and it's been the greatest gift. I had been working from home during Covid but recently returned to the office. Now I have this awesome frame on my desk scrolling through pictures of my family and our Australian Labradoodles! It took a couple minutes to set up and a breeze to add photos. Thanks Chewy! I just love how cool this is and I'm grateful to be reminded of what really matters while I'm away from home.

Perfect gift for anyone who loves fur babies!

I've been a fan of Aura frames for a while now. I own two and love seeing all my memories. I have kids so that means I have a TON (if printed probably a literal ton) of photos on my phone. With the free unlimited storage I am able to share all of them, not that all should be shared, and the app makes this super easy to do. When I saw BUDDY, I was so excited. My sister is a huge animal lover so this was the perfect gift for her, her fur babies are her kids. First, the gift box is adorable and feels premium, so you know it's a quality gift. But my favorite thing is when you show an image some love. The frame shows floating paws ... SO...

Best gift ever! Five stars!

I bought this gift for my niece- she is OBSESSED with animals. We uploaded every single photo she has on her phone of all the pets she's met over the past years within seconds. It's such a thoughtful gift for any animal lover. I will definitely be buying one for myself so we can share photos of all the animals we meet on each other's frames. Such a great way to stay connected.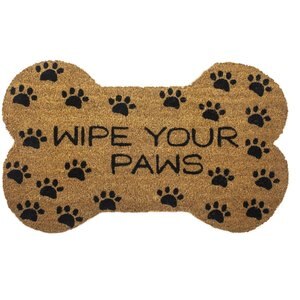 ---
Best Gift for Dog Moms with Muddy Buddies
Dog moms have enough to do without mopping up muddy floors. This cheeky 18x30 bone-shaped doormat reminds guests of all species to kindly wipe their paws on its ultra-textured, dirt-grabbing coconut fibers. Hand-stenciled using gentle, eco-friendly dyes, it's a sustainable, safe, and sassy addition to any entryway.
I love this dog-themed doormat!

I love this dog-themed doormat! I am very particular about the style of doormat I was looking for and decided this would be great for the garage. The material is different than what I'm used to. The brown Brillo pad-like material shifts a bit when you step on it. I was concerned my dog wouldn't like it when he stepped on it, but he didn't react at all.

Pawfect for all types of paws.

It's at the back door. So when we go out to BBQ or for some other reason, before we come in, it is just the right size for humans or dogs to wipe paws.

Cute and durable!

Perfect size and looks great by my front door, reminding guest to wipe their feet but in a less demanding way..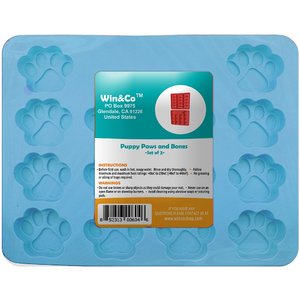 ---
Best Gift for Dog Moms Who Love to Bake
Is her baby too pampered for store-bought treats? For dog moms who like to whip up their own biscuits, these paw print and bones baking molds are deliciously cute. Made from FDA-approved nonstick silicone, they're great for both baked goods and frozen treats. Cleanup is a breeze since they are dishwasher safe.
Awesome investment

Love these gems! I made popsicles and they turned out amazing and cute looking nd most importantly my kiddios approve of it. I'm excited to make more stuff. Due to it being bendy you will have to put something underneath before pouring your mixture in and transferring to freezer or oven and etc. Otherwise really good investment

Bigger than expected

These trays were bigger than expected but they work great. I love making frozen pb banana treats with them for my dog!

So happy with these!

I was looking for a good sized mold forever and these are perfect! I thought they were smaller but they're pretty big and great for cookies!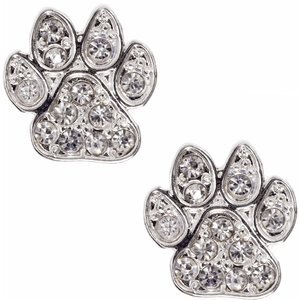 ---
Best Gift for Dog Moms With Sparkling Personalities
For fashionable dog mamas, consider a fun accessory that can spark conversation among like-minded animal lovers. Classic and cute, these shimmery crystal earrings are an easy way to add a little canine charm to any outfit, anytime. Whether she's at work, at dinner, or at the gym, she'll have a glistening reminder of her four-legged friend.
Beautiful!

These are beautiful. I wore them running agility. They stay on. I put my mask off and on. They stay perfectly set and are just perfect. Best thing I've bought myself in a long time.

Many compliments

These are very cute. Very good quality. My only negative is I wish they were smaller like the dangle ones.

B E A U T I F U L

Omg ! I bought two pairs of these ones and the silver ones and I just adore the size! The shine! I even accidentally showered and went swimming with them and they still look amazing (: I'm gonna wear these forever I love them so much!!!
Dogs can't exactly go shopping, so if you know a great dog mama, consider making her Mother's Day special with a pup-centric present. After all, from morning walks to afternoon play sessions to bedtime snuggles, dog moms are always showing the love. Let us be the first the say it: Happy Mother's Day, mamas!