Star Wars fans are in a galaxy all their own. Ever since the first movie came out more than 40 years ago, they've been dressing up as their favorite characters and showing their love for the franchise. With the addition of new series, like The Mandalorian, and the growing popularity of May the Fourth (aka Star Wars Day held annually on May 4), even more fans are joining the ranks. What's even better than dressing up yourself? Dressing up your pet. Lucky for you, there's a bounty of Star Wars gear for the four-legged fan at the center of your universe.
From Star Wars dog and cat toys to a Baby Yoda-shaped pet bed to a Darth Vader hoodie, we've rounded up the best Star Wars pet products based on Chewy customer ratings, reviews and sales. So go ahead and let your cat play with the dark side of the Force—or maybe just a sinister-looking teaser toy—or dress your dog up in a Star Wars collar or harness that will make other pooches pout. Enjoy these Star Wars pet products, you will.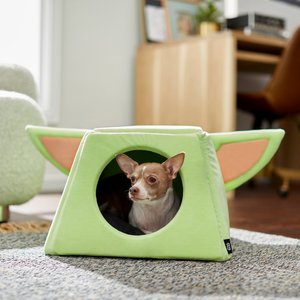 ---
There's no better hideaway for a cat or small-breed dog than this Star Wars cat and dog bed, which features pointy ears like Grogu's. With a removable, machine-washable cushion, the ability to flatten into a bolster bed and soft cushioning on all sides, this Baby Yoda-shaped pet bed will help your fur baby drift off to a dreamland far, far away.
As always happy with this purchase.

I originally bought two when these first released here and was thrilled with my purchase. I gifted one to my brother when he adopted one of my rescues and ofcourse his cats loved theirs as well. And the one I kept was well used by my sweet bazil, She ended up birthing 9 kittens inside it and unfortunately it got destroyed. Not only was it extreamly discounted it was also buy one get one free so I couldn't pass up the opportunity to buy two more for my sweet kitty. Just like before it's her favorite.

Super cute bed

I bought this bed because it was on sale and puppies tend to ruin them pretty quickly. This bed is super cute and the puppies love it. The outside is easy to spot clean. The inside bed can be machine washed. Great purchase!

Pleased with this

My older cat immediately checked this out and uses it a lot! Cute design although the ears flop around. Pleased with this purchase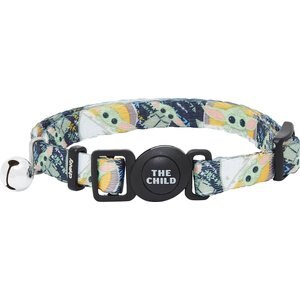 ---
Best Star Wars Cat Collar
This Star Wars-themed cat collar lets everyone know how important your cat is to your intergalactic family. Featuring The Child from The Mandalorian series, it comes with a metal ring for an ID tag and a wildlife bell to let other animals know your kitty is out looking for bounties. Plus, it's as aesthetically pleasing as a starship jumping to hyperspace.
So Super Cute

My cat Moloka'i is rocking this collar now. I get them new collars almost every year. They were ID tags in the event they escape the house as a primary source to get them returned to my asap. If you don't like the bells they can be taken off with a pair of diagonal cutters. 😉

Cute cat collar!

Goes perfect with my Star Wars themed mats. Haven't had the collar for long, but hopefully it doesn't fray like a lot of them…..although it may be unavoidable. Still cute & worth the price.

adorable and lightweight

Got this as a cat collar for my growing boy, Poe. He's 4 months and almost 6 lbs. It's thin and light, his sliding collar ID fits perfectly. Very cute print! Love it!!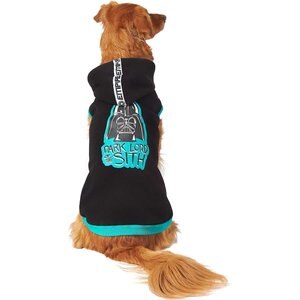 ---
Best Star Wars Pet Hoodie
If you suspect that your furry companion has turned to the dark side of the Force, this hoodie makes their transformation into a Sith Lord official—or at least look really good. The Darth Vader screen print and sewn-on Galactic Empire ribbon could also make this a very cool piece of a Star Wars dog costume.
Dark Lord Hoodie

This is adorable on my big dog - he is 120 lbs and lab/GSD mix, so he is huge. I got the 3XL and fit perfect for him.

Purrfect! Fits for a cat!

Its is going to be perfect for a family Dark Side Photoshoot! It fits as recommended and its nice material 🙂 (I got it for a cat sz Medium whose about 16lbs)

So nice we bought it twice!

I originally purchased an x-small for my tiny chihuahua when we first brought him home. A year later at 7 pounds, he outgrew it and it's so cute that I just had to get him another one in a small. Unfortunately the small is a little too long for him on the underside so he tends to pee on it. I plan to alter it somehow to make it work for him because that's just how cute it is! It washes well (sadly for us without shrinking), and appears to be well made.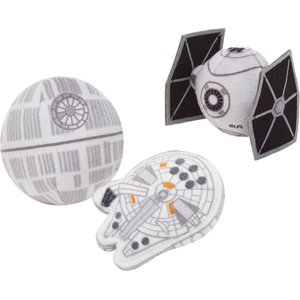 ---
Your cat can rule the galaxy, or at least stage a dogfight in space, with this three-pack of Star Wars cat toy starships—a TIE fighter, the Millennium Falcon, and the Death Star. Plus, these polyester-covered plush toys are stuffed with catnip, which is sure to keep your kitty locked in intergalactic battle.
Great toys.

My cat loves to chase these toys. Especially the TIE Fighter. Since it has extra stuff sticking out, it makes extra jumps when it lands. Very well made.

Love these toys

These are perfect. They're the best size for my larger boy. Saves me from getting on my hands and knees and digging under the couch and furniture for lost toys.

Highly recommend

All of the toys are very soft, plush, easy to toss around by the kittehs, and loaded with catnip. I keep finding them all over the house early in the morning after their late night warrior routines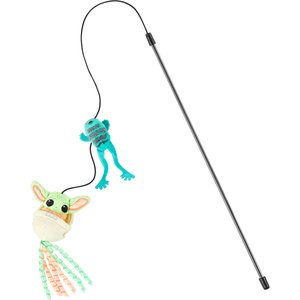 ---
Best Star Wars Cat Teaser Toy
With this cat-teaser double whammy, a plushie of Grogu—famously fond of eating frog eggs—comes paired with none other than a frog. You won't need to use the Force to make your kitty engage in playtime with this Star Wars cat toy; the wand-and-catnip combo is as good as the Jedi mind trick.
Get The Baby Yoda and Froggie!!

Cutest thing ever!! Very well made and my cats just love it!! Purchased during Black Friday for 50% off. Money well spent!!

Cat loves it!

Got this for xmas for my cat. It is her new favorite toy. She seems to like the frog and baby yoda. We even get some bunny kicks when playing!

Great and fun

I read a few reviews that mentioned how this toy came apart after a very short time. I ordered it anyway and crossed my fingers. Mr. Kitty aka Stinky Butt has loved it and absolutely no issues with it whatsoever. He goes from fat, lazy cat to kitten in seconds when it's play time. We all love it!!!!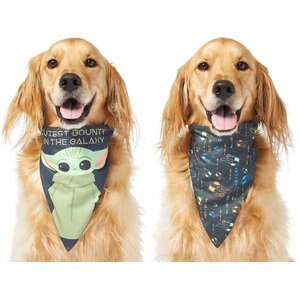 ---
Best Star Wars Bandana for Pets
It's debatable whether the cutest creature in the galaxy is your dog, your cat, or whatever species Grogu is, but you don't have to choose with this reversible "Cutest Bounty" bandana. The hook-and-loop fasteners don't interfere with a leash or a collar, and your furry Pawdawan will be looking as sharp as a lightsaber.
Perfect!!!

Perfect! If it's the right size. Check the size on all things! Many things won't fit large dogs. I did find a cute bow tie that fits my 90lb pit/lab tho! Super happy with this bandana! It is velcro too which I was surprised about

Very nice quality and design!

Looks perfect on him! We've been buying stuff with Star Wars theme (specifically Mandalorian) and this is one of them! We all like it!

I love this bandana

He looks so cute in this bandana. I got the small one for him the size is adjustable for his neck as well. I love it!!!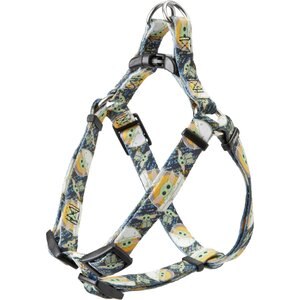 ---
Best Star Wars Dog Harness
You and your furry sidekick can explore the universe like Luke Skywalker and R2-D2 with this Star Wars dog harness. It's size-adjustable, easy to take on and off, and easy to clip to your dog's leash. Not to mention, the fabric pattern features the adorable Grogu in action.
Great product

So cute! Perfect for any Star Wars fan! Very comfortable and easy to adjust, can't wait To use it!

The child harness

Was perfect size in smallest form for my 12 week old aussie Aggie, and she can grow into it for at least 3 more months

Awesome harness!

This is exactly what we were looking for! It's sturdy and has the latch on top with two rings for the leash. Our dog is about 3 years old and has a lot of energy, so we needed something she can't slip out of in any way. So glad we ordered this!!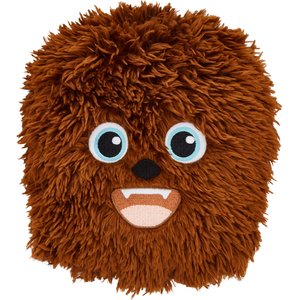 ---
Best Star Wars Squeaky Dog Toy
Celebrating one of science fiction's greatest sidekicks, this Chewbacca plushie comes with a soft cover, crinkle paper stuffing and a squeaker to keep your Wookie engaged. Whether your sidekick wants to play fetch or curl up and cuddle, this Star Wars dog toy has your back.
Kylo Ren Approved

Our Kylo Ren was so happy to finally have his very own chewie! It's his first to go to toy now when he greets you.

Nice Disney Toy

Very satisfied with the size and comfort of playing with this toy with Shadow. It's also bigger than I thought it would be. I believe this was the buy one, get one free toy.

He Loves This Toy!

I bought this for my puggle and he LOVES it! He even wants to take it out when he goes outside to do his business. Would recommend this in a heartbeat!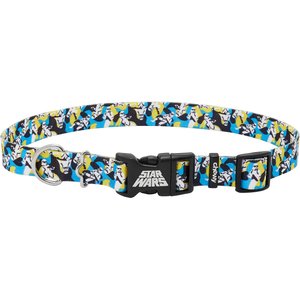 ---
Best Star Wars Dog Collar
Stormtroopers might be expendable, but this sturdy and stylish Star Wars dog collar is not. It's strength-tested to withstand seven times the recommended weight for each collar size and decorated with blaster-wielding stormtroopers. It also includes a ring for a Star Wars dog tag in case your furry adventurer gets lost in space.
So cute

#ReceivedFreeProduct This collar is super cute and a great way to give your dog a little bit of style. Fairly well made, I don't anticipate it falling apart easily at all.

Love it

#ReceivedFreeProduct I love Star Wars and this collar is wonderful. I really enjoy the design of it and the color. We may end up making it the main color for my little boy. I like that it is easy to adjust the size as well.

Great!

#ReceivedFreeProduct I got this collar for my Boston Terrier and he looks so handsome. The Star Wars stormtrooper pattern is so cute. Fits great, he doesn't seem to notice it being there.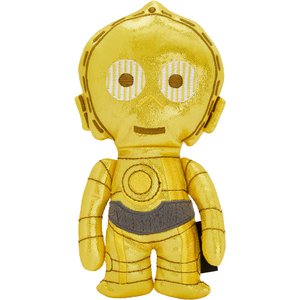 ---
Best Star Wars Cat Kicker Toy
One of the most iconic droids in the Star Wars universe comes as a shiny gold kicker toy that will bring out your kitty's claws. The toy's tough fabric withstands quite a bit of batting, while the crinkle paper and catnip inside will keep your kitty in stalk mode, like a mini Darth Maul.
Love at first bite

Our cat loved this the moment he saw it. He immediately grabbed it and started biting on, rolling over on, and kicking at 3CPO. Too cute! The fabric is smooth and shiny in parts and seems sturdy. Definitely a win!

Very Happy Cats

I have several cats, but one in particular who just loves toys. Star Wars is the favorite in my household.

Kick and Bite Size

C-3PO was an immediate hit with the cat I showed it to and has stayed in my bedroom as a bed or bench toy along with a select group of favorites. Crinkly sound along with the catnip entices play with bites and hugging.
All the neighborhood pets will sense a change in the Force when they see your cat or dog rocking their new Star Wars gear, and you'll be as happy as Ewoks to celebrate your Star Wars fandom together. May the Force be with you.
Want more Star Wars pet gear? Shop the entire Star Wars collection here.