You know the saying: A dog is a man's best friend. And while we might suggest that a pet is simply any hu(man)'s best friend, there's something about the bond between a dog dad and his fur-child that just melts hearts everywhere. From your typically stern dad who turns into a teddy bear around his Pomeranian to your boyfriend who loves doting over the new rescue puppy you adopted together, there are likely more than a few men in your life who deserved to be celebrated this Father's Day with a special dog dad gift.
Say thank you for their support—autoshipping more poop bags because you always forget, taking the dog out in the morning so you can sleep—with these dog dad gifts for every kind of pet parent. You could even buy one from you and another as a gift from dog to dad for a fun surprise. No matter what gift you choose, expect a lot of smiling faces and tail wags this Father's Day.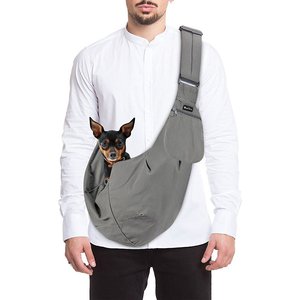 ---
Best for the Multitasking Dog Dad
This functional dog dad gift is essentially a baby carrier for his fur baby. The padded strap makes for comfortable carrying and the adjustable collar hook prevents surprise escapes, so he can juggle coffee, stroller and pup all at once without worry. FYI: This dog Father's Day gift is best suited for guys with smaller pups who weigh 13 pounds or less.
Grouchy cat loves it!

My kitty, Odin, loves it! He snuggled down with his head out to watch the world. His whole attitude changed! Now, he sleeps with me, snuggles next to me, talks to me! It is like he just realized that I love him!

Love this sling

I have a 15+ year old Italian Greyhound female, who weighs 5.8 pounds, and who is the equivalent of a 100 year old human. Needless to say, her mobility has decreased drastically. I bought this sling, so she could still come with me for the half hour roundtrip to the mailbox each day. She loved the sling, and I saw her a few times look up at me and then at the birds flying above us, and the tall trees. She was happy 🙂 Thank you for improving her days.

Stylish for me and my puppy

Nice bag. I have a 1lb yorkie so it's plenty of room for her to grow. And at her size she can still stick her head out to be nosey.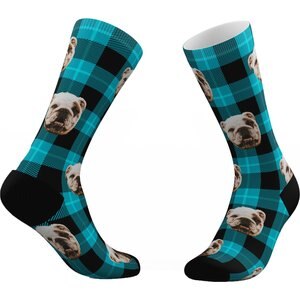 ---
Best for the Dog Dad Who Loves to Be Cozy
Go the extra mile with a personalized dog dad gift for Father's Day. These one-size-fits all socks can be made with his dog's face for a fun, thoughtful idea that will also keep his feet comfortable and warm. Bonus: They're made from recycled materials, so you can feel good knowing your purchase is sustainable, too!
Must have for pups!

We use it for giardia with litters of pups. I cut the pills up based on pup wt., doses are on google.

Awesome personalized item

They were great loved them would definitely order more and suggest them to my friends and family I love Chewy they never disappoint me their the best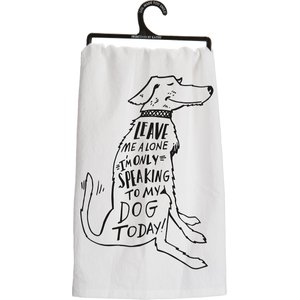 ---
Best for the Home Chef Dog Dad
When you can't say how you feel out loud, say it with a dish towel. Any pet parent will instantly relate to the phrase on this cotton dish towel, so you can be confident in this dog Father's Day gift. Not only is it a nice decorative piece for the kitchen, it's also functional (and machine washable).
Primitives by Kathy dish towel.

So glad to find these towels for sale at Chewey. I got one as a gift and my friend found it in another state. I really wanted to get another one and found hers for sale at Chewy.

Cute Kitchen towel

Funny and Adorable Kitchen Hand Towel- it was made out of really good material. The material looks Vintage . I plan on ordering a couple more for Christmas Presents to my dog lovin' friends! Looks Great draped over Oven Handle!

These are really cute!

Love these dish towels - so cute! They're definitely more for decoration than practical use. They're thin and actually quite large! I just don't wanna get them stained or anything, lol. They're too cute for that.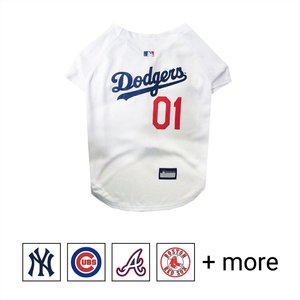 ---
Best for the Dog Dad Who Loves to Rep His Team
Consider this the gift for the No. 1 fan. Opt for this dog baseball jersey and he'll be able to put this dog dad gift to good use all summer long—or into fall if his team makes the playoffs. Just pick his favorite team, then choose from a ton of different sizes, so that every dog in his life can represent with pride.
Adorable and Well Made

I like that this is an officially licensed MLB jersey. It is surprisingly well-made. The MLB "Property of" tag at the bottom is especially cute. It has the team's logo not only on the back but also on the chest, and the right sleeve. Mr. Peanut is 11" from base of neck to end of butt and 14" around at the chest, under the armpits, so we ordered a small. It is a little loose around the body, but Mr. P doesn't mind. Therefore, it would be good for chunkier and/or fluffier dogs, too. We can hardly wait for next season.

Super Cute!

We got an XXL for my grown male golden retriever and it fits great. A little tight around his shoulders but not too tight. The Jersey is super cute and thin so I'm not worried about him getting too hot. It Velcro's in the front with some fake buttons that add to the fun

boogie oogie

Goodness gracious, my obese house cat has never taken to an item for such a prolonged period of time, even as a kitten. This is now a part of his body, he has become one with the mat. He spreads his rolls in parallel with the cushion to maximize surface area connection points - like a sea lion basking in the sun on a warm rock amidst a summer day. This is coupled with bouts of agility, and eyes filled with longing and day dreams of such pleasures, whilst still being in contact with the mat… I feel as though I am no longer needed in this household, this is all he requires to tend to his needs. What kind of sorcery is this? I must know…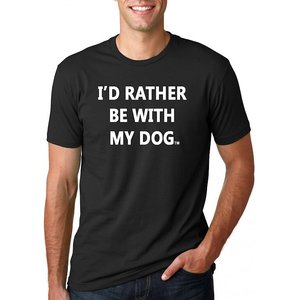 ---
Best for the Introvert Dog Dad
Every dog lover knows the feeling when you're out but wishing you were back home snuggling with your pet instead. This fun dog dad gift makes for a great choice for the guy in your life who's more a member of the couch club than he is the dance club.
Love my Dog!

I ordered one but too big. Gave it to my husband and he love's it. I just had to order one more for me. We love them!

Great T-shirt!

I bought this as a gift, and what a great gift it turned out to be! It fits true to size, is nice material and seems to be a very high quality shirt. I'm very happy to have ordered it and my partner is looking forward to showing it off!

Rather Be With My Dog Shirt

Top quality and cannot wait to get more but need more options. I receive compliments every time I were it while walking my dog or going to a store.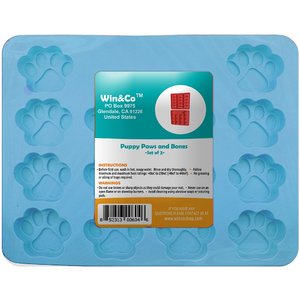 ---
Best for the Dog Dad Who Loves to Bake
Only the best will do for his dog, right? This dog dad gift is a thoughtful choice for those who enjoy baking—especially when it's homemade treats for his pup. These silicone baking sheets come in paw- and bone-shaped molds and are oven-, microwave- and freezer-safe so he can experiment with new recipes.
Love these silicone molds

I use these molds to create frozen treats for my pup during the hot summer weather. I have yet to try them for baking but will do so in the winter months.

Great but big!

We really love these. They work well and the shapes are super cute. They are a little bigger than we expected but we use these to freeze wet food and our pup really loves those as healthy treats.

Awesome investment

Love these gems! I made popsicles and they turned out amazing and cute looking nd most importantly my kiddios approve of it. I'm excited to make more stuff. Due to it being bendy you will have to put something underneath before pouring your mixture in and transferring to freezer or oven and etc. Otherwise really good investment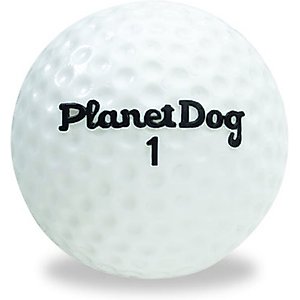 ---
Best for the Dog Dad Who's Working On His Short Game
If you're browsing for something that could be a gift from dog to dad, this is it—because it's basically a gift for the dog anyway. The treat dispensing golf ball dog toy is the closest his pup can get to actually playing 18-holes with him. Plus, it's designed to be durable. Tip: Throw in a box of real golf balls for him, too!
Dogs Favorite

This is my dog's(Dachshund) favorite ball. He has a lot of different Orbee balls, but this white golf ball is the one he prefers. I like that it's not super hard so if it hits his teeth while he's playing he won't get a cracked tooth. Another plus is it stands out in the green grass of our yard.

Bought him a lifetime supply

This ball is all my Boston Terrier will think about. If he's not eating or napping he wants to play with this ball. He's a small Boston, only about 16 lb, and this ball is the perfect size for him. They do start to split at the holes after about a year or so of constant play, so when they came back in stock at Chewy, I bought him what I think is a lifetime supply of 15 more balls. I would hate for there to come a time where this little stinker couldn't have his favorite ball.

her favorite ball!

My sweetie is obsessed with this ball and prefers it even over the chuck-it ball! Its super squishy, so perfect for her anxiety. And she loves how the ball propells out of her mouth. She will often play by herself. Its durable and eco-friendly!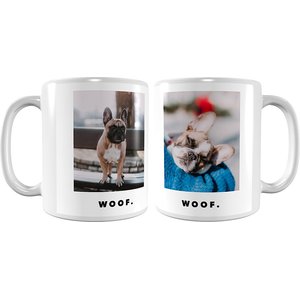 ---
Best for the Dog Dad Who Can't Live Without His Morning Coffee
He'll be sure to start his day off on the right foot with this dog dad gift that's perfect for the java lover in your life. This 11-ounce coffee mug can be customized with his dog's photo above the word "woof" so he's reminded of his best friend with every sip. Every morning will be a good one with this dog Father's Day gift.
Exceptional quality

These mugs are nice and heavy and don't tip over easily, plus the handles are large enough to get your whole hand in. Because they are nice and heavy, they hold the coffee or tea is warm for longer. The pictures came out beautifully and I am very happy with them.

Brilliantly designed!

I treated myself this go round! Two beautiful mugs, one 15oz. & one 11oz. I chose the pictures of Gus (cause it's all about him) the new edition and his first birthday is coming soon! February 8th! I spoke with Chewy's customer service representative Sienna and she was so kind, patient and very helpful! I couldn't believe how well they were packaged and how beautiful the images appeared! I was crying happy tears! They're absolutely brilliant and beautifully illustrated on the mugs! The mug is of great quality too! Microwave and dishwasher safe, or just use a soft sponge! Images on either side of the mugs!

cute, great present

I ordered this for my friend whose dog passed away last year and he loved it. Pretty easy to personalize and the quality of the pictures came out great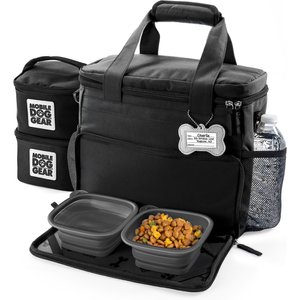 ---
Best for the Dog Dad Who's Always On the Move
Dog dads know that every adventure is made better when the pup tags along, but packing for a weekend getaway or road trip can be a lot to think about. This genius pet tote bag makes life easier with its various compartments, collapsible water and food dishes, and a wipeable placemat for clean-up on the go.
Great bag for a trip

I love this bag, it has lots of space to pack lots of stuff. I also like that it comes with collapsable bowls so I did not have to worry about bringing my own. Plus the fact that the bowls have a special spot of their own means they do not take up space in the main compartment.

This is great!

When I visit my sister I have to take my kitty with all his paraphernalia as he requires medication twice a day this is perfect

I wish I bought the bigger one

I love this bag and I thought since I have a small dog I will buy the smaller bag. I love the bag but wished I got the bigger one.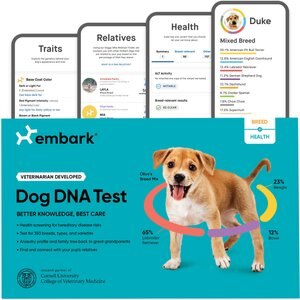 ---
Best for the Rescue Dog Dad
Knowing a rescue dog's breed profile won't make a dog dad love them any more, but DNA test kits for dogs offer a window into his pup's history and therefore a deeper understanding of their fur kid. This kit also tests for genetic markers that could increase the dog's risk for certain health conditions—knowledge that could help any dog dad prevent major issues down the road.
Super Easy to Use - Now Just Waiting on Results!

Received the test kit a day or two after I ordered it and it was SO SIMPLE to use! I wasn't sure Lucky, my dog, would sit still for me to swab his cheek pockets but he seemed to love it (LOL)! Everything comes with step by step user-friendly instructions and a prepaid mailer to send in your sample. I've been kept up to date on every step of the process (sample received, sample being processed, etc.) and am now just waiting on results. So excited to finally figure out what makes up my most amazing mutt!

Great info!

I was just looking for any health issues my Shih Tzu might be prone to because my Cavaliers have so many issues. Good info to have. She's healthy! But surprise! She's actually 17% Maltese (she's 8 so kinda late to take it up with her breeder) But Embark also connected me with the person who currently has her mother dog. The resemblance it so cool to see and we're keeping in touch and plan to have them meet some day.

Dog ate my test kit

I will come back to review once we have results- the package waiting to be sent on my entry way table was just too enticing for Miss Lola. From the looks of it she thoroughly enjoyed herself. Fortunately because I have had such a positive experience with Chewy I knew they would help me get a replacement test. My Lola is 100% good girl
Dog dads truly are a noble breed of their own. Show them just how much they're loved this Father's Day with a dog dad gift that reminds them of their best fur friend.