Dogs spend a lot of their day sleeping (about half the day—more if they are puppies!). The best dog beds will give your furry bestie a comfy place to catch some shuteye or relax after playing fetch. But with so many options available, how do you know which dog bed to buy.
When purchasing the best dog bed for your pup, keep in mind their age, size and sleeping style. Have a tiny dog who loves to burrow under the sheets? Check out a small, covered dog bed or a dog bed with blanket. How 'bout a large floof monster who is always hot? A cooling dog bed or elevated dog bed might be their new favorite spot. And for older dogs, an orthopedic dog bed can provide the right kind of support for achy joints or sore muscles.
Below, we've rounded up the best dog beds based on Chewy customer ratings, reviews, sales and expert input. Pet sleep-tested and pet parent-approved, these beds are made for snoozin'.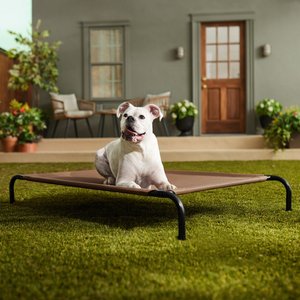 ---
Want a durable dog bed that is versatile, comfortable and a great value? This elevated dog bed is a pup parent favorite thanks to its adaptable design which makes it great for use at home or on the go. The skid-resistant feet provide extra grip on various surfaces, and the breathable fabric sleeping surface is easy to clean—simply remove the cover and pop it in the wash!
Worth the $

I ordered two of these beds for my huskies. My teenagers had no problems putting them together. They are sturdy and well worth the money. My dogs love them.

Great bed for training

This bed was easy to put together and is lightweight. Great for training your dog to settle. Only downside is it's a little flimsy if you want to pick it up to move it around. But for the price, you can just buy one for each place you need one

Buy One More

Had a loved one put it together at his house. He put it together in 3 mins. So definitely a pro, it's easy. Unfortunately, his dog took to it. Didn't have the heart to take it away from him. The other one he put together at my house was just as loved. Buy one for a friend who's dog chews up beds and one for all your pups. Thank you for this product.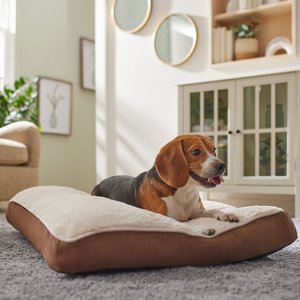 ---
This plush pillow bed for dogs is stuffed with fluffy polyester fiber for an extra cush nap spot. The step-on design makes it easy for small dogs to get on to the bed. And thanks to the removable, machine-washable cover, you can keep the bed smelling fresh as a daisy.
Princess gives it two paws up!

My dog isn't picky with bedding, but she definitely chose this one over everything else she's ever owned. She will lay on that bed no matter where it is. Super comfy and I'm pretty sure it'll be easy to clean 🙂 For reference, Princess is a senior dog (17 years old) and she is ~15lbs. I got her a large because she likes to sprawl out 🙂 it's a little bigger than she is, but she looks comfy!

Comfy and well-built

The bed is very soft, with sufficient padding to be very comfortable. I almost want to lay on it myself!

Soft and Thick

My english pointer sleeps on this in her crate. She actually visited it many times during the first day she had it. It is much thicker than the crate pad she had before and she prefers it.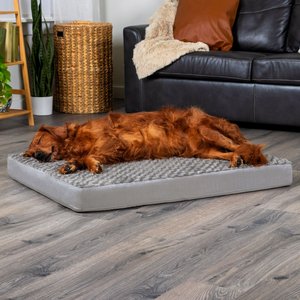 ---
If your pooch has sore joints or achy muscles, the memory foam in this orthopedic dog bed is designed to help evenly distribute their weight, taking the pressure off any sensitive spots. The foam core is also made to help regulate their temperature, keeping them comfy no matter the season.
Very Pleased

I have an 11 year old Golden Retriever with arthritis. She has a very large orthopedic bed but I wanted something more portable from area to area. This Bed is perfect. It is light enough to move around and supports her 115 pound body with no issues. Very affordable. Pleasantly surprised and will be buying another for travel! Highly Recommend!

Awesome Bed!!

I had a dog bed previously that my dogs would lay next to, but not on. As soon as I unpacked these (I bought 2), both of my dogs laid down on them and have slept on them every night since. I'm so happy with them.

Soft and cushy

My 16 year old pittie loves her new bed. I've got multiple beds around the house for her arthritic body, and a few of these. She loves it - a new soft and cushy bed.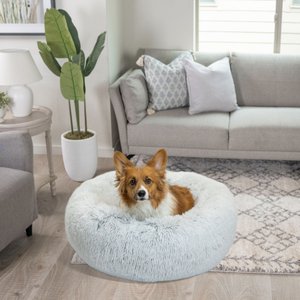 ---
Does your dog love to cuddle or burrow while taking a snooze? Get them this shag faux-fur donut dog bed for a warm, calming and snug spot to sleep. The raised edges of this modern dog bed serve as a headrest and provide added orthopedic support.
Best bed for me

Since mom got me this bed I have not whined or scratched her bedroom door at night to get into her bed I love it

The snuggliest bed I ever slept in!

My momma ordered this wonderful bed for me. I weigh 4 pounds and fit perfectly. But my sister weighs 20 pounds and fits also. I have to run her out when she steals my bed. I am 10 years old and my back hurts sometimes but there is something about this bed that helps

My dog loves it!

These beds are so comfortable and my dog loves it. I have two of these beds in different colors. They hold up well.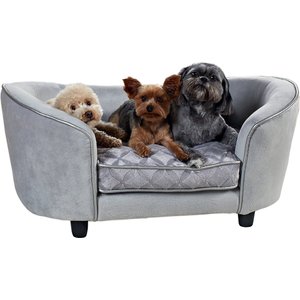 ---
Best Elevated Dog Couch Bed
For a luxurious option perfect for small to medium-sized dogs, this elevated bed with sides is great for pups who love to nap in style. The plush fabric and supportive sides of this mini dog couch bed create the prime spot for your pup to snuggle and curl. It even has a handy pocket to hold their toys, too.
Very nice!!

Super cute couch/bed for our princess. She is a huge lap dog. And by huge I don't mean she's a big dog, she just won't lay anywhere other than our laps. Ordered this in hopes of giving our laps a break. She didn't want much to do with it at first but now she loves it (and so do our laps!!) She's a 14lb Cavapoo and fits very comfortably on it with plenty of room to stretch out! Would definitely recommend!!

Love love love

My girls absolutely love this bed. It's so adorable and well made. Not cheap at all. Sturdy, nice fabric. Soft and smooth. Good thick bed base. I bought it for my two little girls 12lbs each. They fit perfectly together and my 38lbs English Setter loves it too.

Best Dog Coach

My grand dog loves his coach. The material is good quality, color is perfect, and sitting area is soft. Item arrived days before it was scheduled, condition of box was good and loved how easy it was to order on line.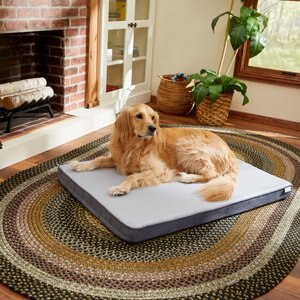 ---
If your furry friend tends to be a toasty pooch, consider a cooling dog bed to keep them comfortable. The cooling fabric top and inch of cooling gel memory foam help your dog chill even on hot summer days. The orthopedic design also makes it comfortable for older dogs or large breeds who might need some added support.
Frisco cooling bed.

My dog went on it right away. Laid down for awhile. Then went back to her cooling pad. When one gets warm she goes to ther other one. Got an extra large and she likes to stretch out on the new bed.

my dogs love this bed

We have three of these beds and our dogs (Samoyed, Japanese Spitz, long-haired chihuahua) absolutely love them, even over our other dog beds. The Samoyed and spitz are always looking to cool down and always choose these beds, so it seems the cooling feature does work! Highly recommend

Add this to your cart!

My 28 pound dog just had surgery to repair torn CCL and this bed has been the one place he can tolerate laying down. It evenly distributes his weight and has been his go to spot. I am so glad we bought this prior to his surgery so that it would be here when he came home. For the price you can't beat it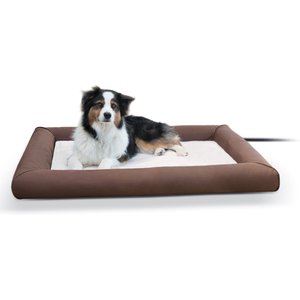 ---
Made with faux fleece and a cushioned bolster around the edge, this electric dog bed plugs in for added warmth. The dual thermostats warm the bed to your dog's body temperature when they lie down so they'll feel as snug as a bug in a rug. This heated dog bed is ideal for use in outdoor dog houses, porches, garages and even indoors if you have a chill-prone pup.
Warm Surprise

I didn't think either of my girls would care for a flat bed, but I was very wrong. I bought this and a dome one - both intended for a specific cat - and they both ignored the dome and have been fighting over this one. Needless to say it's a hit, I may have to buy a second if I can't get the other to realize the dome is ALSO heated.

Perfect for two cats

I got the 'medium' size so that my two cats could use it together in my house. They LOVE it. My only concern is that they won't spend time with me any more! One cat isn't doing very well, so the washable cover with extras available is very welcome.

Great bed!

Have five cats who live in an insulated shed made just for them when they cannot be outside. This bed is perfect. Two or more at a time fit on it quite well. They seem to love it.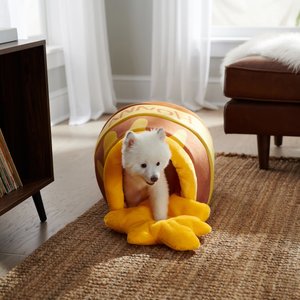 ---
Keep your little honey cozy in this adorable Winnie the Pooh covered dog bed. The cave-style design of covered dog beds creates a private spot for small dogs who love a comfy space to snuggle. The plush fabric and fluffy cushion give this cute bed an added coziness factor. The removable inner cushion is washable, and you can spot clean the exterior.
Cuteness overload!

I'm so glad I got this pet bed! It's super cozy inside, holds its shape, and is so soft. I was really excited when I saw that one of my cats was inside of it and is now one of her favorite napping spots. My only complaint is that I wish the honey pad was attached, but I suppose it's nice to be able to wash it if needed.

Cat loves her new honey pot

My cat has finally started using her honey pot since I bought it a few weeks ago. It smelled really strongly when I unpackaged it, and I washed the "honey" part. I think the pot part has finally aired out enough that she is starting to really like it. Plus it keeps her nice and warm as she recovers from having a cold.

My Dachshunds love it!

Bought this for my new puppy and thought they would either not use it or have it destroyed the first day. Figured at least it would make for some cute pictures. But they love it. Even my larger Dachshund (20lbs) likes to crawl back in it and sit. They love to play and dig in it too.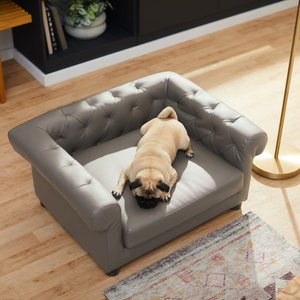 ---
Just because your dog's bed is comfy doesn't mean it can't be cute, too. This chic dog couch bed has a soft leatherette cover with supportive cushioning and a tufted back support that will both complement your interior décor and be your pup's new favorite nap spot. Plus, your guests will adore this mini sofa.
Just purchased this unique couch from Chewy

I received it lighting fast. PERFECT for my 14 year old Sheltie As he likes to lay in different comfy beds during the day and of course I have purchased all of them from Chewy. Just a note I did take the small legs off the couch our boy has a hard time getting up and down. Thank you chewy for having great prices and the best service of all!

Awesome product

#ReceivedFreeProduct I bought this a month ago for my boxer and she absolutely loves it she sleeps on it, sits on it and watches tv. Every time I go looking for her she's laying on so she definitely approves of it.

Great product

#ReceivedFreeProduct I received this product to try and I'm absolutely glad I did. Its great quality and its nice leather and it looks good in my living room. My 2 dogs and my 2 cats absolutely love it. Its big and everyone can sit on it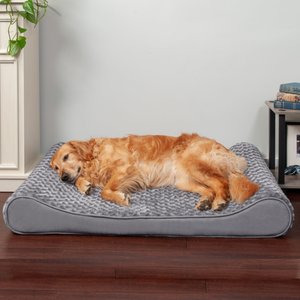 ---
If you have a large pup who needs a firm sleep surface with a soft, cozy cover, this orthopedic dog bed is designed to provide the back and neck support they need while still being big enough for them to sprawl out and count some sheep. With the largest size reaching 58 inches in length, these beds are big enough for your Great Dane or Saint Bernard—because our furry giants deserve sweet dreams, too.
Absolutely love this bed!

I got one of these beds earlier this year for my GSD who had long grown out of his puppy bed, I set it up and let it sit out for 12+ hours (this is crucial because it looks like a sad mess when it comes out of the box), and he absolutely loves this bed. It is so thick and comfortable and it holds his weight perfectly, and he can stretch out on it and he had ample room (58lbs and bought a Jumbo size) fast forward to a few weeks ago, my other GSD got sick and ruined her current bed so I upgraded her bed to one of these as well because I just loved the first one so much. It's great quality and you cannot beat it for the price! She is a bit...

Comfortable

Very nice bed. Our dog loves it. My only criticism is the bottom is slick so it moves around too much when she gets in and out

nappy nap time

I ordered a large and it's big enough to fit my lil yorkie while my Belgian Malinois lays on it too. The material feels soft and the foams pretty comfortable. I also like the edges of the bed. 10/10 my girl enjoys it! If your dog likes to dig or Chew on things I wouldn't recommend.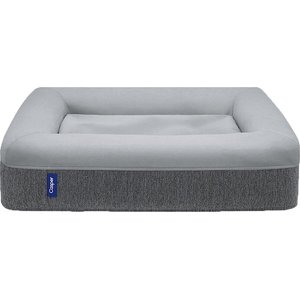 ---
Casper's luxury dog beds feature premium memory foam and lots of thoughtful details like the sewn-in zipper pockets to help prevent scratched floors. Your dog will love digging around on the durable nylon cover to get their nap spot just right. You'll love the removable and machine-washable cover which makes it easy to keep this luxury dog bed in tip-top shape.
Cozy and classy

My dog LOVES her Casper bed. She has many beds and is allowed on all of the furniture and chooses this bed about 75% of the time. It is somehow sturdy and supportive while remaining comfy and soft. The cover is easy to clean and washes well. The insides are a bit funky to reassemble after washing, but once you get the hang of it, it isn't too bad.

Best dog bed!

We were really hesitant to order this bed since our pup has not liked any of the other beds we have gotten for her, but she ended up loving this one! She's been sleeping on this bed every night since we got it and takes naps on it during the day. The cover is easy to remove and wash. This bed is definitely worth the price.

110% recommend the Casper Bolster bed

Any dog or cat would be lucky to have this as their new snoozing place. We purchased this item March 2022 and both of our cats loved it instantly.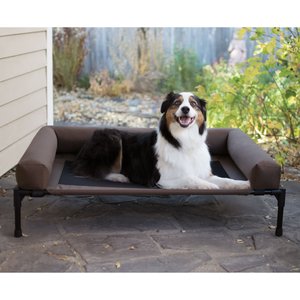 ---
This sturdy elevated dog bed is great for outdoor use. Your dog will love the breezy, breathable mesh platform of this raised dog bed, especially on hot days. The durable, elevated design makes for easy outdoor setup. Plus, it's the perfect backyard vantage point to keep a watchful eye on those squirrels.
Max's Favorite Place

We have two of these for Max! He loves them. Summer, winter, spring or fall, we know where to find him!!!

Day 1 and very happy

I bought the large for our 96 lb. mix breed (my office mate). He needed a comfortable place to lay in my office while I work long days from home. I'd had enough of cloth beds that got dirty quickly, flattened, and were not washable. This bed was easy to assemble, durable, and he immediately got on it and settled in. Now I can work peacefully knowing he's comfortable and I can keep it clean. It's also lightweight to easily pick up and take to another room or outside. Going camping and will defintely be taking this with us. I threw an old flannel sheet over it for extra comfort, but not needed.

K & H Elevated Dog Bed

I love the bed and so does Buddy. I want to take it outside to see if he will be cooler being on the bed rather than the ground. I have not done that yet.
One of these comfy dog beds might just be your fur baby's new favorite spot. Go ahead, treat your pup to one of the best dog beds for sweet dreams and restful snoozing.