Dogs spend a lot of their day sleeping (about half the day—more if they are puppies!). The best dog beds will give your furry bestie a comfy place to catch some shuteye or relax after playing fetch. But with so many options available, how do you know which dog bed to buy.
When purchasing the best dog bed for your pup, keep in mind their age, size and sleeping style. Have a tiny dog who loves to burrow under the sheets? Check out a small, covered dog bed or a dog bed with blanket. How 'bout a large floof monster who is always hot? A cooling dog bed or elevated dog bed might be their new favorite spot. And for older dogs, an orthopedic dog bed can provide the right kind of support for achy joints or sore muscles.
Below, we've rounded up the best dog beds based on Chewy customer ratings, reviews, sales and expert input. Pet sleep-tested and pet parent-approved, these beds are made for snoozin'.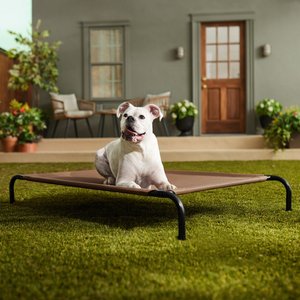 ---
Want a durable dog bed that is versatile, comfortable and a great value? This elevated dog bed is a pup parent favorite thanks to its adaptable design which makes it great for use at home or on the go. The skid-resistant feet provide extra grip on various surfaces, and the breathable fabric sleeping surface is easy to clean—simply remove the cover and pop it in the wash!
Comfy and above ground

We let our sweet hounds run in the pasture for exercise. There is a barn shed for shade and rain protections. These are perfect and comfortable resting places in the shed that can be hosed off when needed. We are very happy with the purchase.

Medium sized dog bed

Love everything from chewy! The beds are great! Dogs love them. Easy to assemble. Good price. Delivered so quickly! Thanks Chewy!

Great Bed for Dogs

This lifted bed is perfect to keep our dogs off the floor! It took no time for them to adjust to being off the floor and it allows our robot vacuum to clean under them as well.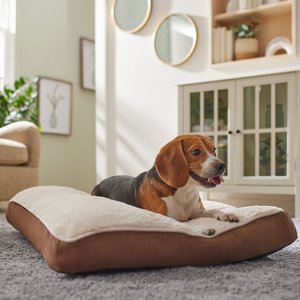 ---
This plush pillow bed for dogs is stuffed with fluffy polyester fiber for an extra cush nap spot. The step-on design makes it easy for small dogs to get on to the bed. And thanks to the removable, machine-washable cover, you can keep the bed smelling fresh as a daisy.
Great for the price!

Definitely not as dense as some of the beds out there, but for under $30 that has a removable cover to wash...this is a great deal! My dog is 40lbs and the large is great.

Worth EVERY Penny

My dog normally destroys her beds. This is the first one she sleeps on with no problem! She loves it! She literally snores when sleeping on it!!

Perfect Comfy Bed

This bed is one of my dog's favorites. Its comfortable and warm. It contours to his body and with the added blanket he has, he is snug and comfortable. The cover is removable for cleaning. You cannot go wrong for the price of this bed!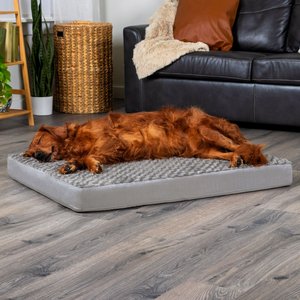 ---
FREE 1-3 day shipping on this item
If your pooch has sore joints or achy muscles, the memory foam in this orthopedic dog bed is designed to help evenly distribute their weight, taking the pressure off any sensitive spots. The foam core is also made to help regulate their temperature, keeping them comfy no matter the season.
Great dog bed

This is great... dog loves it, I can easily move it to wherever we need it, may get a second for the other room...

Highly Recommend!

My 60lb brindle pit is in love! She immediately went to it and rolled all over it. It's made of egg crate so when it got air back into it, it was firm enough for my baby. Love the color and the removable cover!

As described

Really nice orthopedic bed for my 10 year old dog. It unfortunately did not last long as my 1 year old dog decided to shred it.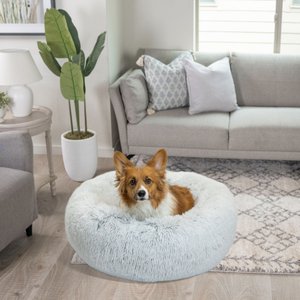 ---
Does your dog love to cuddle or burrow while taking a snooze? Get them this shag faux-fur donut dog bed for a warm, calming and snug spot to sleep. The raised edges of this modern dog bed serve as a headrest and provide added orthopedic support.
I had to buy a second one

I bought this for my senior girl to use daily and for my girl with noise aversion to use during storms. I just ordered a second one because they both love it so much. They are JRTs (17 and 20 lbs) and a small is perfect.

I may have to buy more!

Love this bed!!!! Bought a small for my 10 lb. Gizzy, then a large for my 95 lb. Lab, Melvin! My 9 lb. cat, Little Grey also loves the small!

Best Friends by Sheri Bed

Best bed ever!! My dog loves it and uses it all the time. We have other beds around the house and this is the one she likes the best!!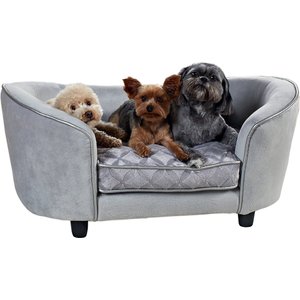 ---
Best Elevated Dog Couch Bed
FREE 1-3 day shipping on this item
For a luxurious option perfect for small to medium-sized dogs, this elevated bed with sides is great for pups who love to nap in style. The plush fabric and supportive sides of this mini dog couch bed create the prime spot for your pup to snuggle and curl. It even has a handy pocket to hold their toys, too.
Beautiful and cozy sofa for our 16 lb dog

I love this sofa, it's so cute and classy and doesn't detract at all from the look of my office.The sofa looks extremely similar to the photo, so I disagree with the other reviewer. It is a pretty light gray velour with a pretty pattern on the cushion. There is a mild sheen that the pictures don't really capture.I bought this for my 16 lb Shih-Tzu/Poodle mix and she has plenty of room to sprawl out, although she usually curls up against one of the bolsters. There's plenty of room for a second smaller dog next to her, which is ideal for when we have my parents' dog.

Very nice!!

Super cute couch/bed for our princess. She is a huge lap dog. And by huge I don't mean she's a big dog, she just won't lay anywhere other than our laps. Ordered this in hopes of giving our laps a break. She didn't want much to do with it at first but now she loves it (and so do our laps!!) She's a 14lb Cavapoo and fits very comfortably on it with plenty of room to stretch out! Would definitely recommend!!

Love love love

My girls absolutely love this bed. It's so adorable and well made. Not cheap at all. Sturdy, nice fabric. Soft and smooth. Good thick bed base. I bought it for my two little girls 12lbs each. They fit perfectly together and my 38lbs English Setter loves it too.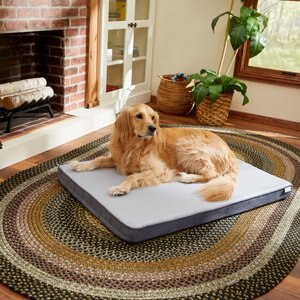 ---
If your furry friend tends to be a toasty pooch, consider a cooling dog bed to keep them comfortable. The cooling fabric top and inch of cooling gel memory foam help your dog chill even on hot summer days. The orthopedic design also makes it comfortable for older dogs or large breeds who might need some added support.
Great cooling bed

I ordered the L bed for my Husky and she loves it. She is always hot but sleeps on this bed. I wish I would have got a XL because she sometimes likes to curl up and sometimes likes to stretch out. Overall she really loves it and it is very cool!

As Expected

This bed is as advertised. It really is cool to the touch and has good support. My huskies love it.

Frisco cooling bed.

My dog went on it right away. Laid down for awhile. Then went back to her cooling pad. When one gets warm she goes to ther other one. Got an extra large and she likes to stretch out on the new bed.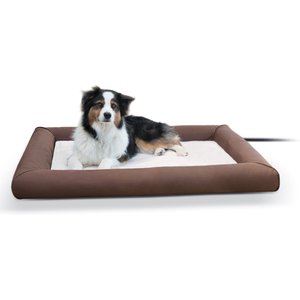 ---
FREE 1-3 day shipping on this item
Made with faux fleece and a cushioned bolster around the edge, this electric dog bed plugs in for added warmth. The dual thermostats warm the bed to your dog's body temperature when they lie down so they'll feel as snug as a bug in a rug. This heated dog bed is ideal for use in outdoor dog houses, porches, garages and even indoors if you have a chill-prone pup.
Warm on a cold night

We are very pleased with our heated dog bed. The cold weather came quickly, catching us off guard, we were concerned our dog would freeze. However, the shipping was extremely fast, two days, keeping our dog warm in below zero temperatures, he wouldn't leave his house or heated dog bed.

They love it!

My three feral kitties love this bed. The medium dog bed is the perfect size for these girls. They sleep in an uninsulated basement, with access to a yard protected by a Purrfect Fence. California winters are not too cold, but it can get uncomfortable. Reccomend.

Great bed!

I bought this bed because my small dog has arthritis. I ordered the large because I also have 4 cats and all can use it during the winter. It only feels warm when you press on it. It does not get hot and has a heavy duty cord. I wanted all of these features even though I will be using it indoors.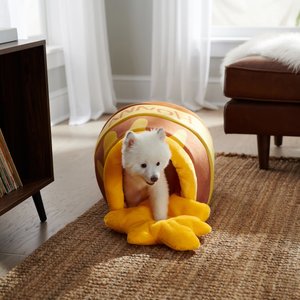 ---
Keep your little honey cozy in this adorable Winnie the Pooh covered dog bed. The cave-style design of covered dog beds creates a private spot for small dogs who love a comfy space to snuggle. The plush fabric and fluffy cushion give this cute bed an added coziness factor. The removable inner cushion is washable, and you can spot clean the exterior.
My cat's fav sleeping spot

My cat Shadow LOVES this bed. She'll knead and sleep wherever I put the honey insert. The product did arrive with dirty spots for some reason on the pot, but the buy was well worth it and so cute.

super cute!

I was not expecting this bed to be so big but it is so FREAKING CUTE! My kitten went in it a couple of times and seems to like it already! So happy with this purchase!

best bed ever

This is the first time I've purchased a cat bed and it's been used right away. All 4 cats have been fighting over it since purchase. Tons of room even for our 20lb cat !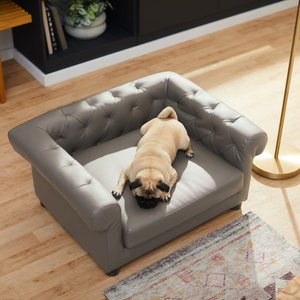 ---
FREE 1-3 day shipping on this item
Just because your dog's bed is comfy doesn't mean it can't be cute, too. This chic dog couch bed has a soft leatherette cover with supportive cushioning and a tufted back support that will both complement your interior décor and be your pup's new favorite nap spot. Plus, your guests will adore this mini sofa.
Awesome couch

This couch is legit. It's put together so nice. It's sturdy and easy to clean. My son even snuggles up with our pup on it.

Exactly what we were looking for

Our Tilly has destroyed every single cat bed and dog bed we've purchased. She loves to chew stuffing. This pet couch is sturdy without being too heavy and she fits on it perfectly. So far no signs of chewing so hopefully this is the one that sticks! The cays did break in the arm on day one with their claws though 😕

Room for Two

My two dogs, each about 60 pounds, love this couch. It is sturdy and it was easy to put the legs on, which is the only assembly required. The cushion is firm but has enough give to be comfortable, the faux leather is thick, and the upholstery is well done. They can squeeze onto it together, but they take turns more often. I slid a pet bed under the couch, so they can decide if they want to squeeze onto the couch together or stretch out, one on each.I am extremely happy with this purchase, and Gozer and Fonzie both approve as well. Absolutely recommend.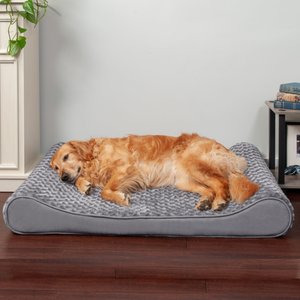 ---
FREE 1-3 day shipping on this item
If you have a large pup who needs a firm sleep surface with a soft, cozy cover, this orthopedic dog bed is designed to provide the back and neck support they need while still being big enough for them to sprawl out and count some sheep. With the largest size reaching 58 inches in length, these beds are big enough for your Great Dane or Saint Bernard—because our furry giants deserve sweet dreams, too.
Ladybug approved

My 4 year GSD Ladybug LOVES this bed! Plush, roomy and super comfortable! She is 82 pounds and this bed is great size for her. She can stretch out and be comfortable. Very grateful for this product!

He LOVES it!!

I purchased this ortho bed for our 15 year old fur baby almost a year ago. This has proven to be the best bed ever for him! I love how washable the cover is and how easy it is to put the cover back on after washing! Highly recommend!

Doggie Condo

I have brother and sister labs. Have not even attempted to chew. We order 2XL they are both at the foot of our beds. The kids sleep in every night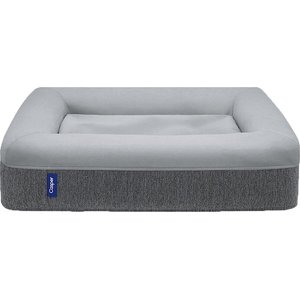 ---
FREE 1-3 day shipping on this item
Casper's luxury dog beds feature premium memory foam and lots of thoughtful details like the sewn-in zipper pockets to help prevent scratched floors. Your dog will love digging around on the durable nylon cover to get their nap spot just right. You'll love the removable and machine-washable cover which makes it easy to keep this luxury dog bed in tip-top shape.
Our dog loves it

We bought this bed for our 2 year old PWD who had out-grown his old bed. He took to it right away. It is holding up well and was fairly easy to remove the cover for washing.

The Dogs Love This Bed

This bed was just what I expected. The dogs love it. I bought a medium but think next time I'll get a large. My dogs are 55-60#.

Worth the money

Looks nice in our living room, gives Luna plenty of different sprawl or curl up options and, I'm hoping, gives extra support for her just-starting-to-age joints.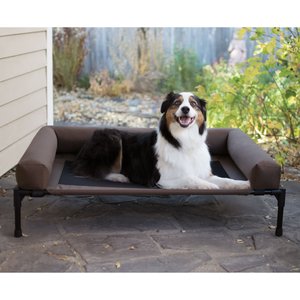 ---
FREE 1-3 day shipping on this item
This sturdy elevated dog bed is great for outdoor use. Your dog will love the breezy, breathable mesh platform of this raised dog bed, especially on hot days. The durable, elevated design makes for easy outdoor setup. Plus, it's the perfect backyard vantage point to keep a watchful eye on those squirrels.
Great Bed For Large Dog

My dog loves this bed. He is an 88 pound pittie and it is sturdy and holds him well. Highly recommend.

Excellent bed

Easy, fast assembly. Color is exactly like photo. My cats think it is for them as well. Fits my dog perfect. She is 68lbs.

Perfect bed

My dog loves his new bed. His ortho pad fit perfectly on top. He is a bullador and weights approx 80 lbs for reference.
One of these comfy dog beds might just be your fur baby's new favorite spot. Go ahead, treat your pup to one of the best dog beds for sweet dreams and restful snoozing.