Just like people, dogs can suffer from dental problems. In fact, according to the American Veterinary Medical Association, most dogs show early signs of periodontal disease (also known as gum disease) by the time they're 3 years old. In addition to regular teeth brushings and veterinary care, dog dental chews should be a part of your dog's oral care routine.
While satisfying a dog's natural urge to gnaw, dental chews can help remove plaque and prevent tartar buildup, which can damage teeth and gums. Finding the right chew for your pup's individual dietary needs and jaw size is essential. From big to bitty, all-natural to extra-durable, these are the best dental chews for dogs based on Chewy customer ratings and reviews, sales and expert input.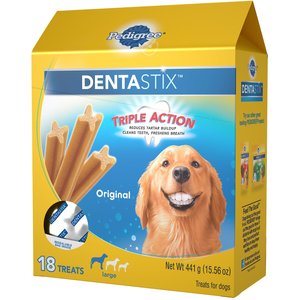 ---
Best Dental Sticks for Dogs
Plaque can be hard to reach, which is why pet parents love these uniquely shaped dental sticks for dogs. The patented X-shape design and chewy texture allows them to scrape away at plaque down to the gumline while your dog happily gnaws.
Chewy treats

Walker would not be able to have a complete day without getting his chewy treats when we come in from playing his teeth are gorgeous and his breath is amazing. Most days:-)

Perfect Check-up

Just went to the vet today and when she checked Tess' teeth she said they looked great. We give Tess two Dentastixs per week. Tess loves them and I love the good check-ups.

Helps eliminate Tartar

I have used DentaStix for more than 10 years and my dog has less tartar than another 10 year old. I like the new packaging, too.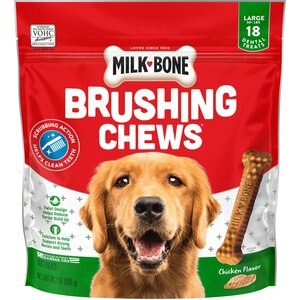 ---
Shaped like a familiar treat, dental bones can be a great way to "trick" your dog into a teeth scrubbing. With bristle-like nubs, these flexible chews from Milk-Bone are designed to twist and turn in your dog's mouth, cleaning hard-to-reach back teeth and down to the gum line. Available in multiple sizes, they have a pup-approved chicken flavor.
Oh, these are good

Our dog thinks these are a mighty big deal....and they do help freshen his breath. Very good rec for dogs of all ages

Milk bone brushing chews for Large dog

I have 2 pit Bull mixes that their breath can be Mandy. One of the milk one brushing chews a day can really help control their breath. They look forward to it everyday. Keeps it fresh for lots of snuggles and kisses.

Yummy Dental must have

These are a favorite of both pups. The bones work as described. Gibbs & Abby both have clean teeth & no yucky breath.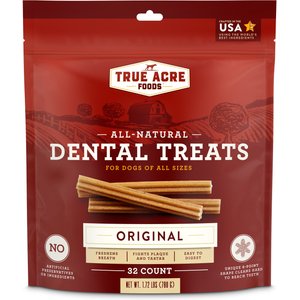 ---
Best Budget Dog Dental Chew
For a budget-friendly option, consider these economical dog dental chews from True Acre. Their six-point shape and chewy texture help clean plaque and reduce tarter build up even on those back teeth. With zero added sugars and no artificial colors, flavors or preservatives, they're gentle on stomachs while being tough on dental disease.
chew for light chewer

My doggies love this treat, from the youngest with pearly whites to the older one with pinky gums. Each can chew as needed. IT also smells pleasant for their human.

Best dental treats so far

These are the best dental treats that have little "junk" in them and are one of the most affordable. We have 4 large breed dogs who go crazy over these every morning

My dogs favorite dental treat

I have two dogs a big dog and a toy breed, both love these treats! They are an amazing daily snack for the dogs. I have not met a dog who does not like these! We do in home dog watching for family and friends and always send a few home with everyone.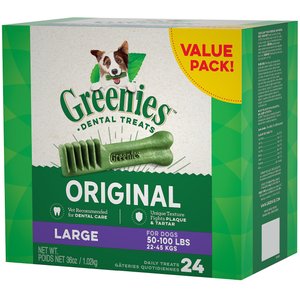 ---
Best Dental Chew for Large Dogs
When it comes to dog dental chews, size matters. With big teeth and powerful jaws, large dogs need formidable chews that can last long enough to get the job done. Designed for pups 50-100 pounds, these delicious and nutritious textured treats from Greenies not only fight plaque and tartar but also freshens your big dog's breath.
Tasty Treats

I live for Greenies. My Mommy will only give me 1 per day, but that's ok. She says they are way too expensive, but Im a special boy. Makes my breath fresh too. I wish my Mommy didn't had more money so I could have more Greenies!

Great product

My dog is picky and he loves these plus they are good for his teeth. He gets one a day.

Greenies Dental Treats

All my human has to say is, do you want a Greenie and all stubbornness in my body disappears. Oh and my breath smells better and my teeth stay clean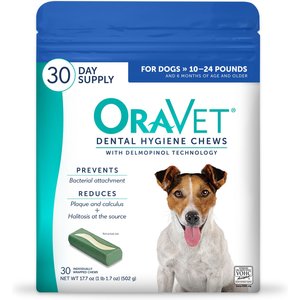 ---
Best Dental Chew for Small Dogs
Pint-sized pups need petite chews that they can actually, well, chew! Ideal for dogs 10-24 pounds, these perfectly sized options are designed with tinier teeth in mind. As a bonus, they contain delmopinol, an ingredient used in human dental products that coats the teeth and creates a barrier against harmful bacteria.
Awsome Product!

Never had a problem with these during consumption or elimination. Yes, they turn our dog's stool green, but it's no different than human waste changing color according to food consumption. If someone has a dog with incomplete digestion or difficulty of pieces, I'm wondering if it's not an issue with the dog not completely chewing the product possibly due to either a dog eating too fast or the dog's teeth impeding the chewing process. Ex: my old Shih Tzu had very small tiny teeth. She was small for her beeed…passing at age 11 weighting her regular weight of only 10 lbs.

Dogs ridiculously LOVE these

These have done wonders for our old dog at teeth cleaning and our younger one has to have the too (of course). Discovered these about 4 years ago and over time they removed all of the tarter on our old dog. We adopted a young adult dog and she had just started to get tartar build up. Now both dogs have no tartar build up. They get these daily, they seriously know where they are kept and will wait in front of the cabinet in case we try and skip a day. Keep these coming! Our dogs are seriously hooked on these, and they are not needing expensive vet dental cleanings since being on these.

Best Dental Chew Hands Down

My 10 pound Yorkie, Ruxpy and my 60 lb Labradoodle, Lilly, go absolutely bonkers for these dental chews! I've tried MANY different brands and these are hands down the best at keeping their teeth plaque free and their breath smelling fresh! There's a noticeable difference within just a few days every time I run out and Ruxpy's breath starts to get a foul odor again. I buy the small size for him and the large size for my Lilly and if I run out of the small ones, the giant ones are just soft enough to chop into thirds with a clever, so I can actually get 3 small size out of one large which is a much better deal, but more work and...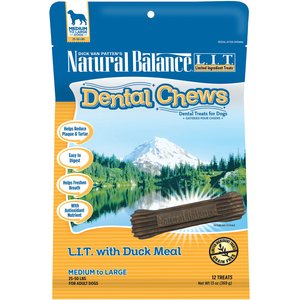 ---
Best Grain-Free Dog Dental Chew
If your pet has certain dietary restrictions or digestive issues, consider these grain-free dog dental chews from Natural Balance. Made with a single protein source (duck), they contain minimal carbohydrates and are formulated with highly soluble, tummy-friendly ingredients. Antioxidants add an immunity boost, while specialized grooves help clean those pearly whites.
Excellent!!!!

My dogs love these! They are great for the teeth and digest well. My dog has a sensitive stomach and these are great!

Dental Chew

Our Labrador Retriever loves her Natural Balance Dental Chews. Since giving her these chews, she has had great reports from her vet with the health of her gums and very little tarter. Molly and her Mom recommend this product with 5 plus stars.

Sugar loves them

Our pit bull loves these. She is allergic to chicken and beef, so we're very happy to be able to get these with a different protein source. Highly recommended!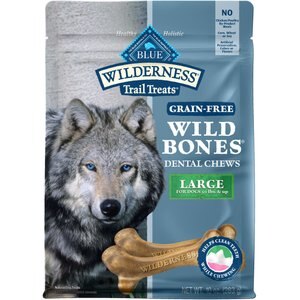 ---
Best Durable Dog Dental Chew
Is your dog a gnarly gnawer? Designed for pets over 50 pounds, these super-durable dog dental chews from Blue Buffalo are made for big bites. An organic bone shape encourages healthy, natural chewing as it scrapes away plaque that leads to tartar buildup. Made from wholesome ingredients, the grain-free recipe contains no artificial flavors or preservatives.
My Siberian Husky Loves These Treats

A favorite treat for my husky and they help to keep her teeth clean. They are large in size so you might want to check out the smaller size ones if you want to control how much you give your dog and don't want to struggle with snapping them in two (which can also produce a sharp chewing edge).

Honey loves it

This review is based soley on my dog's experience. She loves the bone. I mean she let's me know when I'm going past her daily treat time. My only complaint, which isn't really a complaint about the product, is that she has it gone in under a minute. But to be fair, I haven't a found a dental chew that lasts any longer than that. She just doesn't know how to enjoy and savor. Lol

Yummy treat

My dog loves this dental treat. As soon as finished teeth cleaning, my dog can't wait to get this yummy treat as bonus. I definitely recommend this.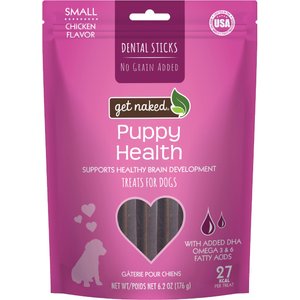 ---
Best Dog Dental Chew for Puppies
Puppies have special dental and dietary needs, so it's important to stick to chews specifically designed for young dogs. Coming in at 27 calories per treat, these yummy chicken-flavored dental sticks contain omega-3 fatty acids to help promote healthy cognitive development. Plus, chewing in general helps alleviate puppy teething pain.
puppy loves them!

I have been buying these for our pup since he was around 10 weeks old. He absolutely loves them! Now that he is around 17 weeks, he eats them pretty quickly. They are one of his favorite treats, I would highly recommend.

Puppy approved!

My puppy loves these chews. They are a great size to wedge into a toy with holes to keep her entertained for a bit longer and make the chew last. They are soft enough for her to eat very quickly otherwise, even though she's less than 5 lbs.

Love these dental sticks!!

Our new pup Ladie really enjoys these dental sticks!!!! We break them in half, as she is still rather young. She does fine with them. And they have a GREAT smell!!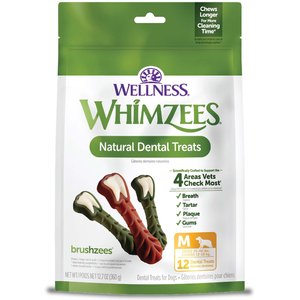 ---
Best Natural Dog Dental Chew
Containing nine all-natural ingredients, these dental treats take "clean" to a new level. Low in fat and rich in antioxidants, they contain no gluten or GMOs, and are made without artificial colors, flavors, or preservatives. The ultra-textured shape is engaging to chew, and designed to hit hard-to-reach spots.
Yummy treat

My Benji absolutely loves these Whimzees. Vet said his teeth look great, and he is right. Benji has pretty white teeth and he is just rotten so to love something that is good for him, that's wonderful. I gave him treats, but he loves these just as much, if not more. Benji is a Shorky ( Shih tzu, Yorkie mix) and I get the small and extra small size.

Good breath

I love the alligator treats easy for my dog to fit in his mouth. He loves the chewness of the treats. They rub against his teeth to clean & fresh

Real Treat

Both my "grand dogs" love these chews. It takes them a little longer to finish then most chews. I buy the large size for the mid size dogs.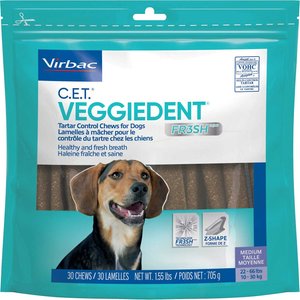 ---
Best Dog Dental Chew for Bad Breath
If your pup's breath could use a little work, look no further. Specially formulated to combat "doggy breath," these dog dental chews freshen with every bite, while also fighting against odor-causing plaque and tartar. Additionally, they contain a prebiotic to support gut health (and cut down on other, ahem, unpleasant smells).
Delicious and Chewy

Bought these as a cheaper alternative to Bully bones or tendons from our vet and Casey loves them. Easier on her sensitive digestive system, and she can have them once a day per the instructions, so a nice, chewy treat. She's a chewer anyway so her teeth are pretty clean, but these get the residue a regular dental chew bone can't reach. She does the happy dance when the bag comes out.

Great option but beware heavy chewers

Love Virbac products. Great option for our miniature poodle, however our 40 lbs PitBull mix devours these which makes me wonder how effective it is.

Like a tooth brush for dogs!

My dog, Buddy, receives one of these dental chews everyday. I buy the medium size even though Buddy is 70 lbs. Because each chew this size contains 75 Calories, I break each in half so I have 2 treats to give him throughout the day. I also give Buddy antler bones to chew on and the combination keeps his teeth clean and free of tartar build up and his mouth free of bad odor. If dog owners are proactive and give their dogs safe chewable treats and toys to help scrub the surfaces of their teeth on a regular basis, hopefully, they will not have to have their dogs undergo sedation to have their teeth professionally cleaned at a vet's office...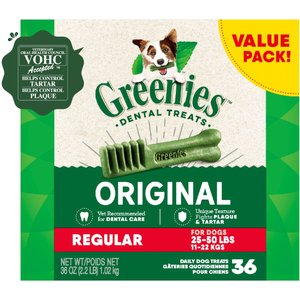 ---
Best Overall Dog Dental Chew
You truly can't go wrong with these does-it-all treats from Greenies. Accepted by the Veterinary Oral Health Council, these vet-recommended dog chews are super textured and tasty, encouraging dogs to gnaw (and clean!) enthusiastically. Made with digestion-friendly ingredients, they include a bonus dose of vitamins and minerals.
Better than the others

I tried other dental bones and my dogs breath smelled so bad. So I decided to switch to these. Less than a week in I have given him 1 a day and what a difference.

Great Policy

My husband inadvertently ordered the wrong size. When he called to try to change the order he was told to donate these and reorder the right size. We were surprised, but pleased, that we didn't have to send them back and happy to be able to donate them. As for the product, our dog absolutely loves the petite size and she lets us know when it's time for her daily Greenie.

They work!

My dog has stank breath. While he does not like Greenies he does love his Purina Bella and I use his Greenies to mix his vitamin supplement into his Bella, so he eats them!
Dental care is an important part of keeping your four-legged friend happy and healthy. While dog dental chews can't replace teeth brushing or regular veterinary visits, the right product can be a helpful (and fun!) part of your pup's oral healthcare routine. Now that's something we can all smile about!