W
hen it comes to the best cat trees, you'll want to treat your feline friend to a spot they can scratch, lounge, climb and nap at their leisure. The best cat tower will be fun and functional for your fur baby while also being durable and easy to assemble–and help spare your furniture from overly enthusiastic scratchers.
We've rounded up the best cat towers across a range of needs—if you have big kitties or smaller cats, or loads of space or cramped quarters. These fan favorites are some of Chewy's top-selling and best-rated cat towers and there's something for everyone.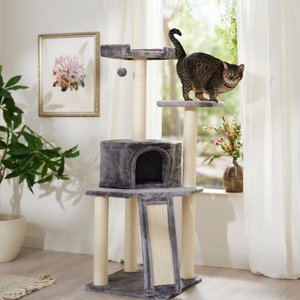 ---
Whether your cat loves leaping after toys, sharpening their claws or lying in their favorite sunny spot (or all of the above!), this top-selling and highly-rated cat tree and cat house combo is the perfect all-in-one play palace, scratching spot and luxurious lounge.
Scout loves his cat tree!

Our cat LOVES his new tree! He spends lots of time perched on top looking out the window. Easy to put together, lots of places for claw sharpening. Great price too!

It's an excellent kitty condo and scratcher

It's very good. Seems sturdy and well-made with good materials. The man-made base and the two platforms are out of solid feeling artificial wood that is heavy enough to keep the condo/scratching tower stable. The middle condo has only fabric sides, and there is no housing condo on the bottom base. That's the only thing I'd change. Add a hard sided bottom condo for a safe sleeping area there. The condo tower took me about 30 minutes to assemble. Instructions are adequate, it's just a bit of a challenge to get all the bolts lined up properly with the places they screw into.

Purrrrrrfect

The kittens love it so far. It's really soft and a lot nicer looking than the average carpet towers. It was a lot easier to set up than I anticipated. It is very safe and sturdy. Love it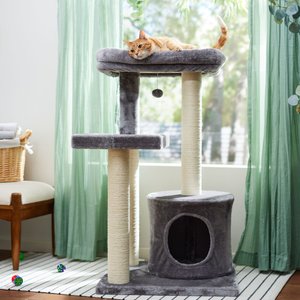 ---
Best Cat Tree for Large Cats
If you are a multi-cat household or have a kitty who's on the loveably chonky side, this large cat tree is built to hold up to plenty of climbing, jumping and scratching. Chewy pet parents love that it's easy to assemble and also durable for big cats.
AWESOME Cat Tower!

We actually got 2 of these for 2 different areas of our house and we LOVE them! Sp soft and plush. Very high quality and not ugly. The top bed is so cozy and big and they love the scratching posts and the cave. They cuddle and play on this all of the time. I recommend placing it near a warm, sunny window. Very easy to put together as it took no more than 20 minutes.

Cats love it

My 2 cats love it. Very sturdy and does not tip over. Perfect height to look out the window on the top. Also, platforms are big enough for my cat to lie on. Like the removable bed on top level. Great scratching posts. We bought a second one.

Love this!

Its a great cat tree condo. Both my 15 pound Maine coon & his 2 month old side kick love it! The even sleep together on the top. Top bed comes off for easy cleaning. Vey soft too.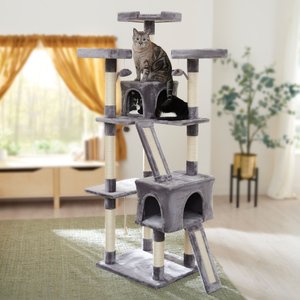 ---
For indoor cats who love having the highest perch in the house, this 6-foot-tall cat tree gives them multiple levels to survey their kitty kingdom. And with a cat tree that tall, there are plenty of cat toys, sisal scratching posts and perches to choose from.
Great Kitty Tree

Nice sturdy cat tree. Both my cats love to sleep on it and play on it. Just rub it with a little dried catnip and your kitties will be all over it!

Simply Amazing!

It was easy to put together, it's sturdy, and my cats absolutely loved it. They loved playing on it, they loved sleeping on it... they even loved climbing right back up after falling off while asleep! They really enjoyed playing with each other's tails through the cubby holes!

We bought two

My cat loved it. We had it downstairs. Then we found a second cat and she loved it too. We decided to get a second cat tree for upstairs, since that is where they sleep. Easy to put together and very sturdy. That is necessary since cat no 1 is a little chunky and jumps on it all the time.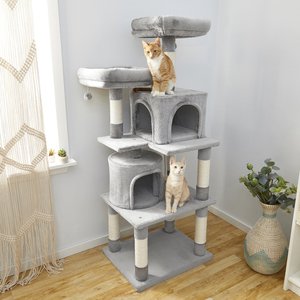 ---
Treat your cat to this deluxe cat tree for an extra comfy spot for them to snuggle up. They'll have not one but two cat caves to cozy up in. And for multiple cat households, two cat tree condos means they won't have to share (unless they want to).
Great cat condo

This condo is easy to assemble, and is well constructed. The design allows more than one cat to enjoy it at the same time. It is the perfect size to place in front of a window.

Excellent cat tree!

I have four old cats and this tree is perfect for them! They don't like cat hammocks or any of those gadgets, they just want to sleep in a cozy spot, so this tree has been great. It's very sturdy, soft, and is a fantastic price too. Plus my toddlers keep climbing in it, and it actually holds them!

Great purchase

Definitely worth the money! The enclosures were a challenge but the rest of the building was pretty simple. My cats love it! Durable and soft. It came with straps to secure to wall but I put it in a corner and it's pretty sturdy without them. Definitely recommend!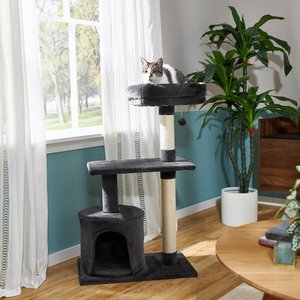 ---
Coming in under $50, this budget-friendly cat tree still packs a lot of punch with multiple levels, scratching posts and other features. Plus, it's tall enough to provide the perfect cat perch for your kitty to peer out the window (most windows start at around 3 feet).
Best Cat Tree

It's sturdy, I like that you can also remove the bed and wash it. This is one of two that I love from Frisco. My Cat loves this and I will buy it again for another room.

Frisco cat tree

After I put it together (which was very easy). My cat Lola got in the bed on the top and went to sleep. Now when I look for her she is on it sleeping.

Comfy and cats are obsessed

Perfect for our cats to hangout together on and watch the outdoors. It's sturdy for our 15lb cat to hangout and climb on, as well for our kitten. The top comes with the option for the cat bed and can be pulled off to wash. It gives our 15lb cat the option to look outside since he's too big to jump onto the window edge. Very affordable compared to other cat trees we've looked at. 10/10 would recommend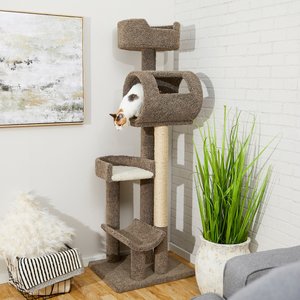 ---
Best Cat Tree with Carpet
This sturdy cat tree is made with solid wood covered in a plush carpet like the kind you'd find in your home. The thick pile carpet will give your cat an extra cush spot to catch some zzz's.
climbing cats are happy cats

We love this climbing tower, 5 paws from all of our 5 cats! The quality of the tower is excellent, Chewy products always are, and their customer service even better!

Perfect for my space!

First, this is real carpet and wood. Not plywood and thin fuzzy fur. The extra long sisal rope scratcher is perfect for one of my kitties. The real carpet is exactly what the other kitties need. This being a little taller is great for my climbers and for those who like to hide. I would buy another if I had space for another. Oh, and it was super easy to assemble too!

Cat Tree and little Miss enjoying her new toy.

We love the new tree. Coco loves hiding in the circle and watching the world. She will even fall asleep while watching the birds.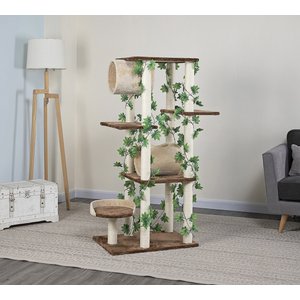 ---
Best Cat Tree that Looks Like a Tree
For a fun twist on the traditional cat tree, this cat tower comes covered in faux vines. Nature-loving felines will love the feel of being in their very own indoor jungle. And you'll love that this cat tree adds a unique touch to your home decor.
Not Perfect but..

My cats LOVE sunbathing on the top and attacking the scratching posts. The leaves didn't last very long so it looks pretty bare now. The hanging tunnel also has gone loose (cats didn't even use it. Despite the small annoyances, it was easy to assemble and what really matters is that the cats like it.

My cats love this tower

It was an instant hit with my two boys, the large flat spaces allow them both to enjoy this tower without fighting. The cats specifically seem to like the fact there aren't sidewalls on the large platforms.

A+ Product

Way better quality than I expected and my cat immediately loved it ! The cat tree feels sturdy and was super easy to assemble, It even comes with the tool needed. I was hesitant to place an online order but I'm glad I did and so is my furry friend.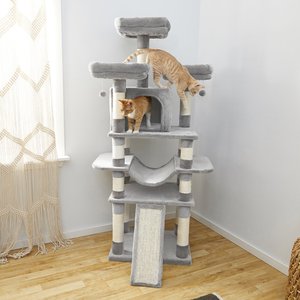 ---
Best for Cats Who Love to Scratch
If you have a cat who loves to sink their claws into things, this high-quality cat tree and condo offers them the perfect place to sharpen their pretty paws. It has a total of 15 cat scratching posts—giving them plenty of sisal rope scratchers to claw. Your sofa will thank you.
I need to buy another!

I've had this cat condo and tree for a long while. I have 7 cats and they absolutely love this tree. It's getting really worn so I need to replace it. They love the hammock, the condo up high, and they have a "pecking order" as to who gets each perch. I love the fact that it has 3 perches. The only recommended improvement would be to add a "mini hammock" off the side of the condo to give another higher relaxing perch.

Cats love it

We are happy with the product and our cats love it. We sure wish we could find more items made in the USA though.

Cat condominium

My cat loves it. I sprinkle cat nip all over it and he goes crazy. He doesn't sharpen his claws on my sofa as much. He loves sharpening on the columns. Happy with this cat tree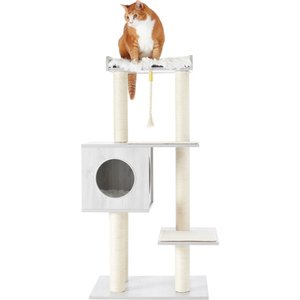 ---
For a modern cat tree that complements your home decor, you can't beat this sleek piece of cat furniture. It doesn't skimp on the kitty amenities either: Your furry bestie will have a private cubby, plush cat beds, scratching surfaces and hanging toys for playtime.
Nice Cat Tower

I like this tower because it does not have a lot of fur to catch all the hair. It is easy to clean up when the cats vomit. The only downside is that the platform to the top bed should be a little wider to give the cats more room to jump up there.

Modern cat condo

My cat loves it. She often sleeps on the top level and uses the scratching posts. I also put her food and water bowls on the second level. I love it because it is attractive and looks much nicer in my room than most condos would.

Great quality!

I had been searching for the perfect tower for our small apartment, and found this! Easy to put together, great quality materials and looks beautiful (unlike the carpeted ones). This was the best one I found and the BEST PRICE.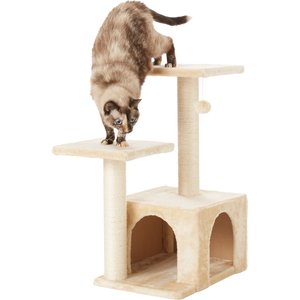 ---
Best Cat Tree for Small Spaces
If you're short on space or have senior cats who aren't as keen on climbing, this compact cat tree is the perfect small-scale solution. It's only a little over 2-feet tall and has a small footprint, but still offers a variety of features, including two platforms and scratching posts, a cubby and dangling toy.
Cats love it

Super easy to put together and the cats love playing on it or chasing each other under and around it.

Look no further!

Money well spent! Charlie LOVES it and it's seems sturdy. Many giggles have come from this and he uses it multiple time a day.

Great for Kitty!

I recently adopted a cat who's young and energetic. She needed an outlet for scratching and climbing, so I bought this Cat tree. It was a great choice! Well designed and made, and best of all, my cat loves it! thank you, Chewy for making this available! Beth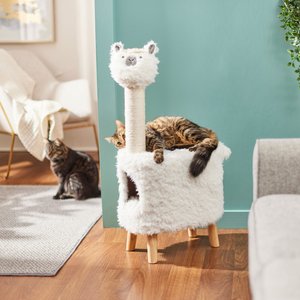 ---
Crave something unique? The farm animal design of this top-selling llama cat tree makes for a quirky statement piece but is also very functional: the neck doubles as a scratching post and the body provides a private cat condo and plenty of space for lounging.
Larry the llama

Firstly, it's easy to assemble, took me maybe 5 minutes. It's a little shorter then I expected but it kind of fits anywhere. My cats aren't sure what to make of the creature standing in the corner.. but after some coaxing, one of my cats has claimed it as her own. I got one to give as a gift too because… well llama.

Excellent... just don't add the legs

After reading reviews about the unsteadiness, I didn't put the legs on. The cats love it. One cat, loves the fluffy cushion by itself. Two others love to ride various items down the hallway and I post the videos on IG. They have so much fun with this llama.

Some happy kitties.

The llama is adorable and very soft. My cats like to snuggle inside and use the scratching post. Makes a cute addition to the room.
A cat tree may seem like a larger investment, but your furry friend will get so much out of it. The best cat trees will provide hours of entertainment—and give them their new favorite spot for snoozing away the afternoon.
Round out your cat's furniture and supplies with these shopping guides: