I

f you have a feline friend, then you know cats can be extremely particular creatures. Sure, a dog might like any old toy you throw their way, but cats have taste. Cats have standards. Cats have expectations. With that in mind, we've rounded up the best cat toys—based on sales, customer ratings and expert input—to help you choose the perfect one for your picky kitty. From old-school standbys to high-tech favorites, these cat toys are sure to please even the most discerning felines.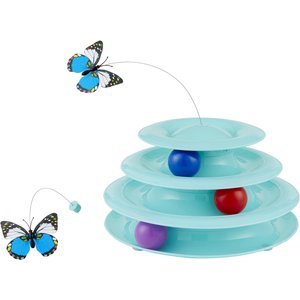 ---
House cats may not have to catch their dinner, but they still maintain their natural predator instincts. That's why this interactive cat toy is so much fun—cats simply can't resist "hunting" the fluttering butterfly and rolling balls. It's an ideal cat toy for kitties who are instantly intrigued by moving objects.
favorite cat toy

My kitten loves this toy! he plays with it all the time. best present I ever got him including the catnip mice he used to love. thank you!

Very good toy

Absolutely worth it! It is very easy to put together, and sturdy. My cat likes the 3 balls to play with, it keeps him entertained. The extra butterfly attachment is also nice for if the other breaks, or just to play with the kitties by itself.

She loves this 😍 ❤️

My kitten and my playful adult cat love this toy 😍. If I can't find my kitten, I just move a ball around and she comes out to play with it. She sits on top of it also but I wasn't fast enough to get that pic.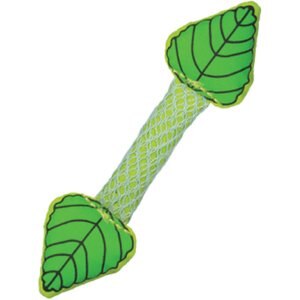 ---
Cat chew toys can help kitties maintain clean, healthy teeth (in addition to regular dental care, of course). Ideal for pets whose breath needs a boost, this cat teething toy is stuffed with dried mint for an instant burst of freshness. Durable netting helps remove tartar, while a fun crinkle material encourages chomping.
Long lasting toy.

Two girls about 3 years old. Sapphire is full of energy and will play with anything. April is the timid (and rotund) girl, and often scared to play, and risk drawing the attention of the energetic one. I'm back to order more of these, because I often see April claiming one one of these as her own, and having a mock fight with it. These seem to last several months before they get a bit grungy and need replacing.

11/10 recommend

I've been buying this same exact treat for my cats for years. They seem to prefer this particular brand too. The other toys fall by the wayside but these always stick around & get used.

I ordered 3

I picked up one of these at my local pet store chain, and my cats LOVED it. They destroyed it within a week, so I that's why I bought three. The mesh is really nice, since it gets in their teeth more. I'm not sure if it was because of the mint, but they loved this toy more than any of their other plain catnip toys. My cats are also not toy-felines, so that's another win with this toy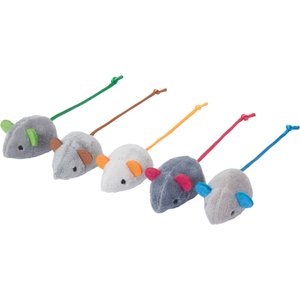 ---
They don't call it a "cat-and-mouse game" for nothing. With fuzzy textures, long string tails, and an infusion of premium catnip, these mouse cat toys, which come in sets of 3 or 5, are tantalizing to kitties with a strong prey drive. For a great workout and bonding session, toss them around the room and let your pampered predator go wild.
Best cat mouse mice ever!!! Best cat toy ever!!!

Not only is this the best cat mouse, it's the all around absolute favorite toy for all my cats and my many many foster cats, no other mice will do. It is so well made and the cat tail is especially appealing it seems, the combination of the material, the length and knot at the end. My cats all favorite this particular mouse above all the many other toys I have got them. Thankfully it's affordable and when my foster cats get adopted they go to their new home with one of these!

Favorite Nom Nom

This is my cats favorite catnip toy. She will take one in her mouth & just nom nom on it till it's destroyed. 1 mouse typically lasts 2-3 days before it needs to be thrown away because of how nasty it gets & the holes she's made. I don't think they're meant to least long, at least not in my house. Overall my cat approves & I try my best to keep them in stock at my house so she always has a mouse.

Best toy for my youngsters

It's amazing how our cats animate this mouse. It bounces each time they toss it around and they pretend it is so real. (Cats have such imagination in their play.)
---
For kitties with a couple pounds to lose, exercise cat toys can really punch up playtime. With an intriguing bug-sized light, this adorable cat laser toy mimics the quick, jumpy movements of small prey. Kitty can't get enough? No worries—the batteries are replaceable.
solid product

The laser is bright and provides a solid dot. The button works without any concern about it sticking. The size of the entire thing is pretty good for a small/ medium hand. The click is a little loud, but perhaps that will enhance the cat's engagement over time as they learn it means the dot is around.

Favorite toy

Kitty's favorite, and my favorite, too! This laser is easy for me to hold in my hand, and the button doesn't hurt my thumb to hold it down. The switch didn't wear out—ever! Or get a short or lose contact and flash or disconnect like so many other did, making it frustrating for kitty. The batteries are replaceable; just need a very small Phillips screwdriver. This laser has no pieces to come unscrewed and fall off when handling or get lost which was another problem I had with cheap lasers. I have dropped it many times on a tile floor and it is unscathed. It is delightfully cute, too. Kitty and I say it's PURRFECT ! Thank you.

Cat light toy

My cat loves to play with this. She never really played much until our dog passed away. Now she comes out and plays at least twice a day.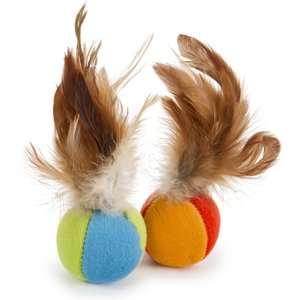 ---
If your feline friend is simply tickled by all things feathery, these cat toy balls are a must. Soft and lightweight, they roll by quickly as the natural feathers wave back and forth in an enticing motion. There are two in every pack, making them perfect for multi-cat households (or solo feather fanatics).
Favorite Toy!

This is my kitten's favorite toy! She chases it much more than every other toy that we own, and it's also very sturdy. Two weeks in, and she hasn't ripped it apart.

My boy love these

I have a cat who is obsessed with these balls. The fact that there's feathers on top of a ball makes it a toy you can tease with the feathers but also toss for them to chase. My cat ends up tossing them around to himself. Love these!

my cat loves them

George is obsessed with these feathered ball toys! He took to them immediately as soon as I took the packaging off. He has already ripped off a couple feathers but it's okay, there's still plenty on!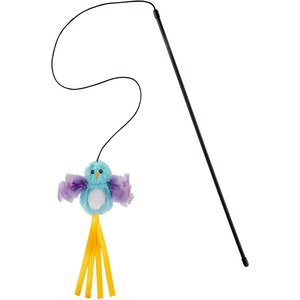 ---
Cats have a reputation for being aloof (some may even say "standoffish"). But in truth, they love (and need!) quality one-on-one time with their people. Complete with colorful feathers, fun textures, crinkle sounds, dangling string, and catnip, this fully-loaded wand cat toy is an easy way to play together and strengthen your bond.
My cat loved it!

My husband just got on my case when this arrived for buying more cat toys when she won't play with them! In true cat fashion, she proved him wrong. LOL I put the handle behind the sofa cushion and she runs up to stuffed toy and plays all the time.

Great Service

Chewy never fails to deliver great products in a timely manner. I hope that their service and products continue to surpass expectations.

Yes, Cats Love This!

I have bought many cat toys, including teaser toys. However, this one is an amazing value and I like that it does not contain any metal attachments that potentially might cause injury. My nine year old kitties love to chase it, bat it in the air, and pounce on it.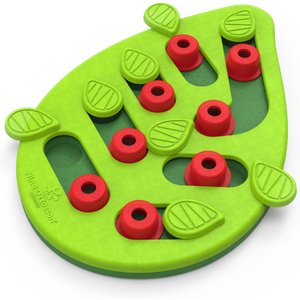 ---
In addition to physical exercise, cats need mental stimulation to keep their minds fit and healthy. Puzzle toys for cats like this dynamic brainteaser from Petstages are great for keeping curious cats engaged and entertained. Simply fill it with treats, and let your cat practice foraging through 14 hidden compartments. (It's also a great tool for slowing down kitties who eat their dinner too quickly.)
Great puzzle toy for cats

I got this for my boys 4th birthday. I love that it has different levels of difficulty. I have enjoyed watching them learn and plan to get more interactive toys in the future.

Cats love this

It took my cats a little time to figure it out, but now they love it and keep checking to see if there are treats in it.

Surprised that the cat uses!

I always thought that Gracey (1 yr old) was not the the sharpest tool in the shed! However, she has definitely taken a liking to working for her treats!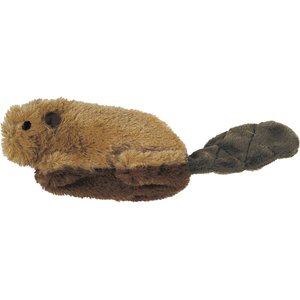 ---
For cats who like snuggling (and/or attacking) stuffed animals, this plush cat toy from KONG is a homerun. The beaver plush toy is engaging on its own, but this one has an added bonus: It comes with a container of catnip that you can use to sprinkle inside the toy. Refill again and again to amp up play sessions.
Crazy and wild

The toys with the loaded catnip became the toys which everyone had to play and share. They shared and then they started hogging the beaver and the squirrel.

This makes me a Kitty Super Mom FINALLY!

I have bought so many catnip toys for my fur baby only to get that look. You have to be kidding me mom! I filled this one up with the entire vial of catnip that came with it making sure it went out to all the Beaver feet etc. By this time my hands smelled strongly of catnip so I rubbed them all over the outside of the Beaver. I handed it to my Kitty and she took it and had the most delightful afternoon! She is still laying with it as I write this. This is a winner!

Spectacular

If I could give this 10 stars I would. My cat can't leave it alone. She thinks it's real. She tosses it up out and about. LOL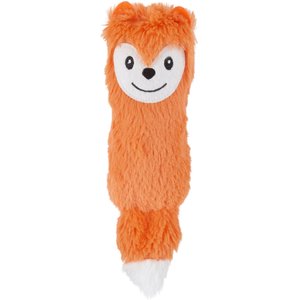 ---
Have a wriggly wrestler? For cats who enjoy tossing and tackling their toys, this cat kicker toy was made for roughhousing. The elongated shape makes it ideal for "bunny kicking," while an infusion of catnip makes the "hunt" more exciting. After playtime, the plush texture is the purr-fect cat-nap companion.
his favorite toy

(4mo old, 4.4lb kitten) i would have never thought to get my kitten something that looks like a stuffed animal, but i'm so glad i did. calcifer has a variety of toys, and this is by far his favorite. he can kick, bite, hunt, and then snuggle with it for a nap. the crinkling sound is always a great way to redirect his attention from things he shouldn't be getting into.

Beloved fox kicker toy

This is the second of these plush kickers that I've gotten for my cat. He also has the purple raccoon and he loves his new little fox too! He loves to lick them until the fur gets all wet, waits for them to get dry and crunchy, and then licks them again.

Grimm's favorite toy

It's funny to me to see a big black house panther carrying around a stuffed animal like it's his security blanket. I randomly find it by the back door where he's been birdwatching, on the footstool where he sleeps, at the foot of my bed, or in the water bowl. My son's dog ate the first one so I had to order a replacement when Grimm would search the house yowling for his toy. He has the blue racoon and a unicorn, but the fox is above all his favorite.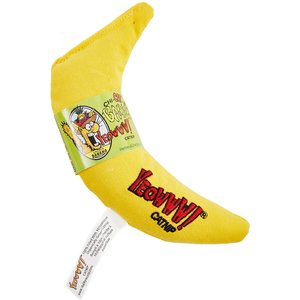 ---
Not all kitties respond to catnip's natural stimulants, but if your pet goes nuts for the 'nip, this is the ultimate catnip cat toy. Filled to the brim with high-quality, pesticide-free organic catnip, it's crafted from durable cotton twill that can handle session after session of bites and bunny kicks.
Captivating!

This toy has captivated both our cats. I had to order a second banana so each kitty could have her catnip fun without fighting. This is the toy of the year in our house!

Great toy!

This is a favorite of my boys.The catnip scent really comes thru this toy & my cats play with it almost constantly. And it is big enough that cats can play with it like a kick stick.

Best. Toy. Ever.

I have bought four or five of these bananas for my cat Leroy. He plays with them much longer and with more enthusiasm than anything else.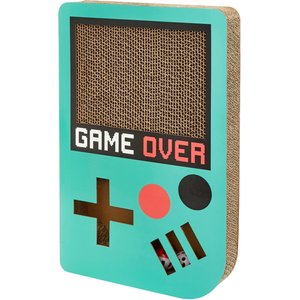 ---
Scratching is a natural behavior that cats instinctually need to do—and without designated scratching surfaces, they'll happily practice on your furniture. Made from claw-able corrugated cardboard, this throwback cat scratching toy encourages good scratching behaviors and helps keep nails healthy. Game over? Game on!
Really Cute Retro Scratcher

We would definitely recommend. It does have a smaller scratch area but the toys are an added bonus. Good quality and well built.

Amazing scratch toy

This is an amazing scratch toy and all of our cats love this scratch toy. The only thing we think would be even better is if they made them in different colors so we can collect them all

Definitely a must!

I can't remember if I already wrote a review or not, but here goes. My kittens love this! My middle kitty has even figured out how to pull the balls out LOL It's bigger than I expected which is a plus. And it's the first, of many already bought, scratchers that my kittens will actually scratch on. A little too late for my couch, but better late than never! Don't ever discontinue this item, I will be reordering when this when ours is toast.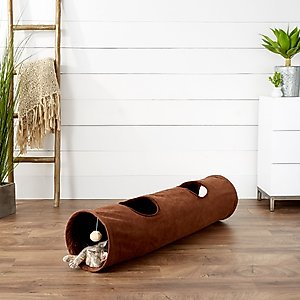 ---
For kitties who love a good game of hide-and-pounce, this dynamic cat tunnel toy is an all-in-one playground. Almost four feet long, it features exciting crinkle noises, peekaboo windows, a dangling toy ball, and soft suede fabric. It's great for communal play in multi-cat households, and folds flat for easy storage.
My cat loves this tunnel

My cat, Chuck, loves this tunnel. He even sleeps in it. When he plays, the two openings on the side becomes his pop up and jump out paths to catching his mouse toys. He even rolls in it to make the cracking noise.

Best cat toy ever!

This is the best thing I have ever bought for my cat. He gets so much enjoyment from it in so many different ways: dashing from one end to another to hear it crinkle, using it as a hideaway for a snooze, jumping on top of it, rolling in it, and best of all grabbing at toys dangled through the windows. This tunnel has had years of use but has no damage. I like that it can be folded up when I need it out of the way, like when I'm cleaning.

My cat takes naps in his!

I have a large Maine Coon cat. I was worried he'd get stuck in it (yeah, I know) but he likes it! I got the larger one with two holes. He sleeps in it with his front paws sticking out one hole, and his back paws sticking out of the other!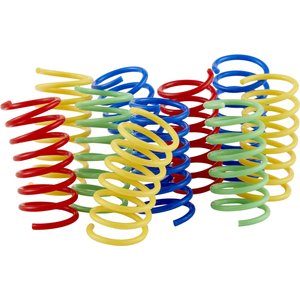 ---
Kittens like to play, play, play, and these cat spring toys are up for the job! With an erratic bounce and vibrant color, they move like small prey to keep energetic kitties entertained for rewarding, long-lasting play sessions. With 10 per pack, there's plenty of fun to go around in multi-cat families.
Very Well Loved

My cat carries these around in her mouth and loves to play fetch with me (yes, it can happen!) She loves the red and blue ones the best, but I love that there are so many colors in the package because I can throw them all around and all are used. My favorite part is that when you step on these, they don't hurt, just coil up under your feet and have yet to break. I highly recommend.

Best, Simplest Fun Ever!

All three of our cats have these simple springs at the top of their list. They will jump in the air for them, carry them around, bat them out of their mouths, and even play fetch. Also, the quality of these springs are thicker plastic than ones we have found in stores, so they keep their shape much longer and don't stay permanently squashed if you step on one by mistake.

Best toy ever!!

I have a 6 month old kitten and she absolutely adores these toys. I got them and she immediately pounced on them. I find them all over the house because she takes them everywhere. She loves playing with them and they keep her interested for hours. I'm so glad I got them!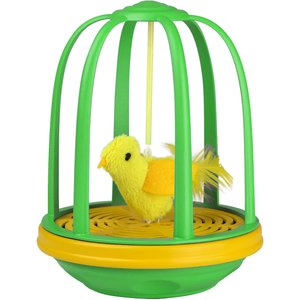 ---
Does your cat stare longingly at the backyard bird feeder? This automatic cat toy is almost as interesting as the real thing. The fluffy canary jumps, flutters, and chirps to activate your kitty's "hunter mode" and provide mental stimulation. With a wobbly base, the cage encourages batting, pouncing and chasing. What a workout!
A hit with all 3 cats

We have 3 cats and this is the first toy that they ALL have chosen as their favorite! They love it whether it's on or off!

5 wk old kitten approved

Bout this for our rescue kitten to practice predatory skills. It's a hit! The bird moves about, there's a light bird sound that plays for 10 minutes then shuts off automatically. Just need 2 AA batteries for the fun to begin!

Two years later

The cats loved this before the batteries. Our four yr old cat died after getting sick, so today for our new kitty I put batteries in this. The base did not turn as it should have but with a flat head screwdriver I was able to gently pry the base off and add batteries, wow this thing is very cool! The canary inside makes a chirping sound and wiggles from an electromagnetic base.
When it comes to playtime, your kitty deserves (and maybe even demands) the best cat toys. High-quality playthings can lead to better mental stimulation, more exercise, and stronger bonds between you and your pet. So what are you waiting for? The time to play is meow!