We see you—scrolling through Pinterest for home décor inspiration and always searching for that perfect piece, whether it's a new vase, lamp or rug. So throwing down any ol' pet bed? Well, that's not how you roll. To help your pet sleep as stylishly as you live, we've curated a collection of cute pet beds that complement any type of décor, from traditional to modern and everything in between.
Ready to find the dog or cat bed of your (and your pet's) dreams? Tuck into our shopping guide below.
---
We See You: You like your wood dark, your palette subdued and your windows draped. Symmetry guides your every décor decision, and your matching antique furniture is ornate—but never ostentatious.
How You See The World: When someone says Chippendale, your first thought is "cabinet," not Vegas.
How Friends See Your Place: Homey and elegant.
Shop the Style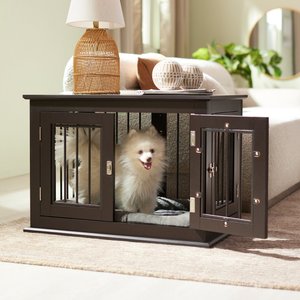 Frisco Double Door Wood & Metal Furniture Style Dog Crate
$157.48
FREE 1-3 day shipping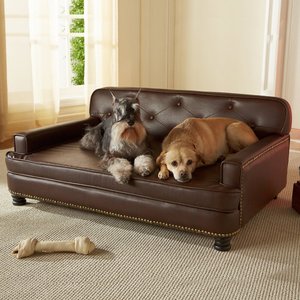 Enchanted Home Pet Library Sofa Cat & Dog Bed with Removable Cover, Brown
$349.99
FREE 1-3 day shipping
---
We See You: Interiors inspired by nature are your thing—wood with obvious grain, rugs made of sisal or jute and colors that reflect the outdoors. Unique, handmade Etsy finds finish off rooms that feel more serendipitous than styled.
How You See The World: "Aged" and "distressed" describe your favorite finishes—never your feelings!
How Friends See Your Place: Simple and cozy.
---
We See You: You're a minimalist whose natural-light-filled rooms feature low, sculptural pieces. Neutral colors and the absence of tchotchkes keep everything clean and cohesive, while layered textiles and unexpected shapes add warmth and interest.
How You See The World: You could teach Marie Kondo a thing or two.
How Friends See Your Place: Calm and uncluttered.
---
We See You: Your home is a free-spirited explosion of collected pieces, vibrant colors and organic textures. Mismatched prints and layered rugs mingle with hammered metallics. Strewn around your comfortable, loungy seating areas are objects from your travels abroad and found through the aisles of the local flea market.
How You See The World: Through a beaded curtain.
How Friends See Your Place: Busy but relaxing.
---
We See You: Bring on the drama. Mirrored surfaces, silky fabrics, bedazzled accessories—if it glitters and shines, you are obsessed. Jewel tones mixed with contrasting black and white hues color your home, while high-end polished chrome touches give it that old Hollywood feel.
How You See The World: From your tufted divan, dahhling.
How Friends See Your Place: Posh and dazzling.
Watching your furry darling drift off into a squirrel- or mouse-chasing dream is one of the great joys of pet parenthood. Thankfully, with all the cute pet beds available, there's no need to compromise your well-curated home aesthetic to give them a cozy place to curl up.
Need even more options?