We all want our cats to be happy and healthy—that's a given. Providing them with a nutritious, high-quality cat food is one way to ensure just that. But with so many varieties of high-quality cat food on the market, knowing which one is the right choice for your fur baby can be confusing. What even is "high quality" cat food anyway?
For starters, it has to meet the nutritional standards set forth by the Association of American Feed Control Officials (AAFCO). This is essential for any cat food, says Dr. Katy J. Nelson, DVM, Chewy's resident veterinarian. An easy way to be sure of that is to look on the package for the AAFCO nutritional adequacy statement.
High quality food also has high-quality ingredients with nutritional benefits, like:
Protein: provides energy and is essential for growth, the transport of nutrients and oxygen delivery

Amino acids: build and repair tissues, help maintain healthy skin and coat, support the immune system, and muscle activity, making glucose, as well as transport nutrients and oxygen throughout the body

Fatty acids: maintain healthy skin and coat, and are essential for joint health and a healthy immune system

Vitamins and minerals: to ensure that the pet's nutrient requirements are met
Depending on the specific brand and ingredients, some may ease health problems (like weight control formulas for paunchy pets), while others—including high-protein diets for active cats—satisfy a particular nutritional need.
To help you figure out the best option for your favorite feline, we're breaking down the various categories and detailing what you need to know. As with any change in a pet's diet, be sure to talk to your veterinarian before switching to a high-quality dog food.
What to Consider Before You Buy
Before you start narrowing down the high-quality cat food options, consider these questions to find the perfect pick for your cat.
How much time do you have? Scooping kibble takes no time at all. Feeding frozen raw food, on the other hand, takes a bit of planning as it has to be thawed. How much time or planning are you willing to invest?
How active is your cat? A super playful, energetic feline may need more protein than laid-back snugglers.
Does your pet have any food sensitivities? If your cat has digestive issues, you may want to opt for a food formulated address those issues.
How old is your cat? Foods are labeled by the manufacturer to address the nutritional needs of your cat's stage of life. It's a good idea to buy a food that is labeled for your cat's stage of life to make sure their current nutritional needs are met.
Does your cat stay entirely indoors, or do they also go outdoors? Indoor cats generally need fewer calories than their outdoorsy brethren, and may need dietary help with hairballs.
What is your cat's weight? Plump kitties may do well on a weight-control food. Being overweight can cause a cascade of health issues.
Is your cat spayed or neutered? Intact pets generally need more calories in their diet, while spayed/neutered pets tend to need less, says Dr. Nelson.
What are your cat's preferences? Let's face it: Cats don't much care about pleasing us. Knowing what your cat likes in terms of food form and flavors can make switching to a new high-quality food much easier.
What does your vet say? Never switch food without touching base with your veterinarian. They can guide you if you're weighing a few different high-quality cat foods too.
Types of High-Quality Cat Food
With your sweet kitty's particular needs, your lifestyle and your vet's recommendations in mind, let's break down the types of high-quality cat foods.
Dry High-Quality Cat Food
Dry cat food (aka kibble) is a popular choice because it's convenient to store and can be relatively cost effective. Loaded with cage-free chicken and probiotics, Instinct Original Grain-Free Recipe is a satisfying option for cats in all phases of life. Eating dry food especially designed to remove plaque also may help keep teeth clean, says Dr. Lindsey E. Bullen, DVM, and Board Certified Veterinary Nutritionist at the Veterinary Specialty Hospital of the Carolinas in Cary, North Carolina.
Perfect for cats who: are healthy and at any age (provided the life stage formula is appropriate), especially those who need a bit of help keeping their teeth clean.
Wet High-Quality Cat Food
Wet food helps keep cats hydrated and is a favorite of many felines, thanks to its savory smell and meaty texture. Made by Nacho's Sustainably Caught Salmon Recipe, for example, features a savory gravy with bone broth to help boost your cat's hydration. Dr. Bullen says it can be helpful to introduce wet food to cats at a young age to reduce the risk of food-form aversion. "This way, if they need increased water in the future, they're more likely to accept a canned diet," says Dr. Bullen. "In particular, geriatric cats often have compromised kidney function, so adding moisture to their diet becomes more important."
Perfect for cats who: are persnickety eaters, need to up their water intake, or who are too young to easily chew dry food.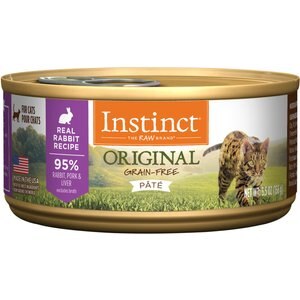 Instinct Original Grain-Free Pate Real Rabbit Recipe Wet Canned Cat Food
$36.00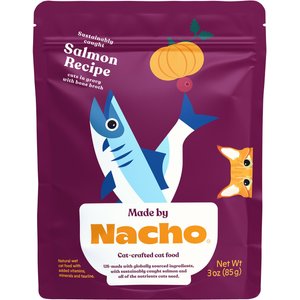 Made by Nacho Sustainably Caught Salmon Recipe Cuts In Gravy With Bone Broth Wet Cat Food
$18.99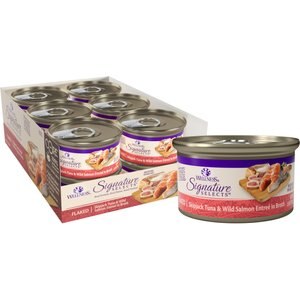 Wellness CORE Signature Selects Flaked Skipjack Tuna & Wild Salmon Entree in Broth Grain-Free Canned Cat Food
$21.60
Freeze Dried & Dehydrated Cat Food
Both freeze dried and dehydrated high quality cat food have had moisture removed, although the method is slightly different. Both are minimally processed options that preserve the nutrients. The main difference is that dehydrated food needs to be mixed with warm water, whereas freeze dried can be fed as is or rehydrated. Stella & Chewy's Chick Chick Chicken Dinner Morsels is a freeze-dried raw option, made with 98-percent cage-free chicken, organs and bone, along with certified organic veggies and fruit.
Perfect for cats who: aren't dry-food fans, but still enjoy a chewy texture in their food, or who needs extra protein.
Raw Cat Food
It's pretty much what you think: You're feeding your cat raw meat, usually along with organ meat and bones, much like what cats eat in the wild. Fans say raw diets improve digestion, fight obesity and improve the condition of a cat's skin and coat, among other benefits. Not sure about going all raw? Instinct Raw Boost Mixers make it easy to start slowly. Just top your cat's food with a few of these protein-rich morsels. Other raw food options include dry food infused with bits of raw protein, raw freeze-dried and raw frozen. Just remember to be careful to avoid cross contamination as you would if you were handling raw meat for your own dinner.
Perfect for cats who: have parents who think the potential benefits are worth the extra effort involved in feeding a raw diet.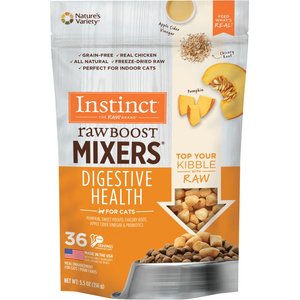 Instinct Freeze-Dried Raw Boost Mixers Grain-Free Digestive Health Recipe Cat Food Topper
$13.03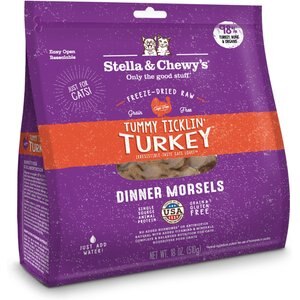 Stella & Chewy's Tummy Ticklin' Turkey Dinner Morsels Freeze-Dried Raw Cat Food
$40.99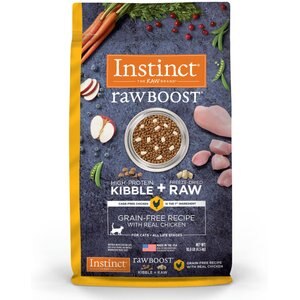 Instinct Raw Boost Grain-Free Recipe with Real Chicken & Freeze-Dried Raw Coated Pieces Dry Cat Food
$29.00
Organic Cat Food
Certified organic cat food must be made with 95 percent organic ingredients. Look for a "USDA Organic" seal on the package, like the one on Castor & Pollux's Organix Grain-Free Chicken & Sweet Potatoe Recipe. Free-range chicken, sweet potatoes, and omega-3 fatty acids make it a delicious and cat-strengthening option. The bottom line with organic food? "Organic food can be poor quality, just like non-organic food can be great quality. You are paying for the extra work of producing and raising the ingredients in a certain way," Dr. Bullen says.

Perfect for cats who: have parents who think the potential benefits are worth the extra cost involved in feeding an organic diet.
Grain-Free Cat Food
Grain-free pet food has gotten a lot of buzz in recent years. It's formulated without ingredients like rice, corn or wheat, which are common food allergens for cats. Not surprisingly, cats who are experiencing food allergies or sensitivities are prime candidates for a grain-free diet. Made with flaked tuna and salmon, this grain-free wet food recipe from Wellness contains no by-products, wheat, corn or soy. Read more about grain-free cat food here.
Perfect for cats who: show signs, such as itching, fur loss, and skin irritation, of being allergic to food containing grains.
Limited Ingredient Diet Cat Food
The logic behind short ingredient lists is to reduce the possibility of a cat's exposure to food allergens. "Limited" is a relative term. Some foods may simply have fewer ingredients than the brand's other foods. Sometimes, it's made with ingredients that a cat would have been unlikely to have been exposed to enough to have developed an allergy to it, like goose. For example, Stella & Chewy's Duck Duck Goose Dinner Morsels are 98 percent duck, goose, organs and bone. "Keep in mind that long, chemical-sounding names on ingredient lists are usually vitamins and minerals," says Dr. Joe Bartges, DVM and Board Certified Veterinary Nutritionist at the College of Veterinary Medicine at The University of Georgia in Athens.
Perfect for cats who: don't enjoy traditional foods, either due to food sensitivities, being hard to please, or both.
High Protein Diet
Being obligate carnivores, our feline friends need protein from meat to thrive. As Dr. Nelson explained above, protein provides energy and is essential or growth. Adult cat food must have a minimum of 26 percent protein on a dry matter basis (a means of measurement that allows for comparison between dry and wet food), per AAFCO standards. With 50 percent protein (on a "dry matter basis"), Core Classic Pate Chicken & Chicken Liver Recipe is considered a high protein diet. Read more about high protein diets for cats here.
Perfect for cats who: are active (especially outdoor cats) or pregnant
Weight Control Cat Food
You'll find many weight control cat foods to choose from. Generally, they are formulated to have fewer calories per serving than regular food. Your cat doesn't "feel deprived" as they are still getting their usual amount of food as they trim down. Instinct Raw Boost Healthy Weight has the ideal amount of fiber to make your overweight kitty feel full longer. Note that there are both non-prescription and prescription weight control foods, so talk to your veterinarian about the best option for your pet.
Perfect for cats who: have a few pounds to lose. Senior cats (older than 10 years) tend to have slower metabolisms and may also benefit from a weight-control formula.
Sensitive Digestion Cat Food
This is an especially easy-to-digest food for a pet who experiences vomiting and/or diarrhea. Ingredients vary from food to food; what agrees with one cat with digestive issues may not work as well with another. Wild Alaskan pollock is the first ingredient in Go! Solutions' Sensitivities Limited Ingredient Pollock Pate. It also has pumpkin puree to aid in healthy digestion.
Perfect for cats who: have food intolerances, and whose parents have cleared a sensitive digestion diet with their vet.
Natural Cat Food
While the U.S. Food and Drug Administration does not have a formal definition for "natural" in regard to pet food labeling, AAFCO defines it as "derived solely from plant, animal or mined sources. Generally speaking, you should expect that a natural cat food won't have any artificial flavorings, coloring or preservatives. You'll want to look at the overall formula, though, to make sure it's a good choice for your feline. Made with shredded chicken as its first ingredients, Weruva's Paw Lickin' Chicken is a natural recipe free of BPA, antibiotics, hormones, GMOs and MSG.
Perfect for cats who: are healthy and of any age (provided the life stage formula is appropriate).
Indoor Cat Food
While indoor and outdoor cats have the same nutritional needs, some indoor cats may not move as much. Indoor cats also tend to get more hairballs, as their shedding isn't always limited to seasonal cycles (and they groom themselves more as they laze around). That's why indoor cat food typically has fewer calories per serving as well as more fiber to move hairballs through the digestive tract. Formula and benefits do vary somewhat from brand to brand. "To my knowledge … there is no standing criteria for what constitutes indoor cat food," says Dr. Bullen. A smooth pate, Wellness CORE Indoor Recipe is a universal cat pleaser, full of chicken, chicken liver, flaxseed, and salmon oil. Read more about indoor cat food here.

Perfect for cats who: are housecats in every sense of the word.
---
At the end of the day, there is no one perfect food for all cats. "There is no one best food or best food company," Dr. Bartges says. "It's more trial and error finding what food your pet does well on." But working with your veterinarian to find the best high-quality cat food can help give you peace of mind that you're doing everything you can to keep your pet happy and healthy.