Choosing the for our feline friends can be tricky. Of course, it needs to be complete and balanced, with nutritious ingredients and healthy protein sources, but it also needs to have a mouth-watering flavor that kitty can't resist. With so many high-quality cat food options to choose from, how do you know which is the best cat food for your cat's health?
To help you decide, we've rounded up the best cat food brands as tested and approved by Chewy customers. These best-selling and top-rated foods follow nutrition guidelines set forth by the Association of American Feed Control Officials (AAFCO) and get two paws up from cat parents like you. Just remember to always consult with your veterinarian before making any dietary changes for your cat to ensure you're meeting their nutritional needs.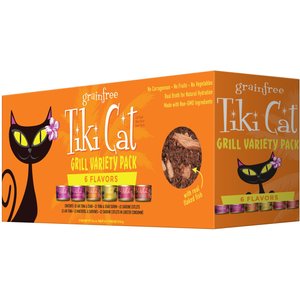 ---
Loaded with high-quality protein in the form of real flaked fish and fish cutlets, this highly-rated wet cat food is designed to give your cat all the essential nutrients they need—without fillers or artificial flavors—and help keep kitty hydrated.
Cats love it

Cats go crazy for it. I like that tiki has clean ingredients no fillers or chemicals. My cats were street cats so they are now living the high life eating lobster consumme! Lol

Fresh and Great Quality- My dog eats now!

After 8 years of my yorkie struggling to eat anything this is the food we tried that she ate a full meal once in her life no hand feeding no shaking nervously. Thankyou for making this food my family is great full!

Cat loves it, big cans

Each can is four meals for my 13 lb cat. This is the best quality food I've found for this price. He's never picky but he loves this food.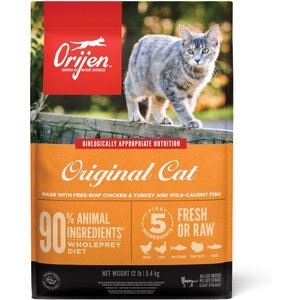 ---
This protein-rich "whole prey" dry cat food is based on what cats' ancestors ate. It's made with 90% premium animal ingredients—including poultry, fish and organs like turkey giblets and chicken liver—and has a freeze-dried raw coating to satisfy your cat's carnivorous cravings.
great food for ferrets!

I buy Orijen mixed with wysong and my ferrets are very happy and extremely healthy with this food! They've been on it ever since they were kits and they could never be healthier! Even the vet was astonished! Fur so soft, not as stinky, and good clean poops! Their skin is very healthy as well so less baths for them! Could not recommend this more to other new ferret parents! Such good food!

Very good product

My cats have been eating this food for some time. It's costly, so I often mix it with other foods, but the cats like it and there haven't been any problems with keeping them healthy when it's their only food. I can't say the same for some other dry cat foods on the market.

Good Dry Cat Food

I bought this brand of dry food because 2 of my cats are very allergic to many ingredients in the traditional brands. This may be more expensive but nutrition wise and the Health and Happiness of my Kittys is my Top Priority.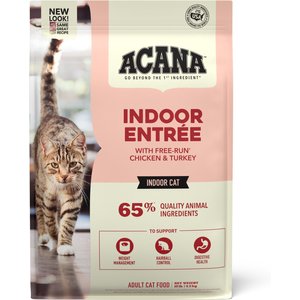 ---
Best Cat Food for Indoor Cats
This kibble delivers a protein-rich diet that also helps indoor cats maintain a healthy weight. Chewy pet owners love that its ingredient list is full of real meat, like deboned chicken, turkey and rabbit, and that it was able to entice adult cats who are picky eaters.
spoiled mog

My old roommate fed this brand to her cats, and now MY cat thinks she's being mistreated if I feed her anything else besides this food. I gave a 5 star, because clearly this is the most delicious thing, second only to her (equally expensive) wet food. I'm brand loyal out of obligation now. No escape.

Acana Indoor Entree

My fussy Max loves Acana hard food! Max is very spoiled and he will nosh on this along with his wet food. He only likes the best !

cats love it

my two boys love this kibble, they wake me up at 6am every day meowing for it. they've been eating it for a few months now and have maintained a good weight and are healthy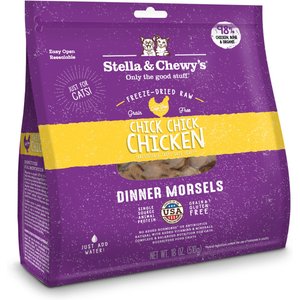 ---
Best Cat Food for Sensitive Stomachs
If your kitty struggles with allergies or a sensitive tummy, this type of food, which is a limited ingredient freeze-dried recipe, might help improve digestion. It's made with high-quality raw protein—and no gluten, fillers or artificial preservatives. Serve as is or add water to rehydrate.
Tess loves this one

Our cat always goes for dogs variety of freeze dried food so I got some for her and she loves it!

My cat can't resist these

My Scottish Fold loves one morsel as a treat every morning. In fact, if I try to sleep in, she wakes me up just to get some.

Helps to rehydrate with warm water

The nuggets rehydrate much better/faster if the water is warm. We heat about 3-4tbsp of water in the microwave for 18 seconds, then add 21-22gms of the whole nuggets and it softens up in less than a minute. Previously kitty was only willing to eat it if the nuggets were completely crushed and floating on water, but then would refuse to eat it once everything got wet (of course!), but for some contrary, unknown, cat reason the moistened whole nuggets he deems acceptable. I'm just glad it worked!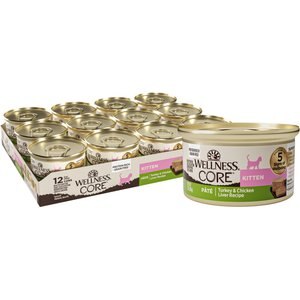 ---
Best Cat Food for Kittens
Formulated for growing kittens, this canned cat food is packed with protein for building strong bones and muscles, contains DHA fatty acids for developing healthy brains and eyes, and is free of artificial flavors, preservatives and by-products. Plus, many Chewy cat owners report their kittens lick their bowls clean!
delicious to my kitten

My 4 month old kitten loves this food - and this flavor. She does not like the fish one and I also was not a fan due to the aroma but the Turkey and Chicken Liver seems to be delicious as my picky cat cleans the bowl.

My adult cats love this food!

I have been feeding Wellness cat food to my cats for over 14 years. Their ages are 16, 15, and 14 years old. All of them do wonderfully on the Wellness Canned Core Kitten food. They can be very fickle but this is the only canned cat food they all enjoy eating. None of my cats are struggling with issues like diabetes (proven by routine bloodwork) and I give credit to feeding a high protein, low carbohydrate diet to them their entire lives. This variety is worth trying if you have a cat who might be a picky eater. I have tried many, many brands and flavors but this is the one my cats have loved the most over the years.

Unsurprisingly good

I feel like this is one of those products where you look at it and already know exactly what you're getting. This has a good texture (though I do add a little warm water to all of my cat's wet food anyway, so take that with a grain of salt) and tolerable smell to my sensitive nose--and, most importantly, my cat loves it. In fact, she loves it so much that she wound up eating a serving of it at lightning speed one day and then puking. I just give her this one in tinier servings now, just in case.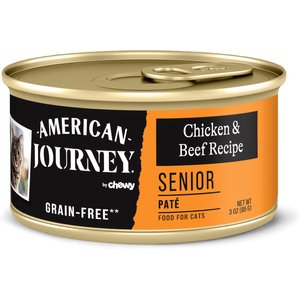 ---
This pet food is specially formulated to meet senior cat's needs, specifically cats 7 years and older. It's made with real chicken and beef to support lean muscles and provide energy, vitamins and minerals to help with joint and digestive health, and it has a smooth texture that's easy on older cats' sensitive teeth.
Finally a canned food my senior cat can eat!

My senior cat was losing a lot of weight and having diarrhea, switching her to this allowed her to gain weight, poop regularly, and be happy.

he goes right for the bowl!

#ChewyTeamRated - my senior grandcat can be finicky but he is happy to dive into this chicken and beef pate when it's served. Helps him get more water in his diet.

Meowth watering good food!

#ChewyTeamRated I wanted to try a senior food for my outdoor cat Shadow. We've noticed he's getting a bit slower in eating and the pate is perfect for him. It gives him enough hydration since he's being finicky with his water intake and so far he seems to really like the new food. It mixes well with his dry food and softens it up enough that he's eating it all in one sitting. Very happy overall.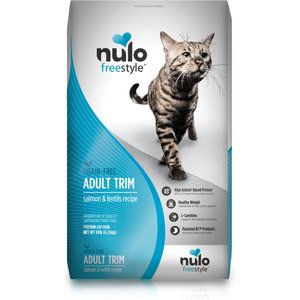 ---
Best Cat Food for Weight Loss
This weight-control cat food won't make your cat feel like they are on a diet. With the animal-based proteins (salmon, cod, chicken meal and turkey meal) and amino acids your cat needs, but with more fiber and less fat, this dry food is formulated to help your cat trim back down to their svelte self.
Fur Babies Loved It!

My cats did not hesitate at all when I switched to this food from the regular Nulu dry and seem to love it and most importantly it really works. My linebacker as I call her definitely lost and is maintaining a healthier weight.

Consistent Product

Staple for two cats - one indoor and one outdoor, one 4 years old, one 14. Both have entirely different tastes, but both like this flavor, both have healthy BMs, and able to maintain a healthy weight, coat, and vitals.

All kitties love it

My Dusty is diabetic and I found this high protien low carb food with great Ingredience, and the whole gang loves it. Thanks Chewy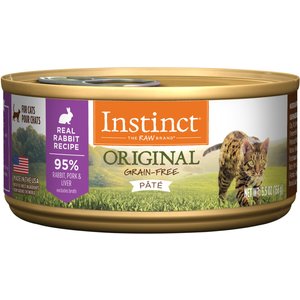 ---
This grain-free cat food comes packed with protein—95% rabbit and pork liver to be exact. The rest of the wet food is made up of fruits (including those high in antioxidants like blueberries and cranberries), veggies and other wholesome ingredients for a high-quality meal free from grains but full of nutrients.
Good Variety Option

This Instinct pate provides moisture without unnecessary carbs for your cat, as well as providing an option to feed your pet a variety of flavors and foods. The 5 oz side can easily be divided into 4 servings or less depending on your pets weight and needs. Rabbit is expensive and I'm happy with the ingredients in this product.

Cats and their food

My 17 old rag doll cat is very finicky Just loves the rabbit food .Cats all will eat food then after awhile want something else Their Cats! so don't be discouraged just keep trying you will find a food that they like. I have two other rag dolls they are the same

Cat diagnosed with IBS by vet

My cat, Spooky, was diagnosed with IBS by vet. Spooky had bloody stools and wouldn't use his litter box. I changed his diet to this because I heard rabbit meat was easy for cats to digest. He does not have any issues & uses his cat box again.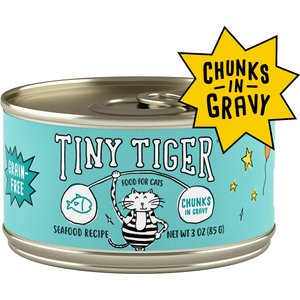 ---
Best Cat Food on a Budget
Fine dining doesn't have to break the bank. This cheaper cat food option delivers a delicious and nutritious seafood meal that your cat will love. Made with delicious gravy and real fish broth for healthy hydration, this canned cat food dishes up a balanced meal in every bowl.
Sunshine loves Tiny Tigers' gravy

Tiny Tigers is a treat for my Sunshine. She never leaves anything in her dish when I serve Tiny Tigers.

I don't blame the food!

My cats loved Tiny Tiger (all flavors, pate and gravy) for about a year. Then they went completely off of it. It sat in the garage until I started downsizing. Noted that it had not yet expired, so I tried it again. Now they act as if I had been depriving them of a treasure! The nutritional value is good, and the price is excellent compared to comparable foods. Yay, Tiny Tiger!

Tiny Tiger

I have been feeding my 2 cats Tiny tiger for about a year. They seem to really like it and it agrees with them. The price is really economical and I don't see any advantage to feeding higher price food.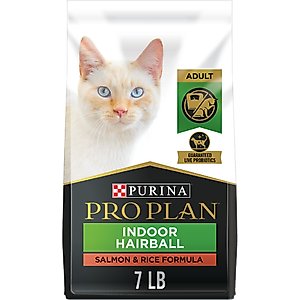 ---
This dry cat food is loaded with natural fiber to help keep hairballs at bay. It also includes real salmon as the first ingredient to help your indoor cat maintain lean muscle and a healthy weight, and live probiotics to support digestion and a healthy immune system.
Picky cat approves as tasty food and Hairball assistance

I have an extremely picky cat that requires hairball food. After refusing to eat her previous hairball dry food we gave this one a try and she loved it.

No more hair balls!!!

My 3 cats (2 are long haired) had awful hairball issues and they wouldn't take hairball meds. So I tried food. And they loved it. Hairballs stopped. Highly recommend this food

My cat LOVES this dry food!

I was surprised my cat liked this food so much since it is hairball control formula and I thought it'd wouldn't taste as good, but it's the opposite. I was trying to introduce it gradually like you're supposed to, but now she won't finish off her old bag of food because she ONLY wants this new food instead. I don't know yet how effective it is for hairballs, but she hasn't thrown up in a week, so we'll see. I got a great deal on this food this time, but now I think I'll need to buy it whether or not it's on sale because how could I deprive my kitty of food she loves so much.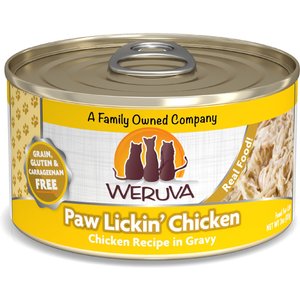 ---
Made in a human-grade food facility, this delicious shredded chicken recipe provides a healthy balance of vitamins, minerals and heart-healthy taurine. You can either feed this easy-open can as a complete meal or pop it on top of your cat's kibble as an extra treat.
Great new cat food find.

My female cat needed wet food and would not eat what I offered until this brand. Very pleased to see her eat this to get the nutrition she needs.

Good quality food

This is good size shreds of white chicken with a sauce. Appears to be good quality meat. My picky kitty seems to enjoy this food most of the time. She many times eats the entire can per meal. She is not a cat that likes leftovers but will eat this the next meal most of the time.

Cats love it

When our cats started trying to eat this similar food from our dogs bowls, I tried this cat variation for them. Not sure how it's different from the dog variety. They love it. It's their favorite canned food by far. I can't get it out fast enough for them. We have four cats and they all gobble it down. Shredded, not lumpy pate. Expensive, so I alternate with cheaper brand. They know when this can opens!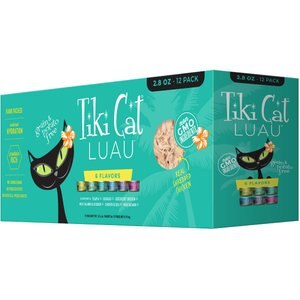 ---
Best High-Protein Cat Food
Looking to satisfy your obligate carnivore's meat-eating needs? This high-protein, low-carbohydrate pet food is packed with real animal protein to keep even the most active kitty lean and limber. Your cat will love licking up the real shredded and deboned meat and tasty broth.
Good food and service

Thank you Tiki, Chewy and USPS!!! Good food and 1 day shipping you can't ask for better it came within 24 hours

Picky cat seems to approve

I've been trying to find a quality wet food my picky boy would like and so far, he seems to enjoy these!

Clean Plate

My cat eats these up. I love that they are grain-free. I also like that most of the flavors do not include tuna, because my cat does not really care for tuna.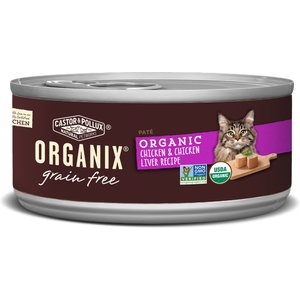 ---
Great for kitties with sensitivities or food allergies, this organic cat food is made with organic free-range chicken, wholesome veggies, organic cranberries and omega-6 and omega-3 fatty acids. And the moisture content helps support urinary tract health, too.
Great Cat Food

My cat Missy loves this formula, and I love that it is finally available in the 5.5 oz. tin. It is much more affordable ~ Yay!

Not Burger King

Those of you that wrote a negative review most likely have a cat that is used to eating food loaded with junk. This transition takes time, when moving your pet to a new product. I have had many cats and currently have 12 healthy cats. I know that my two cats I had previously, lived to be 18 and 17 and I believe it was due to a clean diet. I always add water to the pate to ensure they get plenty of water. I also encourage the dry with chicken and sweet potato. This is not my cats fav food, but if their hungry they will eat it. They thrive on this food and an occasional home cooked ground chicken and rice dish. Give it time. ORGANIC AND NON...

New flavor

Sunny normally eats the chicken recipe flavor but it was out of stock so we tried the chicken and liver recipe. He loved it!
Add one of these cat food brands to your cat's diet for a purr-fectly balanced diet, and you can feel good about dishing up some of the best cat food to keep your favorite feline happy, healthy and with a belly full of the best ingredients.
Have a canine companion, too? Shop our list of the best dog foods.