Most of the time, our pets' wants and needs are refreshingly low-tech. Even well into the 21st century, nothing can replace the power of an old-fashioned "good boy!" and a well-placed ear scratch. That said, new pet tech can definitely help make our lives as pet parents easier. Can't be home in time to feed your dog dinner at 5 p.m. on the dot (you know they won't settle for a second later!)? An automatic pet feeder can be programmed to dispense meals any time of the day. Need a break from scooping the cat's litter box? A self-cleaning litter box does the dirty work for you.
From interactive toys to smart pet devices, these are some of the best pet tech products on the market based on customer reviews, ratings, sales and expert input.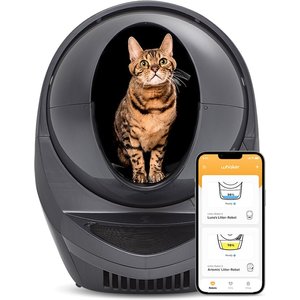 ---
Best Self-Cleaning Litter Box
FREE 1-3 day shipping on this item
This WiFi-enabled self-cleaning litter box from Litter Robot removes clumps moments after your pet wraps up "business." A carbon filter keeps things smelling fresh, and a handy app monitors usage and waste levels. Best of all, it's well-suited for households with multiple cats (the Litter-Robot can keep up with cleaning for up to four kitties), and is compatible with any clumping litter.
LitterRobot SuperFan

I switched over to the LitterRobot 5 years ago and haven't looked back since. I use Tidy Cat Free & Clean cat litter and 8 gallon medium-size garbage bag for the waste drawer...though during the pandemic the garbage bags were in short supply and I ended up buying the purpose made ones directly from Whisker. Since you don't have to dump all the litter out like when you change a regular cat box, the litter savings alone is worth the price. Read a couple reviews of folks complaining about it getting stuck during the cycle, but as long as you take the unit apart and thoroughly wash it every 6-9 months then you won't encounter this issue. My...

Litter Robot

So far it is wonderful. However I have three cats. Two are about 15 pds. and one that is around 5 pds. Everything works great for the two heavy cats but the little one is not heavy enough to make the recycle of the robot complete. I found that I turn it off and just manually start the recycle twice a day. The little one can get the process off kilter and the robot gets only partially cycled with the litter half way in the bonnet. I recommend this for someone who is elderly (like me) and does not want to scoop littler three times a day. Just make sure your cats are heavy enough for this to work properly on automatic.

it works and the cat likes it

So happy with this purchase. I hemmed, I hawed but finally got it. My cat took to it right away. He's a bit skittish but no problem here. The cleaning cycle scared him once but after I assured him he was fine. The litter robot scoops. It holds back smells. My one issue has been the app is meant to say how full the bin is but it doesn't always reset when I place a clean bag. I have found it works better when i let it get all the way to full then change the bag. Considering that it makes my life easier, makes my home smell better and the cat likes it this is not enough of a reason to remove a star for me. If you're considering it and...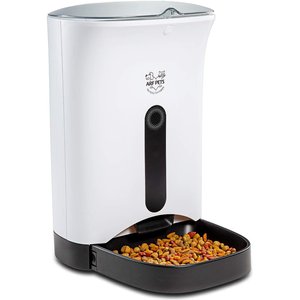 ---
Best Automatic Pet Feeder
FREE 1-3 day shipping on this item
Automatic pet feeders are great for feeding cats and dogs on schedule, as well as serving precise portions. This super-smart dispenser allows up to four customized daily meals, and features a magnetic lock lid to prevent curious paws from "sampling." For a personal touch, record a special message to announce mealtimes!
I have two

I have 2 of these! One for my cats and one for my dog! Got clogged once but probably because I over packed it. Love them! And love sleeping it!!!

Best Feeder

Easy set up and an easy clean. I love that you can record your own sound for feeding time. Only thing I wish they included was a guide for the feeding portions. Other than refilling food and the occasional cleaning, it is completely hands-free. I have no worries going away for a weekend or longer that my cat will be unfed. D batteries (3) not included; however, it does run off a plug if you choose.

Convenient and affordable

Bought this for my 7 year old cat, who I thought was going to have a hard time adjusting to this auto feeder (she's used to her dishes). She adjusted well to it! This was easy to install, program, and so far works well! I also appreciate Chewy's fast shipping!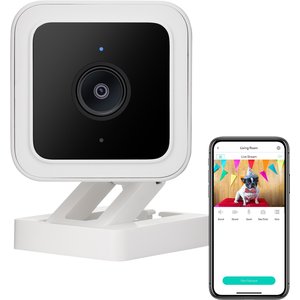 ---
Pet cameras can provide peace of mind (and cute updates!) when your four-legged friends are home alone. With a waterproof construction, this super-smart model from Wyze can be installed outdoors or inside, and features a special nighttime setting. The mobile app enables easy viewing, and two-way audio allows for check-ins.
Great spy cam for pet

We previously ordered the v2 in 2018 a few weeks ago had a bad storm here and the power surge fried it. So was able to order this one. Same set up as the previous one....so it was nice to set up. I keep it looking at Doggie crate so when I am not home I can check-in on Crystal so glad to have it keeps mommas anxiety down

Awesome stuff

10/10 no complaints good investment! Its reliable, convenient and gives me peace of mind! Would recommend to a friend definitely!

Should have got this years ago

I am totally obsessed with this!!! Decided to get one to keep an eye on our new puppy but I cannot believe that I never purchased one sooner for my older dog. I literally can't stop staring at the live stream and am loving watching them play while I'm not there. Totally worth the $$ and very easy set up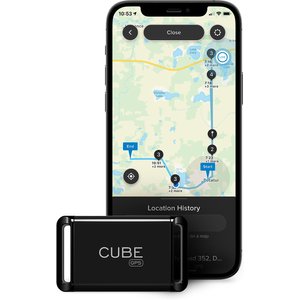 ---
If your cat or dog has a track record of wandering off, a pet GPS tracker can be a wise investment. Featuring a rechargeable long-life battery, this tracker fits on your pet's collar and connects to cellular networks, meaning it has nationwide coverage. Use the app to set up geofences, and receive notifications when your pet crosses boundaries.
Works good

Just purchased for my puppy and so far everything is working good and I can find her. I like that I can push ring on my phone and it will ring to tell me where she is

great GPS for my dog

Absolutely love this GPS. It already has helped me find my dog that darted out of our yard. Such a peace of mind knowing I've done everything to protect my pup.

Best GPS Dog Tracker I've used!!!

I don't think there is anything better than this GPS Tracker for dogs. The Cube makes great products at an affordable price, you can't go wrong with them. I would highly recommend anyone who doesn't have already buy one because you will not lose your dog at all. You know where Fido is at all times!!!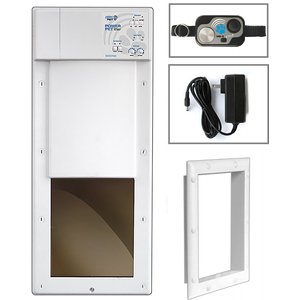 ---
FREE 1-3 day shipping on this item
Pet doors can be a great way to allow dogs and cats yard access, but traditional designs leave your home vulnerable to uninvited guests. To the dismay of curious backyard critters, this high-tech pet door only opens when it receives a signal from your pet's transmitter collar (included in the kit). Plus, it's airtight, weatherproof, and easy to install.
Hightech Automatic Dog Door

This is our second door. We actually wore out the first after 7 years. This works great to let our small dogs out in our fenced yard while leaving the cats inside!

Worked to keep out the raccoons!

I first bought the sure flap electronic cat door and the raccoons figured out how to get in immediately. I then bought this one and it worked like a charm. Very happy

Our Littles Love it!

Our Chi (16), Chiweenie (12), and our new Chi (6 mo old) really love going in and out. The Chi's use it the most, they amaze us how many times a day they have been using it. In fact they just went out again.Thank you!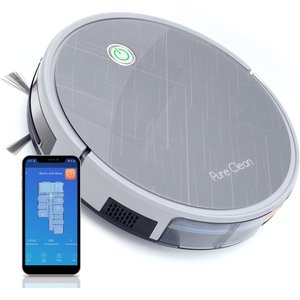 ---
Best Robot Vacuum for Pets
FREE 1-3 day shipping on this item
Have a super-shedder or a muddy buddy? With spinning side brushes that lift and trap debris, this is one of the best robot vacuums for pet hair. Controllable via app or remote and equipped with anti-collision sensors, it can be programmed to frequent your pet's favorite (aka messiest) spots around the home.
Very happy!

I'm happy with my purchase! I was easily able to set it up (though it took some figuring out on my part because there isn't a clear "getting started" section in the instructions). I was able to connect it to my Google Home and was able to set up the app successfully. The auto-docking for the charger is also working well. I'm looking forward to not having to vacuum up cat litter off my hardwood floors every day!

My New Best Friend!

I live with three cats who are adored, but they do come with a couple of annoying traits: shedding and tracking litter. I constantly walked around with a broom in my hand. However, now that I've found my new best friend, the Pure Clean Robot Vacuum, I can wake up in the morning to clean floors! It was easy to set up, even for someone like me, with two left hands. Runs quiet, does what it promised, and no problems so far, even for an 82 year old. I'll leave an update in a few months, but for right now, I'm thrilled! Thank you for my new best friend. (My cats thank you, also. They are fascinated by it, and it keeps them occupied any time it's...

Love our new vacuum!

I own a Kirby which I've had for years. Based on how much our cat sheds, I thought I'd give this product a try without high hopes that it would be as effective. So impressed with the results!! While our cat isn't thrilled with it, she's adjusting. This vacuum is a great way to take care of business without having to make a racket and saves on my back too!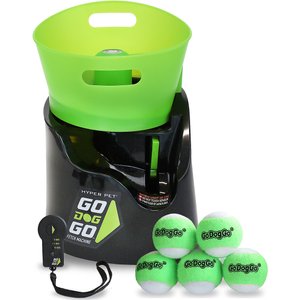 ---
FREE 1-3 day shipping on this item
Fetch fiends, this one is for you. Featuring three distance settings, this automatic ball launcher is the perfect high-tech dog toy for pups with boundless energy (and pet parents with sore arms). The wide-mouth bucket makes it easy for dogs to return balls, while a remote allows on-the-fly changes.
Wonderful

Only knock for me is the balls that come with are way to easy to be chewed by a really playful girl. With that being said though she loves it took a bit to get used to and she uses inside more then out at the moment due to weather.

My Dog Is Obsessed

My dog is absolutely obsessed with this ball machine. We had a much older version that recently stopped working. There is supposed to be a lifetime warranty for a few of the mechanisms so I emailed the company about that, but did not get a response. My dog has a surgery upcoming soon and I did not want to waste any more of the beautiful fall weather for him, so ordered a new one from Chewy. Now that I see the new one, I am guessing the parts for the old one would not have been available as it has been completely revamped for the better. You can adjust how far it throws on the bottom, and please make sure to do this as a test run before your...

Awesome would buy again and again

This thing is awesome my dog will play forever on this. Only complaint is that we had to buy street hockeys. The tennis balls get so slobbering and don't work at all. Street hockey balls is the key. My dog keeps himself busy while I am at work.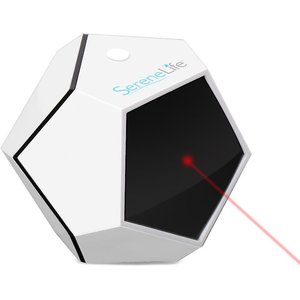 ---
FREE 1-3 day shipping on this item
Here, kitty kitty! Perch this interactive cat toy on a bookshelf or window ledge, push the button, and let your feline friend enjoy a pounce-worthy light show with preset modes designed to delight. In addition to a vigorous workout, "hunting" the beam will provide mental stimulation for your little lion.
Breaktime for You!

If your cats like lasers this is a wonderful way to get them some play time if you don't have a lot of energy or if you need to do something else. It's almost like putting a toddler in front of a TV if you need to do something you don't want them getting into and you can't shut a door. The different modes are great for the cats different moods. I do recommend making sure you move it to different locations around your house and take advantage of the shape of the toy by rotating it on its sides changing the shape of the laser pattern to keep your cats from getting bored!

Fantastic toy!

My cat Rascal LOVES this laser toy! It's so easy to use and to change the angles and position of the lasers is a simple turn or two of the toy. Watching the laser point on the ceiling actually helped Rascal relax after chasing the laser around the room. This was a great investment!

Excellent!!

This is the best pet toy EVER!!! Our cat LOVES it. I just know my dog would have also. This is hilarious especially when we add the hand held lasar light too. It keeps our Chunk busy! The only down side to it for us, is that we have to set it on it's side so the light hits the ground more.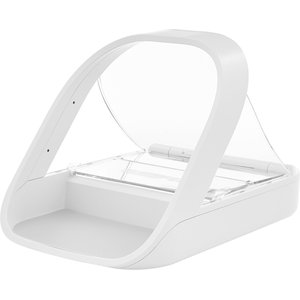 ---
Best Automatic Pet Feeder for Multi-Pet Households
FREE 1-3 day shipping on this item
Do your pets like to snack from each other's food bowls? This automatic pet feeder only opens for the designated diner, using information from the pet's microchip or included collar tag. It's perfect for cats and dogs on prescription food or other specialty diets, and works with both wet and dry food.
solved all my problems

I have three of these since I have pets on all different foods. It's really saved me from stressing that everyone is getting the right food and eating normally. With multiple cats it was hard to make sure they each had the right amount of food and now let's me see if anyone might not be feeling well and eating all their food. They surprisingly took to the closing doors well. Even my cat with seizures doesn't seem bothered one bit. I highly recommend!

The solution for greedy pets!

My cubby little Nubbin might seem like a sweet baby angel, but she was one greedy brat when it came to hogging all the food and not letting her svelte sister eat. I bought two of these and programmed one for each cat's microchip. I followed the training protocol in the user manual, and it did take 2-3 weeks to get both cats up to full closure on the feeders (because my skinny cat is a sissy). Nubbin is extremely food motivated, so she didn't care that the thing was moving around, she just wanted to eat. It's been a little over a month since we've been fully operational, and Nubbin has already lost 1 pound!!! She doesn't even finish the food...

Love this!

I'm grateful this worked out for me, considering the price. It took my cat about 2 weeks to no longer be afraid of it, but she's now using it. My other cat devours his portion of food immediately, but she is a grazer, so I was having to hide her dish and she would let me know when she was hungry. I'd either forget to hid her food when she was done and he'd eat it all, or she'd go all day without eating because I wasn't home. Luckily he hasn't figured out a way to get it open and he leaves her alone when she's eating. It was also super easy to set up. I LOVE THIS. I'm so glad I purchased it.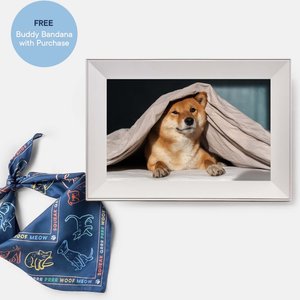 ---
Best Smart Home Device for Pets
FREE 1-3 day shipping on this item
It's impossible to choose which photos of our furry friends to display. That's why this digital picture frame stores over 100,000 photos (no judging here!) and includes an app to share with friends and family. Featuring crystal-clear resolution, auto-dimming sensors, and a keepsake box, it's a go-to gift for the pupparazzi.
Take my family to work - Best Gift Ever!

My wife gave this to me for my birthday and it's been the greatest gift. I had been working from home during Covid but recently returned to the office. Now I have this awesome frame on my desk scrolling through pictures of my family and our Australian Labradoodles! It took a couple minutes to set up and a breeze to add photos. Thanks Chewy! I just love how cool this is and I'm grateful to be reminded of what really matters while I'm away from home.

Perfect gift for anyone who loves fur babies!

I've been a fan of Aura frames for a while now. I own two and love seeing all my memories. I have kids so that means I have a TON (if printed probably a literal ton) of photos on my phone. With the free unlimited storage I am able to share all of them, not that all should be shared, and the app makes this super easy to do. When I saw BUDDY, I was so excited. My sister is a huge animal lover so this was the perfect gift for her, her fur babies are her kids. First, the gift box is adorable and feels premium, so you know it's a quality gift. But my favorite thing is when you show an image some love. The frame shows floating paws ... SO...

Best gift ever! Five stars!

I bought this gift for my niece- she is OBSESSED with animals. We uploaded every single photo she has on her phone of all the pets she's met over the past years within seconds. It's such a thoughtful gift for any animal lover. I will definitely be buying one for myself so we can share photos of all the animals we meet on each other's frames. Such a great way to stay connected.
Despite their fancy features, high-tech pet products have a very simple goal: to make life better for you and your pets. Trying one of these innovative designs can save you time and trouble—time that's better spent cuddling with your furkid.