W

ant to get some excitement brewing this Halloween? Treat your BFF (best feline friend) to some frightfully fun new Halloween cat toys. Is your kitty crazy for catnip? Opt for a witchy wand toy stuffed with catnip. Could your cat take on Freddy Krueger or Jason Voorhees in a wrestling match? A spooky season kicker toy that they can really sink their claws into would make a great choice. Below, we've scared up the best cat Halloween toys of 2022 for every witch way to play.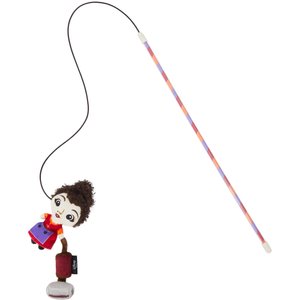 ---
Best Wand Halloween Cat Toy
Disney's classic film "Hocus Pocus" is getting a reboot, and we couldn't be more excited. Celebrate the return of the Sanderson sisters (has it really been 300 years?) with a cat teaser wand toy featuring Mary's vacuum. This hilarious interactive cat toy will put a spell on your kitty, stimulating their natural hunting instincts to help encourage play and exercise during the spooky season and beyond.
Love Hocus Pocus' Mary's Vaccum cat toy

My kitty loves Mary. He even picks it up and drags it out when he wants to play with it. It pretty sturdy.

Cutest teaser wand!

Teaser wands are a huge hit with my two cats. One likes feathers and the other doesn't care as long as it smells of catnip. May have to order another one as both Jack and Sally are hooked on Mary and her vacuum. As I type this my sassy ginger is laying on it claiming possession for the day.

Tonight we fly!

My senior cat loves this to toy! He has been bummed out and disinterested in any toy I show him. This toy is different! I don't know if it is the size, weight, or a special kind of catnip but he acts like a kitten when we play with this Mary wand!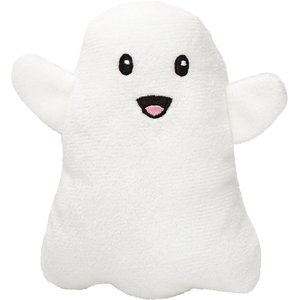 ---
Best Halloween Plush Cat Toy
On the haunt for the purr-fect plush cat toy? This best selling ghost plush cat toy is sure to provide thrills and chills. We love the embroidered details and the cute, friendly face on this smiling specter. Your cat will love the plush feel as well as the catnip and crinkle paper tucked inside.
Loves it!!

She loves this. The crackle of it makes it more interesting than the standard catnip toys and the catnip seems high quality enough to keep her engaged (although not quite as much as the Yeoww brand, which is unparalleled). Plus, it's so cute! She hates costumes so this was the compromise.

A great little ghost

This little ghost is one of the best toys. All 3 of our cats love it but our female ferret loves him the most. I try to get her a new one every year so she always has her little ghost to scurry around with or hide.

Perfect fall season toy

Got this for my older male cat because I knew he would love it. He loves to hold on to toys that are bigger such as a kicker toy. The ghost is so cute and super soft. The crinkle sound is a nice touch as well. Would recommend except it does get dirty quickly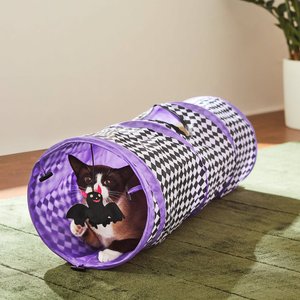 ---
Best Halloween Cat Tunnel Toy
Every cat has a natural need to play, pounce, hide and hunt. A cute cat tunnel toy is the answer to all of those needs. This one features a dangling bat toy and an on-trend harlequin pattern. The best part? It's foldable and can be easily tucked away when not in use. Stylish, space saving and satisfying for your cat—it's a triple threat.
Turbo tube AND sleeping tube!

My cat friggin adores this tunnel. When she gets the zoomies, she dives in to this and super fast crawls out the other side like she was shot out of a canon. The tunnel also has a crinkle sound all around it. I can take the wand toy and push it against the side and the cat will attack it from the inside. I have found her sleeping in there as well. I can also dangle a toy just barely through the hole either at the top or at the side and she will wiggle her butt and pounce on it like the ferocious predator she is. Super good tunnel. The cat didn't like the other tunnel I got.

Inexpensive fun

My cats love all tunnels, and this is a medium-sized fun tunnels that the cats and can hang out in and scare other cats by jumping out at them from the tunnel. They also love to race through tunnel when they are playing. The bat they ignore, but I think it's a cute addition.

Halloween cat tunnel

My kitten absolutely LOVES this tunnel! Definitely her favorite toy. I'd love to post a pic of her playing, but it's would just be a blur lol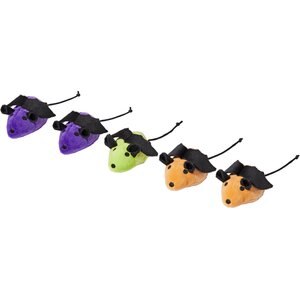 ---
Best Halloween Mouse Cat Toy
The tried-and-true mouse toy gets a seasonal makeover with the addition of bat wings and bright Halloween colors. Your pet cat will love to bat, throw and chase these catnip- and crinkle paper-filled toys around the house. Lose one? Don't worry. This mouse cat toy set comes with a whopping five mice!
Feline Fanatics

I brought these as a giveaway for a feline medicine conference and people loved them! It was right before Halloween so they turned out great. The wings seem like they come off really easy so if you have small children or dogs that can get ahold of them, they might get ripped off. Other than that, they are great quality and I was super happy with the purchase.

Great size

They are a little bigger then the usual mice packs. It is easier to find them and they do not roll under the couch and get lost. My cat loves to play with them

The Cutest Cat Toys

These little bat mice are the cutest little toys. I bought them for Halloween for my mother's cats and they loved them. Chewy never disappointes when it comes to cat toys.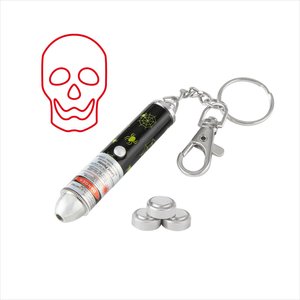 ---
Best Halloween Laser Cat Toy
Ready, set, pounce! This spellbinding laser cat toy projects an eerie skull that your little hunter will love chasing around (and around and around) the room. Best of all, it features three modes— pulse, strobe and steady—so you can mix things up with a quick click.
Best ever!

My sister and I love this. It has the largest image and brightest laser. Two of our 3 cats compete to play.

Best Cat Toy Ever

My cat loves this laser pointer. She will run all over chasing the skull. I have other ones, but she prefers the skull now.

Kitty loves it!

My 10 year old cat hasn't had a laser in awhile and seems to love this one! The skull is a little uninteresting to her but when I screw off the cover the regular pointer… she's a big fan! Nice size and works well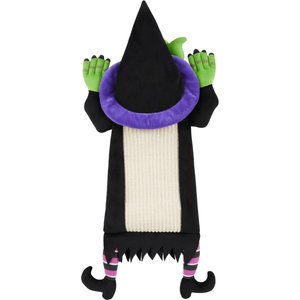 ---
Best Halloween Toy for Witchy Kitties
Name a more iconic pairing than witches and cats. This bewitching cat toy (complete with witch hat) features a built-in sisal scratcher and hangs on any doorknob to encourage scratching and stretching. For an extra tricky treat, it contains catnip to truly put a spell on your feline friend.
Mushy approved

Just got this in my package today and my cat loves it. ♥️ Best part is it even goes good with my new bedroom theme.lol.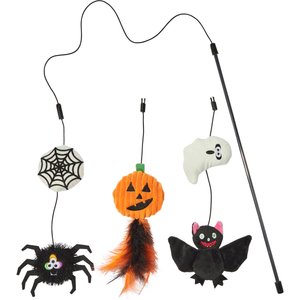 ---
Best Halloween Cat Toy With Catnip
Talk about a magic wand! Featuring three spooktacular attachments, this teaser wand cat toy is triple the fun. Designed to stimulate your cat's hunter instincts, each toy is infused with catnip to spice things up. If kitty loses interest, simply swap out the attachment and conjure up more play.
Halloween Cat Toys were a hit

My cat Zeus loves chasing toys on a wand. This halloween themed set was purrfect for the holiday and we are still enjoying the toy. I may have to buy winter themed attachments if those are available so we can keep playing with this.

Loved it right out of the box

He loves wand type toys and this remains his favorite one. I love Halloween so it was a win win!

A spooky success

Of my two cats, this is constantly being carried from food bowl to bed to couch by our more serious and picky cat, who has only had 2 favorite toys over her entire six year lifespan, a ratty old pink flamingo and a pink bumblebee originally attached to a wand.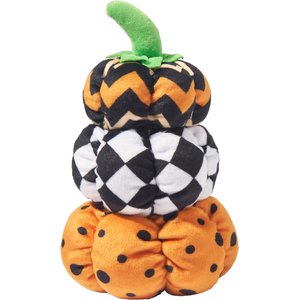 ---
Best Halloween Cat Kicker Toy
Is your feline feeling frisky? Then help get those bunny kicks out with this stylish pumpkin stack cat toy. A kicker cat toy is a great way for indoor cats to exercise their natural instincts and release some energy. Plus, the catnip inside will keep the play going all day long.
Cute and large

I hated to pay like 10 bucks for this, but its super cute and is large for kicking. Plus my cat is named after a jack o lantern so to me this would be a toy year round. The bottom makes a little crinkle and it's very soft.

Cat approved

My cats love this little pumpkin kicker! It's pretty to look at too, perfect for the fall and Halloween time!

Love this kicker the second I bought it!

It's so cute and as soon as I took it out of the plastic, my Felix was all over it! He was definitely showing it who was boss of the house! Lol great kicker toy!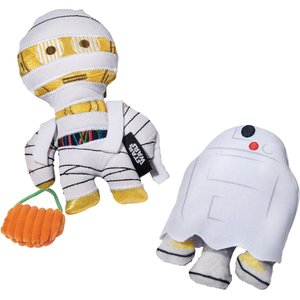 ---
Best Halloween Cat Toy for Star Wars Fans
The force is strong with these extra adorable catnip cat toys! Star Wars fan favorites R2-D2 and C-3PO are all ready to go trick-or-treating—if they can escape from your kitty, that is. These Halloween pet toys are perfect for stalking or snuggling, and come stuffed with premium catnip for an out-of-this-world cat play session.
Cats Love It

One of my cats loves toys that she can carry around - these are the perfect size for that. The other cat loves crinkly toys that she can chew on. These toys are a hit with them! Very durable too.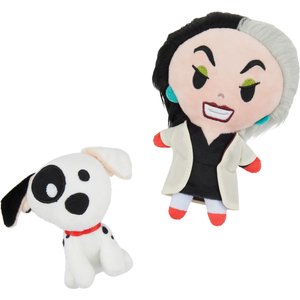 ---
Best Halloween Cat Toy for Disney Fans
Forget ghouls and goblins—for Disney fans, there's perhaps nothing scarier than Cruella de Vil. As the song goes, "if she doesn't scare you, no evil thing will!" Stuffed with catnip for added excitement, these "101 Dalmatians" plush toys are a fun way to share a little House of Mouse magic with your kitty cat.
Love them!

These are just about the cutest toys ever! My little jack-chi loves them! Imagine a little black and white pup carrying Cruella around in his mouth! Just priceless! If you are a fan of 101 Dalmations you need these in your life!

AHHHH!!! I LOVE THESE!

I am an absolute die hard Disney fan and any chance I get to have something Disney I am all over it. I think these are just so adorable and love the concept. My kitten goes crazy over them and loves to throw them around and up in the air. It is the funniest thing to watch too! I think the quality is great and they are just really adorable all the way around. Huge fan.

Super cute cats toys!

My cats absolutely loved these! The instant I gave them to them they started playing with them. They love their new toys and have so much fun with them. Most definitely recommend these
Some cats don't exactly enjoy Halloween costumes, so offering up a festive toy is a great way to get into the spirit of the season. (If you cat isa. fan of costumes, check out our list of the best cat costumes).
When picking a Halloween cat toy to buy your boo, be sure to keep their preferences in mind. Some cats like to cuddle with plush toys while others want nothing more than to kick the stuffing out of them. And some kitties are a bit of a (monster) mashup, enjoying a little bit of what every type of toy has to offer. But no matter which Halloween cat or kitten toys you choose, there's no better treat this season than getting playtime with you.
Need a cat Halloween costume? Check out our faves: