T
his Valentine's Day give that one who stole your heart a gift to show them just how much you care—and, yes, we're talking about your adoring dog. These Valentine's gifts for dogs are the perfect way to show your pooch that you'll be their valentine fur-ever. Even if you don't have a dog of your own, these gifts are also great for all the dog parents in your life. You'll make their day by showing them you love their fur baby, too. From tasty treats and adorable valentine dog toys to heart-melting accessories and customizable attire, we've got you covered with the best gifts for dog lovers this Valentine's Day.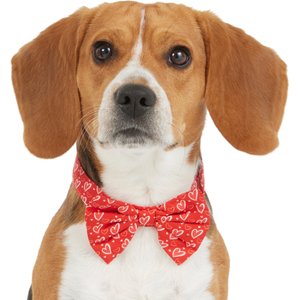 ---
Best Valentine Gift for Date Night
Break out your fancy attire and dress up your dapper date in this heart-covered bow tie. No matter where you spend this Valentine's Day, your dog will be the darling of the evening while sporting this adorable accessory.
Hugs & Kisses

He looks so HANDSOME and is so PROUD to showoff his new Look. I take both of my dogs with me for rides and sometimes they interact with children and adults of all ages and of all employments fields. This is just one of the new looks for my Pups. Their STYLIN. THANK YOU

Meow Review

Mom bought this bow tie for me thinking it would look purrfect with my beautiful tuxedo markings. It fit and she loved it but I just won't tolerate wearing something around my neck like a dog. No offense, just my feline preference. Some cats may like it. Mom said it's purrfect for Valentines Day.

Bow Ties are a favorite

Hound Dog sports bow ties often so we have a variety and these are great. Ultimately we want it to hold up to multiple uses and hand washing, I expect this one will and it will live in on in our collection.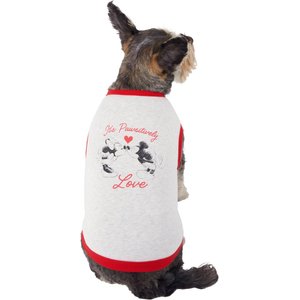 ---
Best Valentine Gift for Disney Fans
Disney lovers won't find any cuter dog gifts than this Mickey and Minnie Mouse T-shirt. Your dog will love the soft fit and comfy feel of this tee. You'll love snapping some Instagramable pics of your adorable pooch.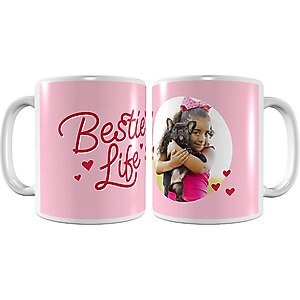 ---
Best Valentine Gift for Coffee Lovers
We can't think of a better way to start the morning than with this custom coffee mug. For the dog lover in your life, upload their favorite pooch's photo and gift them a cute reminder of their bestie when they sip their morning brew.
A beautiful keepsake

A beautiful keepsake I have in my China cabinet along with the other cup I bought that has two pictures of sister on it to me they're priceless I am so pleased with the cups they came out beautiful

Turned out adorable

Got this cup made for my friend who's dog is my dogs girlfriend. It turned out great and she loved it!

BESTIE LIFE Is the best!

Mug is really nice; the photo was placed perfectly on it. Shipping materials were top notch so it arrived safely. Can't wait to give it to my niece!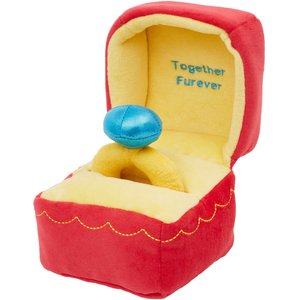 ---
Best Valentine Gift for "The One"
Show your one true love that you're meant to be together furever. This plush squeaky toy comes with a soft box and a plush ring that is big enough to please even the pickiest diamond-loving dogs.
Adorable Toy

Really cute and bigger than I thought. The ring comes out of the box and the diamond squeaks, as does the box. I purchased as a gift from my dog to his special girlfriend for valentine's day. It did not last very long, but that's okay. So cute.

Absolutely love it!

Wouldn't recommend for an intensive or moderate chewer. Only reason it's not destroyed is because she prefers rubber then fabric when demolishing. But it's so adorable! That's my biggest hype about it. Plus she does love squeaking it.

She said YES!!!

I bought this toy for a photo prop for Valentine photos. Much bigger than I anticipated. So cute!!! My 2 pups did a Valentine shoot. Elton and Emmi.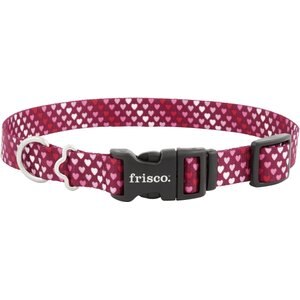 ---
Best Valentine Gift for Dog Walks
Celebrate your love for your pup this V-Day—and every day—with this cute candy heart collar. If your dog loves long strolls on the beach (or any walks, anywhere) this fashionable collar adds the perfect festive V-day flair. You can also get a matching leash to complete the look.
Super cute

Got this collar for my dog Lily to wear around Valentine's Day. She's a black lab so it stood out on her, she got lots of compliments!

Excellent quality

I've never purchased this brand of collar before, but my dog's was several years old and in need of an update so we selected this due to the cute design. It fits great and the quality is excellent. She's been wearing it for several weeks now. Although we don't use the collar to attached to her leash (she wears a harness) I appreciate the extra metal loop to attach her tags too so I don't worry about losing those if the leash metal loop were to come detached for any reason.

Cute Valentine Collar

Very cute & well made, reasonably priced. My Buff Cocker Spaniel got lots of compliments, looking very cute for the holiday.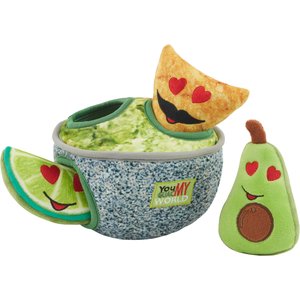 ---
Best Valentine Gift for Foodies
Holy guacamole, your dog is going to think this plush hide-and-squeak puzzle toy is the best fun they've had all year. Just don't get jealous that the chips and dip are making heart eyes at your dog who is, after all, the cutest valentine.
Love this toy!

My dog needs a lot of puzzles to keep him busy. We use this toy with its small sqeakies in addition to his favorite small balls and treats and he loves to sniff around and find the treasures in the holes. He carries it around if it's empty and brings it to us to fill up.

Loves the challenge

Our mini Bernedoodle puppy loves this toy. It is challenging for him to get the toys out so keeps him busy. Not to mention it is super cute. So far it is standing up to the puppy shark teeth.

Crazy Puppy

Well, I can forget about the hide an seek part as the only thing she will play with is the bowl part! I gave her the whole toy and she pulled the lime, chip, and avocado out and took off running with the bowl. The bowl is very well made but she is an 8 month 5 pound Chihuahua/Pomeranian mix, so how much damage cane she do! The bowl is physically bigger than her. That being said she loves it so I'm happy.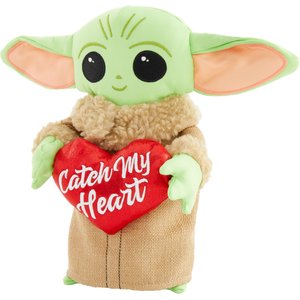 ---
Best Valentine Gift for Star Wars Fans
If the pet parent in your life loves Star Wars almost as much as they love their dog, this plush Grogu (aka Baby Yoda) toy would make the perfect Valentine's Day gift. The internal squeaker and crinkle paper are a surefire way to win their dog's heart, too.
I love Grogu

I love Grogu and decided I had to get this for my dogs. It is very large for 12 pound dogs but it's very cute and quite well made. They may never play with it but I enjoy it.

Brilliant Service

I live in the UK but have a friend in the states that I send gifts to her dog, excellent choice, reasonably priced and really quick dispatch and delivery, much better than approx 6 weeks from the UK

Valentine fun

Our Aussiedoodle Mac has such fun playing with his Valentine surprise! He loves to catch it, & tho he often won't return it he then will use this adorable plush toy as a pillow. Love!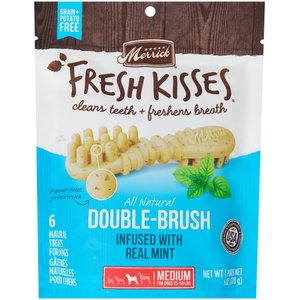 ---
Best Valentine Gift for Healthy Chompers
If you can't get enough pooch smooches, especially on Valentine's Day, freshen up your dog's breath with these tasty treats. The double-brush shape also helps clean their teeth so your dog will have a healthy mouth for many Valentine's Days to come.
My dog loved this!

Merrick Fresh Kisses Double-Brush Mint Breath Strip Infused Medium Dental Dog Treats are great! My dog definitely loved nibbling on this. It took some time and really helped. It keeps my dog occupied while also enjoying a great flavor he loved. I really felt like the quality was great and worked well at cleaning my dogs mouth and leaving his breathe fresh! i received this product free in exchange for review!

He loves them

My Duke is totally in love with these treats. These treats freshen up his breath so well. The only thing that I don't like is that they crumble. Other than that I totally I recommend.

Best Brush Ever

We've been using Fresh Kisses for a couple of years and had noticed an improvement in our older buddy's teeth just a few weeks after starting to use them. Since our move to another state, I couldn't find these until I went on Chewy. Thank goodness! Having his "toothbrush" is an important part of our nightly routine, and we haven't had to miss a teethcleaning thanks to Chewy!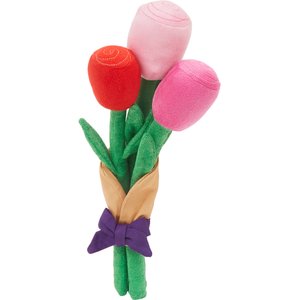 ---
Best Valentine Gift for Hopeless Romantics
Roses are red. Violets are blue. Your dog will love this V-Day bouquet, especially when it's from you! This dog-friendly plush toy has a squeaker and crinkle paper in the roses, making it the perfect floral addition to playtime.
Adorable Toy

The flower bouquet was so cute! Definitely one of my favorite dog toys I have purchased for my 1 year old Labrador. As with all toys, she had destroyed in in several hours though. It was cute while it lasted!

He LOVED it

I bought this for my pittie and he went nuts. He ran around like crazy shaking it because of it's different parts that were extra fun. Loved the crinkle and squeakers. May not last forever, but I knew that when I bought a plush toy.

My little valentine

Our puppy loves it the moment we gave it to him, it's such a good Valentine's Day gift!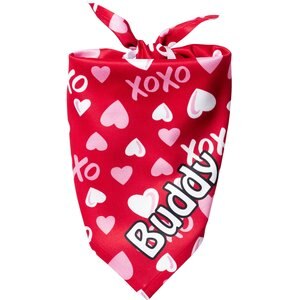 ---
Best Valentine Gift for Personalized Perfection
Customized and cute to boot, this Valentine-themed bandana has your dog's name on it—literally! And the hearts, hugs and kisses clearly show who is the valentine who stole your heart.
LOVE IT!!!!!!

The material is very tough, Emmy tugs on it and it's never tared. It feels water proof/ repellent. The medium was a perfect fit for our English bulldog mix.

So Awesome!

Absolutely love this beautifully made personalized dog scarf! It is of a finer quality than I expected and washes really well.

Adorable bandana for Valentine's Day

My dog looked adorable in his personalized bandana during the week of Valentine's Day. He got several compliments on it and asking where we got it.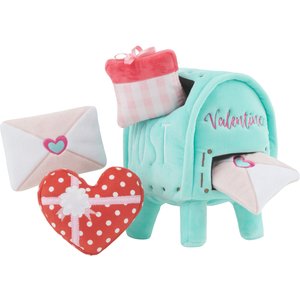 ---
Best Valentine Gift for Old-Fashioned Fun
With this fun puzzle toy, you can pop a letter in the mail to your dog to ask if they will be your valentine. The squeaker-filled love letters are sure to win your valentine's heart—and keep them entertained all afternoon.
Valentine fun

Lucy Belle loves her Valentine gift. She played with each toy in the mailbox and actually tried to put one back in. It was so cute

Greyson & Salem Special Delivery

My two boys just love this toy, in fact they love and enjoy all the toys like this from Frisco gingerbread house, haunted house and the coco cup. They take the mailbox, put it on their head and look through the other two holes.They run all over the house with it on. All of these toys are very well made and last a very long time.

Endless Fun!

My two Yorkies absolutely LOVE this toy! Not only is this plush toy absolutely the cutest, it is also durable and interactive- they love pulling out the little squeaky envelopes and presents. For added fun I sometimes add in a treat or a bone for them to dig out! We've had hours of fun with it. It's a winner!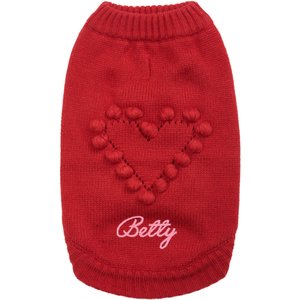 ---
Best Valentine Gift for Sweater Weather
Treat your dogs to their very own custom embroidered sweater. This soft crewneck is stylish and functional—perfect for a casual Valentine's Day stroll followed by a cozy night snuggled up by the fire.
Happy Valentine's Day,

She loves it. Even everyone that sees her in it loves it. She puts up a fight when I go to take it off.

Personalized sweater( Dog)

I have never been disappointed in the delivery from chewy! The sweater was made well and the monogram was perfect. My dogs looked so very cute on Valentines day. I will recommend chewy to all of my friends and family. I just hope they have a St. Patricks day sweater and goddie box.

Super cute sweater and really great customer service!

I ordered this sweater a while ago and it came with the wrong name embroidered on it, but the company was really great and sent me a new sweater with the right name on it which I really appreciate! This sweater is thick and really nice quality, I definitely reccomend it.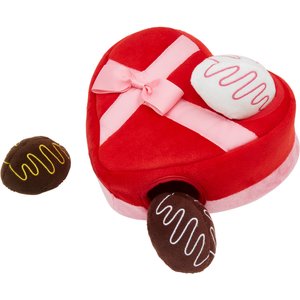 ---
Best Valentine Gift for Puzzle-Loving Pups
Since your dog can't partake in real chocolate (it's toxic to dogs!), surprise them the next best thing: their very own box of plush chocolates. Both plush chocolate pieces have a squeaker inside to encourage your dog to solve the puzzle and score something sweet.
Wonderful!!!

I have enjoyed every aspect of your wonderful company ! Shopping online ,seeing all your idems you offer, easy to order, fast delivery, Great Products!!! Will be a costumer forever !

Such a cute toy for the holiday

My dog loves puzzle toys and I love this theme! She gets very into it, working hard to pull the squeakers out. #ChewyTeamRated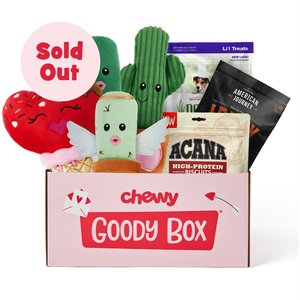 ---
Best Valentine Gift for Multi-Pup Households
This Valentine's Day-themed Chewy Goody Box comes with three kinds of tasty treats and four dog toys so everyone in your pack can get a special gift. Go ahead and spoil your canine crew with this box of doggy delights. We're sure they won't mind.
My dogs loved it!

Bought it as a Valentines gift for my two dogs last month. The toys are very cute and they both love the treats that came with it especially the Jerky!

Here it is

She didnt like any of the treats except the chicken jerky She loved the toys. Could have been a little change up they all looked the same. It took two weeks to receive. Her ears wet very sore. Your shipping company fedex is ignorant and could care less about your clients satisfaction. Promised three day shipping. It took close to two weeks to receive. I paid you 62$ I get dried up treats. Three toys the same. I was not satisfied

Great Value

Our pup is a golden doodle and she loves toys! The toys in this box were fantastic quality and so cute and creative! The treats were equally a hit! The heart shaped treats were perfect for the occasion!
The best Valentine's gifts for dogs are the ones you can enjoy together. So this Valentine's Day, get a gift to share with your furry best friend to show them just how much you care.