N

eed a way to keep your furry best bud contained and out of trouble? The best dog gates will keep them out of off-limits rooms while still giving them more freedom than a dog crate or kennel. And if you aren't sure where to start shopping, we've rounded up the top-selling and top-rated indoor dog gates as tried and tested by Chewy pet owners like you. These top picks will give your dog a special space to call their own.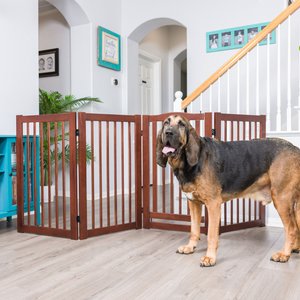 ---
Best Freestanding Pet Gate
FREE 1-3 day shipping on this item
Great for creating boundaries, this foldable, freestanding dog gate is easy to set up, move or put away when not needed. Plus, it has a door you can easily pass through, rubber pads to protect your floors and is made from furniture-grade wood so it will fit in with the rest of your home decor.
Sturdy Gate

This is a heavier study gate than previously purchased (other brand) gates we've had for our 100lb Lab. It's tall enough to keep him in our kitchen yet most of us can swing a leg over without using the gate. At 5'5" I can just make it over (I use the gate mostly). Our firs orders lost in shipping and without any hassle Chew reordered it and we received it in 4 days. Customer service is second to none!

Life Changer

This gate saved Thanksgiving. Our puppy loves to jump up on counters now we can easily keep him out of the kitchen when we need to have food out. It is very easy to use and looks great.

Perfect solution

I bought the 360 dark wood gate with the door to keep my dogs out of the livingroom. It matches my furniture so it doesn't look out-of-place. I love it! It was the perfect solution for me.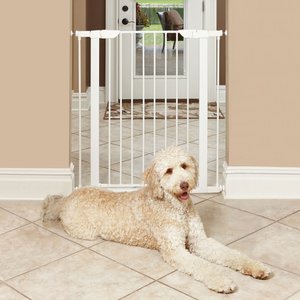 ---
Best Pressure Mounted Dog Gate
FREE 1-3 day shipping on this item
This steel construction gate is pressure-mounted, meaning it doesn't need to be screwed into the wall to keep rambunctious pups or escape artists contained. And the walk-through gate swings in both directions so you can easily get in and out of the room—while your dog stays put.
Great gate for the price.

Got a new furbaby that jumped the old gate we had. Thankfully he only got a hold of a bag of sweet potatoes,but after looking at a bunch of over priced gates from our local stores I decided to check out chewy to see if they had better options. I also measured incorrectly and realized I need a 3inch extension after the fact,but even with the extension add on it didn't cost as much as the other stores in our area. It does have the release and lift mechanism to it which could be a inconvenience to some people,but again with the cost factor I thought it was worth the price I paid.

Best Pet Gate Ever!!!

Over the years we have tried many pet gates. We have had two new puppies in the past year, so we had the chance to try a few new ones. This one is easily the best one I have ever had. Why do I say that? 1. It is 41" high - this is finally high enough to prevent our current puppy from jumping over it. 2. The opening is nice and wide. I find myself squeezing through the other gates, but this one is no problem. 3. It has no horizontal bars to give climbers a paw-hold. Our current pup is an amazing climber, so this is key. We have two other gates that she can just scramble right over (one has a cat door in it and the other some horizontal bars...

Husband approved

This gate is newly installed. It was easy to put up with the tensioners holding it securely in place. My husband says it's well made and sturdy. But since the fasteners are plastic, my opinion is reserved as of yet. However, it looks nice and solved our problem. Only a very small animal could get through the bars.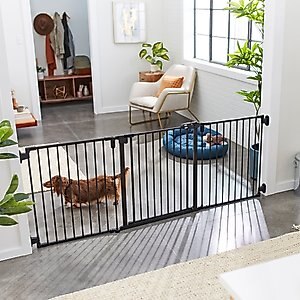 ---
Best Wall Mounted Dog Gate
FREE 1-3 day shipping on this item
Hardware-mounted dog gates offer a more permanent containment option, and this one comes with everything you need to secure it to your walls. Featuring an expandable three-panel design, it can span wide openings of up to 79.5 inches, and it even has a convenient, self-closing door.
Easy to Install

The gate is very easy to install and quite flexible. You can't remove any sections of the gate, but you can angle it as such that it can bend outwards/inwards to fit smaller gaps. Overall very impressed.

Convenient

Gate works and looks great in the space we needed it for. Our girl Boxer can nolonger get to the laundry baskets and pull clothes out of them to chew up; or run off with our boots when we are not home. We put up this gate and problem solved !

Best Three Panel Gate.

I love this gate! The locking hinges allows configuration(s) to random sized openings. We used it between cinderblocks covered in towels to keep it secure since one end was next to a leather couch and our use of this partition is temporary. The self-closing gate is wonderful and an added bonus! Now we can keep an eye on our newest addition and it keeps him out of trouble.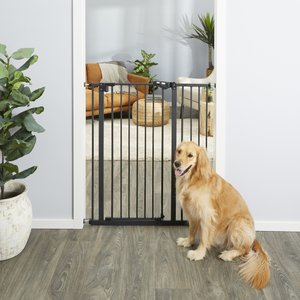 ---
FREE 1-3 day shipping on this item
Does your dog have hops? This extra tall dog gate has a 41-inch height to help contain big dogs or pups with good vertical. The steel gate has a double locking mechanism for extra security and a self-closing walk-through door to ensure your pup stays exactly where you left them.
Height difference

I bought 3 of these gates. They work well for our fate jumper. The only problem i have is they are not all 3 the same size even though they are all the 41 frisco gate. I tried to use an extension from one on the other and it was like 1/2-1 inch shorter......

AWESOME Product

We love this gate. Scout is an English Springer And it does its job great. Our son is 5 and loves to be in his playroom with out his little brother eating his toys. And we can leave the door open with this gate for not only for safety but also for heating the room.

Great product

I love the gate. We have a Labrador and this gate keeps her out of areas she doesn't need to be in. We had a smaller one and she would climb over it. She can't climb over this one.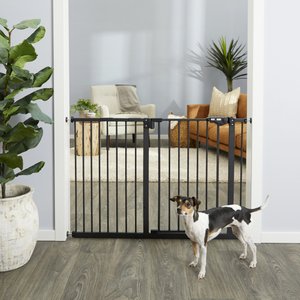 ---
If you have a wide door or hallway, this expandable dog gate comes with three different extension panels to fit openings ranging from 29–52 inches. Plus, it's made from sturdy steel and is pressure-mounted for easy install.
Sturdy, great quality

I purchased this to keep pup out of the kitchen and it works! It's super sturdy and great quality and it's wide enough to cover my large kitchen entrance!

Great dog safety gate!

Love this dog safety gate. Easy to install and adjust size, tall enough, sturdy, and shuts automatically in both directions. Highly recommend.

Great Gate Even for 60lb Pitbul Mix

This gate has been incredibly helpful. It's sturdy, flexible in size and solved our problem of keeping Camilo away from the front door that he's been chewing up. He's had separation anxiety post COVID and his outlet has been chewing our front door when we are gone for long periods of time. This gate has helped him fron doing this and he is no longer feeling that extreme anxiousness.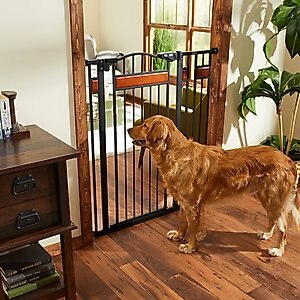 ---
FREE 1-3 day shipping on this item
This pressure-mounted gate has a self-closing door for dog owners. The door stays open when pushed past 90 degrees to make it easy for you to get in and out, and automatically swings shut the rest of the time to keep your dog in their room.
Great Gate

tis gate is not only beautiful, it is sturdy! It can stay in an open position or it will swing shut and lock. This is a very convenient feature! I would like to order another gate but need an additional extension...are the extensions sold separately?

Greatest gate ever!

Love this gate! It is tall enough that I don't have to bend down to open it; but, the best part is that it closes on its own. I love it and my cat is finally safe from our dogs!

High quality

I bought this a few months ago when my girlfriend moved in with her cat. I have 2 dogs unaccustomed to cats so we decided to subdivide the house cat side and dog side. One dog is a male young black lab that is enthusiastic in everything he does. He reacted well to the gate so it became a non issue. The gate is used several times a day as we are both retired, and it has remained solid and durable, functions like new. The extra height serves as a deterrent, the latch remains solid. The only feature I would change is it would be nice to have a small kitty passage so we could have subdivided the house a bit differently. The interaction between...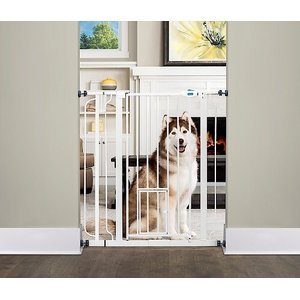 ---
Best Pet Gate with Pet Door
FREE 1-3 day shipping on this item
You can allow your cat or other small dogs the freedom to roam while still keeping your large dogs contained with this pet gate. The 8-inch small pet door in this dog gate swings open to let your little pets through, while keeping your big dog from tagging along.
Keeps the dog out of the cats' food!

Very nice gate. Our dog is very gentle, but she loves the cats' stinky food. Now they have a safe place to eat their food.

Great gate and easy to install

I liked the look of this gate but hesitated because I thought it would be difficult to install. It was very easy! So if I have to bring something in that is to wide, I can just take it down and put in back up in a minute. And best of all - It keeps the dog in the kitchen when I don't want him to have run of the house.

Tall Dog Gate

My gate arrived quickly and in perfect condition. It is well made and it is just what we needed to keep our "puppy" out of the kitchen.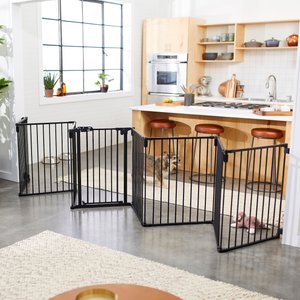 ---
Best Dog Gate for Open Floor Plans
FREE 1-3 day shipping on this item
If you're looking for the best pet gate for an open floor plan, this wall-mounted one spans wide openings up to 190 inches, or it can be set up as a self-contained play area. The eight panels have easy-press buttons so you can easily move panels to customize your dog's space just how they like it.
Great for puppy

Sturdy, versatile, and puppy proof (vertical bars critical!). Got it for our Brittany puppy and used it as a free standing circular playpen. It was a lifesaver when doing enforced naps instead of using a crate. Also was a super easy place to pop him in if we needed to answer the door or do some chores where a nosy puppy would have been disastrous. He was able to still see everything that was going on and started to understand it was his area to settle down. He is big enough now to jump out, but we still have it around to occasionally keep him confined to one area in our great room. Easy enough to reshape, move around, and collapse down once...

SUPERB, except skinny gate

This is the best fence and configurable playpen I have ever seen or used. The only drawback is the narrow gate that is difficult for large or handicapped people to navigate. It was a breeze to set up, but will challenge some people. Transitioning from a wall attached fence to a playpen is available, but requires switching parts and at least 15 minutes. So consider it a permanent fixture with the ability to travel occasionally. We set up as freestanding in an L shape with zip tied modifications (see photos).The vertical bars are wonderful and just narrow enough to contain a 5.5 pound Cavapoo puppy. No crossbeams means no climbing and almost...

Great gate

Excellent modular gate. Easy to remove sections, good construction, easy to mount to studs in walls with only two small screw holes per bracket. Bought two of them that I liked it so much!
---
FREE 1-3 day shipping on this item
Keep your dog on one level with this dog safety gate. This sturdy wood staircase gate for dogs is specially designed to ​​fit at the top or bottom of your stairs so you can safely prevent your furry friend from roaming your house from top to bottom.
Headline is just right.

I bought two gates, one for the bottom of the stairs and the other for the top. The gates keep the puppies down stairs and the old cat safely upstairs. It's a little more peaceful now.

Big Dog Corral

This Gate was a great addition to the top of our stairs. We recently brought home a giant breed newfypoo puppy. After she overcame her fear of the stairs she loved to go up them and chase the cat or inspect the litter boxes or chew some socks. We place this on the top landing of our stairs. It was easy to install and it prevents Maggie from unaccompanied trips upstairs and gives the cat respite from her inquisions and attempts to play. when he's tired of them. The gate is so much easier to operate than a traditional non hinged baby gate and easy to lock and unlock. It also looks nicer.

Functional, Sturdy and beautiful

We love this gate because it's wood and looks nice, it's easy to open and close, And it's safe. Our baby pushes on the gate so we needed something strong that screwed into the walls. We love it!
Turn any room in the house into a safe space for your pal to lounge with one of the best dog gates.
Like this story? Check out more of our favorite reads: