Can You Give Your Dog Ice Cream?
Yes and no.
Yes, technically dogs can eat ice cream, but according to Dr. Williams, traditional ice cream (the human kind) is not good for dogs. That's because as puppies, dogs have an enzyme to digest their mom's milk while nursing. Once they're weaned, there's less of that enzyme, making it more difficult for dogs to digest dairy. And a pup with an an upset tummy is something no one wants.
In addition to the risk of digestive issues, traditional dairy-based ice cream is also high in fat and sugar which can contribute to weight gain and obesity in dogs. Overweight dogs can develop an increased risk for a range of illnesses including diabetes, heart disease and hypertension so calories count! Switching to sugar-free is also not a solution as some sugarless ice creams may contain a sweetener called xylitol that is very toxic to pups.
While it is tempting to serve up a cone of ice cream to you pup on a hot summer's day, instead, try a dog-friendly ice cream. Made especially for canines, this is a dog-friendly alternative to human ice cream that has the same cold, creamy appeal.  They'll love having such a yummy (and perfectly safe) treat!
Dog ice cream generally comes in a one-size-fits-all cup that might not be the right serving size for every dog, says Dr. Williams.
For smaller dogs, she suggests letting the ice cream soften a bit, so you can cut it in half or into quarters to better suit the size of your dog. A larger dog can have the entire cup, but remember that dog ice cream is a treat and should be given once or twice a week — not daily.
After feeding your dog ice cream, you may find that he's lactose intolerant — a very common trait, according to Dr. Williams. Look out for stomach aches, loose stool, diarrhea, vomiting, and gas, which are common signs of lactose intolerance. Dogs can also have food allergies to proteins in milk. This can result in vomiting, diarrhea, and/or rashes that makes their skin itchy and red. If you observe any of these, stop feeding dog ice cream immediately and contact your vet for advice.
As with any new food added to your pet's diet, start out serving ice cream in small portions and slowly to see how well your dog tolerates it.
Frequently Asked Questions
Q:
Can dogs eat ice cream cones?
A:
Not the best choice. Even without ice cream in them, ice cream cones alone are highly processed and full of sugar. It may seem like a plain, cookie-like treat for your dog, but the sugar content makes it unhealthy.
---
Q:
Can dogs eat ice cream sandwiches?
A:
No, dogs should not eat ice cream sandwiches made for humans. However, if you take two dog-friendly cookies and put a scoop of dog-friendly ice cream in between them and make your own sandwich, then sure, why not? Just remember that ice cream plus two cookies could be a lot of special treats for one day. Do this in moderation to avoid obesity and excessive weight gain.
---
Q:
Can dogs eat vanilla ice cream?
A:
Yes, dog-safe vanilla-flavored ice cream is safe for dogs to eat; human varieties should be avoided.
---
Q:
Can dogs eat chocolate ice cream?
A:
Yes, but Dr. Williams wants to remind pet parents that store-bought sorbets are often high in sugar. Instead, try making your dog a homemade sorbet or pupsicle, which are better and healthier options. And it's easy to make homemade sorbet! Dr. Williams suggested putting two ripe bananas in a blender or food processor and, once they've reached a creamy consistency, put them in the freezer until the mixture is a little hardened.
---
Q:
Can dogs eat milkshakes?
A:
No. Dr. Williams does not recommend letting your dog chow down on a milkshake. That's because they contain not only ice cream, but also milk, so they are extremely high in dairy — even more so than a cup, cone, or scoop of ice cream.
Best-Selling Dog Ice Cream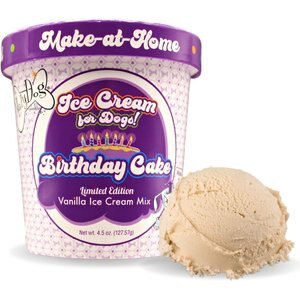 The Lazy Dog Cookie Co. Make-at-Home Ice Cream Mix Birthday Cake Dog Treats, 4.5-oz bag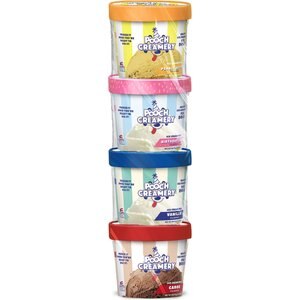 Pooch Creamery Ice Cream Mix Peanut Butter, Birthday Cake, Vanilla & Carob Variety Pack Dog Treat, 2.32-oz, 4 count
Before incorporating any new foods into your dog's diet, always consult with your veterinarian to make sure it's a safe addition to your pet's diet given their health, diet needs, and current medications. Your vet will tell you what kind of ice cream is safe and the appropriate serving size. If you suspect your pet is sick, please call your vet immediately. For health-related questions, always consult your regular veterinarian when possible as they can make the best recommendations for your pet. (If you need help finding a vet near you use this link.)
Expert input provided by Dr. Amanda Williams, Chief Veterinarian and Medical Director, Furry Friends Adoption, Clinic & Ranch in Jupiter, Florida
Homemade Frozen Dog Treats