Witchcraft is here to stay—and we wouldn't have it any other way.
Although the supernatural practice traces its origins to the very roots of human history, it's cast a strong spell over Millennials and Gen Zers. So, what do we want to do with these powers? Add a little magic to our pet's life, of course. And it's never been easier thanks to pet supplies that invoke the fun, fantasy and fashion of the occult.
Think it's all a bunch of hocus pocus? Here's what the experts say about the witch revival—and how your pet can get in on this continued enchanting trend during Halloween and beyond.
Why Witches?
For proof that witches are riding again (and show no signs of slowing down), look no further than social media. On TikTok—or as the community's coven calls it, #witchtok—influencer witches live-stream spell casting, tarot readings, crystal demonstrations and more. Here, the hashtag amasses a staggering more than 29 billion views (yes, you read that right!). While over on Instagram, the hashtag "#witchesofinstagram" has nearly 9 million posts (up about 2 million since last year), and the #witch hashtag has racked up nearly 18 million posts (up from last year's more than 15 million posts).
While ancient rituals and 21st-century technology may seem at odds, witchcraft and social media have a certain synergy. By making the practice accessible and open-ended, platforms such as TikTok and Instagram are in line with the occult's counter-culture approach to religion and spirituality.
"The movement is changing by the minute before our eyes and we can be a part of it. This is why it's rising in younger generations," says Jason Myers, a practicing witch and founder of pagan metal band Icarus Witch. "The inclusivity, transparency and accessibility are making this an attractive alternative to young seekers who wish to expand their consciousness and enjoy a more fulfilling sense of spirituality."
As a nature-centered practice, witchcraft also offers a timely, much-needed connection to the natural world in a digital age.
"The long history of the craft can bring a deep sense of belonging on this earth, in which disconnection and discord is growing every day," says Marieke Lexmond, a practicing pagan and author of "The Madigan Chronicles," a six-book series about three generations of witches.
And then there's the aesthetic appeal of coven culture. Ever since Morticia Addams slinked across the screen in her signature form-fitting sheath, pop culture has been fascinated by fashion-forward witches. The spell is still going strong with reboots of such '90s classics as "The Craft," "Charmed" and "Sabrina the Teenage Witch."
"From a style standpoint, the witch vibe is especially alluring," says Victoria Thomas, a fashion reporter and former author of Cosmopolitan's "The Bedside Astrologer."
"Its expression varies," Thomas says. "Some are drawn to the dryad, wood-spirit sprite aspect, with flowy, fluffy, earth-tone garments. By contrast, a Gothic interpretation is also popular, and has long been my favorite."
Clearly, the cauldron is calling.
Our Favorite Witch-Inspired Pet Products
While your pet may not know why you've started rocking a corset or clutching crystals, that doesn't mean they can't get in on the witchy fun on Halloween day—or every day.
Dress your pup pack up in dog witch costumes and create a canine coven no one can resist. Or help your cat release their inner demons with their very own grimoire (that they can scratch and kick 'til their heart's content).
Whether you're a tarot card-carrying modern witch or you dabble in divination, these cat and dog witch costumes and toys are sure to charm.
Disney Hocus Pocus Amuck Round Plush Squeaky Dog Toy
Get your dog ready to run amuck with this Disney Halloween Hocus Pocus squeak toy, available only at Chewy. Featuring the Sanderson Sisters, this round plush toy will squeak until the sun comes up, without turning to dust . With a squeaker and crinkle paper inside, this toy is sure to draw their attention. 
$8.78
Disney Hocus Pocus' Mary's Vacuum Teaser Cat Toy with Catnip
Just swish this teaser cat toy and you'll cast a spell of interactive fun fit for the most playful kitties. Watch them stalk, chase and pounce on the vacuum and Mary the witch—with soft stuffing and catnip packed inside for extra kitty excitement— while you exercise your little hunter's instincts for prey and play.
$9.88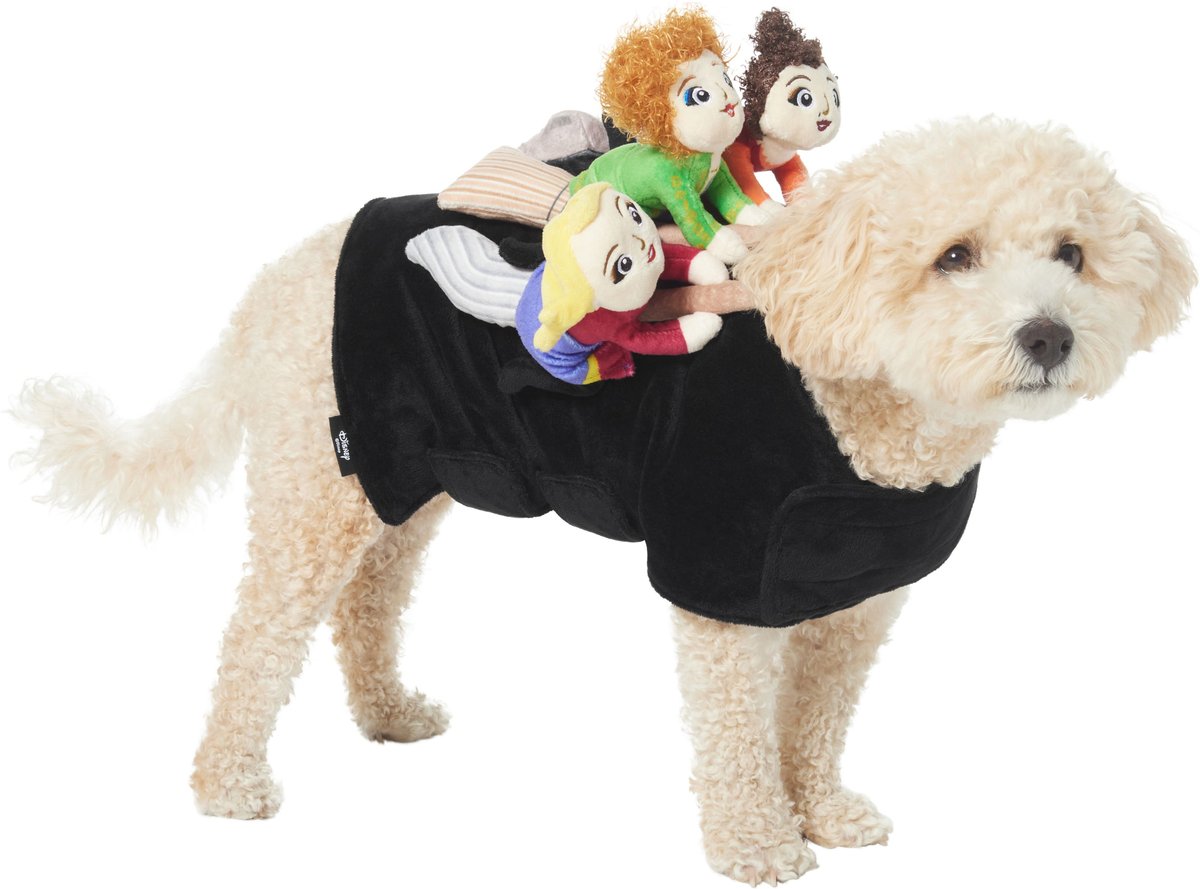 Disney by Chewy Hocus Pocus Ride-On Sanderson Sisters Costume
Hold on tight, sistaaaaas. This pup will take you on a ride you'll never forget with this hook-and-loop style, easy-to-slip-on costume that'll definitely be a hit at your Halloween party this year. Bonus points: This costume is also great for cats!
$19.99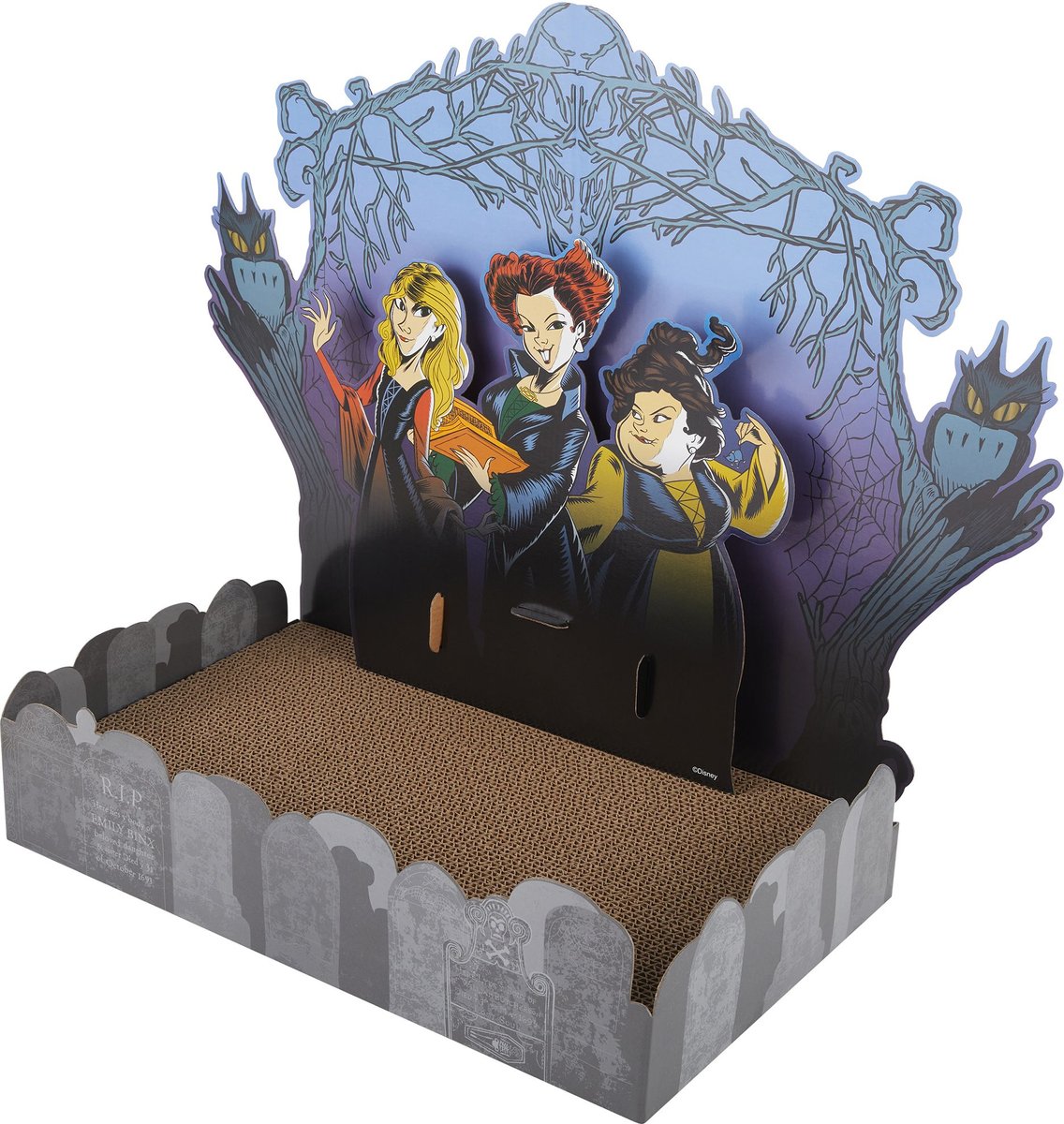 Disney by Chewy Hocus Pocus Graveyard Cat Scratcher
The Sanderson Sisters will put a spell on your kitty with this cat-approved scratcher toy featuring everyone's favorite trio of witches. Made with corrugated cardboard, the scratcher will keep your cat healthy, happy, and claw-healthy.
$19.98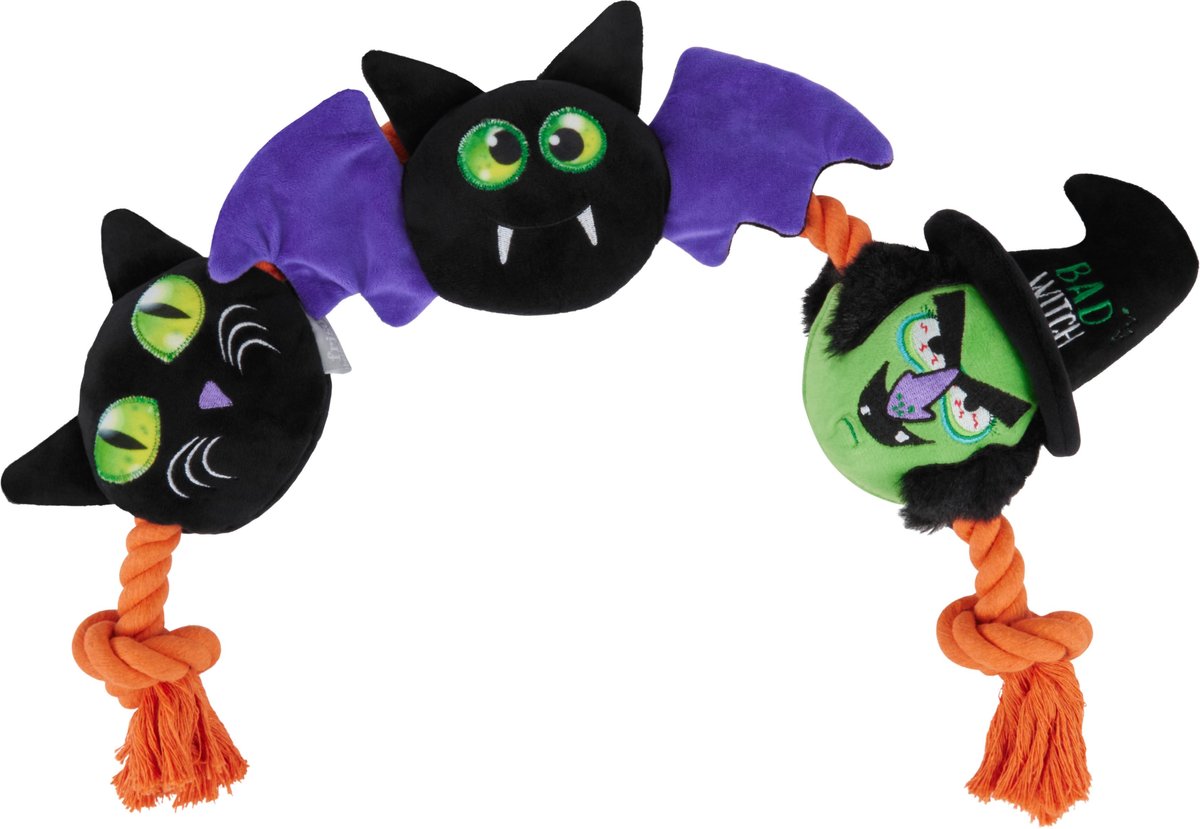 Frisco Cat, Bat, and Witch Plush Rope Dog Toy
On a witch-hunt for your dog's favorite squeaky rope toy this Halloween? Look no further. Frisco's cat, bat, and witch plush dog toy not only features three squeakers and rope, but it also comes stuffed with crinkle paper that'll undoubtedly lead to hours of tug-of-war fun.
$10.98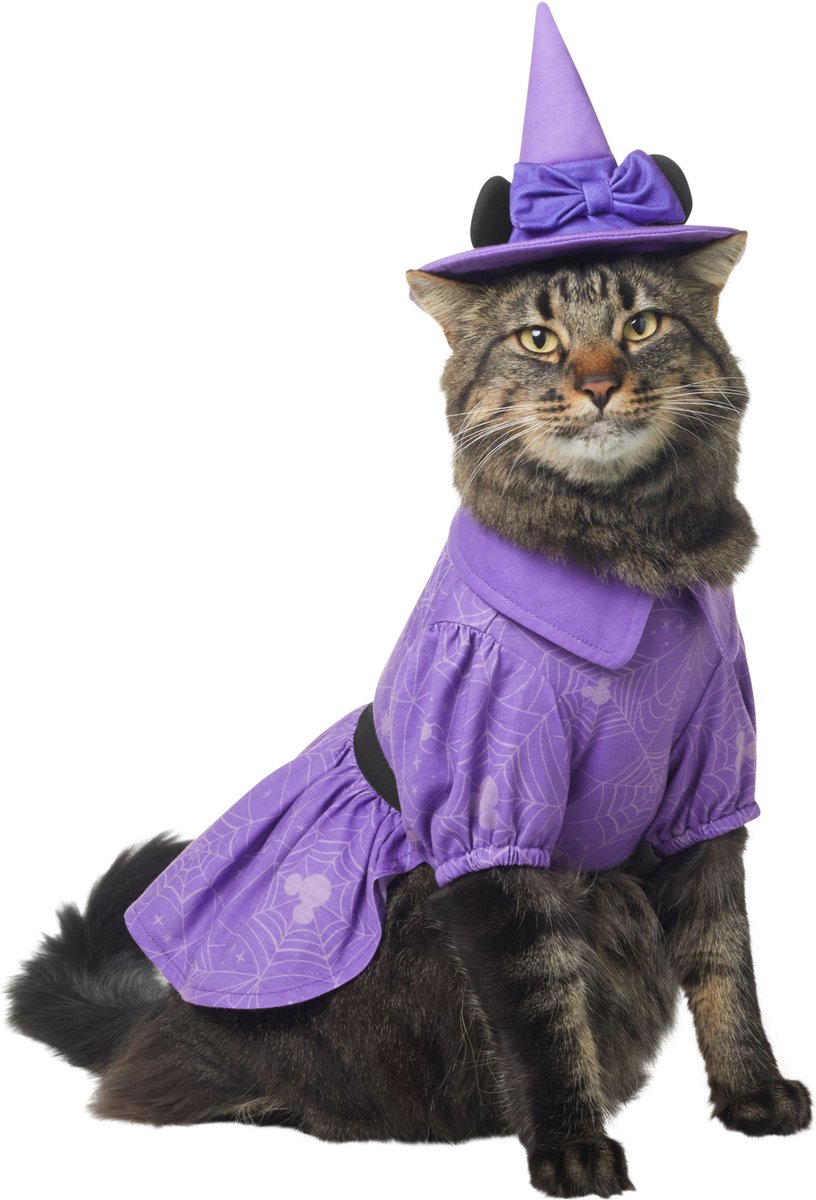 Disney Minnie Mouse Witch Dog and Cat Costume
Not all witches are scary—especially not when they're wearing this sweet two-piece witch costume. Complete with a hat (with Minnie ears!), this adorable costume from Disney comes in multiple sizes (from x-small to xxx-large), so it's bound to fit any size dog or cat. And why wouldn't they want to wear this adorable costume? (OK, we can think of #reasons, but we all know the costumes are really for us, the pet parents.)
Starting at $19.99
Disney by Chewy Hocus Pocus Reversible Bandana
Pup or cat not a fan of costumes? That's where bandanas come in—and this new "Hocus Pocus" bandana sports not one but two of the iconic Halloween film's phrases: "Trouble is Brewing" and "Stop! I Smell the Children!" 
$9.99
From TikTok to Hollywood, modern day witches are working their magic online and IRL. Who better to delve into the witchcraft waters with than our pets? (They are our familiars, after all.)
From statement-making dog witch costumes to captivating cat toys, there are plenty of ways to involve your four-legged friend in the spooky trend.
Whatever you and your pet are brewing up this year, we hope you have a spellbinding Halloween!