You love your sweet pooch more than life itself. But the fur they leave around your house? Not so much. If you've ever found yourself wondering, "How is it possible for this creature to release this much hair?!" know that you're definitely not alone in this battle.
Depending on your dog's breed, you might experience year-round shedding and/or heightened periods of shedding when the seasons shift. But here's the good news: With high-quality deshedding tools and regular brushing and grooming, you can nip those furball tumbleweeds in the bud.
How to Deal with Dog Shedding: Step-by-Step
Tired of dealing with your dog's fur taking over every surface of the house? Here's how to manage their shedding so you and your family can live in peace.
Here's what you'll need to help tackle dog shedding.
Bath time doesn't just make for cute pics. It helps dislodge excess loose hair, dead skin cells, dander, and dirt—so less of all that stuff will end up on your clothes and sofa. At the same time, it nourishes your dog's skin and helps their coat look shiny and soft.
Most dogs need a bath about once every month or two throughout the year to keep shedding at bay, and about once every two to four weeks in the height of the spring and fall shedding seasons. But different dog breeds have different bathing requirements—some will need more frequent baths, while others only need baths a couple times a year. Look up your dog's breed here to find out what's typically recommended for them, and if you have any questions about your unique pup, ask your veterinarian or groomer.
Need a primer on giving your dog a bath? We've got you covered.
3

Brush Your Dog Regularly
Our pups might be wild at heart, but they need our help to stay in tip-top shape. Regular grooming, especially during high-shed seasons, is a key part of their health and wellness.
Depending on your dog's breed and the time of year, they may need to be brushed multiple times a day, once a day, several times a week, weekly or monthly. You'll know they need brushing if the house is filling with loose fur, they release a lot of dead hair when you pet them, or if they're more focused on grooming themselves. You can also
check the grooming recommendations for their breed here
, or ask your vet or groomer what's right for them.
Undercoat
Noun / UN-der-COTE
The part of a dog's coat coat that grows closest to their skin coat. In some breeds the undercoat is thicker or has a different texture than their outer coat
Along with shampooing and brushing your dog as needed, consider using wet wipes made specifically for your pet. Wet wipes might seem simple, but they can make a big difference in shedding and allergies, as well as minimizing odor, dust and dirt.
Pro Tip:
If your dog's shedding becomes too much for you to handle, take them to a professional groomer. They'll be able to remove all traces of loose hair and more easily tend to your dog's hard-to-reach undercoat.
---
Set the broom aside and break out a vacuum equipped for tackling pet hair, like Hoover Evolve Upright Vacuum Cleaner.
"Vacuums have special furniture attachments that actually pick up the pet hair and keep it in one spot—in the vacuum," notes Vera G. Peterson, president of Molly Maid, a franchise of professional home cleaning services. "When you sweep, you are just spreading around dog fur further into your house, since it will move around and fly through the air." A vacuum will also help pick up dander, dust mites, dead skin cells and other gross stuff that accumulates.
Pro Tip:
You might need to run a vacuum over floors every one to two days in areas highly trafficked by pets, especially during high-shed seasons like spring and fall.
---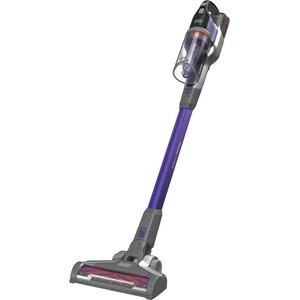 Black+Decker Powerseries Extreme Pet Cordless Stick Vacuum Cleaner
$164.53
FREE 1-3 day shipping
Why Is My Dog Shedding So Much?
Some dog breeds shed more than others due to their type of coat, and many breeds go through periods of time where they shed more than usual (e.g. spring and fall seasonal shifts and when outgrowing puppy coats.) This is considered normal shedding and, while frustrating, you shouldn't be concerned.
That said, it's possible for dogs to experience excessive shedding, which could indicate an underlying health issue that requires veterinary attention, says Dr. Carl Prior, DVM, owner of Park City Animal Clinic in Utah. If you notice any of the following signs, reach out to your vet:
Bald spots
Skin problems such as redness, flaking, swelling or irritation
Pain or discomfort
Excessive scratching or biting
Fleas, ticks, mites or other bugs on your dog's skin
Higher than usual hair loss compared to your pet's norm
Lots of hair matting and tangles
Reduction in self-grooming
Dog Breeds That Shed the Most
A dog's breed is one of the biggest predictors of how much they'll shed. And don't let a short-haired dog fool you, pet parents! In some cases, breeds with shorter pet hair actually shed more than their long-haired brethren. Here are the top dog shedders out there:
Discover more breeds known for high dog shedding.
Dog Breeds That Shed the Least
Curious about which breeds qualify as low shedding dogs? Some of the pups on this list might surprise you with the low amount of hair they shed.
Discover more low shedding dog breeds.
Dealing with dog shedding is a signature part of being a pet owner. Regular brushing and routinely using high-quality shedding tools can help keep everything under control. So, what's the best way to brush that dog of yours?
We've got everything you need to know
.