Just like cats and dogs, pet rabbits need a variety of quality, engaging toys to keep them physically active and mentally stimulated. Not sure where to start? Not to worry! From satisfying chew toys to exciting puzzles to snuggly hideouts, we rounded up the best rabbit toys based on sales, customer ratings and expert input. Now let's hop to it!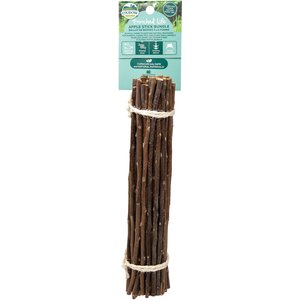 ---
Rabbits don't just like to chew, they need to chew. Gnawing is a natural instinct that keeps their teeth from overgrowing, so it's important to provide pet-safe, appropriately sized chew toys. Made from 100-percent natural materials and designed with bitty bites in mind, this tasty bundle toy provides hours of bun fun.
Bunny approved

My bunny Peppermint loves these apple sticks. I break them in half and she eats the bark off them. A good chew toy.

rabbit approves

my rabbit loves these!! definitely recommend if your bunny likes willow sticks they will love these apples sticks, 10/10

Absolutely love it

My chinchillas are obsessed with the Apple wood sticks. They love them so much I will always have to make sure I have these in stock for them.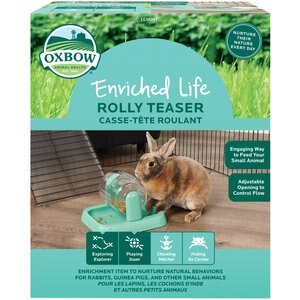 ---
Best Treat Dispenser Rabbit Toy
Treat dispensing toys are a smart way to turn snack time into playtime. This engaging toy releases treats when rolled, encouraging bunnies to get off their tails and "work" for their food. In addition to providing valuable enrichment, it's great for gobblers who scarf down meals too quickly.
Perfect for Rabbits

Purchased two (one for each of my boys) and they both LOVE the barrel feeder! Took one of them four days to figure it out and the other about 15 seconds (one figured out how to unscrew the cap.

Rats love it!

Our girls thoroughly enjoy this treat roller. We were surprised (but also not) that our oldest girl got the hang of it right away. She rolls out a bunch of treats at a time, and the younger two girls steal the booty! The adjustable cover for the hole does feel kind of flimsy but it hasn't broken yet (4 uses). The rest is solid. A lot of people in reviews are having issues with their rabbits opening the filler hole, but I think that would be resolved by turning the lid the long way to lock it (it can lock with a short turn or a longer turn in the other direction).

Super fun!

My rabbit LOVES this! It gives him a new, stimulating way to get his pellets. Making him work for it means he burns some energy as well. Excellent little feeder toy!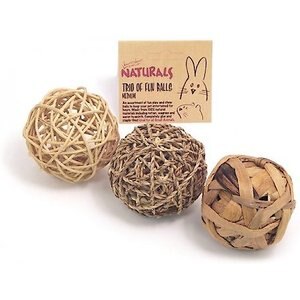 ---
Behold, the toys bunny dreams are made of! Each ball in this tempting trio is made of a different all-natural fiber (rattan, seagrass and water hyacinth), so there's always something new to chew. They're the perfect size for playtime, and can even be stuffed with treats for a special surprise.
More than I expected

Way many more than I thought in the package, I would have expected and paid for only 3 balls but 9 in total came!

Destruction is love

My chinchilla loves to tear these apart. They don't last long but they are a safe and enjoyable enrichment.

Awesome Chew Toys!

Our chinchilla who enjoys chewing on wooden things LOVES these! The smallest one was gone in two days! Will definitely buy again!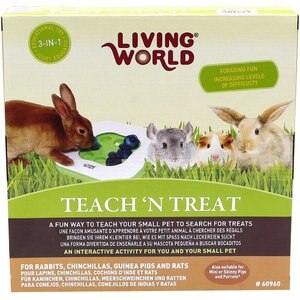 ---
A busy bunny is a happy bunny! This interactive brainteaser toy rewards curiosity with treats, encouraging smarty-pants pets to forage for food while "solving" puzzles. Three levels of challenging play ensures the fun will last round after round, meal after meal.
Great enrichment!

We got several enrichment items and haven't got a chance to try this for the rabbits but tested it on the cats first and they are really enjoying it.

Bunny loved it!

It took my bunny about a week to get through all levels, but I LOVE how this has levels for them to work up to! My bunny loves this and one of the levels (just the one with the plastic disc in it) keeps him occupied for quite a while and he doesn't immediately beat it...so it keeps him busy! I bought this after I saw it recommended as one of the top bunny toys and I am glad I did. I wish they made other toys!

Such a fun toy!

This is so fun to put raisins in! It really shows you how smart your rabbit can be. They learn how to move the parts to retrieve the treat! So cool and very sturdy and good quaity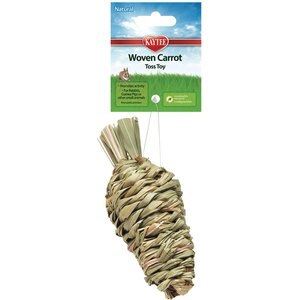 ---
After a little chew session, many bunnies like to shake, toss and tussle with their toys. Made from all-natural sisal, this super-durable (and just as adorable) carrot toy is up for the job. The tightly woven body is fit to fling, while the fringed top adds another fun texture to chew.
Great bunny chew

My bunnies loves this toy--the "greens" are pulled out almost immediately. They love to toss it back forth between themselves!

Bunny approved!

My 8 week old rabbit loves this toy! He enjoys nibbling on it and eating the Timothy! Will buy another when he eats it completely! Very durable!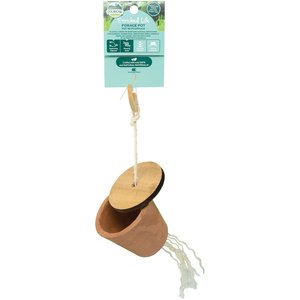 ---
It's easy to forget, but your pampered pet has a wild side that's important to nurture. This ear-resistibly cute rabbit chew toy allows bunnies to "forage" for dinner, providing both physical and mental exercise as they seek out snacks. Simply fill the pot with hay or treats, and let your four-legged friend hop to the hunt.
Neat toy for bunny.

I was really surprised this thing was as large and heavy as it was. It is a real terra cotta pot about the size of my fist. It has substantial weight to it. I took the wooden hook off and used a small carabiner clip to attach it to my rabbit's wooden play table. I dropped a couple of snacks inside and he quickly got the idea. He has banged and clanged, tugged, scratched and flung this all around. It provided a challenge without being overly difficult for him. It's provided some exercise as he's went at it from several directions. It took about ten minutes for him to clear out a few pellets and two meadow loops. This is a noisy toy as...

Great for curious chinchillas!

I have two chinchillas, and they are both a bit picky when it comes to toys. When I put this in their home they were both immediately curious! It's a great place to put treats for them to find. Plus the wood top gives them something to chew if they don't want the treats! Both of my picky goofballs loved chewing on the wood, and it was fun watching them figure out how to get the treats inside!

So cute! It's bigger than expected

I thought it would be wood, but it's a little ceramic pot with a wood lid. I love watching my guinea pigs poke their little head in there to get treats! Remember to hang it pretty low so they don't hurt their backs trying to get into it.
---
For bunnies, tunnel toys are tops. They're fun to run through, cozy to lounge in, and ideal for hiding. This deluxe model features a plush interior for nap time, and an enticing crinkle noise for playtime. When not in use, simply fold it flat for easy storage.
Bunny love!!!!!!!

My mini rex bunnies loved this from first sight. They play chase. Sleep in it. And haven't yet tried to eat it.

Do Recommend

Took the piggie pig a minute to warm up to something new in her abode, but she's obsessed now. Crinkle-zoomies all night.

Guinea pigs love it

My two guinea pigs enjoy this tunnel. It's soft and has held up to the washing machine, thus far. I have not put it in the dryer.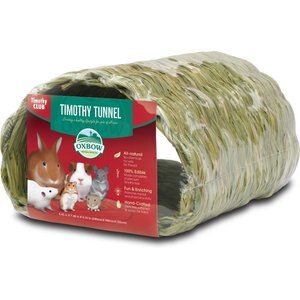 ---
As a prey species, rabbits need safe, enclosed places to hide in order to feel secure. This hand-woven tunnel is made from 100-percent edible hay, meaning your bun can relax and enjoy a high-fiber snack in one cozy place. And with an open-ended peek-a-boo construction, it allows for easy movement and entertaining views.
the perfect bunny hut

Our bun loves this hideout!! She loves to run through it, lay in it, gnaw on it - overall one of the cheapest forms of entertainment we've ever found for her. Highly recommend.

Everything Arrived Perfect

Received everything I ordered and in perfect condition. I don't know how you do it but it is as if you order today and receive your order the next day. Thank You!

Best purchase ever

My Guinea pig has hid in it ever since we got it and they also Chew on it so it's definitely worth it it's a 2 in 1
Playful, sweet and curious, rabbits enjoy (and need!) a variety of species-appropriate toys. By providing your pet with playthings that encourage natural behaviors, you'll help them live their happiest, healthiest, bunny-est life. Now go have some fun, buns!