When shopping for doting pup parents, there's one sure-fire way to pick the perfect present: get them something that celebrates their love for their four-legged friends. After all, dog people know what they like—and what they like are dogs. (Also, more dogs, please!) We've rounded up the best gifts for dog lovers and there's something for everyone on this list, from home gadgets for the techie pet parent to relaxing reads for the book worm in your friend group.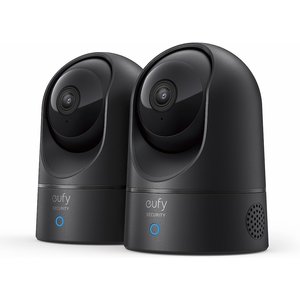 ---
Best For Helicopter Pet Parents
These motion-activated pet cameras give the priceless gift of peace of mind. Compatible with Apple HomeKit, Google Assistant and Amazon Alexa, they provide a 360-degree view of pups left home alone. Plus, two-way audio allows pet parents to say hello from afar (or "helllloooo, mommy's most beautiful very good boy!").
Great cameras for checking in on your pets

I bought a set for when we weren't going to be home. I wasn't sure what to expect. The setup was so easy. The cameras pretty much do it for you. All you need is to upload their app and it walks you through set up. Of course you need home wifi and Bluetooth. My only obstacles with the cameras was finding the perfect angle to get every part of certain large rooms. These probably work at picking up hidden corners best if they are mounted to a ceiling. However, that said. I enjoyed my first pair so much I ordered a second. Now I can see in other rooms where my pets hang out when we aren't at home. Plus, I am able to talk to them. I can...

Easy to set up, great video quality

I bought this specifically because it comes with two cameras, so I have one monitoring my dogs indoor space, and the second monitoring their outdoor space. These were easy to set up, and the video quality is excellent. I did end up purchasing microSD cards (not included) rather than using cloud storage. Compared to other similar products, these seem like a great deal for the price.

Camera's Beat

I love these!! I can see everything!!! I love that I don't have pay for anything and it's easy set up!!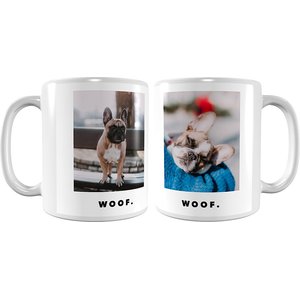 ---
For coffee lovers, there's no better way to start the day than with this personalized ceramic mug. It's super easy to customize: Simply upload a photo of your recipient's dog, pick your colors, and add any desired text. They'll think of you (and their pup!) every time they pour a cup
Exceptional quality

These mugs are nice and heavy and don't tip over easily, plus the handles are large enough to get your whole hand in. Because they are nice and heavy, they hold the coffee or tea is warm for longer. The pictures came out beautifully and I am very happy with them.

Brilliantly designed!

I treated myself this go round! Two beautiful mugs, one 15oz. & one 11oz. I chose the pictures of Gus (cause it's all about him) the new edition and his first birthday is coming soon! February 8th! I spoke with Chewy's customer service representative Sienna and she was so kind, patient and very helpful! I couldn't believe how well they were packaged and how beautiful the images appeared! I was crying happy tears! They're absolutely brilliant and beautifully illustrated on the mugs! The mug is of great quality too! Microwave and dishwasher safe, or just use a soft sponge! Images on either side of the mugs!

cute, great present

I ordered this for my friend whose dog passed away last year and he loved it. Pretty easy to personalize and the quality of the pictures came out great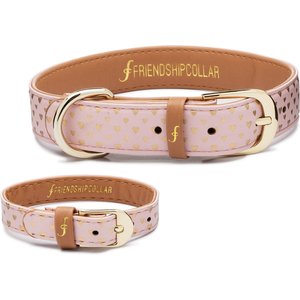 ---
Best For #Extra Pet Parents
We love "extra" dog parents who go all out for their furkids—and they'll love this doggy-and-me set. Complete with a gold-embossed vegan leather dog collar for their pet and matching friendship bracelet for them, it allows animal lovers to wear their hearts on their sleeves (or, ahem, wrists). Available in four sizes, for besties of all breeds.
Great gift!

I bought this for my daughter and her dog! She loves it! Great quality and very cool colors! We love it!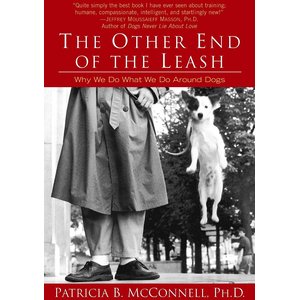 ---
Give the gift of knowledge with this fascinating book by Dr. Patricia McConnell, an applied animal behaviorist and experienced dog trainer. It focuses on the human side of the human-canine relationship, providing a unique perspective on how to better understand, communicate, and bond with man's best friend.
amazing book

Unique and interesting book. I throughly enjoyed it and have bought 2 more copies to give to my friend as vet. Fascinating perspective and well written.

One of the best books you'll ever read about dogs.

This book was recommended to me as a beginner's read for entering into the world of dog training. It's humorous, thoughtful, full of personality and a large array of behavior science. The author is extremely well published and highly respected in the field of animal behavior and has been a dog trainer for well over 20 years. This book does an excellent job of breaking down some of the most common misunderstandings about the way humans and dogs communicate and illustrating how and where the misinterpretations happen between the two species. Then offers advice and practical knowledge about how we can learn to better communicate our intentions...

So Much Fun!

This book is so informative, passionate, entertaining, and educational I am enjoying every page! The author makes such clear examples and explanations throughout, and I am learning how to "dog-speak" with much more clarity. Thank you, Dr. McConnell, for helping me to be a better dog parent for our new furbaby!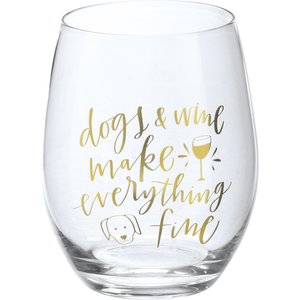 ---
The gold-foiled message on this stem-less glass says it all: "Dogs & wine make everything fine." Designed and crafted in Lancaster, Pennsylvania, it comes ready-to-gift in a cute keepsake box. Cheers!
Perfect size

Lovely glass wine glass, hand wash because the writing is a stick on. It's also the perfect size, not too big or too small.
---
It doesn't get any cuter (or cozier) than this. The very definition of warm-fuzzies, this plush fleece blanket features a huge customizable space for a photo of their precious pup. At a generous 50-by-60 inches, it's big enough for snuggle sessions with even the largest of "lap dogs."
GREAT GIFT

This came out so beautiful! Great quality as far as the personalized image AND the blanket itself. So soft! Very happy with this purchase

This was a gift for a friend

Whose pup had passed. I wanted her to be able to have many more snuggles with her fur kid. She called me crying when she opened it. It was shipped out in 2 days well ahead of schedule! She absolutely loved it!

Great purchase!

Omg! These blankets are soooo precious! Don't get me started on how good the quality of the pictures are, the blanket is so comfortable and soft, I'm so surprised at the overall quality of not just the blanket but the print as well, absolutely must have item!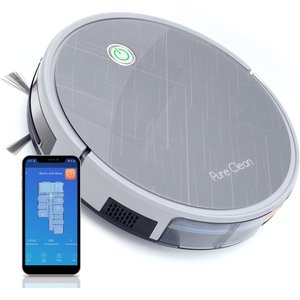 ---
Being a pet parent is a dirty job. For those who cringe at dander and dust, this robotic vacuum patrols the house with wide-reaching, deep-cleaning brushes and anti-collision sensors. Controllable via remote or app, it features a built-in rechargeable battery and works on hardwood, tile, marble and carpet.
Very happy!

I'm happy with my purchase! I was easily able to set it up (though it took some figuring out on my part because there isn't a clear "getting started" section in the instructions). I was able to connect it to my Google Home and was able to set up the app successfully. The auto-docking for the charger is also working well. I'm looking forward to not having to vacuum up cat litter off my hardwood floors every day!

My New Best Friend!

I live with three cats who are adored, but they do come with a couple of annoying traits: shedding and tracking litter. I constantly walked around with a broom in my hand. However, now that I've found my new best friend, the Pure Clean Robot Vacuum, I can wake up in the morning to clean floors! It was easy to set up, even for someone like me, with two left hands. Runs quiet, does what it promised, and no problems so far, even for an 82 year old. I'll leave an update in a few months, but for right now, I'm thrilled! Thank you for my new best friend. (My cats thank you, also. They are fascinated by it, and it keeps them occupied any time it's...

Love our new vacuum!

I own a Kirby which I've had for years. Based on how much our cat sheds, I thought I'd give this product a try without high hopes that it would be as effective. So impressed with the results!! While our cat isn't thrilled with it, she's adjusting. This vacuum is a great way to take care of business without having to make a racket and saves on my back too!
---
Best For the Puparazzi Parent
If their Instagram is all Sir Fluffers, all the time, look no further. Featuring unlimited photo storage, this digital frame boasts crystal-clear resolution, a handy auto-dimming setting, and an easy-to-use app to share with fellow snap-happy pet parents. It comes in a hand-illustrated gift box, so skip the gift wrap!
Take my family to work - Best Gift Ever!

My wife gave this to me for my birthday and it's been the greatest gift. I had been working from home during Covid but recently returned to the office. Now I have this awesome frame on my desk scrolling through pictures of my family and our Australian Labradoodles! It took a couple minutes to set up and a breeze to add photos. Thanks Chewy! I just love how cool this is and I'm grateful to be reminded of what really matters while I'm away from home.

Perfect gift for anyone who loves fur babies!

I've been a fan of Aura frames for a while now. I own two and love seeing all my memories. I have kids so that means I have a TON (if printed probably a literal ton) of photos on my phone. With the free unlimited storage I am able to share all of them, not that all should be shared, and the app makes this super easy to do. When I saw BUDDY, I was so excited. My sister is a huge animal lover so this was the perfect gift for her, her fur babies are her kids. First, the gift box is adorable and feels premium, so you know it's a quality gift. But my favorite thing is when you show an image some love. The frame shows floating paws ... SO...

Best gift ever! Five stars!

I bought this gift for my niece- she is OBSESSED with animals. We uploaded every single photo she has on her phone of all the pets she's met over the past years within seconds. It's such a thoughtful gift for any animal lover. I will definitely be buying one for myself so we can share photos of all the animals we meet on each other's frames. Such a great way to stay connected.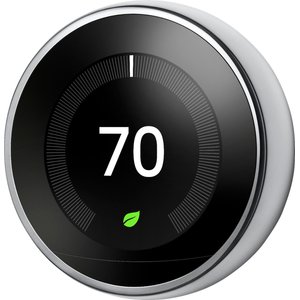 ---
Best For Creatures of Comfort
Google's smart thermostat will ensure their four-legged friends enjoy the paw-fect climate at all times. When away from home, users can adjust the temperature from a smartphone or tablet, keeping pups comfy-cozy all year round. (As an added bonus, it can help save on heating and cooling costs!)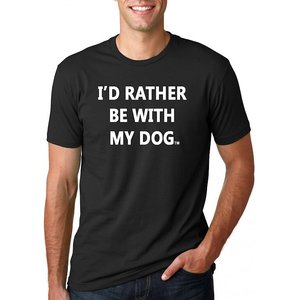 ---
We're all thinking it, but some people have the courage to say this tee's blunt message loud and proud: "I'd Rather Be With My Dog." Perfect for proud pup parents who have better (and cuter) things to do, this sassy shirt will make everyone smile.
Love my Dog!

I ordered one but too big. Gave it to my husband and he love's it. I just had to order one more for me. We love them!

Great T-shirt!

I bought this as a gift, and what a great gift it turned out to be! It fits true to size, is nice material and seems to be a very high quality shirt. I'm very happy to have ordered it and my partner is looking forward to showing it off!

Rather Be With My Dog Shirt

Top quality and cannot wait to get more but need more options. I receive compliments every time I were it while walking my dog or going to a store.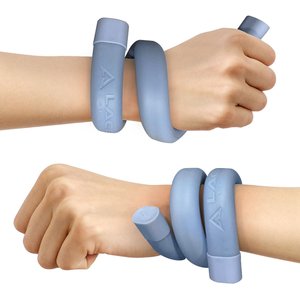 ---
Best For Fitness Fanatics
Have an exercise enthusiast on your list? Turn their walks into workouts with this duo of handy wearable weights that help burn calories and improve cardiovascular fitness. Thanks to a unique wrap design, they're one-size-fits-all and super comfortable.
LOVE THESE

I saw the video and thought they looked cool. Turns out they are way cool! Had to buy another set for my neighbor

Nice Workout While Walking my Dog!

Wow - what a great invention! These Laces are so comfortable and versatile! I can use them for so many things including Pilates and while on my Peloton. I can't believe the difference they make for my daily walks with my pup! My heartrate is noticeably higher when carrying the extra weight. Thank you, LaceUp!!

Ingenious!

Great, comfortable product that has so many uses. I always wear them when walking Merry but also use them in my aerobic activities. I can even wrap it around a golf club for warming up. I can feel the difference it makes in a walk or workout!
With this list on hand, pup parents become some of the easiest people to shop for—and some of the most fun! Whether you're looking for a cute custom present or the latest tech trend, these gifts for dog lovers will surprise and delight them every time. Who's a good gifter? You are!
Bonus Gift Idea: Still not sure what to get the dog lover in your life? A Chewy gift card is always a good bet. Choose from the following amounts: $25, $50, $75, $100, $150, $200 or $500. Get details here.