There are dog vitamins and supplements from A to Z, but how do you know which, if any, are the best dog vitamins for your precious pet? Generally, a commercially manufactured pet food should meet your dog's daily nutrient needs, but they may benefit from supplements that target specific conditions. Arthritic dogs, for example, may benefit from a supplement that maintains joint function, and dogs with digestive issues may benefit from a supplement that supports gut health.
To get you started in your search for the best dog vitamins and supplements for your pet, here are the top veterinarian-recommended options across several different categories. But no matter the reason you are considering dog supplements, all of the vets we spoke with recommend you look for products with a National Animal Supplement Council (NASC) quality seal. This certification helps ensure that the dog supplements come from a reputable company. And always consult with your veterinarian before adding any new vitamins or supplements to your dog's diet.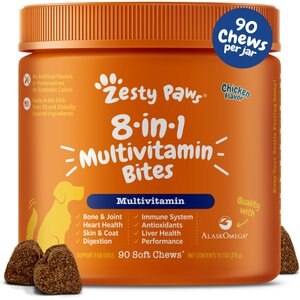 ---
Best Multivitamin for Dogs
If your vet recommends your dog take a multivitamin, Dr. Katy Nelson, Chewy's senior veterinarian, likes these 8-in-1 bites from Zesty Paws. As the name implies, this dog multivitamin provides support across eight different areas, including gut health, immunity and hip and joint function. Plus, the soft chews are easy to feed to your dog.
Super Great

It's super great! I sprinkle it on her food every day and she just loves it has a very good taste.

Works Great

I moved from Kansas to San Antonio and since we have been here Darci My Lab/Demon Mix has started chewing her haunches. after some research I read multi vitamins can help with allergies and gut health that could be causing this behavior Well 2 weeks after giving her 2 of these a day , she no longer chews her haunches ahaaaaa relief

Love Them!

My dogs love these! Their coats are amazing, have no gastrointestinal issues, and have so much energy and spunk. Highly recommend!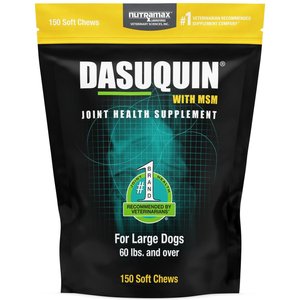 ---
Best Hip & Joint Supplement for Dogs
FREE 1-3 day shipping on this item
Older pups or dogs experiencing the first signs of arthritis may benefit from a hip and joint supplement. Dr. Jonathan S. Block, DVM, CVA, CCRT, of West Delray Veterinary in Florida, likes the research-backed products from Nutramax. This soft chew is formulated with glucosamine, chondroitin and ASU (an extract made from avocado and soybean oils)—three ingredients commonly found in the best joint supplement for dogs.
Tasty joint supplement

My 4 year old Great Dane takes these readily. I typically just put one in with her food each meal because that's easier for me but trust me if there's anything foreign she doesn't want it would be left when all the food was eaten. If I forget to add it and offer it as a treat she will eat it so I know she likes them.

This has given our dog a new life

Our 13.5 year old Boxador was showing signs of arthritis. She has been active her whole life, but has slowed down significantly in the past six months. It had gotten to the point where she sometimes had trouble standing up and tired easily. After two weeks of Dasuquin, she had a dramatic improvement in mobility and pain levels. She can once again jump on the furniture, move without stiffness, and go on walks without wanting to stop after a few minutes. She seems so much peppier now. I'm amazed at how much Dasuquin has helped our old girl.

Amazing Results!

Our 9 year old Siberian Husky began showing signs of arthritis in his hips several months ago. He was mostly lethargic with little appetite and would whimper when we tried to get him to sit. We decided to try Dasuquin Soft Chews. Within 3 days he was eating normally, and running around the yard with our other dog. Absolutely 5 Stars! Very pleased with results!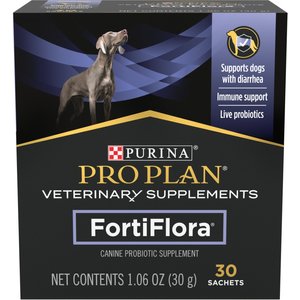 ---
Best Digestive Health Supplement for Dogs
A healthy pup has a healthy gut, and your veterinarian may recommend a digestive health supplement to keep your dog's digestive enzymes in balance. Dr. Nelson recommends Purina FortiFlora which she says has the perfect balance of healthy probiotics and a delicious taste that pets love.
Great probiotic!

Was looking for something to help with all three of our pups when we faced stomach issues. This works great and is not a hassle at all to make them it! Just sprinkle it on their food every morning! No pill to fuss with ! Will continue to use !

Pricey but seems to help digestion

We use this with our dear Annie, about 12 years old, likely Schnoodle. Mixed into her food daily, it improves her digestion - less belching, firmer stools.

good stuff to have on hand

Great for balancing gut health. Our mini-schnauzer eats something outside, probably deer poop and has tummy trouble from time to time. He is finicky eater and won't eat Fortiflora, so we mix with a little water and put in syringe. This has saved us many a trip to the vet. Have used in the past and other dogs love it, we just pour on food.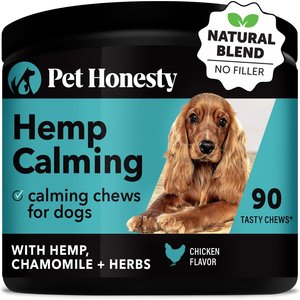 ---
Best Calming Supplement for Dogs
For dogs who are anxious, hyperactive or easily stressed out by new environments, these bite-sized, chicken-flavored chews are formulated to help promote calm in stressful situations. "Organic ingredients like hemp and chamomile have been shown to have a calming effect on pets," Dr. Nelson says.
This works!

You have to get this medicine to work. It does not happen over night. It has to get into there system. It does not happen over night. If you want those results, go to a veterinarian.

Calming Hemp

My 60 lb whippet was driving us crazy so I was looking for something to calm her down and help her with separation anxiety. Chewy recommended the hemp so I gave it a try her weight called for 2 gummies which I found to make her too calm , I reduced the gummies to 1 a day and her behavior is much better.

Calming Hemp

I have a 15 year old dog who is experiencing Canine Dysfunctional Dementia. He is blind and deaf. Around 5 pm he starts to pace and becomes very anxious. I put two of the hemp chewable in his evening meal. Within an hour of eating he is relaxing and no longer pacing. I highly recommend this product.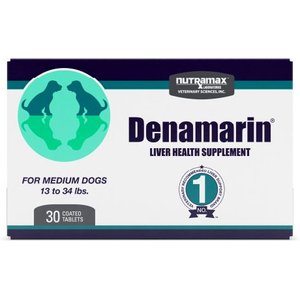 ---
Best Liver Supplement for Dogs
SAMe, the active ingredient in Denamarin, helps protect healthy liver cells and may help repair damaged ones. These tablets also contain Silybin which helps your dog's liver maintain a healthy oxidative balance. "The SAMe and Silybin in Denamarin provide a powerful combination of support for liver health, as well as cognitive function in dogs," Dr. Nelson says.
Frequent assistance

I have been using Chewy since my dog's 1st health problem arose. She is older so problems just keep coming, but she still acts like a puppy most of the time. The point is I have had to contact & change orders & autoship so many times, but every time the folks as Chewy are the nicest around, human always answers & never have to be on hold! It's a wonderful company & very responsive. I appreciate everyone & the help provided.

Happy dogs

Definitely works....my 13 year old terrier has noticeably better liver test results. This product often seems to be unavailable....or back ordered for long periods of time. Otherwise I highly recommend it in either pill or chewables.

Denamarin Liver Supplement

This product is extremely hard to find right now. It was priced fair, and shipped out quickly. I prefer the chewable tablets, but they are just not available at all right now. Hope they come with them soon.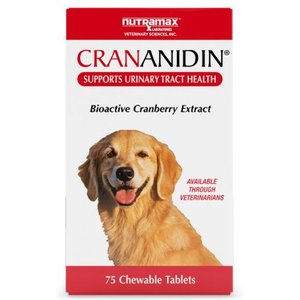 ---
Best Urinary & Kidney Supplement for Dogs
Crananidin uses scientifically formulated cranberry extract to help promote urinary tract health in dogs. The extract has bacteria-fighting compounds called proanthocyanidins (PACs), which help prevent urinary tract infections and kidney stones. Dr. Block says that the bioactive PACs formula improve the effectiveness, making this one of his go-to recommendations.
She eats them!

Was afraid my dog wouldn't eat these as she tends to pick out from her bowl whatever she doesn't like and put it on the floor beside her bowl. Thank goodness she ate these!

Satisfying Outcome

Since starting this supplement, I have noticed a huge difference in Kenzie's habits. She no longer has to urinate frequently and there are no more urges without production.

My rescue loves these!

These tablets have really helped my rescue Tillys bladder issues along with her prescription medication. She eats them like a treat!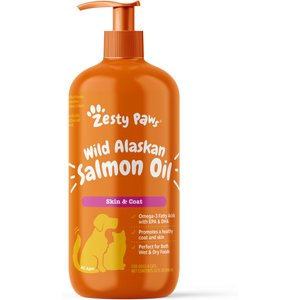 ---
Best Skin & Coat Supplement for Dogs
Dr. Nelson recommends this Zesty Paws supplement for healthy skin and shiny coats. The oil is made from Alaskan salmon, and the mess-free bottle allows you to easily dish it up on top of your dog's daily meal. "Coldwater fish oils contain higher concentrations of healthy omega 6 and omega 3 fatty acids, which are great for skin and coat, as well as joints," Dr. Nelson says.
Picky Puppies Approved

My dogs are so incredibly picky, it's annoying. I've tried numerous different supplements (multivitamins, immune system boosters, joint support, etc) and they've turned their noses up to it. I used this as a topper and they demolish their food. They absolutely love it!

Helps coat and digestion

Took less than a week for me to notice that my dogs fur was already softer and shinny. From time to time they will have constipation and I haven't seen any issues with that since we started to use this product. Do very carefully read the amount to give your pet, too much will cause.....well very loose poops lol.

My dog loves!

My dog loves this and won't eat his food without this topping. I'm not a fan of the mess the bottle makes but I give it 5 starts because I'm sure my dog does too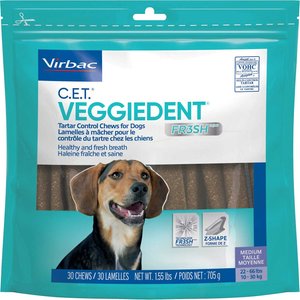 ---
Best Dental Supplement for Dogs
We understand you love your dog, but you don't love their dog breath. If your pup needs a little help keeping their tartar in check, Dr. Block recommends these Virbac dog chews as one good option. These plant-based chews are formulated to help freshen breath and reduce plaque and tartar.
The surprise chews

My vet recommended this chew for our midsize hound and she chews on them enthusiastically. They go well with her delicate digestion and everyone is happy.

Great product

My vet recommended these chews for both of my English setters.The chews are helping with the tarter and my dogs love them

Finally! A chew for sensitive stomachs

It has taken us a few tries to find a dental bone that doesn't upset our dog Padfoot's stomach! These are great!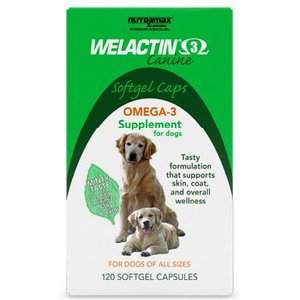 ---
Best Allergy & Immune System Supplement for Dogs
If you're looking to promote your dog's overall immune system wellness, Dr. Nelson likes these softgel capsules from Nutramax. "Welactin is a rich source of omega fatty acids, which deliver DHA and EPA in an optimally absorbable form to support skin and coat, kidney, brain and vision health and support joint, heart and immune function," she says.
A great oil

Nutramax scores big again! DID WONDERS FOR MY BULLDOGS SKIN AND COAT. Took about 3 to 4 weeks but his skin issue is gone and his coat is soft and shinny This stuff is worth every penny

Omega 3 - Fish oil supplement

I was looking for a good Omega product for my dogs. their skin and coats were dry and flaky. Their fur was becoming rough. I have on with CHF and joint issues. My holistic vet recommended this product. It is amazing and utilizing Chewy well priced. With 3 dogs we go through the bottle pretty quick. Once I can time it better we will be doing autoship! thanks Chewy

Vet recommended

I initially bought this for my 9 yr old lab who has arthritis, vet rec. Bought chewable first, then soft gel caps. My dog (pretty indiscriminate eater) ate both forms without issue. Now giving to my 1yr old lab bc of health benefits. Issue is that the bigger the dog, the more tablets/dose. But capsules are less expensive and seem to work on joints and skin/coat.
In certain cases, vitamins or supplements can be a beneficial addition to your pup's diet. As always, consult with your veterinarian to determine the best dog vitamins and supplements for your furry friend.