There are dog vitamins and supplements from A to Z, but how do you know which, if any, are the best dog vitamins for your precious pet? Generally, a commercially manufactured pet food should meet your dog's daily nutrient needs, but they may benefit from supplements that target specific conditions. Arthritic dogs, for example, may benefit from a supplement that maintains joint function, and dogs with digestive issues may benefit from a supplement that supports gut health.
To get you started in your search for the best dog vitamins and supplements for your pet, here are the top veterinarian-recommended options across several different categories. But no matter the reason you are considering dog supplements, all of the vets we spoke with recommend you look for products with a National Animal Supplement Council (NASC) quality seal. This certification helps ensure that the dog supplements come from a reputable company. And always consult with your veterinarian before adding any new vitamins or supplements to your dog's diet.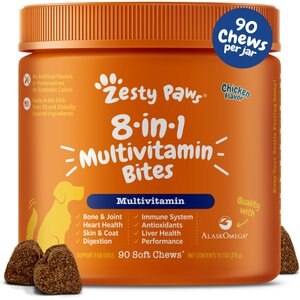 ---
Best Multivitamin for Dogs
If your vet recommends your dog take a multivitamin, Dr. Katy Nelson, Chewy's senior veterinarian, likes these 8-in-1 bites from Zesty Paws. As the name implies, this dog multivitamin provides support across eight different areas, including gut health, immunity and hip and joint function. Plus, the soft chews are easy to feed to your dog.
My babies love them

My babies love these chews!! They seem to be more playful and have more energy when they began taking them.

Seems to be doing well.

I purchased these as a supplement based off our vets recommendation to start joint care early. My pup is a bit overweight and had a previous injury so proper care is important. I love that these are desirable to her like a treat. No over powering smell and she thinks she is getting something special allowing me to take the best care of her body. We've been using these for less than a month so I know it takes time to notice a difference but I would recommend so far.

Takes thia as a treat

I can't possibly answer whether this is actually making my dog healthier, but he is a picky eater and gets on of these a day as an extra special treat.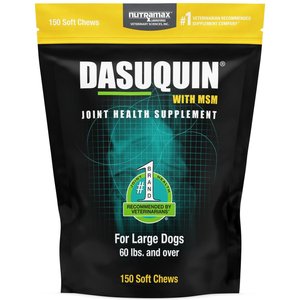 ---
Best Hip & Joint Supplement for Dogs
Older pups or dogs experiencing the first signs of arthritis may benefit from a hip and joint supplement. Dr. Jonathan S. Block, DVM, CVA, CCRT, of West Delray Veterinary in Florida, likes the research-backed products from Nutramax. This soft chew is formulated with glucosamine, chondroitin and ASU (an extract made from avocado and soybean oils)—three ingredients commonly found in the best joint supplement for dogs.
Excellent

This item is excellent, my fur baby loves it and is so good for her joints and can see the difference in her movements

Good product

Excellent supplement the Vet. told to give this for my dog joint.since I'm giving the tablets the dog is walking better.

great joint supplement

I use this on my 11-year-old lab mix. She's a big dog, 100 lbs., and has recently started having joint issues. She has no trouble eating these and it seems to be helping her get around a little easier.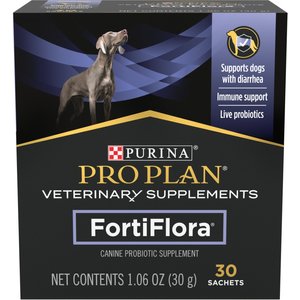 ---
Best Digestive Health Supplement for Dogs
A healthy pup has a healthy gut, and your veterinarian may recommend a digestive health supplement to keep your dog's digestive enzymes in balance. Dr. Nelson recommends Purina FortiFlora which she says has the perfect balance of healthy probiotics and a delicious taste that pets love.
Best Probiotic for My Dogs

I Give it to all 3 of my dogs and it is the best. It is easy to give to them I just mix it in their food.

Tear stains gone

I tried everything to get rid of her tear stains. I started giving her the Fortiflora while she was on an antibiotic. The vet said she could continue taking it to keep her regular and improve gut health. Not only does it keep her regular but her tear stains are gone.

Helpful dietary supplement!

I give this to my little dog everyday to help her with stomach issues. She loves it sprinkled on her food.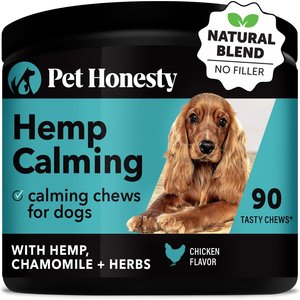 ---
Best Calming Supplement for Dogs
For dogs who are anxious, hyperactive or easily stressed out by new environments, these bite-sized, chicken-flavored chews are formulated to help promote calm in stressful situations. "Organic ingredients like hemp and chamomile have been shown to have a calming effect on pets," Dr. Nelson says.
Rescue with Anxiety

We adopted my Pitbull/Lab a year ago. He has anxiety and will pee. This has calmed him down. When he starts to show signs of anxiety, I give him two treats. It has helped a lot. See picture of when he has anxiety.

Worked during construction

My dog will bark at everybody and freak out at any sound the older he gets. It's also becoming more difficult to take him to the vet or just around other people. We have construction going on at our house right now with lots of noise and people. He just sleeps through most of it and isn't really bothered.

Product works for car sickness and storm anxiety

My dog used to throw up every time we traveled in the car long distance. This product has kept her from doing so- it's been a lifesaver. My dog also has bad storm anxiety and between this and her Kong Kozie, she is able to handle storms so much better. She'll go from shaking with fear to 20 minutes after taking them to just laying down calmly. I highly recommend this product.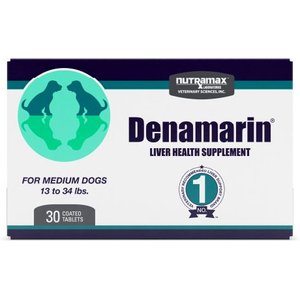 ---
Best Liver Supplement for Dogs
SAMe, the active ingredient in Denamarin, helps protect healthy liver cells and may help repair damaged ones. These tablets also contain Silybin which helps your dog's liver maintain a healthy oxidative balance. "The SAMe and Silybin in Denamarin provide a powerful combination of support for liver health, as well as cognitive function in dogs," Dr. Nelson says.
Always in stock

My 15yo Cairn Terrier will probably be taking these for the rest of his life as recommended by his vet. Chewy always has the product in stock and shipping is fast. I'm now on autoship making things that much easier.

helps a lot

Is great to improve liver lab numbers. Gave with just enough pill pocket to wrap around. Vet said that was ok to do that way. Give an hour to 2 hours before breakfast.

Thank Goodness For Chewy.Com!

My little Sadie has been on Denamarin for awhile now due to her liver counts being on the high side from her last vet visit. She has a return visit to check again and my vet recommended Denamarin for this. I called the Nutramax Company to find out more info and they were great! I learned a lot about it, it's completely safe with little or no side effects. Thank goodness for Denamarin and thank goodness for Chewy.com for having it!!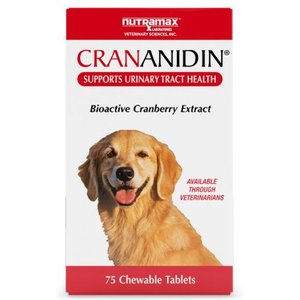 ---
Best Urinary & Kidney Supplement for Dogs
Crananidin uses scientifically formulated cranberry extract to help promote urinary tract health in dogs. The extract has bacteria-fighting compounds called proanthocyanidins (PACs), which help prevent urinary tract infections and kidney stones. Dr. Block says that the bioactive PACs formula improve the effectiveness, making this one of his go-to recommendations.
Works great

Started using this product when our mini doodle was a puppy. After having her only 1 week she developed a UTI and needed antibiotics.when this happened again I started researching & found this product. She's now 2 years old and hasn't had 1 since. I recommend it to everyone.

Works...vet recommended this

My girl has multiple health problems and one of them makes her prone to UTIs. 2 months ago her urine had a high PH level, even after UTI meds. Our vet recommended this product, so I got them for her. 2 months later and her levels are significantly down, now within the normal range. YAY!! She eats them like a treat with no problem. She will be on these for life most likely.

the Vet is pleased

My newly diabetic dog was having a UTI I ordered a small bottle of these and added the correct dosage to her daily routine we went through two small bottles and are about to start a larger bottle it's been about three months and once her antibiotic was done (10 days at the beginning of this )well this has kept her from having another UTI and out vet has okayed her to stay on this daily and says its a great product. I just break it up over her food she has no problems eating it.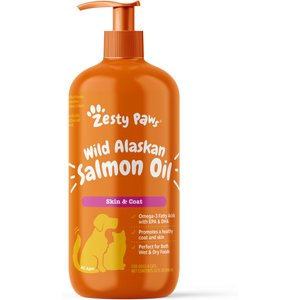 ---
Best Skin & Coat Supplement for Dogs
Dr. Nelson recommends this Zesty Paws supplement for healthy skin and shiny coats. The oil is made from Alaskan salmon, and the mess-free bottle allows you to easily dish it up on top of your dog's daily meal. "Coldwater fish oils contain higher concentrations of healthy omega 6 and omega 3 fatty acids, which are great for skin and coat, as well as joints," Dr. Nelson says.
Apparently this is delicious

Dog and cats wait for a squirt full! They eat it all and licker their plates clean and coats are shiny.

Perfect for all my pets

I give this to two dogs and three cats. The cats can be pretty picky and they all love this stuff.

My dog LOVES this stuff!

I got this to help with her skin and hair health and while it's too soon to see lasting, major effects, she goes nuts for this stuff! Also doesn't smell much, which is a big bonus. I love that it came with both a pump and a pour attachment. Will be ordering again!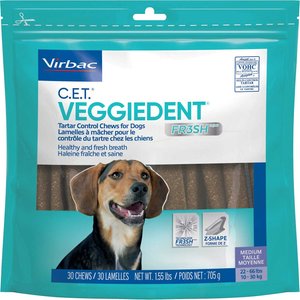 ---
Best Dental Supplement for Dogs
We understand you love your dog, but you don't love their dog breath. If your pup needs a little help keeping their tartar in check, Dr. Block recommends these Virbac dog chews as one good option. These plant-based chews are formulated to help freshen breath and reduce plaque and tartar.
Delicious and Chewy

Bought these as a cheaper alternative to Bully bones or tendons from our vet and Casey loves them. Easier on her sensitive digestive system, and she can have them once a day per the instructions, so a nice, chewy treat. She's a chewer anyway so her teeth are pretty clean, but these get the residue a regular dental chew bone can't reach. She does the happy dance when the bag comes out.

Great option but beware heavy chewers

Love Virbac products. Great option for our miniature poodle, however our 40 lbs PitBull mix devours these which makes me wonder how effective it is.

Like a tooth brush for dogs!

My dog, Buddy, receives one of these dental chews everyday. I buy the medium size even though Buddy is 70 lbs. Because each chew this size contains 75 Calories, I break each in half so I have 2 treats to give him throughout the day. I also give Buddy antler bones to chew on and the combination keeps his teeth clean and free of tartar build up and his mouth free of bad odor. If dog owners are proactive and give their dogs safe chewable treats and toys to help scrub the surfaces of their teeth on a regular basis, hopefully, they will not have to have their dogs undergo sedation to have their teeth professionally cleaned at a vet's office...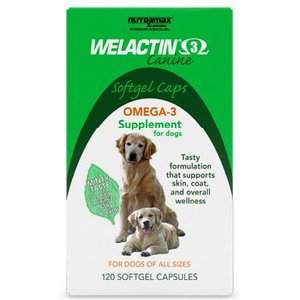 ---
Best Allergy & Immune System Supplement for Dogs
If you're looking to promote your dog's overall immune system wellness, Dr. Nelson likes these softgel capsules from Nutramax. "Welactin is a rich source of omega fatty acids, which deliver DHA and EPA in an optimally absorbable form to support skin and coat, kidney, brain and vision health and support joint, heart and immune function," she says.
These pills work!

Our rescue dog arrived with flaky skin, a hot spot and a very dry coat. After a couple weeks of giving him the recommended dosage, his coat and skin greatly improved. No more flakes and his coat is shiny. We are keeping him on these!

Excellent Product

Excellent product. Started giving this to my dog, boxer mix, it took a little while but her coat is now silky smooth, no more dry skin. Especially for winter climates, really helps with the dry coat

It really Helps!

We've definitely noticed a difference in our dog's coat since starting Welactin. She has sensitive, dry skin and used to get multiple flaky patches. Since starting with Welactin, no more flaky patches!
In certain cases, vitamins or supplements can be a beneficial addition to your pup's diet. As always, consult with your veterinarian to determine the best dog vitamins and supplements for your furry friend.