Calming aids for dogs can be useful in a variety of situations. Whether you have a dog who struggles with separation anxiety or who gets upset about stressful events like thunderstorms, trips in the car, or moving to a new home, the best dog calming aid for your pup can help them stay calm, cool and collected.
Just as there are many different types of stressful scenarios, there are many different types of calming aids for dogs, including dog supplements for anxiety, calming dog chews, dog calming sprays and even calming dog beds. To help you choose the right one for your anxious fur baby, we've rounded up the best dog calming aids of 2022 based on Chewy customer sales, ratings and reviews. These are the calming products other pet parents like you use and recommend. (Psst, remember to consult with your veterinarian before trying any calming aid for dogs—they can help you rule out any medical causes for stress and anxiety before you pursue behavioral therapies.)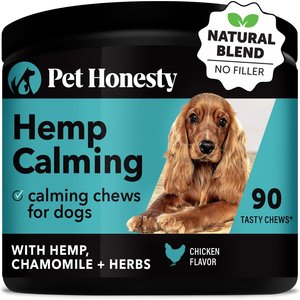 ---
Best Calming Treat for Dogs
Formulated to help reduce stress and hyperactivity in your dog, these soft calming treats for dogs are made with natural herbal ingredients like organic hemp powder, chamomile, valerian root and ginger root. They also have a natural chicken flavor to entice picky pups.
This works!

You have to get this medicine to work. It does not happen over night. It has to get into there system. It does not happen over night. If you want those results, go to a veterinarian.

Calming Hemp

My 60 lb whippet was driving us crazy so I was looking for something to calm her down and help her with separation anxiety. Chewy recommended the hemp so I gave it a try her weight called for 2 gummies which I found to make her too calm , I reduced the gummies to 1 a day and her behavior is much better.

Calming Hemp

I have a 15 year old dog who is experiencing Canine Dysfunctional Dementia. He is blind and deaf. Around 5 pm he starts to pace and becomes very anxious. I put two of the hemp chewable in his evening meal. Within an hour of eating he is relaxing and no longer pacing. I highly recommend this product.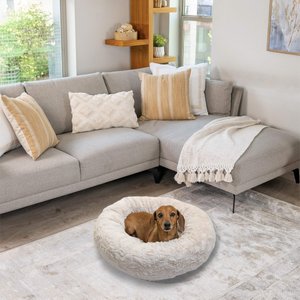 ---
This donut calming dog bed creates a warm, protective spot for your dog to snuggle while giving them additional orthopedic support that may help them feel calmer. They can cuddle up in their safe spot and nap away their stress.
It really is a calming cuddler

I have a very anxious rescue dog who is 15 years old. She's picky about where she sleeps and isn't a cuddler or anything like that. She took to this bed right away which is unusual for her. It's nice and fluffy, extra soft and seems to make her feel secure - I think the round shape helps because she sleeps like a fox :). Will definitely buy this again if the need arises.

They love them

I have 2 cats and bought 2 of these beds in the size of SMALL. The beds are HUGE, and they are so soft and puffy. My cats are BIG, and they have plenty of room to stretch out when they feel like it, but they can also curl up and lean on a well-padded side. The beds look great, and my cats like them - a successful purchase!

So popular, I have to order a 2nd one

I bought this as a Christmas present for my 17 year old Aussie. She was so excited when I took it out of the box that she started laying on it before I got the plastic packing off. My 4yo Aussie keeps stealing it, so I am ordering a second.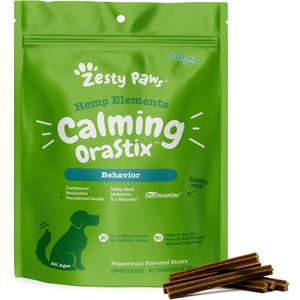 ---
These calming chews for dogs contain ingredients like suntheanine, a form of the amino acid L-theanine, to help promote a sense of relaxation and calmness for your pup. L-theanine supplements are commonly recommended by veterinarians to help with mild to moderate anxiety. Other ingredients include melatonin, chamomile and valerian root.
Excellent Product

I have a 2 yr old rescue German Shepherd mix puppy who loses his mind whenever guests come over. Just 2 of these and he is relaxed. Love these.

Actually works for teenagers!

I was skeptic, but also desperate, I don't believe in neutering boys for behavior reasons, I have a 16 month old Golden boy and he gets almost manic at times (I get it, raging hormones and I don't have the energy I used to), so I thought fresh breath and calming at a good price, let's try. And YAS I gave him 2 (he's 60 lbs) and it freaking worked! Calmed, and in a good way, I know my anxiety rubs off on him, so he seems way more at peace and listens well. I'm not saying it'll be a miracle worker, but it was a pleasant surprise for me! Added plus, I have a 13 year old as well, and these worked great for his anxiety during a...

Not just for calming!

I have tried several different hemp products. This is the ONLY thing I can get them to eat without a fight that DOES calm them.It is also GREAT to get their appetite going! I have a finicky eater that I used to have to hand feed. Now, I give her one before she eats and then she eats her food without a problem!If you have one that is extremely noise-sensitive you must get them to eat the total amount/weight before the event starts. One of mine wouldn't eat them if they were already upset.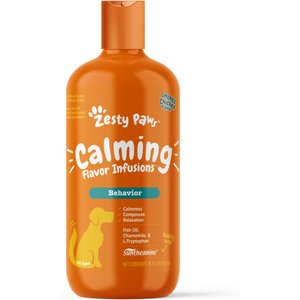 ---
Best Liquid Dog Calming Supplement
If your dog doesn't take to chews, liquid anti-anxiety supplements for dogs like this one from Zesty Paws could be a good option. This one has a chicken-flavored bone broth base and can be mixed in with your dog's food. It features suntheanine, a form of L-theanine, as well as herbal ingredients like ashwagandha, valerian root and chamomile.
not bad but not great

So i been trying different things to calm my 89lbs pitty and unfortunately this does not work for him I'm giving 5 stars because flavor wise he loves it and he takes it like a champ but all it does is. Get him excited . I try to get this for him to relax anxiety and his hormones but it makes it worse just like the actual pill . My guess is just that it depends on your dog.

Buddy loves it!

When I started adding this to Buddy's meal time, he went bananas for this! I do mean bananas! He now gets so excited when I'm fixing his meal...zoomies, jumps into the air, and leaves no crumb behind. It helps his coat and does contribute to a more calm Buddy after dinner.

zesty paws game changer

My Rosie is a boxer thats full of anxieties and quirks! Since we rescued our cats, She won't eat unless I add a touch of wet cat food to her food. She wanted to drink it straight from the dripping bottle as I added a squirt of this calming Zesty paws to her food. She devoured the whole bowl! I hope it calms her craziness as great as it tastes for her! Now… can I give this to the cats??? They're NUTS!!!!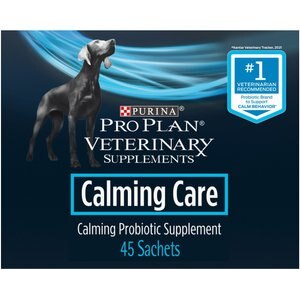 ---
Best Powder Dog Calming Supplement
FREE 1-3 day shipping on this item
There is an
increasing amount of evidence
that gut health is linked to mental health, and studies have shown that probiotics can help mitigate anxiety. This liver-flavored dog supplement for anxiety features a strain of probiotic known as BL999 to help your canine companion stay calm. It can be mixed in your dog's food and also supports a healthy immune system, making it a great option for your pup's all-around good health.
Worked well for our dog

Our Golden-Irish dog was diagnosed with chronic pancreatitis years ago. I blame the Irish Setter genes. It generally flares up when he gets nervous, even "good nervous" such as an overnight trip to a place he loves. It took quite awhile to get his stool normal after his initial diagnosis. Besides prescription GI food, our vet recommended this. It helped a lot. Now he's better. We keep him on GI food, maintain a calm household and a steady routine. I bought this to have on hand for any unusual times that come up, even an overnight trip to his favorite lake. I can't remember how long it took to work before but I plan to start it as soon as I...

We need all the calm we can get

Our 18 month old rescue beagle is super sweet, but a real bundle of energy and nerves. Our vet suggested this calming powder and think now after several months, we can see a difference, especially with the separation anxiety. It may just be maturing, but we're afraid to stop, just in case. At any rate, we like the idea of adding probiotics to his diet.

Helpful supplement

I have been giving Calming Care to both of my dogs for several months. One of my dogs is a "recovering reactive" dog (her tendency was to bark, lunge, and carry on when she saw other dogs, skateboarders, etc. while on a leash). We did a lot of training/behavior modification and that is the key thing that you need to do for reactive dogs. No medication or supplement will just fix that. The training is not hard; just takes time. So we used positive reinforcement and she made huge strides. She is even able to go to agility classes and trials and has been able to meet other dogs on leash (if the other dog is mellow). However, we live in an urban...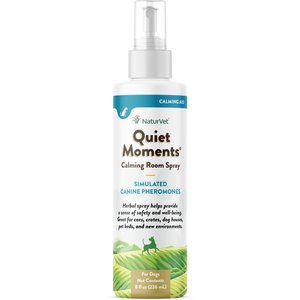 ---
Great for use in cars, crates and new environments, this dog calming spray is formulated to simulate the type of canine pheromones that provide dogs with a sense of safety and well-being. Ingredients include valerian root extract, chamomile extract, rosemary extract and clove oil. Spray it in and around areas your dog frequents 5 minutes before they enter (but never directly on your pet).
Great product!

I've used this calming spray for over a year now and always have 2-3 bottles on hand so I don't run out. It works so well to combat any anxiety that my 11-year old pitbull may be experiencing since he has slowly lost his hearing over the past 2 years and is currently losing his sight. I pump a few sprays on his blankets on the couch and in the room and within 10 minutes he is much more relaxed. I also use it whenever we go on trips, just before the 45 minute car ride to the park or going to a restaurant, and occasionally before bedtime. This spray has also helped immensely to transition dogs that I foster from a high anxiety shelter to a...

great spray

I brought this spray to help retrain my baby to sleep in her crate again and it has work great for me. My fur baby would run away from me before, now I spray her crate about 30 minutes before we get ready for bed. She will go in there and lay right down and go to sleep with out whining or trying to get out. I will be purchasing this spray again. Great product!

Works good for our chihuahua

Our 14 yr old chihuahua , who is blind, nearly deaf and has arthritis started whining and licking a lot, even when she was in her carrier that she has slept in since day 1(she was a rescue). She seemed anxious and couldn't settle down. I ordered this calming spray and there has been a very noticeable difference. Her whining and restlessness have decreased a lot. I will be ordering in again.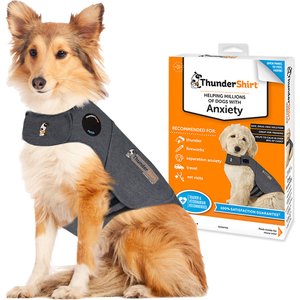 ---
Beast Wearable Calming Aid for Dogs
FREE 1-3 day shipping on this item
The ThunderShirt is a vest your dog wears that applies gentle, constant pressure to calm anxiety, fear and over-excitement. Your dog will feel like they are getting a steady, soft hug—which sure sounds relaxing. Comes in sizes XXS-XXL and has been proven effective in over 80% of dogs.
My anxious dog has really calmed down

I've been using a thundershirt for about 6 years for my anxious dog (loud noises, gunfire (we're in the country) or thunder). He really seems alot calmer when it's on. I recently lost the original thundershirt, so I bought a new one. This one actually seems like maybe it's a bit thinner material than the original, but it works exactly the same and is very effective in calming my dog's anxiety. Its not magic, the owner DOES need to follow the directions for getting the dog used to it and making it a 'happyt place' for the dog, before expecting it to calm dog's nerves.

Impressed.

I was skeptical at first but was very impressed at how this ThunderShirt actually calmed down my two Boxers I was actually thinking about medication for my female but this shirt really does work. They both come to me when Its time to put on their ThunderShirts and stand still while putting them on.

It really works!

I have a corgi who is very reactive to loud noises. If someone sets off a firework or there are loud engine noises, she runs to go under the bed, or in the bathroom. She has been on prescription medication, however she still becomes afraid. Adding the anxiety vest has made a real difference! I put it on her and she just goes to sleep. No panting or pacing, just relaxing.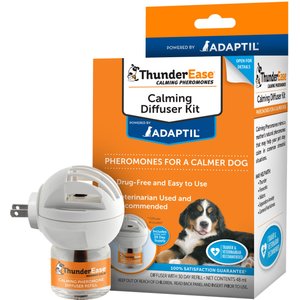 ---
Best Diffuser for Calming Dogs
For an easy-to-use spray to calm dogs, simply plug this diffuser into an outlet and let it do its thing. The diffuser will release calming pheromones for up to 30 days so your dog can stress less and chill more. And though your dog can smell the calming scent, it's odorless to humans. (
Refills sold separately.
)
Amazing Product

Purchased Thunderease Calming Diffuser before we went on vacation because we have a rescue that has separation anxiety. We have had her for about 6 months and she can sure destroy a room on days when she has only her fursiblings to entertain her. I just realized today that we haven't had a chewed mattress since plugging in this great product and it is the first thing that has worked. Now if we can only find an indestructible dog toy...

it might not work for everyone but it works for us

Plugged it in per directions, added the matching collars and within a day my senior's anxiety went about 80% away. And my crazy four years old Airedale is not barking every five minutes. More like ten times a day.

Seems to calm them

I wanted to try this before the 4th of July. We have 3 dogs that do not like fireworks. I think it is going to help them. They go right to sleep at night. I keep it in our bedroom so that helps.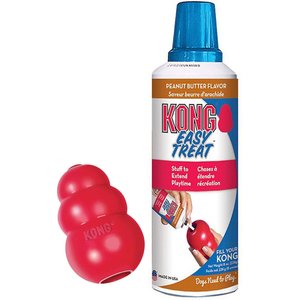 ---
Best Toy for Calming Dogs
If your dog is stressed, try giving them a toy to divert their attention and help put that nervous energy to a more productive use. Thousands of Chewy dog parents swear by the KONG classic as being a stimulating dog toy. Fill it with the accompanying treat for an even more enticing and rewarding calming activity for dogs.
My dog loves it

My dog took right to the kong with the filling in it, and very much enjoyed it, only downside is the filler only lasted for 3 fills in the kong.

Frozen Kong treat

Just a 2 second squeeze of peanut butter into a Kong, then 3 hours in the freezer = pure joy for my 2 pups. It takes them a good 20-30 minutes to get the peanut butter out, and the frozen treat doesn't make much mess on the screened porch carpet! They love it and so do I!

Great toy to keep puppy busy

My puppy loves this treat/toy combination. I freeze the treat into the Kong toy and it keeps my pup busy for about 30 minutes! Great Buy!
Life can be stressful, but that doesn't mean your dog has to be stressed out. With the best dog calming aid for your pet, you can help them stay calm and happy.