When shopping for the best dog collars, you'll want a quality one that will fit your pup, hold their ID tags and have a secure spot to attach their leash. Good dog collars will also be durable,
and, of course, a little bit stylish, too. After all, this is your cute canine's everyday accessory, so they might as well rock a bright color or a fun pattern to reflect their pawsome personality.
To help you find the best one for your pup, we've rounded up Chewy's top-selling and top-rated dog collars—they're tried, tested and loved by dog parents like you. Just remember to measure the width of your dog's neck and compare that with the sizing chart to ensure the perfect fit.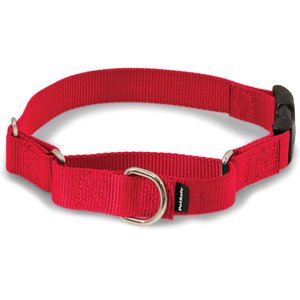 ---
This nylon dog collar is affordable, durable and available in five dashing colors and sizes. Plus, if you have a dog who is a bit of a Houdini, the martingale design of this collar safely prevents your pup from slipping away, while the quick-release buckle makes it easy for YOU to take off.
Durable collar

This is a durable collar for dogs. I use these for my dogs. I never have to worry about it breaking. I have dogs that like to pull and I notice they do best with these and dont pull as much. Great quality.

Best Collar

These are my favorite collars. I've tried a few and I wasn't sure about these at first. No problems with slipping out, she doesn't pull against it as a rule, so far so good. We went to the vet for the first time and these collars are highly recommend. I have trusted this person with two of my treasures. Her word means a lot.

Better with the clip.

Our collie slips out of every collar we've had on her. Not this one. Gracie is in training and the martingale collar works the best. We like the closure on the collar as we can adjust the size to fit her perfectly. Others we've purchased didn't have the closing clip.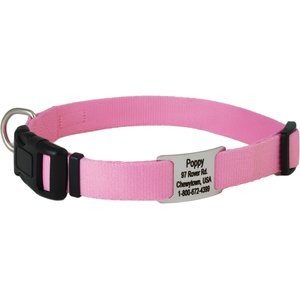 ---
Great for puppies who might be annoyed by—or insist on playing with—dangling dog tags, this nylon collar has a slide-on ID tag that lies flat against their neck. It's customizable so you can add your dog's name and your contact info—a must for curious puppies who like to explore. Sizes XS-L available.
Dog Collars

These are the best collars. Our two little dogs eat their food quicker when they don't have a clanking ID hanging down hitting their dog dish.

Worked Like A Champ!

We bought two of these collars for our Schnoodle that occasionally like to chase deer and stray too far away from home. Yesterday Josie broke contain and fortunately, due to the information on her collar was returned to us safely. What a great collar and quiet too!

Piece of Mind

I see so many lost pets on a FB Page I follow, consisting of neighbors in the area. If they have a collar, there is no tag. My dog is chipped, but if she were to be lost I want a quick notification. This collar is perfect. So modern in design. Drop the dangling, Tag. This is the perfect design.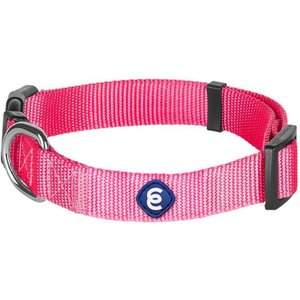 ---
The simple, smooth and strong nylon webbing design makes this a great collar for a small dog as it won't weigh them down or get in the way of their play. You'll love the durable D-ring leash attachment point and the easy-to-use buckle closure.
Great collar

This is a great collar. Its easy to put on and remove. The pink is a cute color too. It seems to be pretty durable.

Great collar at an affordable price

I bought this collar in neon orange for my 10-year-old Chihuahua/Min Pin Bruiser. He was wearing a black collar, and since he is all black it did not show up at all on him, even in the daylight. I thought it best to switch to a collar (and matching leash) that would show up on him, especially at night. I am very happy with my purchase!

Blueberry collar

These collars were perfect. They are smooth with no rough edges, have an easy release plastic closure and have a sturdy metal "D" ring. They have a beautiful array of colors to pick from. Will definitely buy again when new collars are needed. The order came in 2 days!!!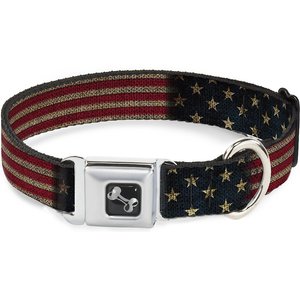 ---
This collar for a large dog is made to comfortably fit big dog breeds like Dobermans, Great Danes and Saint Bernards. Chewy dog parents love that the seat-belt-style buckle is heavy-duty and makes the collar super easy to get on and off. The vintage American flag design adds a stylish touch.
Boys love their new collars

Bought these for both my dogs!! Collars are so lightweight and soft! Buckle stays firmly in place, very sturdy! Highly recommend, will rebuy these again when they wear these ones out!

Apollo loves his new collar

We used the same brand collor for 6.5 years, still holding up strong, was just so faded from all those years in sun, water, etc. Saved it cause still in great shape. Apollo will be 7 years old in less than 2 weeks and we just replaced it a few weeks ago with this one.....it has only improved. It's so soft and smooth, easy to use buckle and adjustment, we just love it. Thank you!

Excellent made-in-USA product

I bought the first collar 2 years ago for our rescue, Australian cattle. The collar still looks and works great, good quality and secure. I love it so much that I ordered another one a few weeks ago for our 2nd rescue Husky and German Shepard mix. He is 50lbs puppy and the Large size fits him well, with room to adjust as he grows up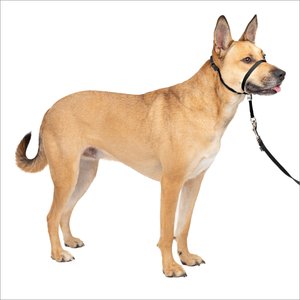 ---
Best Dog Collars for Pulling
This is the best dog training collar because it helps reduce pulling. Vet-recommended and designed by a dog trainer, the headcollar's padded nose loop helps remind your pup to stick by your side, while still allowing them to eat, drink and grab their favorite toy.
Works great!

This works extremely well to keep my 110 pound 1 year old Saint Corso from pulling. Very little effort on my part to control him. Definitely recommend.

Gentle lead makes for easier walks

My little prince, Finn, is a corgi who has enough torque when he pulls to pull me to the ground. We tried various training collars and harnesses without much luck until we found the gentle lead. Now I can keep Finn moving with me and save my shoulder from dislocation when he finds a tasty tidbit of whatever that he suddenly must have at that instant. Training was pretty easy with the included instructions. We are on our second gentle lead just to make sure the cushion around his nose stays soft. The first last three years with daily use.

Gentle Leader

My two big German Shepherds are getting use to the Headcollar. It will take a little time and I can't wait. They both are cat aggressive and when they see a cat on the farm they want to chase it, which is a big problem. My one Shepherd weighs 135 lbs and the other 88 lbs and I'm only 150 lbs. Can't wait till I can walk them with no problems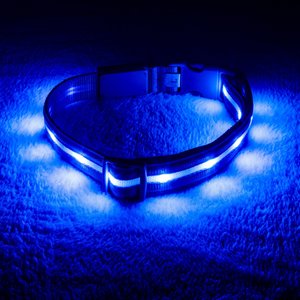 ---
Best Light-Up Collar for Dogs
Whether you go on early morning or late evening walks, this light-up LED dog collar can help keep your best fur buddy safe after dark. Three light modes keep your pup visible up to 350 yards away. And with a fully charged battery, they'll be ready to glow for over 8 hours.
LED collar

Collar is great! Got one for each of my labs and I can see where they are at night now

Amazing collar

This collar is amazing. My dog is a runner and with it getting dark so early this makes it easier to locate him.

Perfect for walks after dark!

This collar is wonderful. I purchased the green color and it lights up very brightly without blinding me. I prefer the solid light setting but you can also set it to blinking if you wish. I have a black dog so this makes him noticeable at night. So many compliments from others we encounter on our walks.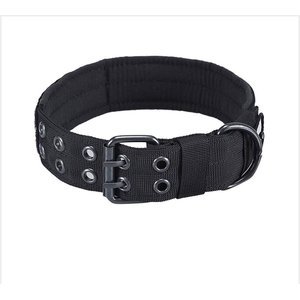 ---
Best Heavy-Duty Dog Collars
For rough and tumble pups, this is one of the strongest dog collars that can stand up to their adventurous attitudes. The buckle closure and sturdy nylon material ensure it stays put, while the padded interior makes it comfy for your dog to wear all day long.
So far so good!

We bought this collar because the slip adjustable collars keep coming off when they would play. This one has stayed one for 2 weeks! Haven't had to go looking for a collar. Material seems very durable. We like it so far.

Best Collar Ever

I have a Mountain Cur/Sheppard mix that is about 70 lbs. Every collar I have bought him never lasts and he somehow breaks them. This one has been the best made so far. Excellent!

durable collar

I prefer to use the old style belt buckle collars because I'm afraid the plastic snap buckles will break on me. It's only been a month but this collar seems durable. I like that it's wide and doesn't dig into the skin. It has an elastic band on it to tuck in the leftover strap if your dog has a smaller neck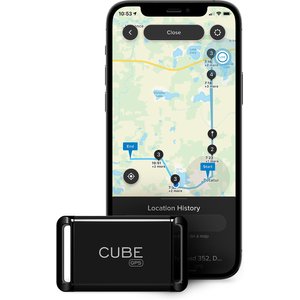 ---
With the Cube GPS tracker (and a monthly subscription), you can ping your pup's collar anytime to see what they're up to—from napping in their favorite spot to patrolling the backyard. Just be sure to purchase the
collar clips
so you can attach the Cube to your pup's favorite collar.
Works good

Just purchased for my puppy and so far everything is working good and I can find her. I like that I can push ring on my phone and it will ring to tell me where she is

great GPS for my dog

Absolutely love this GPS. It already has helped me find my dog that darted out of our yard. Such a peace of mind knowing I've done everything to protect my pup.

Best GPS Dog Tracker I've used!!!

I don't think there is anything better than this GPS Tracker for dogs. The Cube makes great products at an affordable price, you can't go wrong with them. I would highly recommend anyone who doesn't have already buy one because you will not lose your dog at all. You know where Fido is at all times!!!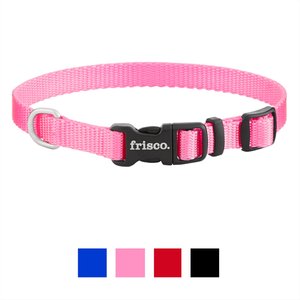 ---
Classic styling meets durable design in these nylon collars for dogs. The adjustable slides make it easy to get that just-right fit, while the woven nylon provides top-notch strength and is comfortable enough for your dog to wear every day. Available in a variety of colors and sizes XS-L.
perfect for toy and small dogs

The price was right, and the fabric and clasp are plenty strong enough for my small dogs. I have mini dachshunds, only 11 lb each. Easily adjustable. As much as they like to bolt and run, the clasp has never broken. I would prefer that the metal ring where the leash attaches was a bit thicker, it would be easier to find when attaching the leash, but it has never broken either, and I am a highly satisfied owner

Sturdy and withstood a puppy

My puppy recently outgrew this, but while he used it this collar was STURDY. I half-expected every time he pulled on the leash that it would come apart, but no, it held up super well over a few months.

Just What I Was Looking For

While preparing for the arrival of our new Goldendoodle puppy, I was looking for a couple of different size collars to accomodate a rapidly growing pup, but didn't want to spend a fortune. When he reaches full growth, then I'll invest in a more costly collar. Well, this Frisco collar fir the bill. While it is inexpensive, it is very nice quality and has classic good looks, to match those of our handsome Daniel!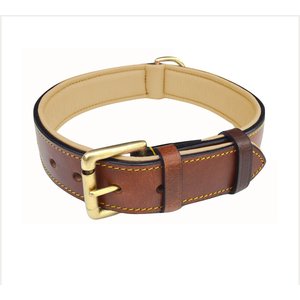 ---
Soft, supple and stylish, this handmade dog collar is made with genuine leather for max comfort and no chafing or itchy irritation. The solid brass hardware even has a mini brass ring next to the buckle especially for your pup's ID tags. Perfect for pups who like the finer things in life.
Good quality

This collar is good quality and attractive. We measured our dogs neck to determine the size and it fit perfectly.

Great Quality

This collar is the best quality I've seen in a long time. My 75 lb German Shepherd puppy is much easier to handle as the collar doesn't slip. She broke off of her tie out with other collars but this one is sturdy. Holding her back when people come to the door is also much easier. Great quality and we've gotten many compliments on how nice it is.

5 stars even 4 years later

Bought this in 2018 and it's still sturdy, It's soft for my dog's neck and sizing is accurate. It's starting to look a little worn down now so I will be ordering a new one soon as I couldn't find any brand with similar quality online.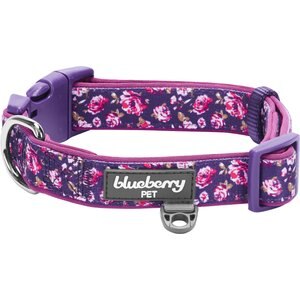 ---
Best Comfortable Dog Collars
This soft dog collar is made with padded canvas fabric and cushy neoprene webbing for a barely-there feel. And you have your pick of fun patterns on this padded dog collar for a unique look that will be sure to get your fur baby some well-deserved compliments at the dog park.
Love this collar

The collar fits well and it is also stylish. I will be getting more products like this for my other dogs.

Blueberry's The Best

This is our second collar purchased in 6 years. High quality, durable and attractive collars with matching leashes, most often. That's how well Blueberry Collars hold up for our Leia!

Blueberry collars

I purchased 2 Blueberry collars for my German Shepherd girls. The collars are very high quality, with a secure clasp, dedicated loop for ID tag, and come in bright cheerful print fabrics. The fit was perfect, and they are padded for supreme comfort. I highly recommend these collars!!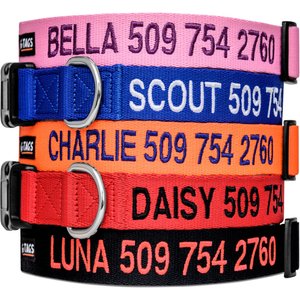 ---
Best Personalized Dog Collars
If you'd prefer to skip ID tags but still want to make sure your pooch has all their essential info with them should they get lost, this personalized dog collar has them covered. Embroider your pet's name and your phone number right onto the collar so they always have their ID handy.
It's Great

Perfect for our needs, lettering is easily visible & clear. I do wonder if there is some particular way to clean it though as it has gotten fairly dirty already since she rolls around the grass etc. The old one was leather & easy to clean....but this one not so much.

Great collar

I love this collar. The red is super bright, so it helps people/cars see my dog. And the stitching is well done.

excellent service

I highly recommend Chewy. The name and phone number collar is superb. The one I sent for was too big so they immediately sent me the extra small at no charge. I didn't think my dog would ever need it, but I fell down my sisters steps and she got scared and ran away. she needs that collar even though she is micro chipped. The people who find your dog can call you immediately.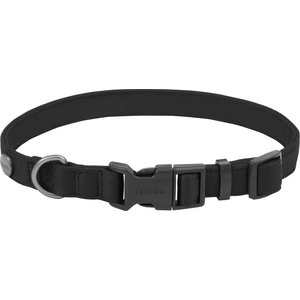 ---
If you're shopping for cheap dog collars, this cute, colorful one is made with soft padding and a jersey fabric that feels great and holds up well to everyday dog walks. Attach your leash to the sturdy metal D-ring and hit the sidewalk for your daily strolls.
xs navy collar

Cutest collar! I ordered the xs navy collar for my 5.5 Lb puppy, it's padded and seems super comfy for him!!!

fits and looks good

nice collar, good price, fits the dog. Not sure what else to add. it's not super fancy, but it doesn't cost like a super fancy collar would. it fits.

Dog Collar

I love this collar, it just looks great on my pup. It's smooth and he doesn't pull as much with it. It looks great on him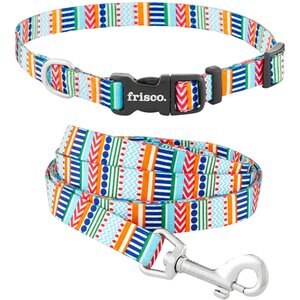 ---
Best Leash and Collar Set
This colorful, retro-inspired leash and collar set is the perfect pair for all your walks. The collar has a curved plastic buckle and smooth polyester band for a comfortable fit, and the matching leash is made from a high-quality, durable polyester webbing.
Nice print. Good quality. Soft texture.

I ordered the 3/4" width for my smallish golden retriever and it suits her nicely. I like the smooth texture of these kinds of leashes. There are no rough stitches,

Colorful webbed stripes do the trick

Sturdy collar and lead. Bright colors, just what I wanted to cheer my (me) sick pup up. Excellent price as well.

Pretty collar & leash

I like to have matching collars and leashes for our mini schnauzer. This set is one of the cutest I have found for her. Great look and quality!
Whether your furry best bud adores walks or you simply need a way to keep their ID tags secure, these best dog collars are a cute, comfy and safe way to accessorize your pup.
Learn more about dog-walking essentials: