Pet parenting can be a dirty job. One of the most dreaded chores? Litter box duty. No matter how tidy your cat or how clumpy your litter, no one looks forward to scooping. But it has to be done—and regularly. In fact, some finicky felines will even boycott boxes that aren't up to their standards. That's why we love self-cleaning litter boxes.
By automatically scooping messes in a waste drawer after "business" wraps up, an automatic cat litter box reduces odors, eliminates the need for daily cleaning, and keeps everyone (humans and cats alike) happy. All you have to do is empty the waste drawer.
There are a number of robotic litter boxes on the market these days, with varying high-tech features and amenities. These are the best self-cleaning litter boxes, based on Chewy customer reviews, customer ratings, sales and expert input.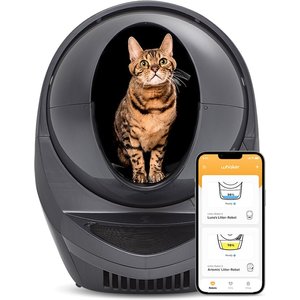 ---
Best WiFi Self-Cleaning Litter Box
FREE 1-3 day shipping on this item
The much-loved Litter-Robot is like a housekeeper and virtual assistant in one. It's conveniently compatible with any clumping litter, sifts 3,7 or 15 minutes after your cat goes to the bathroom, and can handle up to four resident kitties. Via the Connect app, this WiFi-enabled box keeps track of usage and waste levels, allowing for easy maintenance and health monitoring. Plus, a carbon-filtered waste drawer keeps things smelling fresh.
LitterRobot SuperFan

I switched over to the LitterRobot 5 years ago and haven't looked back since. I use Tidy Cat Free & Clean cat litter and 8 gallon medium-size garbage bag for the waste drawer...though during the pandemic the garbage bags were in short supply and I ended up buying the purpose made ones directly from Whisker. Since you don't have to dump all the litter out like when you change a regular cat box, the litter savings alone is worth the price. Read a couple reviews of folks complaining about it getting stuck during the cycle, but as long as you take the unit apart and thoroughly wash it every 6-9 months then you won't encounter this issue. My...

Litter Robot

So far it is wonderful. However I have three cats. Two are about 15 pds. and one that is around 5 pds. Everything works great for the two heavy cats but the little one is not heavy enough to make the recycle of the robot complete. I found that I turn it off and just manually start the recycle twice a day. The little one can get the process off kilter and the robot gets only partially cycled with the litter half way in the bonnet. I recommend this for someone who is elderly (like me) and does not want to scoop littler three times a day. Just make sure your cats are heavy enough for this to work properly on automatic.

it works and the cat likes it

So happy with this purchase. I hemmed, I hawed but finally got it. My cat took to it right away. He's a bit skittish but no problem here. The cleaning cycle scared him once but after I assured him he was fine. The litter robot scoops. It holds back smells. My one issue has been the app is meant to say how full the bin is but it doesn't always reset when I place a clean bag. I have found it works better when i let it get all the way to full then change the bag. Considering that it makes my life easier, makes my home smell better and the cat likes it this is not enough of a reason to remove a star for me. If you're considering it and...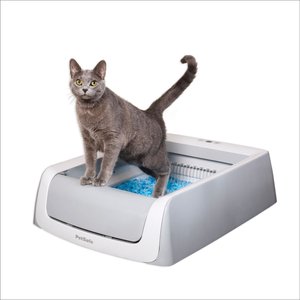 ---
Best Budget-Friendly Self-Cleaning Litter Box
FREE 1-3 day shipping on this item
Tired of scooping and constantly filling the box with fresh litter? The ScoopFree Original automatic cat litter box has you covered. This hardworking box scoops waste 20 minutes after your cat goes to the bathroom and uses a long-lasting crystal litter that absorbs moisture on contact, which cuts down on odor-causing bacteria. You only have to replace the disposable litter tray every 20-30 days (for single cat households).
Game Changer

Six months ago, we adopted a pair of kittens and went from a two cat household to a four cat household overnight. We had two standard litterboxes and even with daily scooping, keeping them clean was a losing battle.My kittens started having a lot of accidents and we suspect there is one that is a picky little bugger who refused to use the box if he didn't think it was clean enough! My husband suggested trying a litter robot.So I did some online research, and the original scoop free litterbox was rated well and had a much lower price point than some of the other litter robots. I also purchased the reusable plastic tray kit, as the...

Love this litter solution

I had one of these and now I have 3 because they are everything they say they are (which is very rare!) The litter box is great at controlling odor. The cats love it. (they like to play with it sometimes). I only have to clean them out every 3 weeks or so compared to my regular litter boxes which must be emptied daily to say nothing of sanitizing them once a week. Since I have multiple cats, it makes my housekeeping much easier on a daily basis. I have a recurring order for new litter so that I do not have to go to the store to buy litter. I have nothing but positive feelings about this. The orignal litter box was purchased two years ago and...

My cats love this box

I was sceptical about this box. But my cats love it! The older cat took to it immediately. She loves a fresh box. The six months kittens were more intrigued and loved watching the rake move. It took a few days for them, but now they don't want regular litter. I ordered a second one yesterday so the three of them have options.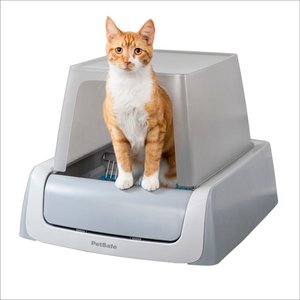 ---
Best Covered Self-Cleaning Litter Box
FREE 1-3 day shipping on this item
Covered boxes can be great for reducing smells and containing stray litter. (Plus, some cats enjoy the privacy!) With the same litter-saving benefits as the ScoopFree Original, the ScoopFree Ultra also features a privacy hood for kitties who prefer more cover when doing their business. Plus, you can set the automatic rake system's timer to your preference (5, 10 or 20 minutes after kitty exits).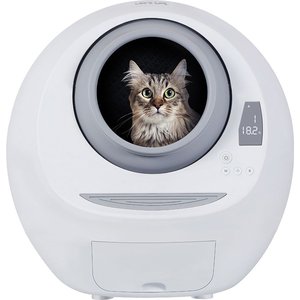 ---
Best Self-Cleaning Litter Box for Large Cats
FREE 1-3 day shipping on this item
When using the litter box, a cat should be able to turn around comfortably—meaning if you have a large cat, you need a large "facility." This self-cleaning litter box was designed with large cats in mind, boasting a high dome and roomy 21-inch diameter interior. Compatible with any clumping clay litter, it cleans 2 minutes after your cat exits and can support up to three kitties. Special features include a "night mode" with soft lighting and ultra-quiet sifting.
Leo's Loo self cleaning litterbox

The machine itself works well, but my cats won't use it. They are older and that may be why. They don't like change. Haven't removed regular litter box because I don't want to chance them going somewhere they shouldn't. I plan to give them a long time to check it out and maybe use it.

Biggest Fan

Ive been a customer since the beginning and I had to finally leave a review after reading all these other reviews Honestly not regretting one minute since purchasing My cat gets in the LL no problem Customer care gave me tips to shake the drawer before pulling in out to make sure the waste is all spread out in the drawer. I clean it regularly. I also have the LLT that has a sanitation UV light but even without it I have no odor like a regular cat box has. Thank you Smarty Pear for allowing me to have the luxury to never scoop poop again.

Smarty Pear is very helpful

I highly suggest getting this automated litter box. I ran into some difficulties with the exclamation point not coming off after a few months but reached out to Smarty Pear after registering my device on the website. The team sent me new sensors and a shim kit to fix the problem with instructions. Since replacing the pieces, the device is working great again. I love the customer support team around this litter box.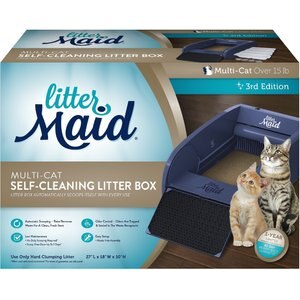 ---
Best Self-Cleaning Litter Box for Multiple Cats
FREE 1-3 day shipping on this item
If you have more than one feline friend, you'll need a litter box that can handle some serious "business." With an extra-large basin, a super-durable rake, and odor-fighting carbon filters, this self-cleaning litter box was specially designed for heavy use in multi-cat households and gets to work 10 minutes after Kitty exits. It's compatible with clumping clay litter, and features a handy paw-cleaning ramp!
A lifesaver

My senior kitty is on medication that makes her drink and urinate more frequently, which meant a LOT more cleanup for me. This litter box has saved my sanity. I have ZERO complaints. It works great with very little maintenance required. It has been worth the money ten times over.

Great service!

I bought one of these and it had issues. So, I contacted customer support, via message, at 10 pm and told them what happened with the new littermaid. I didn't think it would go anywhere, since that has been my experience in the past with offer suppliers. To my surprise, within 10 minutes, I had a reply and a new replacement was on it's way!! A week later, and new one here, I'm still in shock!! Thank you Chewy!!

Rake motor purrs

We just got a second cat, so we needed a second box. I've been using LitterMaid litter boxes for decades, and I am a huge fan. With each new model, the motor gets much quieter and smoother. I especially like this model has a rubber cover over the power switch, in case the cat misses. These boxes really make cleanup so much easier than traditional boxes.
As a pet parent, there are far better ways to spend your time than scooping litter. Automatic cat litter boxes do the dirty work so you can focus on important stuff, like playing and cuddling with your four-legged friend. Combining smart designs with the latest technology, these best-in-class self-cleaning litter boxes have your least favorite chore covered.