You know your best buddy needs a cozy place to call home. With the best hamster cage, they will feel as snug as a bug in a rug—and have a safe space to climb, burrow and stretch out their little hammie legs. To help you choose the right cage for your pet, we've rounded up the top selling and top rated hamster cages of 2022 by Chewy customers. Whether you're looking for small hamster cages or the biggest hamster cage, these best-sellers are the ones tried, tested and loved by Chewy pet parents—and hamsters—alike.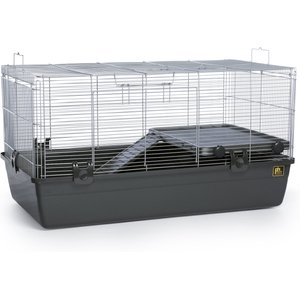 ---
An ideal cage for large hamsters, the 32.5x19-inch tub base provides plenty of room for them to scurry and for you to add accessories. If you're looking for a cage for a Syrian hamster, Chewy pet parents confirm this cage is spacious enough to house your Syrian with room to spare.
Best Cage ever - with one flaw…

This has by far been our favorite cage. We own rats and had a Critter Nation that we spent money on and just weren't happy with them at all. Our rats chewed the pans up on the CN within four months to the point we were cutting our hands every time we did a change. No matter what we did the poo and food and everything else would end up everywhere with the Critter Nations, and the odor….We bought this wonderful little cage with the intention of only having 2 pet rats. Well - we've saved 4 now and are on the hunt for a bigger cage - the only flaw we can find with this is we can't extend it without jimmy rigging it - or buying a whole...

Great cage for rats!

Love this cage! I now own 3. Easy to clean and very chew proof. A great cage for rat breeders especially!

Our Siberian hammy loves it'

We have a rather large Siberian hamster (she's like a mini Guinea) and she has so much more room. We bought the "large" size (middle option). Fits her wheel very well and plenty places to burrow. We are buying a second one for our other hambone (we have 2 hamsters- 1 for each twin kiddo)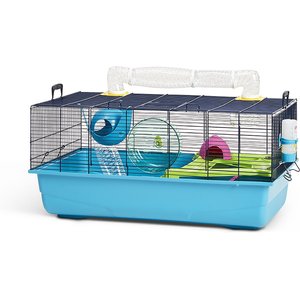 ---
Part cozy hamster home, part hammie play palace, this cage comes with tunnels, an exercise wheel, a hut, a hanging house, a water bottle and a feeding bowl. You can set up your dwarf hamster's cage just the way they like it with snug hidey holes and ample room to run and play.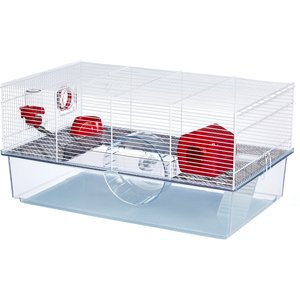 ---
Best Plastic Hamster Cages
What hamster doesn't want their own split-level penthouse? This spacious cage holds plenty of hamster bedding for burrowing and comes with an exercise wheel, food dish, water bottle and hamster hiding spot. Bonus: The plastic tub is easy to clean (who doesn't like that!), and the modular design allows you to connect it with other habitats or play areas.
temporary quail home

Well made and easy to clean. Using as a temporary home for my king quail. Added a big ramp and he runs around making happy sounds.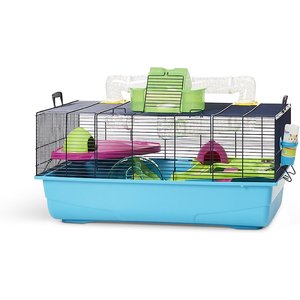 ---
Best Overall Hamster Cage
This extra-large hamster cage comes decked to the nines with tunnels, exercise wheels, two houses, a water bottle, two feeding bowls and even a tiny hamster toilet. With all these fun accessories, you can make your hamster's play sessions even more engaging. Chewy parents also love that this cage is spacious enough for their hamsters to scurry, climb and burrow.
COOL CAGE!!!!!

this cage was perfect for my syrian. the tubes are big enough (YES!!) she loves it!! the only down side is that you'd need to take out a few accessories to fit a properly sized wheel in it. i am completely satisfied with this cage and recommend it to all hamster owners. 🙂 :)- 🙂 😉 Suzy, my hamster, loves it!
Get the best hamster cage for your furry buddy, and set them up with some delightful digs to call their own.
Getting a hamster? Learn more about these cute critters: