Do you have a certified Cat Person on your gift list? When it comes to feline fans, kitty-centric gifts are always a hit. But not all cat people are alike. Quirky, techie, overly-caffeinated—we've rounded up a range of cat-themed gifts for all kinds of floof aficionados. From handy home goods to personalized pet portraits to sweet trinkets, here are our best gifts for cat lovers.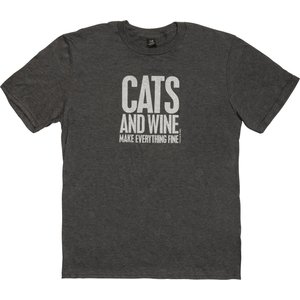 ---
Have truer words ever been spoken? Designed and made in Lancaster, Pennsylvania, this funny cat T-shirt (sizes XS-2XL) is a great gift for the cat-loving wine enthusiast in your life. Cheers to you!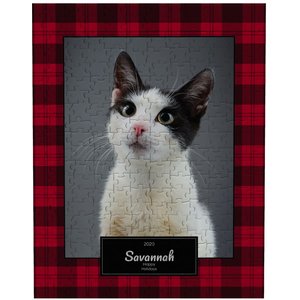 ---
There's nothing puzzling about this pick. This custom pet portrait puzzle comes in 252 pieces, meaning they'll have plenty of time to admire their fur baby's face while putting it together.
Amazing addition to my game boards

I love it! But sincerely I would love if they offer this in less pieces as are small for a pic, so sometimes not that easy to put together for kids. Overall I recommend this, but I suggest to do it with a good quality pic and without too many thing in the background

a great gift

Got this for my grandma with her cat on it as a Christmas gift. She loved it so much that she glued it all together and hung it up on the wall!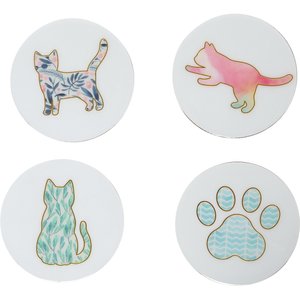 ---
Best for the Hostess with the Mostess
Nobody wants to show up to a dinner party empty handed. In search of hostess gift ideas? Featuring charming watercolor illustrations and gold-foil details, this set of four cute cat coasters is an adorably thoughtful present.
Fantastic Coasters

Love these. The kitty art is beautiful. I'm very happy they are light weight. If they fall to the floor, they can't break. They keep surfaces clean.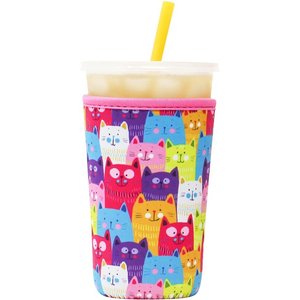 ---
Best for Iced Coffee Crushers
What's brewing? This a-meow-zingly cute cat face drink sleeve that comes in three sizes (S, M & L). Ideal for the cat mom who never leaves home without an iced coffee, it's crafted from neoprene to keep drinks colder for longer and reduce condensation.
Love this drink sleeve

This insulated drink sleeve is both pretty and functional. I got the large one and it fits large cups like McDonalds perfectly. No more trying to pick up a slippery/wet cup.

Great insulator

This drink sleeve fits an insulated cup I use perfectly and helps the ice in drink say longer in summer heat!

These are the best!

I've looked around to find some cute ones, and these were the cutest by far. There is also a dog one that I love too.
---
As every cat parent knows, the job has a smelly side—or at least, it used to. Equipped with smart sensors, this sleek Wi-Fi-enabled litter box automatically scoops litter into a waste drawer lined with odor-blocking bamboo filters. (Bonus: It's available in four chic colors!)
Game changer for busy families

Busy family of 4 +2 fur babies this has taken the daily work of scooping away and we are free to travel and be busy. Customer Care was able to help right away when I had a problem even though I bought from Chewy.

GameChanger

No more Scooping!! I have had cats all my life and this is a game changer. I use the recommended litter from Chewy and there is no odor at all. I took away the old litter box immediately and put our kitty in the box and let her get use to the Loo and she acclimated quickly. The app is very easy to use. I went away on vacation and got notified regularly that the cat was using the Loo. Changed the bag when I returned. GENIUS! LOVE LOVE LOVE

Life Saver for Busy Schedules!

Cleaning a litter box is never an enjoyable experience, but the Leo's Loo Too has worked amazingly! I love the connection to an app that allows me to know how often my furbaby uses the bathroom--and when I need to change the litter tray! So much better than cleaning the box daily!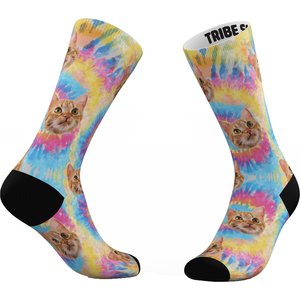 ---
We love unique gifts with a personal touch. For the pet parent with a playful sense of style, consider these customizable cat socks. Simply upload a photo of your recipient's feline friend, and voila—you have the perfect cat-themed gift. One size fits most.
Great gift

I ordered these as a gift. The photo upload was easy and straightforward. The image came out clear on the socks and the colors contrast well against the tie dye! Great purchase!

Chewy understood the assignment!

Chewy understood the assignment!! They killed it with these customizable pet socks! They made the perfect gift for the vet tech coworkers. So much so that it was worth the extra few days in shipping delays!

Your favorite pet Tie-Dye Socks

WOW!!! Who every the one that came up with this project! Really Loved there pets! The socks where very comfortable to wear. But the downside of these Beautiful pair of socks that they are not a winter pair. But! For any other seasons is Awesome!!!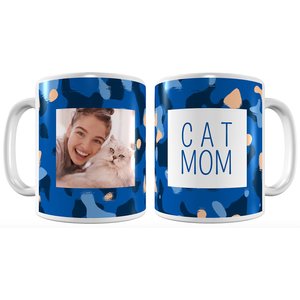 ---
Best for Caffeinated Cat Moms
Does their furry friend also serve as their alarm clock? This customizable cat ceramic mug will make those early morning wake-up calls a little sweeter. For an extra special touch, include a bag of your favorite java (and catnip for a feline-friendly buzz).
Super cute

Great quality - only negative is the mug is a little on the small side, but otherwise picture turned out clear and fun to design your own colors on the mug.

Loved this gift for my daughter for Christmas!

I ordered this for my daughter for Christmas! The photo came out clear and great! She loves her kitty cup!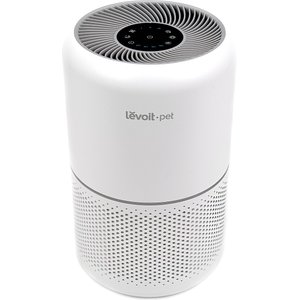 ---
Best for Those Who Like to Breathe Easy
Air purifiers are a great addition to any health-conscious home—especially those with four-legged family members. Specially designed for pet owners, this hard-working purifier controls odors while removing dust, mold, pollen, pet dander, cat hair and more from the air.
Levoit air purifier

Love the new air purifier , but disappointed that can not get the core 300-RF-TX HEPA 3-stage toxin absorber filters to replace in it through your facility. Love the quietness and job the machine does.

Baby knew just what to do

Wish could send pics, soon as I started it up Baby took the best spot and kept it (till dinner time)! It's perfect for the bedroom and meets all expectations! Oh can send pics, lol

Great fur catcher

I got this item hoping it would help with the cat dander and it is about 80 percent helpful in my book and I am glad I purchased it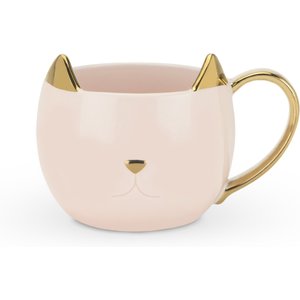 ---
Hold the sugar—tea time can't get any sweeter than this. Boasting a modern-minimalist design and trendy gold accents, this cat-shaped tea cup is the perfect gift for those who enjoy an extra-cute cuppa.
So cute!!!

Would make a great gift! I love it, I almost want to get the black one just to have both lol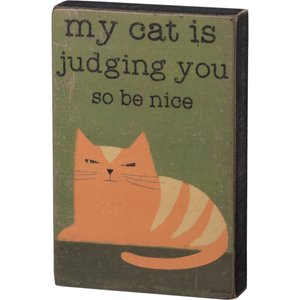 ---
Best for Those with Sassy Cats
Does your loved one have a judgy cat? (Spoiler alert: yes.) For households with side-eye to spare, this witty home decor adds the purr-fect dose of sass to any room with its modern vibe and neutral palette.
Thus was a gift for 3 friends and me

This was a Christmas gift for me and my 3 friends. we even have a cat group. They loved it . I have mine on the wall. For Christmas I left it out with all the other decorations everybody loved .

Relaxing at work

I have this one at work! Makes me laugh. My colleagues know I'm a cat lover and think my desk ornaments are great

Cat judging you

Love the saying on this plack. I get a lot of comments on it. Yes my cat's do judge people!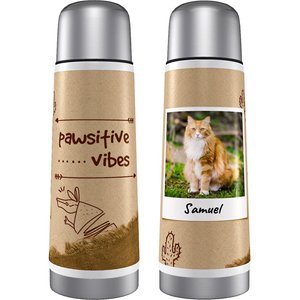 ---
Best for On-The-Go Cat Parents
Keep them warm while keeping their best friend close at hand with this practical gift for cat lovers. Perfect for coffee, hot chocolate, and soup, Frisco's stainless steel thermos is customizable with a cat portrait and personalized text.
Absolutely Amazing

This thermos is the most fantastic thing ever. The pictures are EXACTLY as I sent them( attached to review for comparison) Its beautiful, works so so well, and very high quality. It keeps my coffee hot all day. Stop thinking and just get it. You won't be sorry !

Looks just like the picture

Looks amazing with high quality picture. Everything looks stunning and crisp would recommend %1000 to any animal lover out there!

toxicwaterbottle

Meow thank you Chewy. My mom meow loves me and water. Meow now she gets to have a meow cute picture of me meow everywhere she meow goes. She definitely will not get her bottle mixed up with anyone else's meow because my mom has a habit of leaving her water bottle around and mixing it meow up with everyone else's 🙂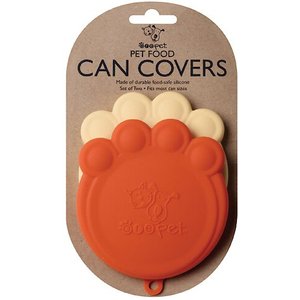 ---
Best for Those with Wet Food Fans
Made from food-safe silicone and featuring three different rim sizes, these clever can covers make it easy to save wet food leftovers safely and neatly. They also make an easy stocking stuffer.
Perfect Fit

Fit perfectly to cover the can. Keeps dog food smell out of the refrigerator and keeps dog food from drying out.

Great can covers

I use one of these for my cat food, one for dog food. Both cans are different sizes but these fit both great (cat food 5.5 oz, dog food 13.2 oz). No more wasted cling wrap and I love that they are top shelf dishwasher safe.

LOVE THESE THINGS

I love these things so easy to wash and will fit any size can. I love that part about them. Totally worth it to me to keep her food covered while in the fridge, she doesn't eat the entire can in one meal.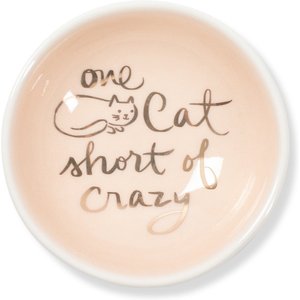 ---
Best for the Proud Cat Lady
To be clear, we consider "cat lady" to be a high compliment. For those who also own the title, consider this 3.25-inch kitty cat trinket dish. With its trendy blush-and-gold palette, it's equal parts cute and chic.
Cat people are happiest when they're spending time with their cat, talking about their cat, sharing pictures of their cat… you get the idea. Whether you're aiming for a high-tech gadget, feline-inspired décor or a small token, you can't go wrong with these gifts for cat lovers.
Bonus Gift Idea: Still not sure what to get the cat lover on your shopping list? A Chewy gift card will ensure they get just the right gift.
Need more gift ideas? Check out our other gift guides for pets and people: