As any fish enthusiast knows, having a home aquarium is a rewarding experience. However, making sure your fish have the proper environment is essential to helping them not only survive, but thrive. The best fish tanks are sturdy, secure and a breeze to set up and clean. Whether you purchase a glass or acrylic tank, you'll want an aquarium that is easy to see into as well as the appropriate size for your fish.
We've rounded up some of Chewy's best-selling and top-rated fish tanks to help with your shopping. These best fish aquariums are aquarist tested, rated and approved—so you can feel confident you're purchasing the very best home for your favorite finned friends.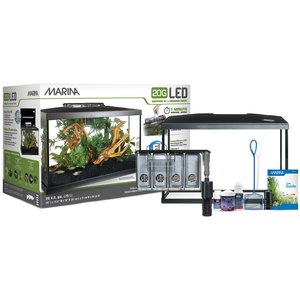 ---
If you're new to fish keeping and shopping for 20-gallon aquariums, this starter kit is the best freshwater fish tank. It comes with a care guide and everything you need to set up, stock and maintain your tank. Chewy customers especially love the easy setup and that the filter keeps the water crystal clear.
Wonderful aquarium!

Bought this for 2 small goldfish. It's a great size and looks nice in my bedroom. The filters work really well. The only issue I've had is that it is so reflective on the sides. Probably need a background to prevent that. But this is an awesome aquarium. Highly recommend.

amazing fish tank!

So first I will say this is an amazing tank for the price! I got it while they were having the cyber Monday sale so it was alittle less than normal but even with that being said most fish tanks I found that came with setups for a 20 gallon were around $200 if not just alittle bit less than that. I haven't put water in it yet because I am gathering everything I need first but if I can edit this I will let you know later. At first I didn't think the tank was going to be in one piece when it arrived. The box was destroyed and it wasnt sealed, the top was open. When I opened it everything was still completely in tact and looked great. It is...

Great tank, greater customer service!

Tank kit is exactly what I needed. Great for beginners. My first tank came completely shattered but chewy sent a replacement in one day in perfect condition. I appreciated how fast and easy they righted the situation.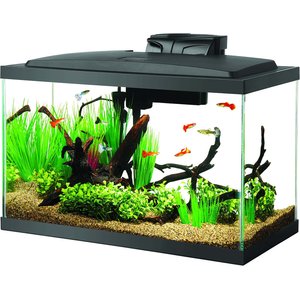 ---
This 10-gallon aquarium comes with all the fish tank essentials to get you started—plus a few nice extras like premium fish food, a fish net and easy-to-follow guide. First-time fishkeepers found it to be the best 10-gallon fish tank for setting up a new aquarium from scratch.
Great Tank

This tank has been great so far! It arrived quickly & was easy to set up. I love that it tells me when the filters need changed. The automatic heater is a great plus! Upon filling the tank with cold water, it only took about 2 hours to heat to temperature, and has stayed at that temperature - no fluctuations. The thermometer sticker for the outside of the tank is a favorite of mine as well, I love that I don't have to put a thermometer inside the tank. This is a great tank & serves its purpose very well however, the tank was "sloppily" made. The glue on every side/corners shows, and sticks out on the sides. As long as you don't mind...

Good Tank/Value

I bought this to give my fish a bigger place for them to swim in and enjoy. I find this tank to be made well, it looks great with the LED lights, and was easy to set up. The only complaint I have is that the water filter is a bit loud with a constant hum. If I was a fish this would drive me insane, but I'm not and they seem happy. I'm pleased with this purchase and would buy again if I ever need another tank.

What a great fish tank!!!

This fish tank comes with almost everything to start a beautiful freshwater fish tank! The tank comes with a very quiet, easy set-up filter, heater, tropical fish food, ( make sure to buy the right fish food for your fish if it is a coldwater fish :), a stick-on thermometer strip, a net, water conditioner, the tank and lid with a convenient feeding door and LED lighting. We are putting two fantail goldfish in it and are sure they will live long, happy lives. The only other thing we had to buy was cleaning supplies, bacteria supplement, goldfish food, and decor. So excited to put fish in this wonderful tank!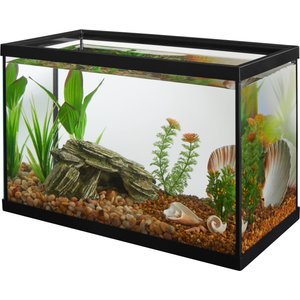 ---
Looking for a small fish tank for a single finned friend? This tidy tank has a sleek design that will complement your home or office decor. Plus, the diamond-polished edges and commercial-grade silicone sealant ensure you don't have to worry about sharp edges or leaks.
We used it for a hermit crab

#ReceivedFreeProduct Great little aquarium comes with a clear lid and made a perfect habitat for our hermit crab. It would also be a great starter aquarium for a kid room or game room.

Perfect for kids room!

#ReceivedFreeProduct This is an awesome little aquarium! We purchased one the same size, but different shape and the fish looked like they had no room to swim. We switched over to this one and the length gives them way more room! It feels extremely sturdy and fits well in my kids room. They love it! We got four small tetra (I believe) and a small catfish. The acrylic is very clear and feels very well made!!! Extremely happy with it!

Super

#ReceivedFreeProduct We wanted an Aquarium that we are able to design, this is very well built there are no leaks and really easy to decorate and the size is amazing, I will definitely recommend this one because I tried others as well.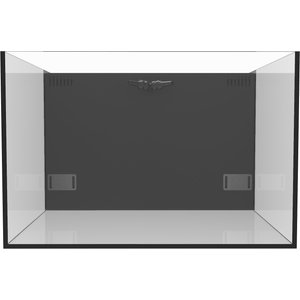 ---
In the world of large fish tanks, this 32-gallon rimless glass tank would make the perfect saltwater aquarium. The ultra-clear, low iron glass makes it easy to see inside so you won't be distracted by glare when watching your underwater buddies explore their tank.
this is a very nice tank

I really love the quality of this rimless tank. The back filter section is big and the glass is put together nicely. It has a filter sock and a return pump, unfortunately the pump is surprisingly loud and annoying so I will have to replace that but it's such a nice looking tank I couldn't dock a star for that. Tank stand I got on another website but it fits almost perfect. Super happy!!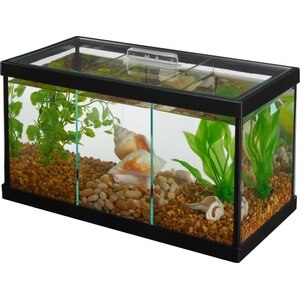 ---
With this tank, you can keep your bettas calm even when they're sharing a glass wall with a fellow betta roommate. This aquarium features partitions that prevent snippy and flamboyant betta behavior so you can safely house your fish next to each other.
Very nice little tank

This is a very pretty glass tank with black silicone accents. It was well protected when shipped and arrived with no damage. A tank this size works best with juvenile or small female bettas, but with dividers removed is plenty big enough for a good sized male. I am currently using it as a hospital tank for a guppy. It will just accommodate a Small World filter and one of the rectangular 10 watt heaters. My only issue with it is that the glass top fully covers the entire tank. It seems to me that in an unfiltered tank it might not provide enough oxygen exchange for air-breathing fish. There are no cutouts/spaces for the heater and filter...

One Tank!

We have 2 Betta fish. Now maybe can get a third. Kids love it they each have their own "section". Great way to have them in one tank but keep them apart. Nice & compact which is a bonus for this mom!

So Easy to Set Up

#ReceivedFreeProduct Hardest part of using this aquarium was deciding what I wanted to put in it. It's super simple to get the dividers in place, and attaching the handle to the lid was easy and hasn't failed in the couple of months since I attached it. I thought about fish or succulents, but ended up making a three-scene tropical terrarium. So cute.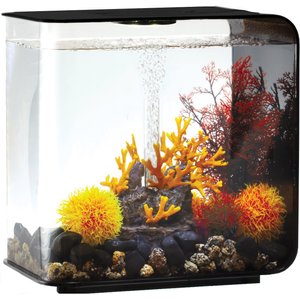 ---
If you want a unique fish tank that makes a statement, this modern fish tank has an eye-catching design. The acrylic tank can be used with either freshwater or saltwater setups. And the high-tech, 5-stage filtration system keeps their water clean and clear.
What an upgrade!

I recently, finally "crashed my tank" as they say. So badly, the whole thing had to go. Im not sure what algae bloom we caught but I spent WAY to much time cleaning a tank that would turn brown every 4th day. Plus, its saltwater!! Exhausting. So I bought this tank and we anxiously awaited its arrival. My only wish was that the tank came with an optional, matching heater.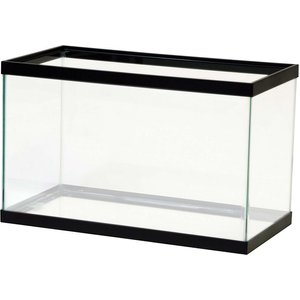 ---
A budget-friendly option that is still roomy enough for all your swimming sidekicks, this cheap fish aquarium can be used for freshwater or saltwater setups and it has a sturdy, high-quality glass construction.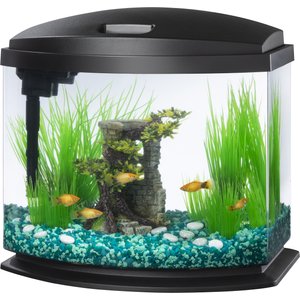 ---
This acrylic aquarium comes with everything you need to set up a home for a few small finned friends. Plus, the SmartClean Technology system allows you to easily change the water in under two minutes—a fan-favorite feature.
Little hiccup overcome by great customer service

Had an issue with the pump not working. I mentioned it in a review and I had an entire new tank on my doorstep two days later, which works perfectly. Happy to deal with a company with great customer service and prompt response.

Cute Aquarium

I bought the 2.5 gallon tank, to make sure it fits on my counter. Fit in the space perfectly. I set it up and cycled it first of course. I like this tank. Easy set-up, and will be easy to clean. I wish I had a space to buy a bigger one of these.

Would Recommend

I have had the 1 gallon MiniBow before and I decided I'd like a bigger tank so I purchased the 5 gallon and I love it! It isn't too big and isn't too small! It isn't really suitable for a desktop if you wanted to use it in an office unless you have a big desk (for that I would recommend the MiniBow 1 gallon), but it's great for the house, and the filter/water changing feature is amazingly easy!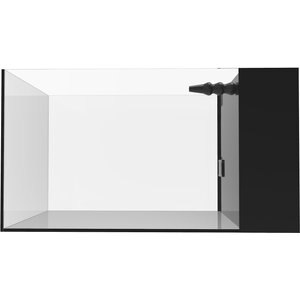 ---
Set up your saltwater aquarium with one of the best rimless glass tanks for your marine fish friends. The ultra-clear, low-iron ​​glass has beveled edges for a sleek look, and the top and bottom weir design allows you to easily remove water and debris when it comes time to clean your tank.
this is a very nice tank

I really love the quality of this rimless tank. The back filter section is big and the glass is put together nicely. It has a filter sock and a return pump, unfortunately the pump is surprisingly loud and annoying so I will have to replace that but it's such a nice looking tank I couldn't dock a star for that. Tank stand I got on another website but it fits almost perfect. Super happy!!
Set your finned friends up in one of the best fish tanks for a wonderful underwater home that you both can enjoy.
Get more fishkeeping advice: