Being in the dog house doesn't have to be a bad thing. In fact, the best dog houses are cute, cozy and sturdy—a private spot where your pooch will love spending time. Plus, if you have a pup who likes to spend a lot of time out in the backyard, you'll be at ease knowing that they have a safe place to get out of the elements and enjoy some shade on sunny days.
To help you find the best doggy digs for your fur bb, we've rounded up Chewy's best-selling and top-rated dog houses. These structures have been tested and approved by dog parents like you.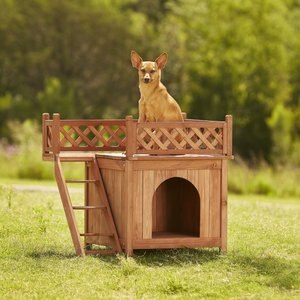 ---
Best Dog House for Indoors
If you want an indoor dog house, this roughly 2-foot-tall home gives small dogs a cozy nook AND their own raised deck. The upper portion is perfect for little pups who enjoy looking out the window but need a little boost. Chewy pet parents love the easy assembly and that it looks cute, too.
wonderful product

This cat house was easy to build and the quality is quite good. Not sure why the reviews suggest otherwise. We will add foam insulation and enclose the top for our outdoor crew, plus stuff with comfy hay, but overall, this was better than expected.

PawSome house!

Very easy to assemble, the perfect height for my window for him to lookout when he goes up . I was tired of him chewing up the soft houses & hopefully he don't start chewing on the wood.

Very high quality!

I'm actually surprised that this costs what it does. It is very high quality wood and it smells wonderful! It's very sturdy and the lattice is top notch. I did have some issue following the instructions but applied common sense and got it. I also wish the top would lift off for easy cleaning access. That aside, this gets five stars for what you get for the cost. It'll last a very long time if you properly take care of the wood. And it looks like a luxury house!
---
If you live in chilly climates with cold weather or have a pooch who needs a little extra warmth, this insulated dog house has a heater that comes with a remote and a digital thermostat so you can keep the temp exactly how they like it. The door flap will help keep the warm air in.
Great dog house

I bought this house for my German Shepherd who is an outside dog I was worried about him being cold and his wooden doghouse so I was looking for a heater for him when I came across this house so I ordered it it was pretty easy to assemble and I found the perfect bed to put inside it at chewie.com where I bought it from he actually went inside the house the very first day I had to persuade him to go inside because he wasn't used to the door with treats I would throw it inside the house so he would go in and get it and come out the house is nice and big for him The heater is customized to whatever heat your dog is comfortable with I think it...

Paid for itself already

Wasnt a 1 person job to put together but was easy enough...my blind boy took some time to adjust to the door,but loves being warm in 19°nights...i used to have to board him but he can stay home now its wonderful thank you!

Well constructed

The doghouse is well constructed. You do have to have a level spot to out it together or the final pieces will not come together. Very well insulated!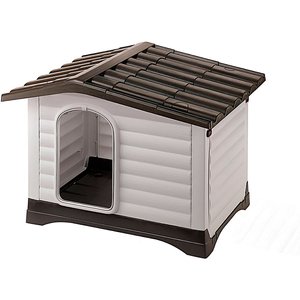 ---
Just because you have a pint-sized pooch doesn't mean you have to skimp on style. This plastic house features a flip-down door that turns into a doggy patio. But it's not all style over substance: the durable materials are waterproof and UV resistant.
Excellent dog house

Very easy to put together with clear photographic directions. Seemingly constructed of quality materials thatvare not flimsy. My dog seems to.like her new house and I am satisfied with my purchase.

Great Little House

Ordered a medium size house for my small/medium dog. The first one arrived with a cracked roof and I emailed Chewy pictures and with an hour a new dog house had been shipped at no charge. Super easy to put together and light enough that I can move and carry it on my own. Had it all assembled and moved outside in 10 minutes. I love that it has a side that opens up to allow more ventilation.

Condohouse

This was exactly what we were looking for. Your website is easy to use and I would recommend it to anyone.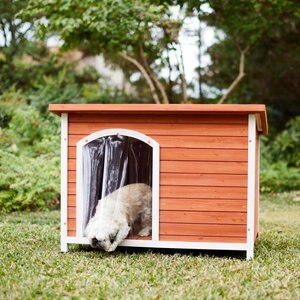 ---
For larger sized dogs who need room to sprawl, this big dog house, which is designed for puppers up to 70 pounds, is a great option. You'll love its sturdy wood and metal construction. Your pooch will love the raised floor and vinyl door flap that will keep them dry in wet weather.
Great outdoor dog house

#ReceivedFreeProduct The designer really thought of everything when they designed this doghouse. It's made out of durable durable outdoor materials that can withstand the crazy weather. It has a slanted roof so that rain water and snow doesn't accumulate on it. And it comes with a door flap to further keep the elements out and protects my little guy and he can hang out in there till the bad weather passes. Love this doghouse.

Awesome!

#ReceivedFreeProduct This dog house is so cute. My dog loves it and will hang out in it if she's outside. I love how it looks and seems to be very sturdy. Overall really happy with this product and so is my dog!

Looks great and is easy to assemble

#ReceivedFreeProduct This is one the best-looking dog houses I have ever seen. Right out the box and fully assembled, I am amazed at how easy it was to put together and how great it looks. From the clear dog flaps to the slanted PVC roof and solid wood and metal hardware, I surely have the coolest dog house in the neighborhood. The white trim is a genuinely nice touch that makes the doghouse feel more like a home for my little friend. The PVC roof is sure to last long as well as look good. Being bright white, it will also help deflect the sunlight helping keep the house cool. My one and only issue with the house is that the floor could use...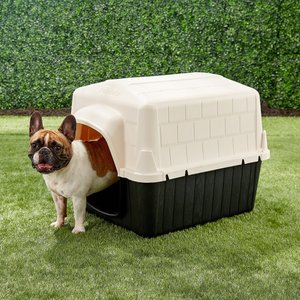 ---
This heavy-duty plastic dog house features snap-together construction that makes it easy for you to assemble and move, and the rear air ventilation system helps promote airflow. Plus, cleaning it is a breeze—simply get out the hose and rinse it off!
Great house

This was purchased for my two desert tortoises, they love it! It is easy to clean, keeps them cool in our very hot desert summers and will keep them warm and protected in the winter month when they hibernate.

Awesome product

Using for outdoor cat that has adopted us- he loves it! And keeps him out of the elements-and on nice days just naps all day -very happy with purchase!

Perfect abode

I knew it was going to be exactly what I wanted because I have the larger one. Delivered on time, took them out of their boxes, ( I ordered 2 for me feral cats), set them up with a little catnip sprinkled inside and watched the kitties explore the new items in the back yard. Success all the way around.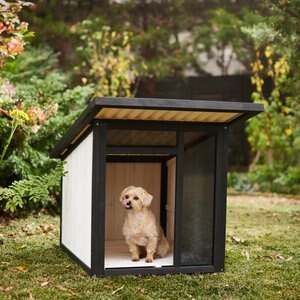 ---
This top pick for a fancy dog house features a modern, minimalist design and sloped, overhanging roof that offers up some shade in hot weather. Plus, with the front windows, dogs can stay out of the elements while keeping an eye on the yard—squirrels be warned.
Looks great!

#ReceivedFreeProduct My dog loves his new doghouse. Anyone that can read and follow instructions can put it together with minimum effort, but as always, it is best to have a second set of hands to assemble.

Such a cute Addition

#ReceivedFreeProduct I love our new Frisco Modern Wooden Outdoor Dog house. It was pretty easy to put together and it looks adorable. It is for our cat mostly who is mainly outside but also incase it starts to rain when our dog is outside and we aren't home. They now have a little home of there own to hide out in.

Very cute!

#ReceivedFreeProduct This dog house is so cute! the window on the side and the little overhang to stop rain is very convenient. Perfect size for my little one to go in and lay down, turn around and enough space for a little bed for him. The only suggestion I have would be to have some kind of flap or door on the front we could close to keep other animals out when not in use.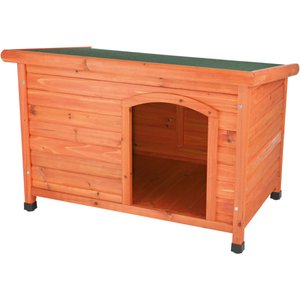 ---
This cheaper dog house gives you plenty of bang for your buck. Made of solid pine with a removable floor and hinged roof for easy cleaning, this log cabin dog house will quickly become your dog's favorite outdoor spot.
Purrfect size

Purchased for a resident cat to use when he is outside for the day. Good size for him to not feel confined but keep him dry if it rains

Our upscale waterproof outside hidden litter box.

This thing looks great and matches two wood storage cabinets we have by our pool. Parts all fit right. It is real wood and well packed, but if it was thrown or dropped while shipping the stress could cause damage. Ours was perfect. Yes, it is a thin wood, but not as thin as I expected, and each panel has a reinforcement board on the back attached with real screws and not staples or glue. I put a coat of clear sealer on it before it went full time outside in the lanai.

Trixie dog house

What a beautiful piece of furniture for our dog, but also our patio. Extremely well made and easy to put together. Spacious and very easy to keep clean. I couldn't be happier with this purchase.
You don't have to sacrifice style for a dog house that's easy to set up, keeps your dog safe from the elements, and can hold up to the weather. Give your dog a room to call their own with the
best dog house for the size of your dog, your yard and your budget
.