N

o one loves naps more than your cat. So give them the coziest place to curl up and catch some zzz's with a comfy cat bed. The best cat beds will be made from high-quality materials, be just the right size and firmness and be machine washable for easy clean-up. To make your shopping easy, we've rounded up the best-selling and best-rated cat beds, from cat cave beds to the best bed for senior cats, as reviewed by Chewy cat parents like you. No matter their sleeping style, your furry feline can happily nap the day away.
---
With an orthopedic bolster for plenty of comfy support, a water-resistant bottom and a super soft, machine-washable shag faux fur cover, this donut-shaped cat bed wins brownie points from both cats and cat owners. It's so cozy, you might be tempted to join your cat for a nap.
All my pets love it

All my pets (dogs and cats) take turns in this bed - its very popular! Very soft and reasonably priced too. I think I may need to get a second one!

Love this dog bed!

I have 3 of these dogs beds. I bought the first one for my Aussie/Sheltie cross. She loved it! But, one of my Pit Bull's loved it more and took it for his own. I bought a second one of these dog beds for my Aussie/Sheltie cross. She loved it! But, my other Pit Bull loved it more and took it for her own. So, being a loving dog mom, I bought a 3rd one for my Aussie/Sheltie cross. She loves it! And, this one she got to keep for her own.

Great dog bed

She loved it straight out of the box! This is the second one we have, she goes from one to the other. It sure does look comfy!!
---
For cats who prefer a quiet spot to cozy up in, this cat cave gives them their very own private palace. Chewy cats love the enclosed space and soft sleeping surface, and Chewy pet owners love that this cave-style bed can be machine washed for easy upkeep.
Great for the price!

This is a great little bed for the price. We got this for our 13 inch Beagle to play in, not to sleep in. She likes to hide her toys and find them, this covered bed works perfectly for that!

Cozy Kitty

Big hit. Kitty lovers her cozy new bed. She'd been sleeping inside a printer box for years which she love but had to crouch down to get in. This one much easier, softer as she ages to get in & out of

Cat teepee

A beautiful cat, Cheeto, adopted us in August! Our 2 herding dogs are NOT cat lovers so she has to be an outdoor cat, which she is used to, as she previously belonged to our neighbor until their new dog chased her away. We had to do something to protect her from the cold, so I bought this cat "teepee" and she absolutely LOVES it!!!! When it got colder, we wrapped fleece throws and blankets around the outside of the little house and just left a small opening for her to crawl into. She is so comfy in there! Another neighbor is now getting one for her outdoor cat.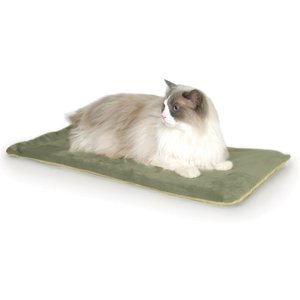 ---
Not too hot, not too cold, this heated cat bed is designed to safely keep your cat warm. When Kitty cozies up on the soft foam-covered heating pad, the internal thermostat kicks in, heating up to their body temperature. It's almost like napping in their favorite human's lap.
Perrrfect!!

Our Kitty "Blink" is 17 years old and absolutely loves this pad. It's not too hot, not to cool and fits his bed perfectly. I just ordered another one.

Keeps Cat Cozy

I have a semi feral cat who is not interested in coming inside the house. This mat will help to keep her warm this winter in a shed that she prefers as her home.

Soft warm bed for kitty to stretch out on

Got this bed for my big boy to lay on, but he liked the round one with high sides better, so I gave this one to my girl cat instead and she loves it. Put it in her favourite chair and she immediately started kneading it. Alternates between curling up on it and stretching out. It's a bit longer than I like it, as both ends hang over the sides of the chair. But its fine and she enjoys it.
---
A sofa style bed provides a bolster or arms that pets can use as pillows. This one has a polyfill bolster, a faux fur cover and an orthopedic foam base to support your cat's joints and relieve pressure points. Talk about comfort!
Lila feels like a queen in her new bed!

This bed is perfect! It is super soft, has a removable cover and is big enough that Lila can stretch out and really relax! She loves it !

Perfect for big dogs

Before buying this, we always struggled to find a dog bed that was big enough for our Akita (about 115 lbs) to really stretch out in. We got the biggest size - jumbo plus - which was perfect for her! The bottom is firm enough for her weight and the sides are nice and soft so she can put her head on it. We have had the bed for months and still love it!

Heaven in a bed

My little 50 pound lab, Lucy, approves of the bed! I ordered the large size, reasonably priced and pooch approved!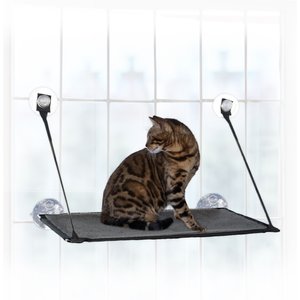 ---
Take your cat's sunbathing to the next level with this window-mounted cat perch. The large, industrial strength suction cups secure this hammock-style bed to the window, giving your cat the best view of the yard.
Ultimate Cat Bliss

We purchased this after seeing a similar version a friend has. Barely got it up in the south window before there was a cat sprawled out on it. It's now the afternoon napping spot of our old man any time the sun is out. He can bake himself in the sunshine to his heart's content and no one bugs him.

They love it

I have 3 different cats and each of them has used this perch point with no hassle at all. Sometimes even 2 of them sit on there at the same time lol. Instructions were pretty confusing at first but after watching a video I got the hang of it

My cats new favorite spot

Elinor absolutely loves her window seat. I choose this style because it can fold up to close the blinds but she is a spoiled lady and sleeps in it at night instead.
---
Comfy and chic, this adorable cat couch is stylish enough to go with your home decor—and cozy enough that your cat will love snuggling up on the plush fabric. Plus, the photos of your cat lounging on this fancy cat bed are guaranteed to be Instagram-worthy.
BoBo LOVES it!

This is my first purchase from Chewy. Such an adorable sofa, and my cat absolutely loves it! Great quality! Would definitely recommend!

He feels like a king!

Great Choice! Money well Spent! Casear thinks he is the king in his new favorite place to be. Additionally it is well constructed and stylish. Perfect addition our home . It looks so much better than the pillow type thrown on the floor. We just love it

Just love this!

Both my cat and dog love this sofa. And it looks great with my decor. Buy it! Worth every penny.
---
For big cats who need a little extra room to sprawl out, this large-size luxury lounger gives them plenty of space to snooze. It strikes a just-right balance of softness and support, with a removable, faux fur cover and orthopedic cushion to provide back and neck support for your bigger furry friend.
Great dog bed

My puppy s xray shows bilateral hip dysplasia , farm breeder, sad, so decided to be pro active. This bed fits perfect in his large crate and provides the support he needs. Very pleased with it.

love it!!!

Both my 8 year old (150 lbs)and 6 month old(75 lbs)saints fight over it. Planning on ordering the largest size next. Got the second to largest size and they both can fit on it as of now.

Great bed for my giants

I have now bought a second one of these beds because my giants, 1 Mastiff and 1 Bullmastiff, just love them. They are 200 lbs and 125 lbs respectively, and these beds are great for both of them. The smaller of my 2 boys, the "little" 125 lbs Bullmastiff hardly ever sleeps anywhere else, and even after a little over a year of use, the first bed I got still holds up great under the weight. Also, the fact that this bed is big enough to hold my 200 lbs Mastiff is great, cause finding things big enough have always been a problem.
---
For older cats who need extra support, this orthopedic cat bed has memory foam for a cush spot that they'll love almost as much as your couch. Chewy pet parents love that this high-quality bed has a removable cover that they can pop in the washer for easy clean-up.
They love it!

At first, our 3 babies wouldn't go near this, but now the cat and one of the dogs "fight" over it. It's a great product and all 3 of our babies love it!

Cozy Comfort

My small dog Is quite pleased with her new bed! It is the perfect size for her to turn around in and still snuggle in for a nap.

Happy dog . . . happy dog mom

I have a large dog who is starting to show some signs of hip arthritis. I felt I needed to find her a better bed and I found it with this one. She love it immediately. Almost have to drag her out of it. Really pleased.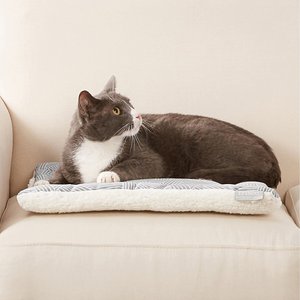 ---
Great for traveling or just giving your feline friend a comfy spot to lounge or nap around the house, this compact pillow bed is reversible for added versatility—one side is breathable for lounging, and the other is plush for added warmth and comfort.
Better than I thought!

I honestly thought it was going to be a thin pad bed like other pad beds and the photo for the product was exaggerated, but this one has some good cushioning in it! I was surprised and my cats absolutely love it. I might actually get a few more of these soon since one of my cats has been on this bed and I have 6 little devils with claws. Definitely worth it for the price and am going to recommend this to my friends and family.

Best cat bed ever

I bought this for my older kitty and my other two would not leave it alone. Long story short, we now have three and everyone is happy.

Very comfy

I have very expensive cat items around our home and these are the ones that she likes best! Soft and comfy for her. Great product! Nicely made.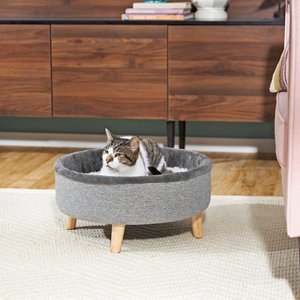 ---
You don't have to sacrifice your design aesthetic for your cat to have a comfy spot. Chewy pet parents love that this cute cat bed has a sophisticated style that complements their interior decor—while still giving their cats a comfortable place to nap thanks to a circular shape that's perfect for snuggling up in.
Great Quality

So happy with the new kitty bed. Very sturdy construction and the legs give it a more decorative look. A wonderful value for the price.

Perfect size for curling.

It's soft, it's sturdy, and it's purrfect. Still need to convince our other cat to use his, but am convinced he too will love it.

Perfect Pet Bed

This little bed is perfect for your pet. It gets them up off the ground, just enough so that they won't catch a draft. They love it!
---
Perfect for cats who love a headrest while napping, this cat bed has a full bolster to give them a comfy spot to nap. No matter what their favorite sleeping position is, this bolster bed will give them support so they can get their beauty rest.
They both love their new beds

I bought one of these for my elderly dog who has trouble getting up on my bed sometimes. He likes it but my younger dog likes it too and has appropriated it. I had to buy another one. Now they both have one and neither of them sleeps on my bed most of the time.

Cat approved

My 1 year old cat has previous back leg issues and needed a new bed so I figured it wouldn't hurt to try an orthopedic one. It's very sturdy and well made. Just got it today and she's already napping on it.

BEST. BED. EVER.

My dogs LOVE these beds. I have purchased 5 (2 originally and 3 more recently) so that they can be in multiple rooms without me having to drag them all over- the quality of each was excellent! In fact I was actually surprised at how nice they are for the price. Mine are holding up very well so far, but I really hope they never stop making these in case I need more later.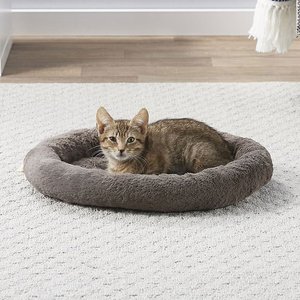 ---
With its budget-friendly price, this cheaper cat bed has a lot of features to love. The self-warming bed conserves heat from your cat's body and has a bolster edge that will allow your kitty to curl up and get cozy. And it's machine washable for easy cleaning.
Self warming bolster bed

These are just amazing, especially for the price. My cats love this little bed. Outside cats love the little bed too. Will be ordering more as you can put them anywhere and they are so useful.

Warm and cozy

I got a small, and it is small looking for my 11 to 12 pound cat, but he loves it. I guess it makes sense since cats tend to like small spaces and snug fits?

Really nice beds!

I bought 2 of these and they are perfect for my cats. They are so soft and just the right size! It seems that Frisco has alot of great pet products.
Tuck your fur baby in for a nap in their favorite spot. With the best cat bed for them, you'll be happy knowing they have a comfortable sleeping space for their next snooze.