When aspiring plant parents go shopping for trendy, popular houseplants, they have more to worry about than humidity requirements if they happen to have pets: Just like certain foods are toxic to pets, many plants also contain substances that can potentially harm your dog or cat.
But you should know that there are still many indoor plants that are safe for cats and dogs. And you know what? They're just as trendy as those ultra-hip snake plants and fiddle-leaf fig trees (which are toxic to pets, by the way).
So you can keep up with the "plantfluencers" blooming all over your Instagram feed, we spoke with Erin Marino, director of marketing at plant delivery service The Sill, to learn of the pet-safe popular houseplants that are quickly gaining must-have status.
Check out the four "it" plants pet parents should consider below.
---
Best for: Anyone (and we mean anyone) craving a low-maintenance, tropical aesthetic.
This upright, fronded palm will add some tropical vibes to your space (no travel required). Marino tells us that the Parlor Palm has been cultivated since the Victorian era. Both then and now, it's prized for its resilience to indoor conditions. Featuring several thin, compact stalks and dark green fronds, this beachy babe is suitable for new plant parents, thanks to its low-effort care requirements.
Plant Care Tips: "Unlike the palm trees you see at the beach, this palm is not suited for intense, direct sun. Instead, the Parlor Palm thrives in medium to bright indirect light. It can also tolerate low and indirect light," says Marino, who recommends watering this plant every one to two weeks, allowing the soil to dry in between waterings. "Expect to water more often in brighter light and less often in lower light. Oh, and this plant can benefit from extra humidity," she notes, so consider homing it in your bathroom if it gets adequate light or investing in a humidifier.
---
Best for: Plantfluencers with an artist's eye who can provide the perfect bright spot.
Don't want to deal with the mess of soil? (We get it: You've got a fur family to look after.) Then the Xerographica air plant is the one for you. This air plant doesn't require a planter, which means you can plop it anywhere your heart desires and it'll do its thing.
"This particular air plant, the Xerographica, is characterized by its silvery grey curling leaves that form a rosette shape. It's like a living sculpture for your space," Marino says.
Plant Care Tips: As Marino explains, the Xerographica Air Plant does best in bright, indirect light. And while it can also tolerate bright direct light, this plant will not do well in low-light conditions.
To water your air plant, soak it weekly in a bowl of room temperature water for about 20 minutes. After soaking, shake off any excess water and gently dab dry if necessary. You don't want to let stagnant water sit on the leaves for an extended period of time. The Xerographica also does well in humid conditions, so introduce a humidifier if you live in a dry climate.
---
Best for: Those seeking a visually dramatic, Instagram-ready plant and don't mind the extra upkeep. (Bonus if you have a penchant for pink!)
The Calathea Dottie is a drama queen with beautiful, dark circular-shaped leaves featuring neon pink stripes. A member of the Marantaceae plant family, this nontoxic popular houseplant earned the nickname "prayer plant" for its unique leaf movements: "They raise and lower their leaves from day to night as part of their circadian rhythm," explains Marino. "In addition, it's popular for its dramatic foliage. Its leaf pattern almost looks painted on!"
Plant Care Tips: "The Calathea thrives in medium to bright indirect light but can tolerate low indirect light. It is not suited for intense, direct sun," Marino says.
It's also recommended to water it with filtered water every one to two weeks, allowing soil to dry out about halfway (or slightly more) between waterings, notes Marino. You may need to water more in brighter light and less in lower light, and it'll do extra well when sitting nearby a humidifier. (Use a Brita or other water filtering system or pick up jugs of filtered water at the grocery store.)
---
Best for: Plant parents who like the idea of breeding plant pups and can provide nice bright, natural light.
Also known as the pancake or UFO plant due to its circular leaves, Pilea Peperomioides is an indoor plant that's totally safe to have around your pets. In addition to its sweet, coin-shaped flat leaves, it's also a self-propagator which means it breeds little "pups," which pop up from the soil surrounding the mother plant and that you can re-plant or gift to a friend.
Plant Care Tips: "This babe likes the sunshine," says Marino. "It thrives in bright direct light, but can tolerate bright to medium indirect light. You'll want to water every one or two weeks, allowing soil to dry out between waterings. Again, expect to water more often in brighter light and less often in lower light conditions."
A big plus when it comes to Pilea Peperomioides? "With this plant, you don't really have to worry about humidity," Marino says.
Tips for Keeping Your Pets Away from Your Plants
Even plants that are safe for cats and dogs can pose some potential danger or inconveniences, like toppled planters and dirt-digging. While non-toxic to your floof, you and your plant certainly won't be amused. These tips should help:
Keep fragile, young plants out of reach. Marino says she keeps hers on high shelves and away from any spot her pets love to explore, including the coffee table, kitchen counter and desks.
Make sure anything reachable should be sturdy. Think larger planters that would require a lot of strength to knock over.
And if you're considering bringing any other plants to your home, be sure to check this list of poisonous plants for dogs and poisonous plants to cats.
Love the Leafy Look? Shop These Plant-Inspired Products
Let your fur baby get in on the fun, too. Extend the organic feel into your pet's domain with these plant-patterned and faux-plant pet supplies.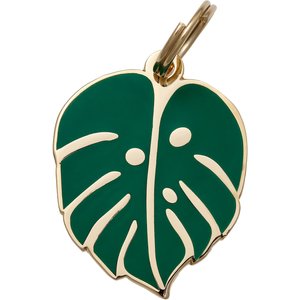 Two Tails Pet Company Monstera Leaf Pet ID Tag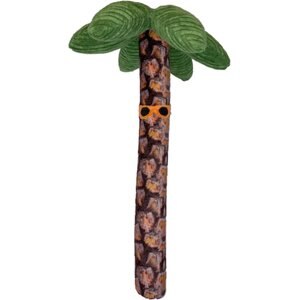 Fab Dog Fabtough Palm Tree Squeaky Plush Dog Toy
$16.00
More pet-safe plants for the home: