W

hat's better than treats on Halloween? A new toy, of course. Make this Halloween extra-special with a creepy-cute dog toy that will put a spell on your boo all spooky season long. To help you pick the perfect toy for your individual pet, we've rounded up new and best-in-category Halloween dog toys. From fetch toys to chew toys to plush toys, there's a Halloween dog toy for every furry monster in your squad.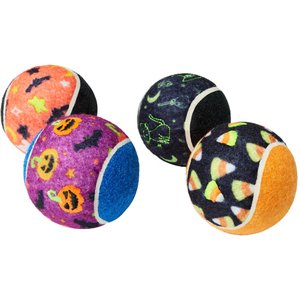 ---
Best Fetch Halloween Dog Toy
Take fetch to scary new heights with these Halloween-themed tennis balls that feature a built-in squeaker and whimsical patterns, including candy corn, bats, crescent moons and more. These Halloween toys glow in the dark, making late night fetch games easy. And with four per pack, there's plenty to go around for your furry friend's dog park pals.
Awesome Halloween Balls

My Shih Tzu Mochi collects balls and I am not kidding, I have over 75 balls not counting the toys.....it's an obsession so she is going to love these Halloween balls. They are in her Halloween Bag ready for Halloween!

Missing item

Chewy, what happened? I ordered two and only got one! Ami getting the other set? These are my grand pups favorite toys right now and they get lost outside at times.I promised I would get more for him!

Super Durable

These tennis balls are durable and the surface is not easily removed. My dog likes to peel the outside off and I don't think that she will be able to do that with these balls.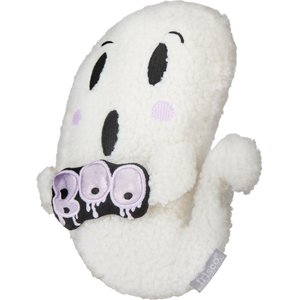 ---
Best Plush Halloween Dog Toy
For pups with a penchant for plushies, this ghost dog toy offers up a ghoulishly good time. It comes stuffed with four squeakers and crinkle paper to encourage playtime. And when playtime is over, this soft-yet-sturdy specter makes the perfect supernatural snuggle buddy.
Holds up well

This toy has lasted longer than majority of plush toys I've bought for my two Goldens. The "BOO" part ripped off easily but they're still using that piece as a toy too. It is larger than I anticipated and has easily become the favorite toy of the house. I've washed it twice since my boys like to take it outside and it holds up in the washer and dryer well.

Such a fun toy!

#ChewyTeamRated I love the size of the L/XL for my dog! The toy is absolutely adorable and she will not put it down. Definitely recommend for all toy loving pets!

Cute toy for Halloween

This toy is really cute and is exactly how it looks online. I didn't have to wait long for it to arrive. I've been really happy with Chewy.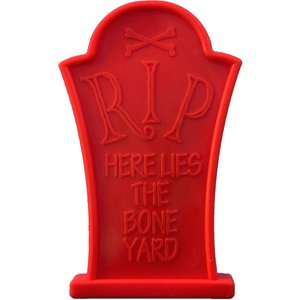 ---
Best Chew Halloween Dog Toy
Spooky look? Check. Durable and long-lasting material? Check. Tons of fun? You know it! Your four-legged friend can really sink their teeth into this headstone dog chew toy from SodaPup. Perfect for enthusiastic chewers, the durable nylon will stand up to sharp teeth, and you can rest in peace knowing your furry friend is engaged and entertained.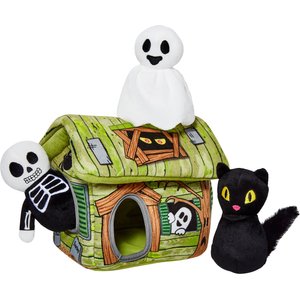 ---
Best Puzzle Halloween Dog Toy
Smart pups require interactive, interesting Halloween toys. Engage your dog's brain (mmm… brains…) with this puzzle dog toy set, which includes a plush haunted shack and three smaller squeak toys. Not a fan of seeing your pup's toys scattered around the floor? These festive pet toys tuck neatly into the haunted house when playtime is over—an added bonus.
Spooooooky

I just wanted to write a review to say this is the CUTEST THING!!l. My 7 month old monster loves these kind of interactive toys that she can take apart. This is well made and the little characters are a perfect size. So if you are a dork like me who buys your dog Halloween presents, get this! You won't be sorry!

Halloween Haunted Shack Hide and Seek Puzzle Plush Squeaky Dog Toy

This is an absolute favorite for timing with Halloween. I care for one dog at my home that loves to get each toy out and shakes it left and right which keeps her busy for quite sometime.

So much fun

My two dogs have so much fun with these They go crazy digging the little things out Yes they eventually destroy the little pieces but they have a ball in the meantime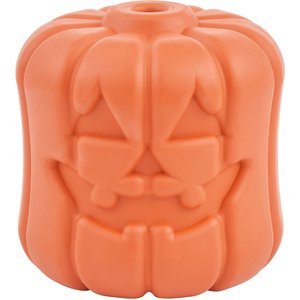 ---
Best Treat Dispensing Halloween Dog Toy
This jack-o-lantern-shaped treat dispensing pumpkin dog toy will make your four-legged friend work for their snack. Simply fill the natural rubber toy with your pup's favorite dog treats, and let the fun begin as they try to get the surprise out. Whether you have a large dog or a small dog, it's a great interactive toy for keeping your pet occupied while you hand out goodies to trick-or-treaters.
Durable!!!!

I have a 110lb German shepherd who LOVES to destroy kongs, even the supposed indestructible ones but this one has actually lasted. Not sure if he is being selective but still 10/10 recommend!

Keeps my dog occupied

Love this seasonal little treat dispenser. Keeps my little dog entertained while I need to do things around the house or when I need to sneak out the house without him realizing.

Great treat kong!

My dog has been loving this treat kong/dispenser. I fill it up with different things (fruits, vegetables, treats) and it keeps her occupied! Very sturdy as well.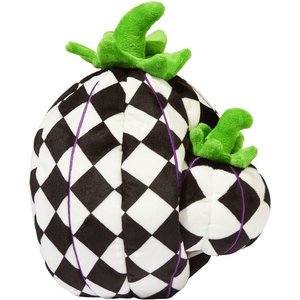 ---
Best 2-in-1 Halloween Dog Toy
This Halloween dog toy is a bit of a trick. Inside the larger plush pumpkin lies a smaller plush pumpkin. Your pup gets to enjoy the thrill of finding it. A squeaker and crinkle paper filling help encourage your dog to dig in. When playtime is over, plop the mini pumpkin back inside the larger one for future pumpkin-picking fun.
Greatest Toy

This is probably the best toy I've ever purchased from Chewy. The bigger "ball" makes a crunching sound, while the inside little ball is hidden inside for a great puzzle toy. (and it squeaks) I also put in other toys for my dog to try and "dig out". This great toy keeps her quite busy for a long time. Highly recommended.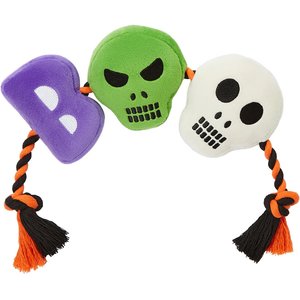 ---
Best Rope Halloween Dog Toy
No bones about it—Frisco's rope dog toy featuring a spooky skeleton duo is way better than a boring ol' rope. Not only will this interactive toy satisfy your pup's tug-of-war tendencies, but the squeak element will also stimulate and encourage solo play time, whether on Halloween or all year round.
Stella LOVES this toy!

I bought this for my girl because she loves playing tug o war and she also loves squeaky toys. This one fits the bill perfectly & I love the Halloween theme. This is her go to toy right now.

Perfect Halloween toy!

I love this toy & so do my pups! It's a great size and my dogs will play tug of war with each other for a long time with this toy! They love it!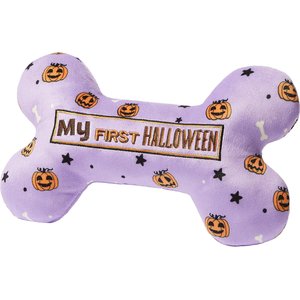 ---
Best Halloween Toy for Puppies
Every first should be celebrated with a puppy, from first "sit" to first walk around the block. In that spirit, this squeaky bone toy is here to mark your puppy's first Halloween, too. It features a message on each side to commemorate the occasion, and the soft plush is gentle on puppy teeth. Happy first Halloween, puppy!
Larger than expected!

My little guy has ripped all the arms, legs & ears off his other stuffies so finding this kind was perfect. Seems to be decent quality and he loves it!

Happy Howl-oween!

I bought this for my aunt's new addition to the family. It is a cute way to commemorate her first Halloween. The toy is a good size for an Australian Shepherd puppy and Gigi just loves it! She is the one going "squeak" in the night.

Halloween bone squeaky toy

I can't believe how much they are enjoying their new toys. They love it when we get a new chewy box. They know they are going to get treats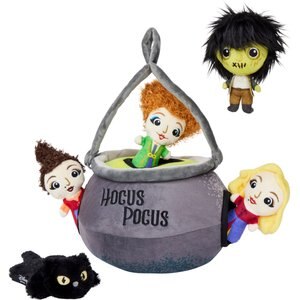 ---
Best Halloween Dog Toy for Disney Fans
Brew up good times with these hide-and-seek dog Halloween toys featuring characters from "Hocus Pocus." Your pup will enjoy running "amok amok amok!" as they discover the Sanderson Sisters, Billy Butcherson, and Binx hiding in the cauldron of this dog puzzle toy. (As an extra treat, these spooky plushies squeak!)
Very Cute Toy

My dog loves this. Under strict supervision only, though, as the characters are small and could easily be destroyed. Though she is known to be tough on toys, she is very gentle with these! She loves digging them out and throwing them around.

Hocus Pocus recommend

#ChewyTeamRated besides the judgmental look on my dogs face of me taking her picture hah - she LOVES her hide & seek toy! I definitely recommend for any pet that loves these type of toys. Not only is it fun for my dog to play with but the characters and cauldron are so cute!

great enrichment

#chewyteamrated great for dogs to sniff and pull toys out of. toss some treats and put the toys in for some quiet time. good for a 60lb dog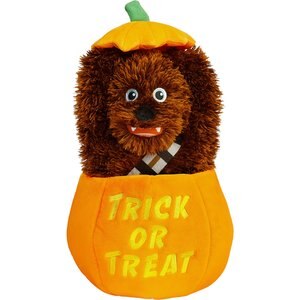 ---
Best Halloween Dog Toy for Star Wars Fans
Star Wars fans of all species will love this squeaky plush starring everyone's favorite Wookiee. Extra soft and snuggly, Chewbacca can be removed from the pumpkin using hook-and-loop fasteners. May the force be with your pup during playtime!
squeaky toy

My boy loves it. It came much bigger than expected, once he figured out that the Chewbacca came out of the pumpkin (it's velcro) he had a blast!!

A favorite

This toy has become an immediate favorite. I re-stuff it every morning and the sheer joy he gets from shaking it open, has me in stitches

Chewy in a pumpkin

My pup always loves Chewbacca toys and she loves the pumpkin toy. Then it squeaked and she was over the moon.
Need a dog Halloween costume? Browse our faves: