All cats—even indoor-only cats—need some form of flea control. That's because fleas and other pests can hitch a ride on you and any other four-legged family member and then latch onto your kitty. But with so many options on the market, from cat flea collars to flea pills for cats, how do you know what the best flea treatment is for your cat?
For starters, the best flea treatments for cats are the ones that are the easiest for you to use on your pet. Hard for your kitty to swallow a pill, no matter how much turkey it's wrapped in? Then maybe try a topical treatment. Does your cat hate the feel of liquid on their fur? Then perhaps a cat flea collar is the ticket for your cutie. Another important consideration: Your cat's age, overall health and weight. You always want to make sure what you're giving your pet is formulated for their individual needs. And when in doubt, check with your vet.
Below, we've rounded up the best flea medicine and flea control products for cats based on Chewy customer ratings, reviews and sales. Pet-parent approved and tested, these flea treatments for cats do a purr-fect job of keeping biting bugs away from your fur baby.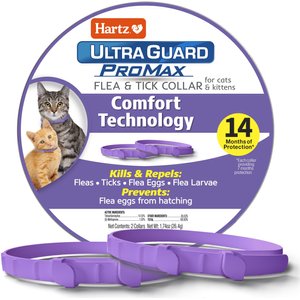 ---
What's not to love about this popular cat flea collar? Its active ingredients provide full-body protection for seven months, even when it gets wet. Each collar (there are two per container) destroys all the stages of a flea's life cycle (adult, eggs and larvae) as well as ticks. Good for cats and kittens 12 weeks and older and over 5 pounds.
cat coaler

Just got it, we'll what I think is that it is easy to put on and a very soft smell. I like it.

Super helpful

I purchased this collar after a housemate of mine recommended it. It comes in a round tin that pleased me very much. Inside are two collars wrapped in separate plastic bags. When you open one, you'll find that the purple collar has a bit of white powdery residue all over it that I believe to be the insecticide. My 2 yo male cat spends time both indoors and outdoors. He likes to play with the other outdoor cats, many of whom are unfortunately covered in fleas and had given some to him last month. I restarted my cat's monthly flea medication, which I had unfortunately neglected, and the collar provides extra protection. Since it arrived in the...

So far so good!

Put these collars on my barn kitties a few weeks ago and so far they still have them on and I haven't noticed any fleas or ticks.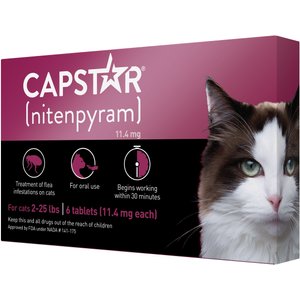 ---
If you didn't get around to preventing pests, then this is the best cat flea-killer around. Capstar's flea pill for cats and kittens (at least 2 pounds and 8 weeks old) acts super-fast. In 30 minutes, your kitty should start itching less as the oral flea treatment gets to work killing adult fleas. The super-small pills are made for finicky felines (
get tips for giving cat a pill here
), and in six hours, 90% of the fleas will be a distant memory. Remember: You'll still need another type of flea control to prevent fleas.
Best flea meds EVER!

Fleas are always bad in the summer but this year it has been much worse. The weather has not helped and we have 3 four month old kittens and 2 adult cats so I knew I was going to need something besides DE. My daughter has been using a topical treatment for her dogs (with good results) but I don't feel comfortable using the topical on the younger ones and I had seen the advertisement on TV. Chewy was offering a discount for the first order of this product and once I determined that no prescription was required, I ordered enough to treat my indoor kitties twice (just in case it didn't work as well as it said it would the first...

Capstar Flea Oral Treatment

Very good product. Really having a problem with fleas this year. Capstar is helping get rid of the fleas along with topical treatment.

Flea tablets

They work as well as Advantage II Applications and I don't have to worry about my cats quickly grooming the area !!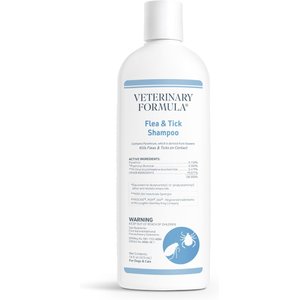 ---
Best Flea Shampoo for Cats
Pet parents say this flea shampoo for cats (and dogs), which kills adult fleas and ticks on contact, is a lifesaver. Lather your cat up (must be over 12 weeks old), wait a few minutes, and rinse your pet off. You'll soon see dead fleas floating in the bath water. Even better, your pet's fur will be left shiny and smelling sweet.
This stuff works!

This product works extremely well. If you follow the directions, it's does exactly what it's supposed to do. If your dogs has fleas and you want them gone, buy this product.

Works great for cats and dogs!

We tried this bottle on our 8mo old Siamese kitten and our 5 year old Maltese and immediately saw a difference with the fleas! The formula is a bit strong so I would recommend only using a small amount; just enough to create a lather. After leaving on for roughly a minute the fleas started dropping off right away. Will definitely be buying again!

100% Satisfied

I left this product in my kittens fur for 8 minutes after lathering good and to my surprise the fleas were dead when I combed this is the best flea shampoo I have used so far 10/10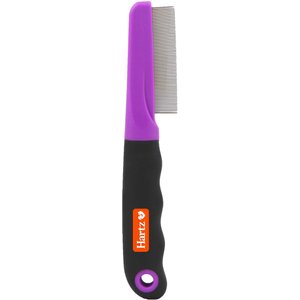 ---
Combing out dead fleas and eggs may not sound fun but it's an easy follow-up after using a flea shampoo or flea pill for cats. And you can't beat this best-selling cat flea comb. Its ergonomic handle provides a comfy grip while the fine teeth remove fleas, flea eggs and debris. Cat parents say it's awesome at detangling knotted fur too. Got a two-pet household? This comb works on kittens, older cats and even dogs.
Five stars

Forget the fleas, this comb is great at removing eye boogers. It has been so much easier removing them by gently combing her under-eye area than trying to use a napkin or dog wipe to remove them. It's also great for combing through her paws to get any specks of dirt out, especially after going outside.

Flea Bags Mom

This comb works great for removing fleas, but the fleas are fast and can jump off, so I use it with a container of water with Dawn dish soap in it. The soap helps them stick to the comb, then they are drowned in the water with the soap preventing them from getting out.

Fine tooth comb works

This comb works but when you have a cat that doesn't like baths, combing them to remove the fleas takes a lot of work. But with help it can help getting some of the fleas. But the shampoo & flea spray to kill the larva on furniture don't work.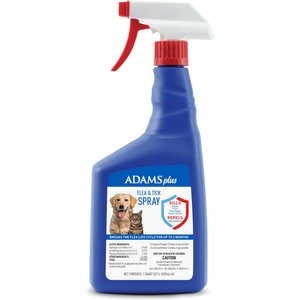 ---
This flea spray for cats kills adult fleas, eggs and larvae, as well as ticks (including deer ticks) and mosquitos—a plus if you're looking for an all-purpose pest killer. Use as a preventative and it lasts two months. Or use to treat your kitty if they're covered in fleas. Either way, it works quickly and efficiently, say pet parents. Safe to use on kittens 12 weeks and older.
Ticks and Fleas

I have used Adams Flea and Tick spray for years. I have used it on 2 dogs now. I always spray the dogs legs and undercarriage before walks in the woods and NEVER come back with ticks. If I forget... That is when I find a tick on the dog. The stuff does work as a Tick Repellant!

works well

I try hard to only use natural products on my pets but the fleas were getting worse. So I tried this and it worked great. Now I have it on hand and use it when it is absolutely necessary.

This stuff works

I tried every thing possible to get rid of fleas on my cats and in my house. Nothing worked! I found this and used it one time on my cats and noticed a huge difference. I bought more and treated my house and I've only seen a couple of fleas since using it. Probably because I didn't get the spray everywhere it was needed. Buying another bottle to spray where I missed and to keep my cats free of fleas.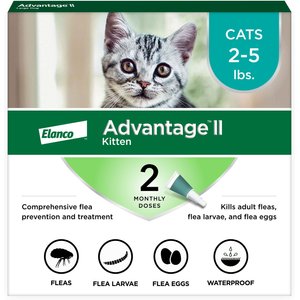 ---
Best Flea Medicine for Kittens
You may have noticed that many of the flea treatments for cats are for use on older, heavier cats, but kittens need flea treatment and prevention too. This topical flea medicine for kittens is formulated for kitties 8 weeks and older, and who weigh 2-5 pounds. It kills fleas of all types—eggs, larvae and adults—and lasts up to a month. Pet parents give it top marks for being effective and safe for their tiniest felines.
Advantage Only

I have used other flea products before and some were really expensive. I have always gone back to Advantage and I stay only with Advantage. now. I just recently added kittens to the mix and the Advantage line has also for kittens. Its great and affordable. Very happy and so are my cats.

Works great!

We took in a stray kitten loaded with fleas. Just 3 days after 1 treatment kitty I flea free and loving it!

Awesome! Fleas don't stand a chance.

As a cat owner here in Florida, this product is a must. When I used it on Smoky, he showed no ill effects. Kept playing after I put it on him. Fleas no loner bother him....or me.
No one wants to see their fur baby infested with fleas. Protect them with the best flea treatments for cats—they're safe, reliable and already vetted by other cat parents just like you, so you can feel confident it will help keep pests and the itching at bay. Just remember to check your pick with your vet first to make sure you use the correct dosage and formula for the size of your cat. (And NEVER use a flea treatment that was made for another animal, like dogs.)
Like this story? Check out more of our favorite reads: