When it comes to choosing the best bird cage, you'll want a cage that is sturdy, spacious and easy to clean. Other handy accessories like moveable perches, feeder doors and rolling stands will help you set up a fantastic and functional dwelling for your beaked buddy.
We've rounded up Chewy's top-selling and top-rated bird cages that are approved by bird parents like you. Whether you're shopping for cages for budgies or a parrot cage, you'll find the perfect place for your beaked buddy to call home.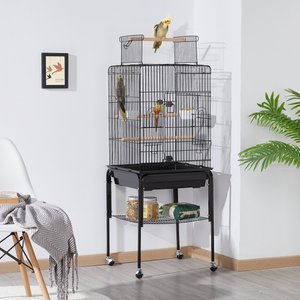 ---
Your parakeet will love the interactive play top that you can prop open with the included perch, and you'll love the rolling stand, storage shelf and bottom tray slide-out that make this cage for parakeets extremely functional. Choose from a variety of colors, including teal and almond, to match your decor.
rolling stand metal bird cage

It shipped really fast I received it before 24 hours(I live in Chicago) it's spacious and really easy to assemble which is great!

Nice Cage, Easy to Put Together

Bought this cage for my baby cockatiel and two budgies. They spend most of their time outside the cage, so this is really for naptime and busy time when I'm cooking, etc. It was extremely easy to put together, and everything arrived in good order. I think the locking mechanisms are a bit overkill for my needs, but for those of you with an escape artist, you'll appreciate this feature. It's roomy inside, and the convertible open top is nice.

I love my new home

I rescued a canyon towhee and soon realized that she would never be able to fly again. I purchased this cage so she could be comfortable. Perfect for her to jump from perch to perch. She is a very messy bird but we love her.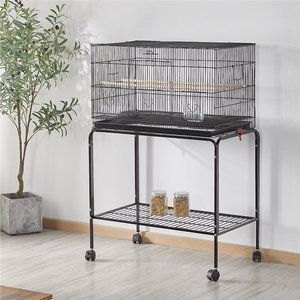 ---
Best Cage for Small Birds
If you have a tiny flock, this cage is big enough to accommodate five to six of your small feathered friends—with room to spare for their favorite toys. And just because it's roomy doesn't mean it's hard to maintain. Chewy pet parents love that this cage is easy to move and clean.
love this cage

I have 2 parakeets that needed a nice home, I bought this cage in Almond which matches so well in my living room. Im used to putting cages together and it took me about 20 minutes. Once together its sturdy, the stand it sits on is great, it has wheels so on warm days I can wheel it right out, and it helps with cleaning up seeds. The size is great! Big enough yet not too big. And its wide so they can spread their wings. All in all its a good purchase. This cage is perfect for me. And its under 100 dollars!

Highly recommend

I never thought I'd finally get such a cage for my birds. The previous cages I've had didn't have wheels for easy mobility. I can now go out with my birds anytime. The slide out base has also made it so easy for me to clean the cage. It is also very spacious for my four birds and they can easily move around in it. I also love the fact that it comes with a shelf at the bottom for me to store food for the birds. It is also very affordable and easy to assemble. I would definitely recommend it.

Great purchase

I recently got this cage for my bird Perches. She's settled in quite wonderfully. It also gives room for her to flutter her feathers whenever she wants to. The color also goes well with my deco. Looking forward to making more purchases here!!!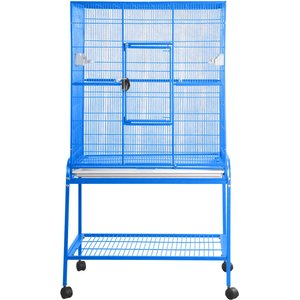 ---
At 32 inches long, 21 inches wide and 74 inches tall, this spacious enclosure gives large birds like Macaws or African Greys plenty of room to flap their wings. Other features that make it one of the best large bird cages include: a large front door for easy access and a tray and grate to keep things tidy.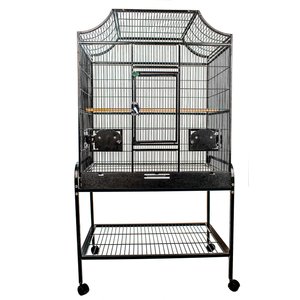 ---
This airy flight cage is designed to give small birds like Lovebirds or parakeets plenty of room to flutter, flap and glide. The slide-out tray and grate make it easy to clean. And thanks to its sophisticated looks, you can set it up in the corner of your favorite room and still keep things stylish.
Beautiful Cage

Beautiful cage! Not hard to assemble at all. I ordered the platinum and it is perfect for our Caique. It is sturdy, not flimsy. It is not an eyesore like other cages. We did not use the stand that is included. I would definitely buy again. I do not recommend for anything smaller than a Cockatiel due to the space around the feeder doors. Their heads could get stuck.

Very nice bird cage

We like the quality of this A & E bird cage. It's peace of mind knowing that the powder coating used on the cage is chemical free. The sandstone color is very pretty, and the style of the cage allows for many perches and bird toys. Very happy with purchase. 🙂

Perfect cage

Gerrie (lovebird)enjoying his new home, although he spends most of his time out when I'm home. Comfort to know he has lot's of room when I'm down the club knocking em back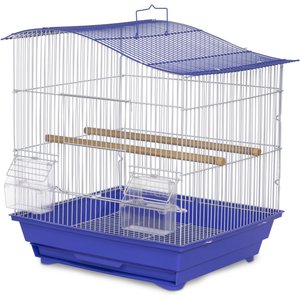 ---
If you're shopping on a budget, this cheap bird cage has lots of features to like. Inside, you'll find plenty of space to accessorize with your bird's favorite toys. Plus, the cage comes with two feeding cups, two wood perches, a removable bottom grille and a pull-out tray and base for easy cleaning.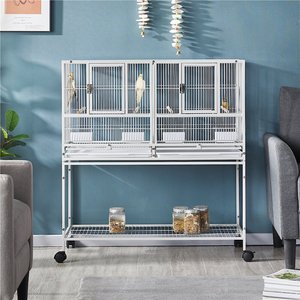 ---
Whether you have birds who sometimes quarrel or simply want a cage that you can easily divide, this double bird cage allows you to house several small birds side-by-side. The two identical chambers are divided by a removable grate which you can also take out, should you desire to let your feathered friends mingle.
Best in its Class Hands Down

Best powder coated metal cage you can buy in this size. The stand is well made as well but its so short. I made a coffee table with the stand instead. The cage is best placed on furniture or custom stand if you know how to build. Cant speak for quality control but my cage came well built. No mismatch or warped metal. Literally a steal for the price. Perfect for Lovebirds and Budgies. I have 2 lovebirds in mine with the divider up for now until training is over then im going to remove the divider. I replaced the acrylic food and water bowls for stainless steel ones. Highly recommend.

Love this cage!

I have 5 zebra finches I wanted to separate for breeding certain genetics and this cage is perfect. There is plenty of space for 2 to 5 very small birds, toys and nesting. Food and water dishes are easily accessible and the bottom setup makes it easy to clean.

Great cage

We have ordered four of these cages and are very pleased with them. They are well made and sturdy. We are using them without the dividers so our birds have a nice size cage and seem very happy.
Set your bird up for a happy and healthy life in their new home with the best bird cage for your feathered friend. They'll be singing your praises!
Get more advice on how to take the best care of your pet bird: