Nate added this text at 3:17 CST on 5/24/2023
Adding another line.
Adding a third line. HEre.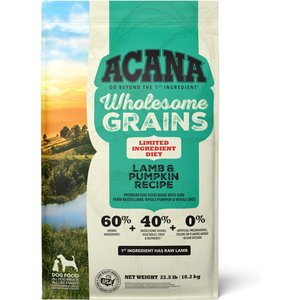 ---
FREE 1-3 day shipping on this item
Feed your dog the high-quality nutrition he needs and deserves with ACANA Singles + Wholesome Grains Limited Ingredient Diet Lamb & Pumpkin Recipe. This dry dog food is specially crafted with approximately 60% quality lamb ingredients, whole pumpkin and fiber-rich grains. This recipe offers your pet complete nutrition and is a great choice for choosy dogs or healthy dogs with sensitivities to certain foods. ACANA's premium ingredients are sourced from a trusted group of farmers, ranchers and fishers and every batch is made in their Kentucky kitchen with a commitment to safety and quality.
Thanks "Mom" - We LOVE this Flavor

A couple months ago both of our Chiweenies were suffering with allergies. There was a time when only our male (Scooter) had issues of persistent licking, but then our female (Paris) began scratching and licking. I felt a visit to our veterinarian was in order and quite possibly a change in food. Decided to try the LAMB & PUMPKIN within the Wholesome Grains variety. Both of our little ones love it. I have also fed the Beef and they liked that, but this really got them excited. In addition to the allergy medication, their licking and itching has calmed down 95%. I am so happy they are more comfortable. I do wish ACANA would offer this...

Solid food

I have 2 Frenchies very sensitive to a lot of food and this one works great with them so far!

Great food!

Our GSD absolutely loves this food, and it's great for her sensitive tummy. We tried a few different brands of kibble, and this seems to be the best one for her. I did a LOT of reading about dog food ingredients, and Acana was one of the few brands that I feel comfortable with. I only wish they had a medium size bag - the only options are 4lb or 22lb.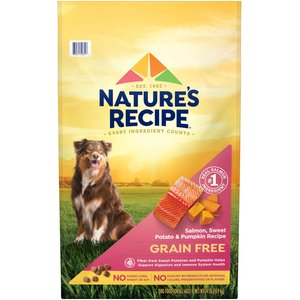 ---
Best Natural
Grain-Free Dog Food
FREE 1-3 day shipping on this item
It's no surprise that salmon is healthy. And while it's the number-one ingredient in Nature's Recipe Grain-Free Easy-to-Digest Salmon, Sweet Potato & Pumpkin recipe, it's also part of an all-star line-up including nutrient-dense carbohydrate sources to help your dog stay on the move. Sweet potatoes and pumpkin round out this mix, giving your dog a nutritious, easy-to-digest food that doesn't get in the way of all that delicious salmon. Your dog wouldn't have it any other way.
Healthy ingredients

I adopted a rescue, and she came with this food. I have continued to use it. It has good ingredients, and she likes it so much. She loves fish, and this has Salmon, real salmon is the #1 ingredient. So I will continue to use it. Makes her coat so shiny too.

Awesome value

Our girl, Bella has allergies and I have come to find out Salmon dog food is good for her. The pumpkin in this food is also great for her stomach and intestines. She eats this brand of dog food better than any other and believe me we have tried them all. The other awesome thing is the price is reasonable. She is so precious to us and I am glad I have found this brand of dog food. I recommend this food because she is so picky and she eats this food every day unlike any other food.

Excellent Dry Food

Our dogs LOVE this food and have been eating it for years. We have NEVER seen a "fish bone" in this food. Ridiculous. Thank you, Nature's Recipe! 🙂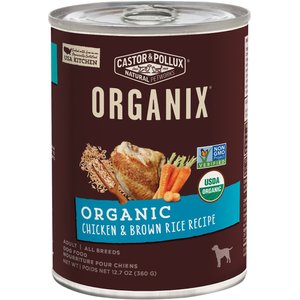 ---
Castor & Pollux Organix Organic Chicken & Brown Rice Recipe Adult Canned Dog Food a features 95% certified organic ingredients like chicken and brown rice served in a pate-style that bring a lifetime of complete and balanced nutrition for your best buddy. Organix is good for your dog and good for your peace of mind.
My foster pup loves this

This is a pate-type food (not chunky or gravy laden) and so is easy to mix in with kibble, a little or a lot, or to feed as is. I am very picky about what I feed my pups, and that includes any foster dogs while they are in residence, and Castor & Pollux is a brand I know and trust.

Organix Canned Dog Food

My poodle mix loves this food. She is ordinarily a very picky eater but no problem with serving her this healthy option. And Chewy is so much more affordable. Double win!

Quality Food

Have used this particular variety of Organix for several years. I add small amount to her dry food. Also, because it is a pate, I put some in a Kong (along with dog biscuit) and freeze. The pate form makes it easy to smear on some of the Nylabones, particularly after the bones get a bit rough and then I freeze them. Frozen stuffed toys are great to give when a worker comes over. Like the popup tops on cans.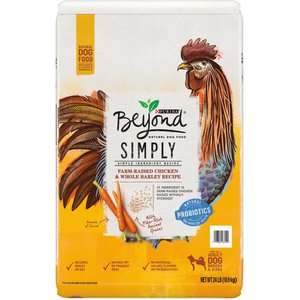 ---
Give your pup nutrition that goes above and beyond with Purina Beyond Simply White Meat Chicken & Whole Barley Recipe. Formulated by a pet nutritionist using trusted and carefully sourced ingredients, this natural dry dog food features real chicken as its first ingredient, with whole barley added in for healthy grains. Sunflower oil with omega-6 fatty acids helps nourish the skin and coat, while natural probiotics foster good digestive health. Feed your dog a limited ingredient food that's complete and balanced and free from fillers, artificial preservatives, colors and flavors. Your best friend will be beyond thrilled with the paw-some flavor of this kibble!
Why is this dry food no longer available ?

My dogs loved this dry food and I would like to know the reason this was discontinued. I don't know which dry dog food to order now. Sad

Beyond Dry Dog Food

I rely on your company for my dogs needs. Grateful you provided me with 5 small packages. But hoping next time I can go back to the 24 lb bag.

Dogs loves it!

Dogs have been eatting the Purina Beyond for a few weeks, and they love it. They both have more energy, and my Zowie's allergy symptoms have improved.