Whatever your relationship status is, know that you'll always have somebody to share a Halloween couples costume with: your pet! Halloween costumes for dogs and cats and their owners (known as pet parents here at BeChewy) will always beat out just about any human duo's coordinated outfits at the Halloween costume contest. And that's a statement we're willing to stand behind. I mean, can you think of anything more adorable than doggy (or kitty)-and-me costumes—or more creative for that matter? Especially when you DIY your half of these matching dog or cat costumes.
We've created a few super easy and budget-friendly DIY Halloween costumes for you that perfectly coordinate with some of our favorite dog Halloween costumes and cat Halloween costumes.
Together, you and your pet can dress up as bumblebees, "The Bachelor" and "Bachelorette," a hot dog and vendor and even avocado toast. In these matching dog costumes and matching cat costumes, you two will be the definition of #relationshipgoals.
1. Avocado Toast
Become a millennial's favorite breakfast with this unique DIY costume idea. If your cat's
comfortable with costumes
, snag
this bread cat costume
for them. Meanwhile, you can transform yourself into a delicious avocado with just an old t-shirt and some fabric paint. And what do you get when you put them together? Avocado toast, of course!
Dark green T-shirt
Light green or yellow-green fabric paint
Brown fabric paint
Paint brush
Piece of cardboard
1. Gather all your supplies, including a green T-shirt, fabric paint and brush, and piece of cardboard.
2. Lay out your T-shirt on a flat surface and slip a piece of cardboard inside to prevent bleed-through.
3. Using the light-green or yellow-green fabric paint, paint and fill in a pear shape in the center of the T-shirt. Let dry.
4. Using the brown paint, paint and fill in a circle within and toward the bottom of the pear shape.
5. Let dry before wearing.
2. Bumblebees
With these cat or dog couples costumes, you and your pet will look as sweet as honey. After scoring
this bee costume
for your pet, pull a yellow-and-black striped top, if you have one, and black jeans or skirt. If you don't have a striped shirt, a plain yellow shirt will do, too! Then create this simple antenna headband to complete the buzz-worthy look.
Yellow or striped top
Black pants or skirt
Black headband
Yellow pipe cleaners
Black pom-poms
Hot glue gun
Pen or pencil
1. Gather materials to make the antennae. You'll need a pencil or pen, two pipe cleaners, two pom-poms, a headband, and a hot glue gun.
2. Using a hot glue gun, adhere one pom-pom to the end of each of the pipe cleaners. Allow to dry.
3. After drying, twist each pipe cleaner around a pen or pencil to create a corkscrew-like shape.
4. Securely wrap each of the pipe cleaners (by the ends without pom-poms) around the headband.
5. Pair with a striped yellow-and-black shirt, or yellow top, and black bottoms.
3. "The Bachelor" and "Bachelorette"
Is this the most dramatic costume yet? Well, it certainly is one of the cutest! With a pet tuxedo costume, a real or fake rose, and a sparkly dress from your closet, you and your fur baby can dress up as your favorite guilty pleasure reality show.
1. Slip on your sparkly dress and get ready to accept the final rose (or the final Milk-Bone in your pup's case!).
4. Hot Dog and Hot Dog Vendor
Two costumes with extra cuteness—hold the hefty price tag, please! Turn your dog into a literal hot dog with
this comfort food of a costume from Frisco
. Then, serve up some creativity by dressing up as a hot dog vendor—the perfect side dish to your pup's ensemble!
(DIY instructions courtesy of By Stephanie Lynn.)
Apron
12-inch by 18-inch sheet of white craft foam or cardstock
Hot glue gun
Pen
Scissors
1. Set the foam or cardstock in front of you in horizontally.
2. Measure the circumference of your head. You'll know the exact width of foam or cardstock you'll need by dividing that number in half and adding 1 inch.
Based on your individual measurement, mark and cut the determined amount of foam or cardstock from your sheet. (So, if your head's circumference is 22 inches, divide 22 by two and add 1 inch. You get 12, and now know that you'll be using a piece that measures 12 inches across.)
Additionally, make a mark two inches from the top that runs the length of the foam or cardstock. Cut this section off. Using these measurements, you will now have a 10-inch by 12-inch sheet.
3. Fold each end of the foam ½ inch inward and glue into place.
4. Fold the entire top half of the sheet down and glue along the left and right edges. Let dry.
5. Decorate.
More Cat or Dog Couples Costumes Ideas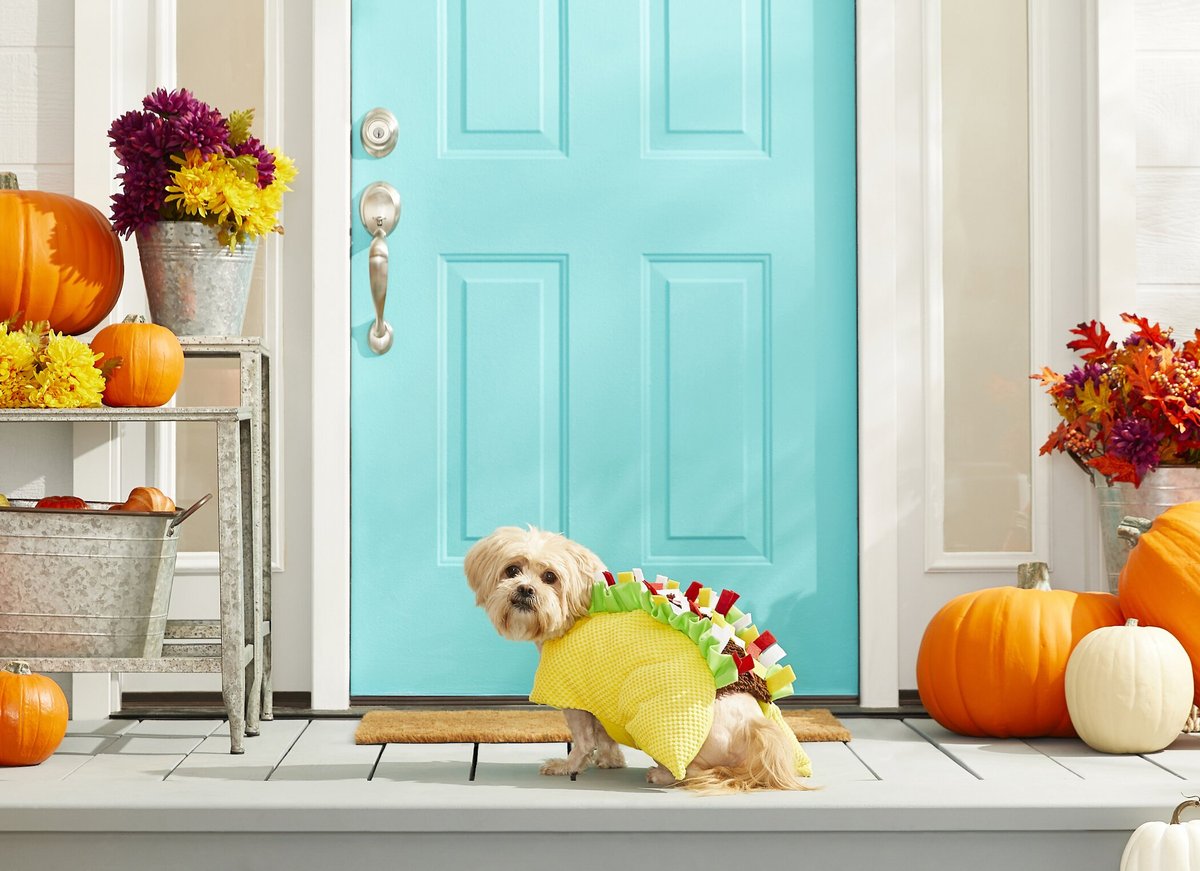 Now you're ready to celebrate the spooky season in (expertly coordinated) style. Just choose your favorite of these DIY cat or dog couples costumes, and you and your pet will be the most dynamic duo on the block—no budget-busting, necessary.
---
More Halloween Fun for You and Your Pet!